Creative writing ideas for adults can be found everywhere — literally. The key to getting the most inspiration from them is keeping an open mind and being willing to explore new possibilities.
I firmly believe that creativity is a vital part of an intentional life, which is why it's so important to develop a creative outlet.
Creative writing happens to be my favorite creative outlet, and I love sharing about it because writing in any form is perfect for overthinkers.
Why? Because it allows us to explore the inner reaches of our minds, expand our thinking, improve our communication abilities, and find a way to release stress and express ourselves in a safe and private way.
So let's talk about some tips and tricks for getting over the hurdle of starting creative writing, as well as ideas for prompts and exercises to help you get inspired and keep the stories flowing.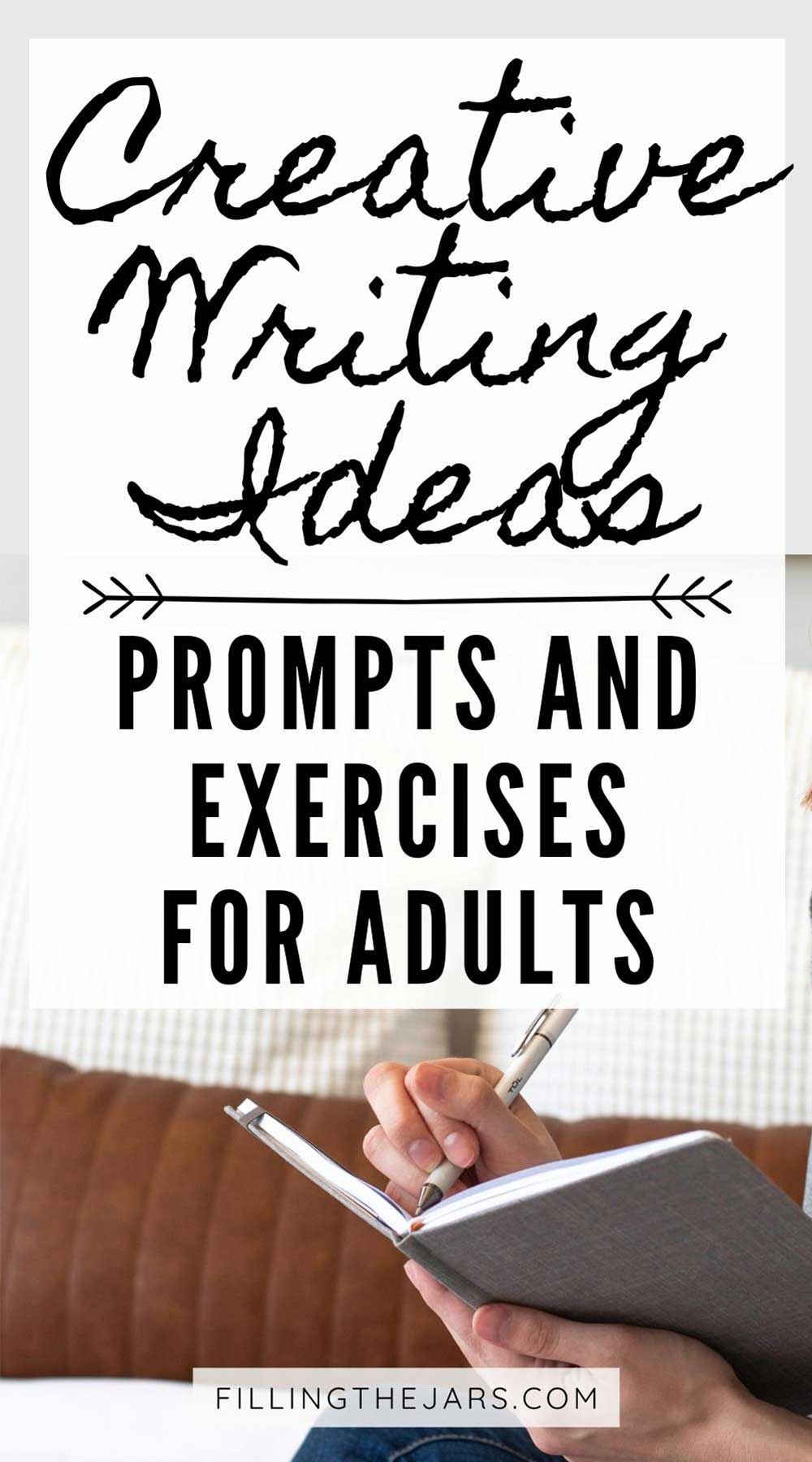 This post may contain affiliate links. If you choose to purchase through an affiliate link, I may receive a small commission at no additional cost to you. You can see my full disclaimer here.
How To Come Up With Creative Writing Ideas
Creative writing can be a lot of fun, but it can also be challenging to come up with ideas for what to write about.
If you're out of ideas for writing, don't worry — you're not alone. In fact, most writers face this problem at some point. The good news is that there are plenty of ways to find new inspiration.
If you want to create your own writing prompts, here are a few things to try that will get your mind working in different ways:
Start by brainstorming a list of topics or ideas that interest you.
Think about things that make you happy or inspire you.
Draw inspiration from your everyday life or things you see around you.
Read a variety of different genres to get ideas and inspiration.
Write about what you're passionate about or things that matter to you.
Play with words and experiment with different writing styles, genres, and formats.
Join a writing group or participate in online forums and communities.
Take writing classes or workshops to learn new techniques and expand your skills.
Challenge yourself to write something different every day.
Make time for creative writing every day, even if it's just for a few minutes. Sometimes your writing may start out feeling like it's more of a journal, but keep going with it and you'll see it often takes a surprising fictional turn. Follow that and see where it leads.
These 5 daily creative writing exercises you (probably) haven't seen before are a great way to start generating new ideas for your work.
Another option is to try doing some other creative activities for adults — like painting, drawing, doing puzzles, or using adult coloring books. These activities can help you tap into additional aspects of your creativity and come up with new ideas for writing.
Finally, don't forget to take some time for yourself. Practicing self-care can help clear your mind and give you a fresh perspective.
Creative Writing Ideas For Adults
The following are some ready-made ideas and prompts for creative writing and story starters to help get your creative juices flowing:
Love is certainly one of the most popular themes in writing. Use these 25 creative writing prompts about love to create your own unique story.
It never hurts to try some new daily prompts. These somewhat-themed March creative writing prompts are a fun addition to any collection.
Who doesn't love September and all the fall feels?! Okay, so maybe it's not quite time for pumpkin spice prompts, but these September-inspired creative writing prompts will help you get into the 'new season' spirit of autumn.
Sometimes you're not sure whether you want to write a personal journal or fiction. Try some creative writing questions that can be used either way.
Some people love writing in the summer, and others don't. Which side do you fall on? Even if you would rather be at the beach, you can have some great writing sessions with these July creative writing prompts.
December can be stressful. If you're looking for a way to escape, my list of December creative writing prompts will give you plenty of fiction story starters to get you out of your own head.
Kinda mysterious, maybe a little spooky, definitely different… you'll love these October creative writing prompts when you want ideas that aren't all sunshine and roses.
This fantastic list of 50 Creative Writing Prompts For Adults is everything you need if you have the desire to create and write stories. Each prompt is intended to inspire new ideas for your next writing project.
What happens when the days get longer? It's time to write! Enjoy these June creative writing prompts with the extra writing time you have during the longest days of the year.
Need inspiration for short stories? Or maybe a novel for NaNoWriMo? I've got you covered with these November creative writing prompts.
Sometimes you just need some fresh story starters of all kinds. Try these daily May creative writing prompts for plenty of variety.
Enjoy!
How To Start Creative Writing As An Adult
New to creative writing and not quite sure what to do? Well… just start writing. It's as simple — and sometimes impossible — as that.
I know, I know… 'HOW do I start just writing?'
Not everyone who wants to start creative writing is confident enough to immediately begin putting words on paper — or on a screen, as the case may be. It can be a daunting task, starting out, even with plenty of writing ideas and creative prompts.
There are some simple ways to get started slowly. These are also good suggestions if you feel like you used to be creative when you were younger, and now you would like to regain that creativity and imagination as an adult.
First, rest assured that you cannot possibly do this 'wrong' — especially if you're writing as a purely creative hobby. You don't have to concern yourself with technical aspects of writing or grammar or story structure.
Write for the joy of it… get ideas and feelings and stories out of your head.
The number one 'rule' is to NOT overthink your creative endeavors.
It all starts with conquering that blank page and letting your mind do its own thing.
For that reason, don't start with an intimidating, expensive journal. Grab a simple spiral notebook or school-style composition book – or use a document writer on your computer.
More advanced creative writing is a skill that can be learned, even if you're not naturally creative.
First, try some morning creative writing. See how it works out for you.
Then, if you want to, try taking things a step further by writing a short story. Here are some tips for writing great short stories.
And don't forget: practice makes perfect! Writing every day builds your abilities, your confidence, and your imagination.
More Creativity And Writing Ideas
Creative Journaling Exercises, Prompts, and Ideas to Keep You Writing
365 One-Word Daily Writing Prompts Collection
Writing Resources And Things I Love
Robin Woods' 'Prompt Me' series of creative workbook journals
9 Best Creative Writing Journals: Take Your Thoughts to the Next Level
17 Must-Have Creative Writing Gift Ideas
Best Journals for Writing: 6 Top Picks
Ready to step up your writing another notch or two? Check out this fun set of writing dice and printable story planner workbook.
On Writing: A Memoir of the Craft by Stephen King
Favorite Writing Supplies
Next Steps…
Creative writing is a fun and rewarding activity that can be enjoyed by people of all ages. However, it can sometimes be challenging to get started as an adult.
Remember, you don't have to be naturally creative to start writing creatively, and the creative writing ideas and prompts from this article are really all you need to get started.
So grab a set of prompts and a blank notebook — or open a google doc on your laptop — and start letting your inner brilliance flow onto the page.
You've got this!
---
Did you enjoy this post? Know someone else who might like it? Please take a moment to share on Pinterest, Facebook, or your favorite social media… (Click the sharing buttons at the bottom of the post.) Thank you!