Creative writing is a type of art, and it's something that many adults are somewhat afraid to try. It's not necessary to be an artist or have artistic talent; all you need is the desire to create. In this post, you'll find a list of creative writing prompts for adults to help get you started. Each prompt is intended to inspire new creative writing ideas for your next writing project… whether that's a new work of fiction or a really creative journal entry. 
It doesn't matter if you're a professional writer who has published books, or someone who likes to write for fun in your spare time. Creative writing of any kind, including creative journaling exercises, provides an outlet for creativity while also improving your natural skills.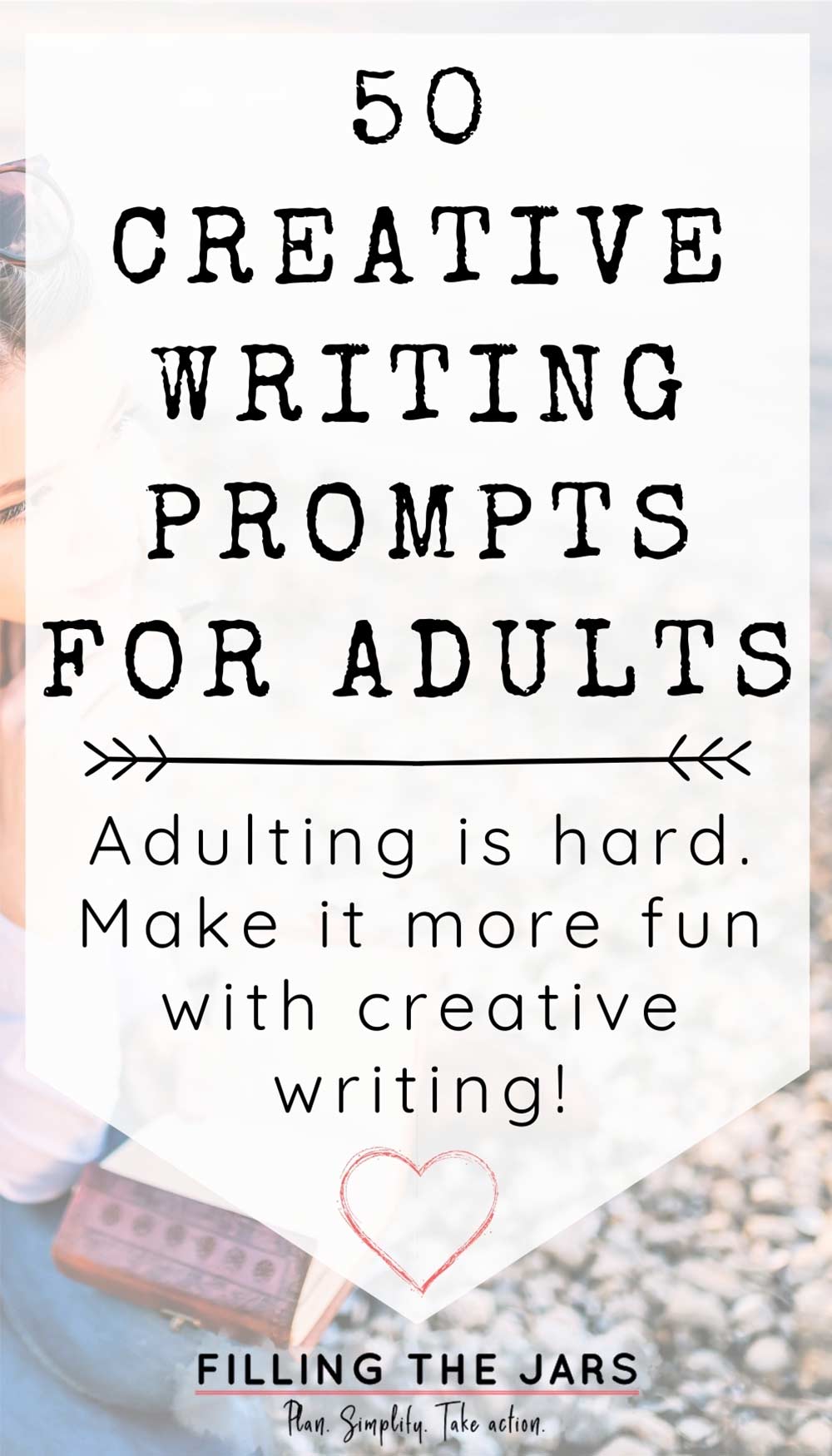 This post may contain affiliate links. If you choose to purchase through an affiliate link, I may receive a small commission at no additional cost to you. This post is not to be taken as professional medical or mental health advice. All statements are strictly my personal life observations. You can see my full disclaimer here.
Why Creative Writing Is Important For Adults
Creative writing allows us to express what we're feeling, explore possibilities, and make sense of the world around us. Creative journaling and writing can help people express their feelings that they may not be able to vocalize. Eventually, that can help people work through problems and find new solutions.
Perhaps one of the most important things about creative writing is that it can be a way of exploring different ideas without any consequences. It allows people to look at things from a new perspective.
Responding to creative writing prompts can also help you be more mindful and appreciative of the wonderful world we live in, even though it has its imperfections.
One of the things I love most about creative writing prompts is how they immediately help you become a part of the stories you write, even if these don't necessarily reflect your own life. Developing stories and characters is always fun and surprising.
Not always, but often, the stories told from creative writing prompts actually end up being about yourself and your life in a roundabout way. This can help give you the ability to accept different parts of who you are, which helps lessen self-judgement and work through problems that may be holding back your happiness.
Imagination-Inspiring Creative Writing Ideas for Adults
Enjoy these creative writing prompts for adults. Some will be fun while others might get your brain working hard and push you to write more as you develop your stories and thoughts.
1. Write about a time when you were alone and what you found.
2. Imagine the adventures of a woman who could move about between alternate realities.
3. What would happen if you ended up suddenly living in another country?
4. Write about yourself in a world where everyone has superpowers, and how you live your life differently than they do.
5. "What were we thinking?"
6. Write a story where your dog is an important character. Write as though he or she can speak for themselves; not having to use human speech.
7. "I wasn't sure why my boyfriend said he needed to talk."
8. Picture what a different life could have led you to.
9. Write about a day when you have to face your worst nightmares in real life.
10. "For some reason, everyone started looking at me differently."
11. "Something moved in the distance."
12. What would happen if the Internet was suddenly turned off forever, or what are some interesting scenarios that could lead up to the loss of this service forever?
13. Write a story where you are a horror movie character and you have to survive all the obstacles in your way to escape or defeat the killer.
14. "The next day, I couldn't stop thinking about what was beneath the surface of the pond."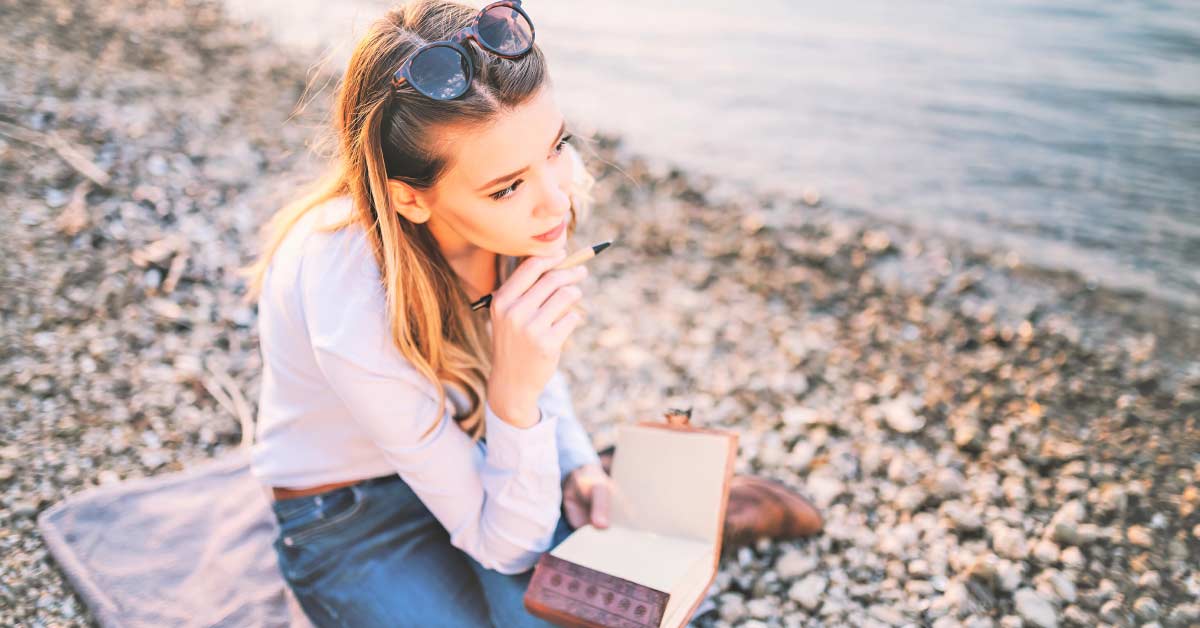 15. Imagine that your favorite video game character's life was being played out in real life.
16. "I couldn't look away from my reflection."
17. "Someone took my hand, pulling me up from the ground." Who was it and what's happening?
18. Write about the day you finally became famous and how your life changes afterward.
19. What happens when you try telling somebody that there are aliens living among us right now?
20. Write about what happens in your favorite book after it ends.
>> Loving these prompts? Get a printable copy sent right to your email inbox. <<
21. Create your own villainous character. What makes them evil? How are they different from others in their world?
22. "There were three notes waiting for me on my doorstep."
23. "It had green fur and looked lonely in the pet store window."
24. "I had nothing to do, so I decided to go for a walk."
25. Write about being the character of a historical event you studied in school and how it turned out differently for them.
26. Write about you becoming the leader of your own superhero team based on yourself and your friends.
27. "When I came home, my mother was crying."
28. "I felt something crawling on my leg."
29. Write about writing a story that takes place in your closet. All the action has to take place inside the closet or behind the door.
30. "Then I started hearing voices."
31. Write about a day where you are out for a drive on a long road trip and what interesting things happen along the way.
32. "When she finally spoke, she said…"
33. "I never told anyone why I cried so much those days."
34. Imagine that you wake up from a coma after being in it for several years. How are things different? How are they the same?
35. "A shadow was standing behind me."
36. Write about yourself as the new Queen of England.
37. If you could have an unlimited supply of anything for a day, what would it be and what would you do with it?
38. "My family just sat there staring at me."
39. Write about a situation that you imagine would be the most annoying and irritating thing ever. What's happening?
40. "Next thing I knew, it was morning."
41. "We were driving to see my parents that summer when suddenly…"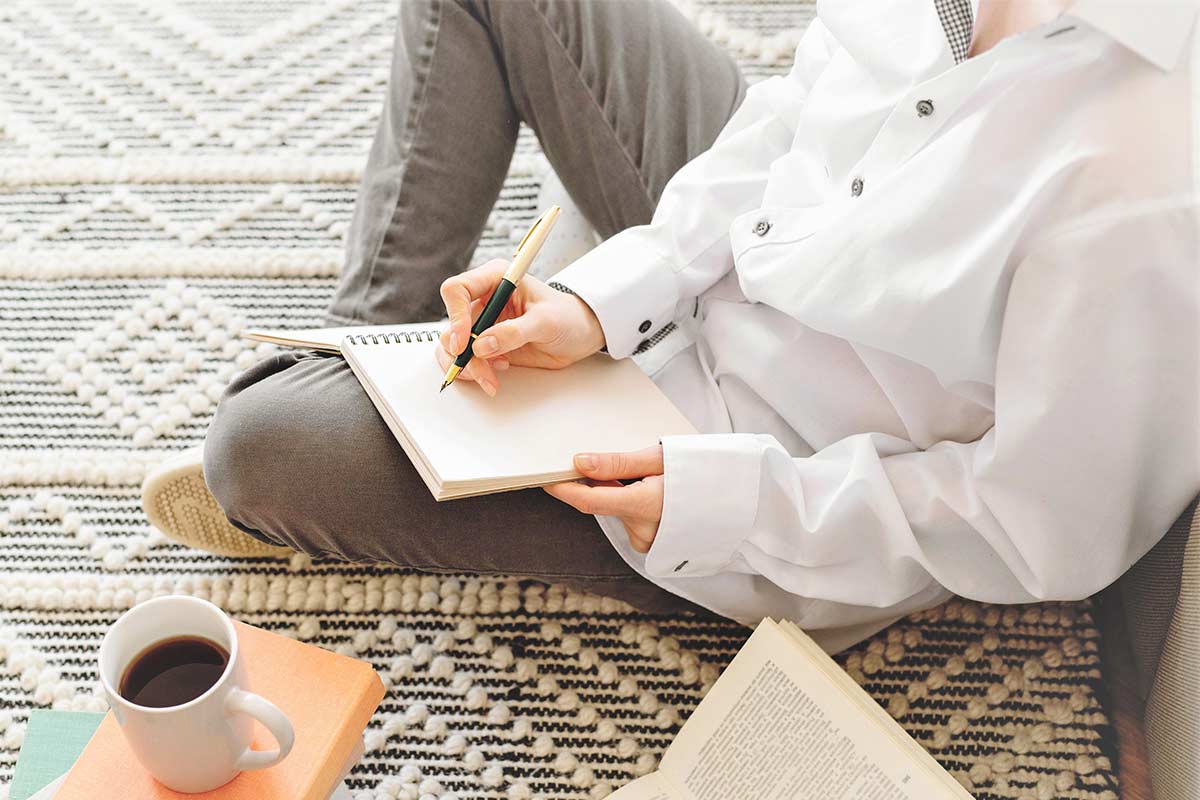 42. If you could get away with doing anything without any consequences, what would it be?
43. Write about being on the worst vacation ever! Do anything possible to make your vacation better by doing crazy stuff.
44. "I didn't sleep a wink that night."
45. Write about a time where something strange happens on your way to work one day. Was it because of aliens, witches, or werewolves?
46. Write about your first day of work for an evil genius in his doomsday factory.
47. Write about your life as if it were a TV show or movie. What genre would it be? How would it be rated and why? Brainstorm some scenes.
48. "I had a strange feeling that I was being followed."
49. Imagine that you have the ability to read minds. How would life change for you and everyone around you?
50. Write about what would happen if your character went on vacation alone for the very first time.
Yes, you can get a free printable of these prompts! Click here to have them sent right to your email.
How To Use Creative Writing Prompts For Adults
Creative writing prompts are perfect for encouraging adults to write a new story or become more creative. I've been using them for years, and the process has helped me rediscover how fun it is to tell stories, write blog posts, and make my dream of writing books finally come true.
I know firsthand how difficult it can be for an adult to find the time, energy, and creativity to start something new. But I can promise that the effort is worthwhile!
The most important thing about using creative ideas for writing is to let them inspire you. Don't be afraid to use them however you wish! And don't be afraid of 'doing it wrong.' That's absolutely impossible because your creative writing sessions are your own private world.
You can write anywhere and anytime, but setting aside 15 or 30 minutes once a day and putting it on your schedule really helps turn your intentions into reality. My favorite way is morning creative writing. Find a quiet place or wear earbuds with your favorite music.
To get the most out of your creative process, consider using pen and paper. A paper journal will ensure portability. In addition, the hand-eye coordination needed to write by hand can be an important part of the creative process.
Related: My top 6 picks for the best journals for writing
That's not to say you shouldn't use technology! Even though I have a paper journal, there are plenty of times when I prefer to write on the computer. When creative inspiration strikes and you have a desire to get your thoughts out quickly, typing might be the ideal solution. As an added bonus, writing on a computer makes it so easy to edit and proofread your work.
Another way I encourage people who 'don't like to write' or have the mental capacity to multi-task is to use a voice-to-text app for responding to creative writing prompts. My favorite app for this is otter.ai, which syncs across all of my devices and is easy to copy/paste into document form.
More Writing and Journaling Inspiration
27 Powerful Quotes About Journaling That Will Inspire You to Write
5 Daily Creative Writing Exercises You (Probably) Haven't Seen Before
Quiet Journal: Discover Your Secret Strengths and Unleash Your Inner Power – Susan Cain
Feeling Stuck? Try These 14 Creative Things to Write In a Journal
How to Make Time for Writing: 5 Ways to Find Time to Write Now – ThinkWritten
5 Creative Journal Topics: Ideas to Spark Endless Writing Possibilities
Favorite Writing Supplies
---
Concluding Thoughts…
Creative writing is an excellent way to engage your imagination. It's also a great outlet for stress, and it can help you develop communication skills in the process.
If you're feeling stuck or want to improve your creative writing skills, take some time out of each day to write about what inspires you — it will not only increase creativity but will also help you loosen up your mind.
There are lots of resources available to help with creative writing, but sometimes you just need a little inspiration. There is no limit to what you can write about and these creative writing prompts for adults should help inspire your imagination!
You've got this!
---
Did you enjoy this post? Know someone else who might like it? Please take a moment to share on Pinterest, Facebook, or your favorite social media… (Click the sharing buttons at the bottom of the post.) Thank you!