There's no doubt about it, getting up earlier in the morning can transform your whole day. Doing something like morning creative writing — even as little as writing 500 words while practicing creative journaling exercises — is a great way to use that time.
Even if you've never tried creative writing — and especially in the morning — let's talk about why you should try it and exactly how you can begin.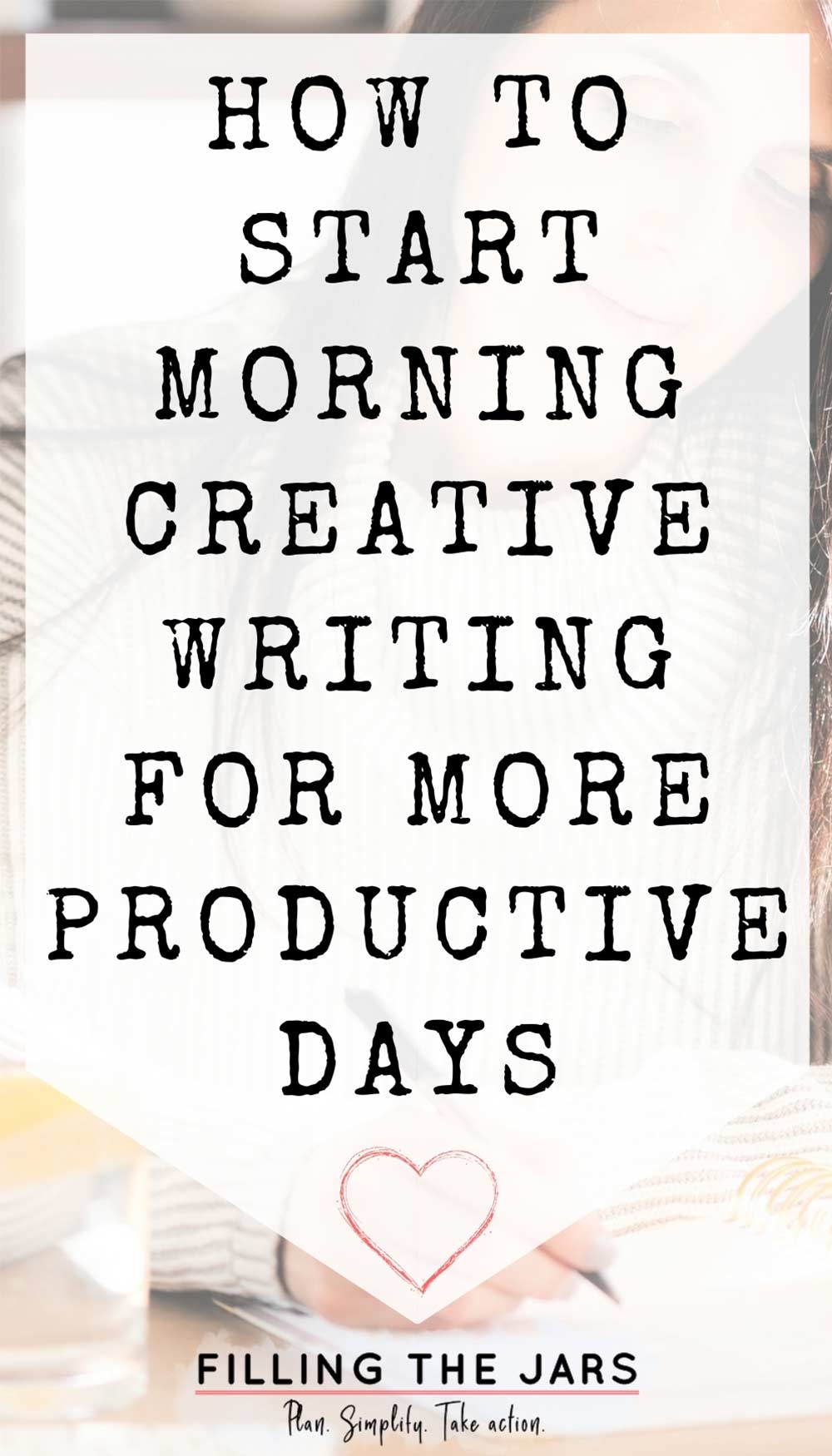 This post may contain affiliate links. If you choose to purchase through an affiliate link, I may receive a small commission at no additional cost to you. You can see my full disclaimer here.
We can become so consumed and overwhelmed by everyday tasks, family matters, and work-related tasks that we often forget ourselves.
We've all been there… getting to the end of the day and wondering where the time has gone.
However, a change of routine to include something for yourself that is creative and gets your mind working can be productive. I wanted to share with you why morning creative writing is beneficial as part of a productive morning routine and calming your mind.
Creative Writing For The Overthinker
Overthinking means that your mind is working overtime. Sometimes it's hard to control those thoughts.
So how can transforming your morning help? Getting up earlier and doing something for you helps set the tone for the rest of the day.
There are many benefits for creative writing such as:
Creative writing helps to navigate emotions associated with overwhelm that could be causing you to overthink
It promotes well-being by giving you a creative outlet where you retain complete control
We can gain perspective through creativity
Creative writing in the morning increases the potential for self-realization and achieving goals
Very creative writing — such as fiction — provides a safe and enjoyable total escape from reality
Why morning writing?
You may be wondering why write in the morning? Maybe you're a night owl.
Well, the morning is one of the best times of the day to take advantage of. You don't have to get all crazy about rising hours earlier than normal, but you can test what happens when you start to change your get-up time.
Just try it and see what happens when you start writing before your brain is fully alert. You may be completely surprised by what you read.
And after you've done your writing and put your brain in motion, you can take a few moments to set intentions for the day, which can help you to feel productive for the rest of the day.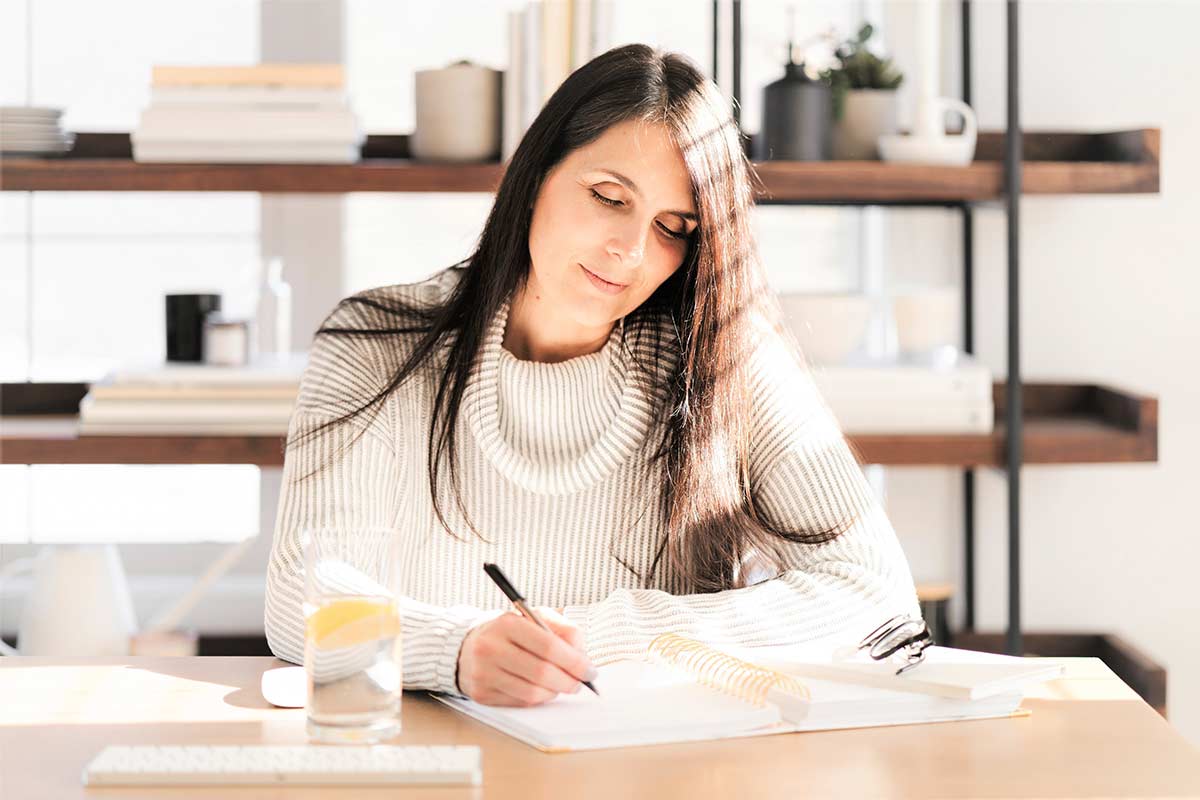 How To Start Morning Creative Writing
Do you think that creative writing in the morning could help you? Then here are some of the steps to take to get started.
1. Set a time when you feel comfortable waking up
It's important that it feels natural to wake up and not forced. So don't be unrealistic.
Start with getting up ten minutes earlier. A week later increase that by five minutes. Keep going until you get to a time that is comfortable for you and allows you to complete your personal writing session.
Turning your writing time into a bit of a self-care ritual gives it importance, makes it something you can look forward to doing for yourself… which makes getting up earlier much easier.
2. Find a place where you can write
If it's summer, a quiet space outside can be an amazing setting for writing your early morning words. The fresh air and change of scenery can help get that creativity flowing.
If that doesn't work for you, a comfortable spot inside where you can write or type easily will help you to concentrate.
3. Get into the creative flow
You might want to start with journal writing prompts or creative journal topics. You don't actually NEED writing prompts to start writing, but they can help spark your creative thoughts.
It might be that you want to use the chance to brain dump all of that overthinking. I do this all the time and always discover some great creative gems in the mess.
Maybe you have an idea for a story, want to try some unusual daily creative writing exercises, or even draft some blog posts.
Get creative and just let the words flow. This is for you. It could be your private musings, or not. But don't be afraid of what gets put from pen to paper. It can be very liberating.
How To Get The Words Out of Your Brain
Or, how to go from thinking to seeing those thoughts in front of you…
Pen to paper – Whether you're using a formal writing journal or a standard notebook, the hand-eye coordination required to write by hand can be an important part of the creative process. Plus, a paper journal is ultra-portable if you tend to do your morning writing in different places.
Check out my top 6 picks for the best journals for writing.
I've found that when writing by hand, it REALLY helps to use a pen with smooth-flowing ink. Pens that scratch or skip drive me crazy. My favorites are Pilot G-2 07 for a bolder line and Pentel RSVP Medium for a finer line.
Computer – When I really need to get the words out quickly, I almost always turn to my computer. (I type MUCH faster than I write by hand.) It's so easy to open a Word doc or Google doc and just start letting the words fly.
Speaking – Morning creative writing is possible even if you can't physically write the words. You can use a speech-to-text program to speak your thoughts and then save them as writings for future review.
My favorite app for this is otter.ai, which syncs across all of my devices and is easy to copy/paste into document form.
Are There Any Rules When It Comes To Your Writing?
The short answer is No!
The longer answer is because this is all about you, your mind, what you want to write about, and how you can transform your morning habits to change your life.
Many of us have a creative streak, yet not all of us embrace it and use it to our advantage. Take this opportunity to let go and let the words flow…
How Can Morning Creative Writing Help You?
It's vitally important that we take some time for ourselves on a regular basis. Being an overthinker, I know exactly how it feels when everything gets to be too much. The overwhelm can take hold and it can feel like any little thing is all-consuming.
Your lifestyle might involve many things. Your family, your work, your friends, and your home. We often put ourselves low on the priority list.
Early morning writing gives you a chance to pour into yourself. However you use the morning creative writing time, you should benefit in one of the following ways:
Self-care time for you to refill your reserves
A chance to navigate and make sense of thoughts
A way to do something productive AND fun
Set the right tone for the rest of the day
More Inspiration for Writing and Creativity
November One Word Journal Prompts
Prompt Me: Creative Writing Journal & Workbook – Robin Woods
Creative Ways to Journal: 10 Creative Journal Ideas for Adults
Writing prompt ideas: 10 ideas from top authors – Now Novel
32 Journal Prompts for Self-Discovery and Clarity
A Year of Creative Writing Prompts – Love in Ink
12 Outstanding Creative Outlets for Non-Creative Adults
Favorite Writing Supplies
---
So When Should You Start?
Tomorrow morning! Seriously!
If you've been wanting to give morning creative writing a try, then take some time for yourself and start to reap the rewards of this focused attention. I hope it helps you as much as it has helped me.
You've got this!
---
Did you enjoy this post? Know someone else who might like it? Please take a moment to share on Pinterest, Facebook, or your favorite social media… (Click the sharing buttons at the bottom of the post.) Thank you!