There's no better time than right now to grab these 32 printable journal prompts for self-discovery. Take stock of your current situation, clear your mind, and start taking baby steps to move forward.
Even if you feel stuck right at this moment, having a collection of journal writing prompts can help you connect with your inner strength and change your personal story.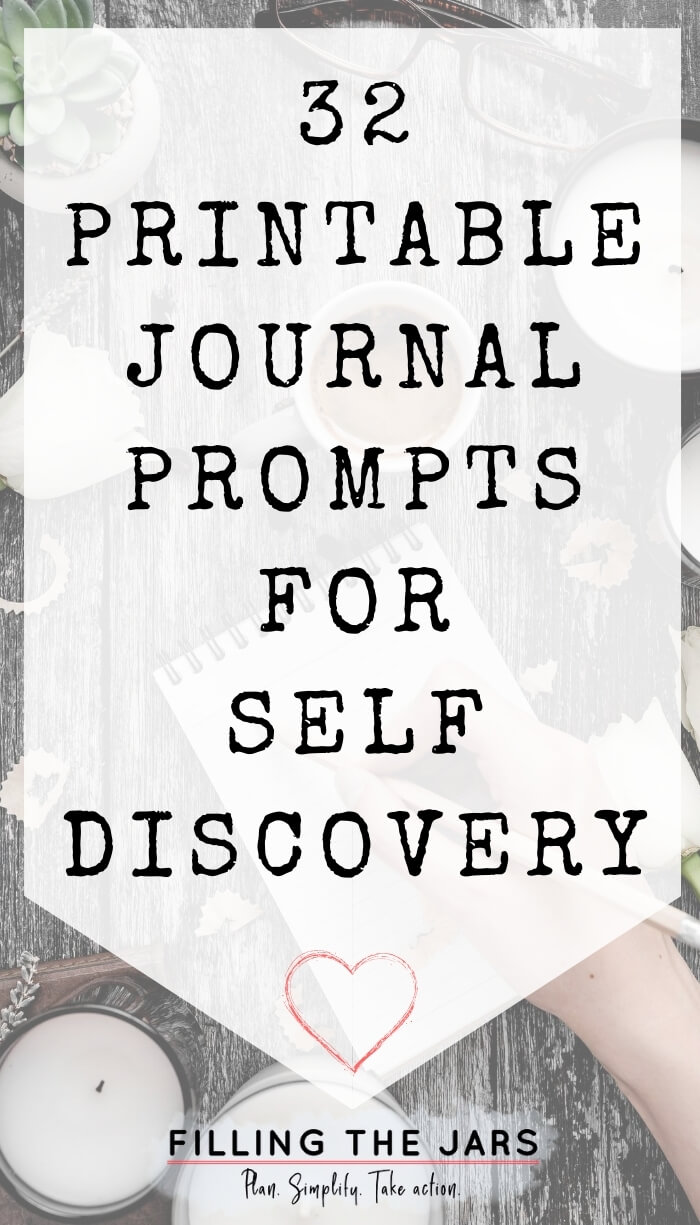 This post may contain affiliate links. If you choose to purchase through an affiliate link, I may receive a small commission at no additional cost to you. You can see my full disclaimer here.
This year has truly been like no other. It was supposed to be amazing, and then everything quickly went sideways. Sometimes it feels like things will never get back on track.
We've all been doing a lot of waiting and wondering. Some of us are in absolutely basic survival mode, just barely making it through each day.
Our daily goals may vary wildly. And these prompts can help you make more intentional daily choices. Each choice and action we take is important, no matter where in the range of daily goals we may fall:
Taking a shower every day — even if it's just to change from one set of pajama-esque clothes to a fresh set.
Making that doctor appointment that's long overdue.
Deciding to 'go for it' with a new business idea or personal goal.
Taking some things OFF your daily list because you're in a pretty good place right now.
No time to read the entire post? >> Click here to get the printable prompts. <<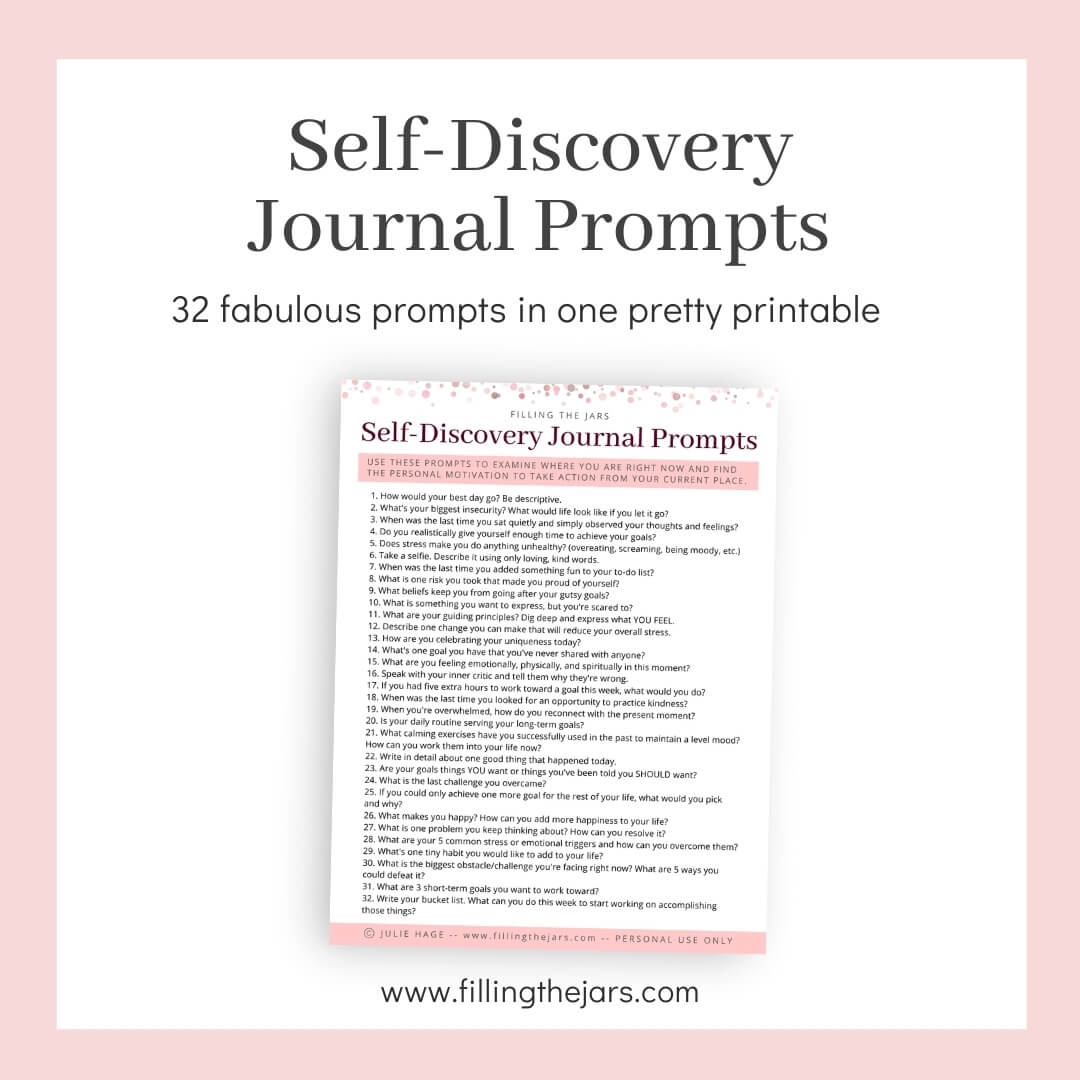 Journal prompts for self awareness allow you to reflect on your self-esteem, your goals, living intentionally — and focus on YOU. Because when you understand yourself better, you can take the actions to grow — even if it's baby steps and/or admitting you need help.
When you do that, everyone around you benefits.
So don't think of self-reflection and personal growth is self-ISH. It's actually exactly the opposite. Striving to live in harmony with our personal beliefs allows us to become the best version of ourselves and pursue our dreams and goals.
---
32 Self-Discovery Journal Prompts
These prompts are loosely organized from thinking to action. They are not necessarily meant to precipitate major life changes… because honestly, who has the capacity for that right now?
However, these ARE prompts to help you think about big and intentional goals while taking small steps to start feeling more internally connected, confident, and capable.
Use this list of prompts to examine where you are RIGHT NOW and find the personal motivation to take action FROM YOUR CURRENT PLACE.
1. How would your best day go? Be descriptive.
2. What's your biggest insecurity? What would life look like if you let it go?
3. When was the last time you sat quietly and simply observed your thoughts and feelings?
4. Do you realistically give yourself enough time to achieve your goals?
5. Does stress make you do anything unhealthy? (overeating, screaming, being moody, etc.)
6. Take a selfie. Describe it using only loving, kind words.
7. When was the last time you added something fun to your to-do list?
8. What is one risk you took that made you proud of yourself?
9. What beliefs keep you from going after your gutsy goals?
10. What is something you want to express, but you're scared to?
11. What are your guiding principles? Dig deep and express what YOU FEEL.
12. Describe one change you can make that will reduce your overall stress.
13. How are you celebrating your uniqueness today?
14. What's one goal you have that you've never shared with anyone?
15. What are you feeling emotionally, physically, and spiritually in this moment?
16. Speak with your inner critic and tell them why they're wrong.
17. If you had five extra hours to work toward a goal this week, what would you do?
18. When was the last time you looked for an opportunity to practice kindness?
19. When you're overwhelmed, how do you reconnect with the present moment?
20. Is your daily routine serving your long-term goals?
21. What calming exercises have you successfully used in the past to maintain a level mood? How can you work them into your life now?
22. Write in detail about one good thing that happened today.
23. Are your goals things YOU want or things you've been told you SHOULD want?
24. What is the last challenge you overcame?
25. If you could only achieve one more goal for the rest of your life, what would you pick and why?
26. What makes you happy? How can you add more happiness to your life?
27. What is one problem you keep thinking about? How can you resolve it?
28. What are your 5 common stress or emotional triggers and how can you overcome them?
29. What's one tiny habit you would like to add to your life?
30. What is the biggest obstacle/challenge you're facing right now? What are 5 ways you could defeat it?
31. What are 3 short-term goals you want to work toward?
32. Write your bucket list. What can you do this week to start working on accomplishing those things?
Fill out the fom below to have your printable self-discovery journal prompts PDF sent right to your inbox:
---
How to Make the Best Use of Writing Prompts for Self-Discovery
If you're new to journaling, you may be wondering exactly what you're supposed to do.
Sure, you could sit down with this list and just start answering questions as if they were a test in school… mentally worrying that they are going to be read and graded by your toughest teacher.
Here's the thing — this is journaling… nobody is judging you and there are no rules!
So let's talk for a couple of minutes about 4 things you can do to start with a great mindset and make the best use of these personal writing prompts.
1. Listen — Don't just write automatic responses. Really dig inside yourself and listen carefully to your thoughts and feelings. Answer from the deepest part of your gut and for your current season of life.
2. Trust — You are absolutely capable of putting your thoughts into words, making plans, and taking action. Trust yourself and the process.
3. Reflect — Give your responses time to 'percolate' after you write them. Take action, but review at regular intervals. Heck, write responses to this prompts list once a month if you want!
4. Adjust — Keep an open mind about trying new things and refining your thoughts and plans along the way. Be honest about your feelings, but strive to turn negativity into brainstorming positive solutions and actions.
Your emotions and personal capacity are constantly shifting… but you can never grow if you don't at least start taking baby steps. Eventually, you will be amazed at where you find yourself. 🙂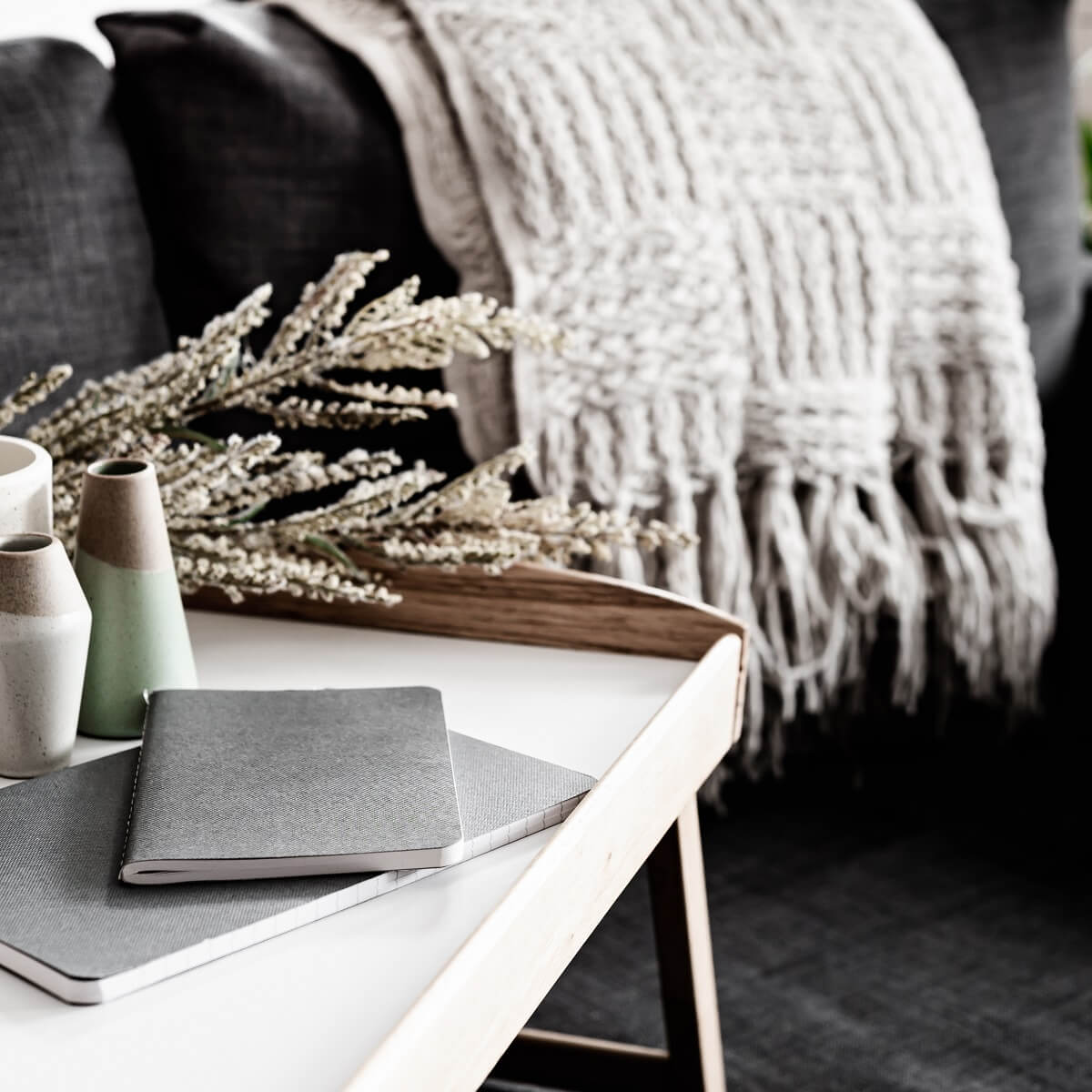 What Tools Should You Use For Journaling?
Do you need a personalized leather-bound journal, an amazing RocketBook notebook, a special rose-gold pen, a dedicated writing place, and an extra hour every day to think and write?
Those things are great, and they may make your journaling time feel more special, but you don't necessarily NEED any of them.
You can write in a regular notebook and use any writing instrument you like — my favorites are Pilot black G-2 pens and Frixion erasable pens in soooo many colors.
You can type your journal entries in a Word document or online in Google Docs.
You can even use a voice-to-text app if it's easier to speak than write. I love and use Otter.ai because it syncs across all of my devices whether they are Apple, android, or Windows-based.
You can journal anywhere, although finding a 'special' place that inspires you is always nice.
If you can only find 10-15 minutes a day for journaling, you can absolutely make it work!
The most important thing is to begin. And then continue… every day if you can mange it. Even writing just a few words and thoughts will help you work through many things in your life.
Never EVER worry about trying to get it all 'right.' Life is messy, and your journal will reflect that.
Which is exactly as it should be. 🙂
Don't be afraid of the journey ahead of you, and don't be afraid to answer ALL of the self-discovery prompts. Some of them may feel uncomfortable. That just means you're getting real with yourself… and that's a GOOD thing as you work to Build Your Best Life.
You've got this! 🙂
Ready to do this? Grab your printable prompts right here:
---
More Prompts and Posts You May Enjoy
Gratitude Journal With Prompts: Building Positivity and Resilience
Pursuing Your Passion: Recognize the Spark and Let It Ignite You
30 Printable Journal Jar Prompts to Inspire Reflection
---
Did you enjoy this post? Know someone else who might like it? Please take a moment to share on Pinterest, Facebook, or your favorite social media… (Click the sharing buttons at the bottom of the post.) Thank you!