Okay, fellow writers, let's talk about a fantastic way to kick-start your creativity and productivity by writing 500 words a day about absolutely anything you want!
If you've been writing, blogging, or journaling for any length of time, you know how difficult it can be to consistently write meaningful content. Whether you write for a living or simply for your own enjoyment, it's tempting to wait for inspiration before picking up a pen or opening a new document to begin writing.
This post is a bit of a twist on morning creative writing. Even though I first tried this several years ago, it's something I still challenge myself to do whenever I feel resistant to doing my regular writing work.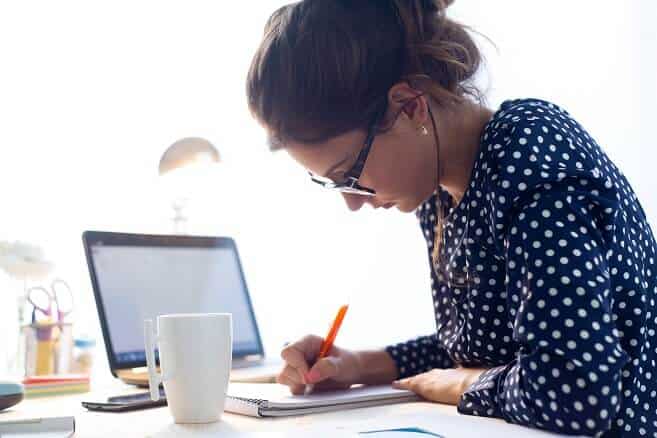 This post may contain affiliate links. If you choose to purchase through an affiliate link, I may receive a small commission at no additional cost to you. You can see my full disclaimer here.
How I Rediscovered My Love For Writing By Getting Up Early
Sometimes you read a blog post or a Tweet that makes you think. Thinking is good. Other times you read a post and decide to act, which is better. Much, much better. (Unless you act badly. Please don't do that.)
Not long after I began blogging, a post about Jeff Goins and his challenge to write 500 words a day for 31 days made its way into my life.
Shortly after I saw the #my500words challenge, I read a post from Crystal Paine (known for her website Money Saving Mom and her course Make Over Your Mornings) about a challenge she was doing to get up early every day in order to do something important for yourself and improve your morning routine.
>> Even though Crystal's 'get up early' challenge is no longer active, you can pick up the book that inspired it here: The 5 A.M. Miracle: Dominate Your Day Before Breakfast
My writer's heart knew it was meant to be. The stars and planets aligned (including Pluto, which I will always consider to be a planet thankyouverymuch) and something clicked within me. I joined both challenges, and I set a goal to stick with both for one month.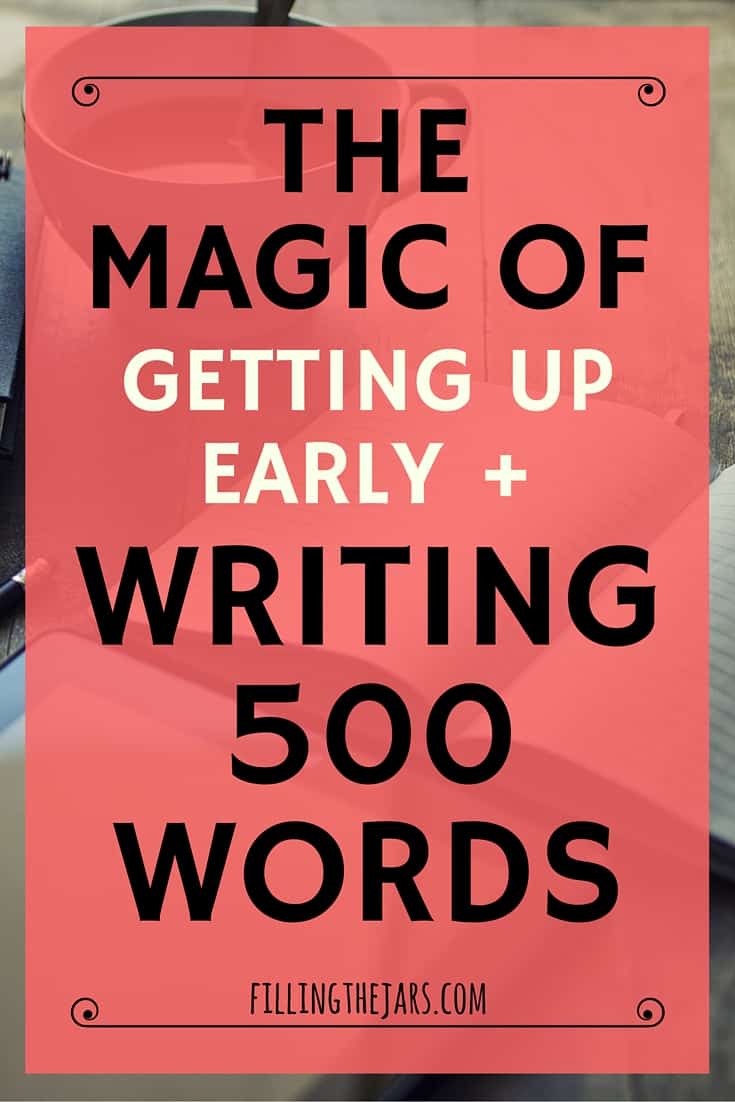 Jeff's encouraging words reignited my desire to write. Sure, I had learned to write short articles for content sites. I could put together a decently-organized newsletter. I was learning to blog. I had always LIKED to write.
(Interested in blogging? Learn how to start a blog with The Blog Plan — a free, easy-to-understand course.)
But this was different. I had forgotten how it feels to put words to paper (or the computer screen) for the pure joy of the action.
It's A-MA-ZING.
And because I'm in the mood to overshare, here is an excerpt from my morning's ramblings:
What is it about writing that is so powerful? Is it the act of making thoughts "real?" Is it the idea that something we put down on paper may inspire others? If we write fiction, is it an escape into another world? Do we create other worlds to escape something in our lives? Or do we do it to help others escape? Or simply because we know it sells?

As I sip my coffee at 5:19 a.m., I'm thinking this is all too deep to consider. Yet, consider it I must. Otherwise, why am I in this challenge to write 500 words a day for the next month? Yes, I could free write just to get words on paper. And that's fine, since it will help quiet my mind and probably help me be a little more present in my life since some of my bazillion thoughts have been allowed to rest in another place.

But a goal is beginning to form in my mind about what to do with those words. A short story? Blog posts? Still thinking about that, but I know that the answer will come as I continue to write.

My word for 2016 is Positivity, and I am going to use it to guide my actions. I will write. I will love my family. I will work to create the life that will make me happy.
Okay, that's definitely some early-morning stuff, but it helped me to begin my day on a fantastic note.
Over the course of the next month, I wrote and wrote. Some days it was more or less than 500 words, but all of it was a joy. And, yes, nearly all of it was written in the very early morning.
Discover the magic >> Get up early and WRITE! #writing
Click To Tweet
It became part of my daily routine for months afterward, even after I completed all of the prompts from the 500 Words challenge.
Looking back, I absolutely believe doing a writing challenge during the early morning hours inspired some of my most creative work. When I was writing, little did I know some of those words would end up in several blog posts and the six books I've published since then.
Why Waking Up Early To Write 500 Words Just WORKS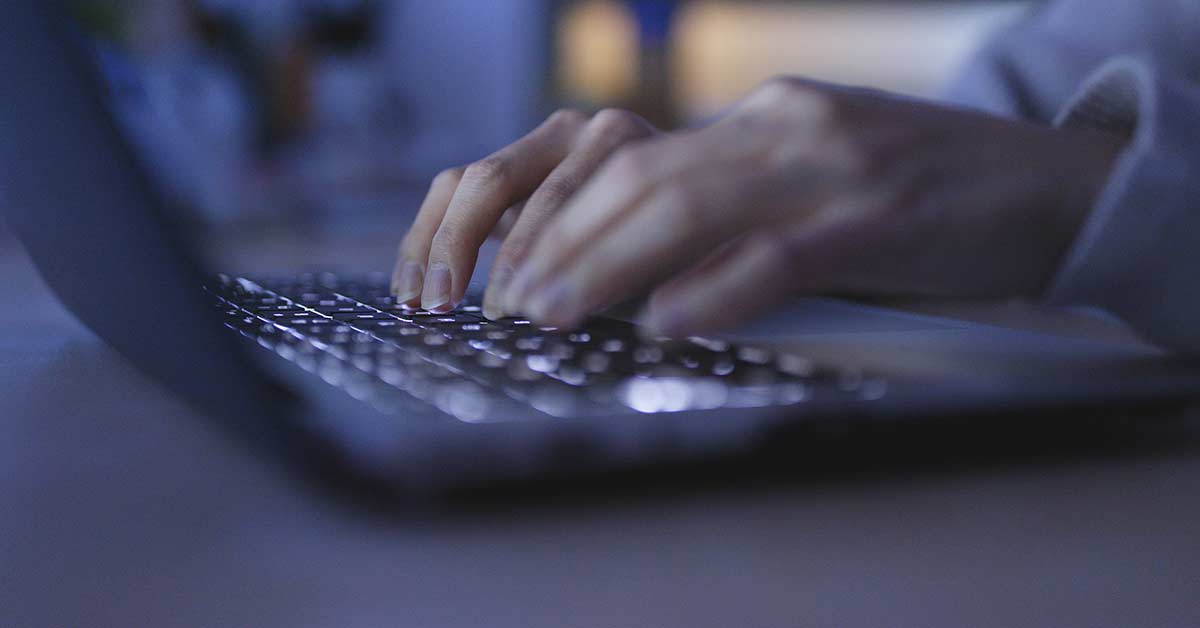 Writing 500 words in the morning is a great way to start off with something concrete accomplished.
What's amazing to me is that even if you don't do any 'real' writing work — in other words, you didn't produce anything 'good' — the process got your brain working.
That nearly always leads to a day of more creative thinking and better productivity… even if you end up taking a nap later! 😉
Even now — nearly six years later — when I feel stuck in my writing, I go back to that same combination of getting up very early and writing 500 words.
How Long Does It Take To Write 500 Words?
Here's the thing… everyone has different writing speeds. And let's face it, waking up early to write means those words probably won't flow as quickly as they would later in the day. That is, if you can get them to flow at all without that early-morning warm-up. 😉
In reality, those first 500 words about absolutely anything usually take me about 20 minutes. Maybe a little longer if I'm super-exhausted and can't quite remember where the letters are on the keyboard.
On a good day, my fingers fly and I'm done in less than 15 minutes.
Sometimes I like to start with a simple spark, like these single-word January journal prompts. Other days I need a little more structure or want to try something really fun, so I'll go for something from my list of 50 creative writing prompts.
That said, I'm actually a pretty slow writer. And the early morning words? It's really more about taking some time for myself (call it self-care if you want) before I feel like it's actually time to be productive. That comes later in the day.
More Writing Inspiration and Resources
Creative Journaling Exercises, Prompts, and Ideas to Keep You Writing
30 Important Journaling Prompts for Adults
Pursuing Your Passion: Recognize the Spark and Let It Ignite You
More Than 1064 Journal & Writing Prompts
9 Best Creative Writing Journals: Take Your Thoughts to the Next Level
31 Unique December Creative Writing Prompts for Adults
Concluding Thoughts…
Are you a writer? What do you like to write and why?
Do you HAVE to get up early in order to write 500 words a day? No, of course not!
But if you haven't challenged yourself to do something crazy like get up early and hit a pre-determined word count, I encourage you to try it. You might be surprised at what happens.
You've got this!
---
Because I've had so many people comment and email about Crystal Paine's Make Over Your Mornings course since I wrote this post, I've added a link so you can check it out for yourself.
Note: This is different than the 'get up early' challenge mentioned in the post. Instead, it's an affordable paid course that helps you figure out EXACTLY what you need to do to get your best start every day.
I've found it incredibly helpful in my own life, and I encourage you to give it a try if you constantly feel frazzled and unproductive.
---
If you enjoyed this post, please take a moment to share on Pinterest or your favorite social media. Thank you!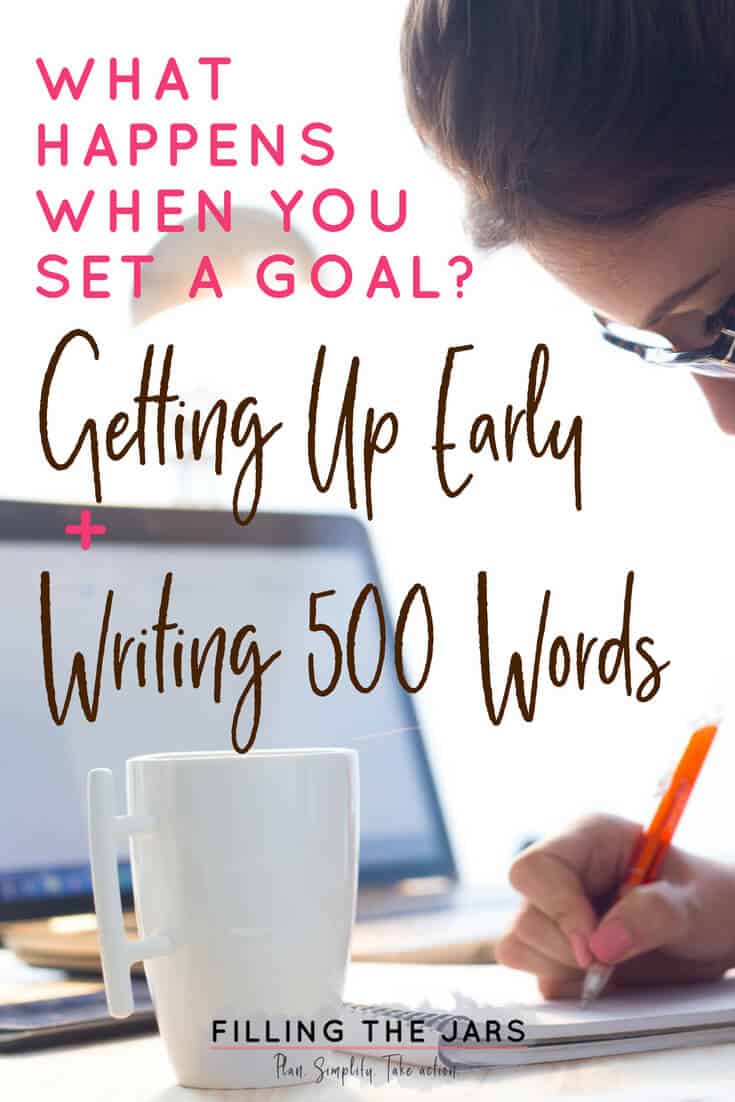 ---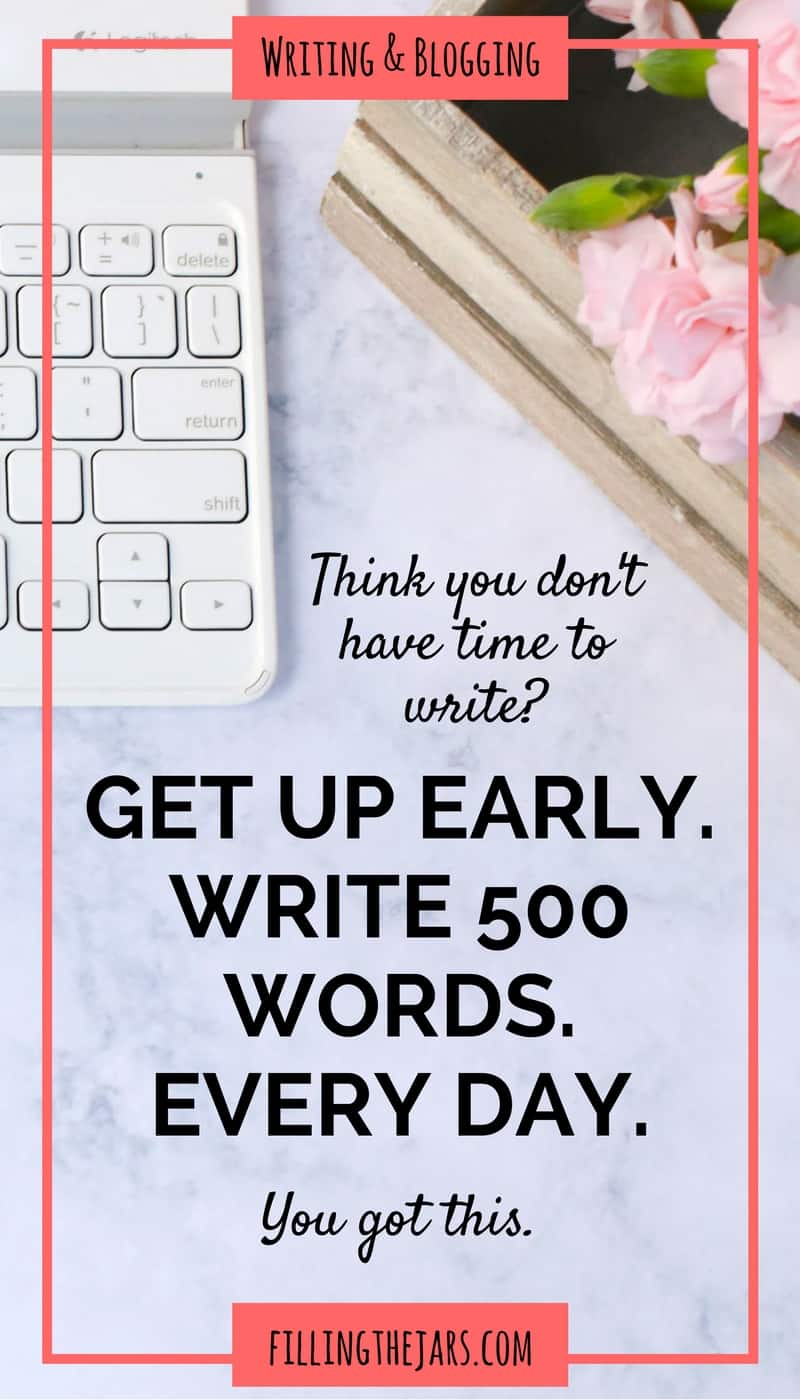 *Post first published January 2016
*Updated November 2021