To celebrate the end of the year and the beginning of a new one, here's your invitation to explore some December creative writing prompts this month!
Although using something like creative journaling exercises is a powerful way to reflect on the past and plan for the future, my favorite recommendation is to take it a step further. Get out of your head and use some creative writing ideas for adults to let your creativity explode into fictional worlds.
However you decide to use these creative writing prompts for December, enjoy yourself — and make it unique!
This post may contain affiliate links. If you choose to purchase through an affiliate link, I may receive a small commission at no additional cost to you. You can see my full disclaimer here.
Why Creative Writing Prompts for Adults are Important in December
Creative writing prompts for December provide you with a way to explore your creativity and give you a way to release some of the stress from the past year.
Some people find December to be a difficult time. Using creative writing can be a way to shift your thoughts to something that's enjoyable, inexpensive, and personal.
Creative writing can help you discover new aspects of your personality and abilities that you never knew existed before, and improve your writing skills at the same time.
December creative writing for adults can help you learn how to be more creative by using story starters in genres that might initially be outside your comfort zone. This can help you conquer writer's block and lead to great ideas in other areas of your life.
How to Use December Daily Prompts
December creative writing prompts are a fun way to engage your creativity, even if this is the first time you've tried writing creatively since high school. Here's how to use daily writing prompts:
1. Write in a way you enjoy.
That may be in a refillable leather-bound journal, a regular ol' college-ruled composition notebook, or on your computer. Simple google docs and more sophisticated writing programs are each effective at capturing words.
Sometimes it's good to try new ways and new technology, and other times the good old pen-to-paper might be just what you need. Whichever tool you choose, keep it near so you can add random thoughts or ideas whenever they hit you.
2. Set aside some time each day to dedicate to your writing.
I prefer the early morning for writing, before my brain has a chance to start thinking too much about the day. That might work for you, or the evening might be better after the children are in bed and you have time to unwind.
Experiment and find out when your creativity level is highest and try to make that your regular time period for writing.
3. Choose how you will use the prompts.
Look through your list of December creative writing prompts. You can either write in order, or each day you can choose December creative writing prompt that you're truly curious or excited about.
Just don't sit and stare at a blank page each day while you try to decide.
4. Go deep on December creative writing prompts!
Create a novel or short story. Write anything that sounds fun or intriguing — plays, books, poems, movies, television shows, and more!
31 December Creative Writing Prompts
Some of these December writing prompts are just plain fun, some are a little serious, and some are purposely weird. I love including a variety because you never know which story ideas will spark your imagination and light up your mind on any given day.
Enjoy!
1. A Sweet Surprise
— Your protagonist is surprised by someone important in their life with something thoughtful — a gift or something else meaningful to them both. Who gives this gift to the protagonist, and how do they react?
2. Growing Up
— Write about someone who is finally able to leave behind all the things they've been holding on to over the years, and they decide it's time for them to live their life the way they want. What does your character realize when they finally decide to take control of their own future?
3. I Saw Three Ships
— What happens when your protagonist sees three ships on their way to do something important? They know something crucial about the ships' journey. How does that affect the outcome?
4. Moonlight Sonata
— It's late at night and your main character is confronted with the beauty of the moonlight shining down over everything. Then, something unexpected happens that changes everything…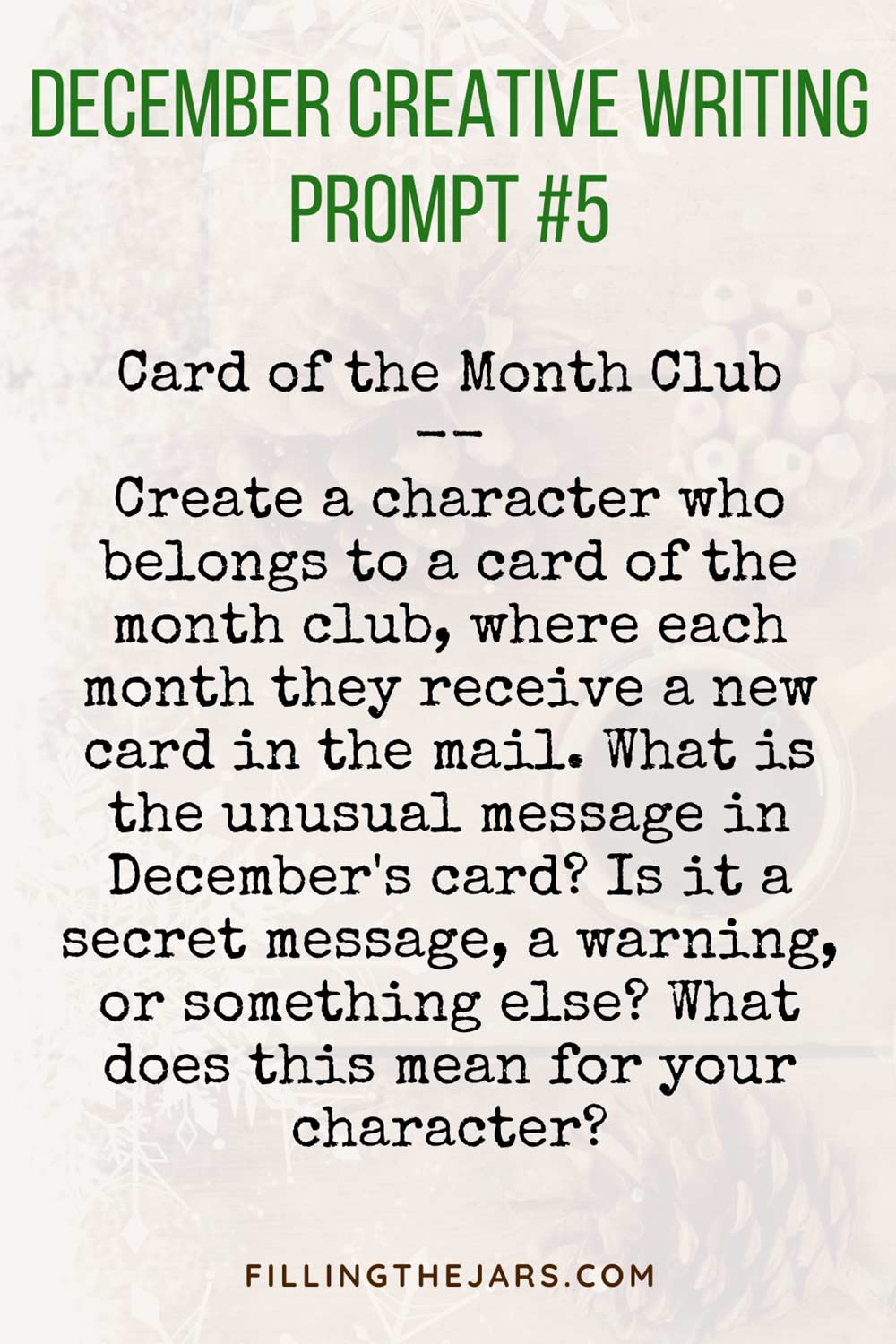 5. Card of the Month Club
— Create a character who belongs to a card of the month club, where each month they receive a new card in the mail. What is the unusual message in December's card? Is it a secret message, a warning, or something else? What does this mean for your character?
6. Snow Globe Scene
— December is a time of year known for snow and winter weather. Create a scene inside of a snow globe. Who lives there? Are they there by choice? What is life like inside the snow globe? What is life like outside?
7. The Dead of Winter
— What is your character's darkest secret? How will they react when someone threatens to reveal that secret during the month of December?
8. December Heartbreak
— December is a time of happiness, light, and love, but your character feels like they've been betrayed by all the people around them.
9. A Cup of Joe
— Describe a world where coffee is illegal, and your protagonist gets arrested for drinking it. How do they handle this? What does their life become without coffee in the picture?
10. The Art of Memory Making
— Write about a trip that your character takes down memory lane, of all the best parts from their life so far. What they do and see might open their eyes to what's happening in the present day.
11. The Best Laid Plans
— Write about a person who has tried everything they could to achieve something in their life, but somehow the opposite of what they were planning always ends up happening. What happens when your character learns the true reason why?
12. All The Things I Love About You
— Write about a scene where your protagonist is presented with the story behind all the things that made them fall in love with someone — your character might be looking at their loved ones differently after this happens.
13. The Mirror Never Lies
— Write about a moment where someone breaks down in front of a mirror. What happens when the person in the mirror starts giving them life advice? This could be a comedy or something darker.
14. A Haunting Past
— Your protagonist has somehow managed to put their past behind them, but it's all come back to haunt them when they encounter someone from their past. What happens during this meeting? What does your character do next?
15. A New Way To See The World
— Write about a scene where your character realizes that one of the most important parts about being happy with your own life is how you view it. What do they realize when they're presented with this, and how does it change their perspective of everything?
16. A Childhood Friend
— Write about a reunion between two people who knew each other in their childhood, and what happens when they meet again after all these years apart.
17. The Kindness of Strangers
— Write about a time where your protagonist has a difficult decision to make, and then someone comes into their life that makes everything better. Who helps your protagonist in this situation? What happens when they do?
18. A Trip Down Memory Lane
— Write about a scene where your protagonist is taken back to the past, to memories of a personal experience that meant something special. What happens when they get transported back in time?
19. Deep and Dark
— Write about when your character's life during the month of December, when there are few daylight hours — and anything can happen when darkness falls.
20. When I Look Up At The Sky
— Write about a scene where your protagonist realizes things they've been taking for granted aren't what they appeared to be. One night as they're stargazing, they catch a glimpse behind the starry curtain into what's really happening. But nobody believes them…
21. Winter Solstice
— Let the winter solstice bring an unexpected reunion between two characters… Or let them meet under less than amicable circumstances!
22. First Snow
— Old Man Winter's feeling awfully playful on the first day of winter. Your character's world is turned upside down during the first snowstorm of the year. Throw them into a blizzard and write about what happens.
23. A Glimpse of the Future
— Write about something that happens in your character's life when they suddenly see a glimpse of their future. How does it affect them? What do they realize when this happens? And how can they avoid whatever fate lies ahead?
24. Not So Silent Night
— What happens when a prank war breaks out during winter break? Who is behind it, and what do they hope to accomplish with their pranks?
25. A Simple Gesture
— Write about a simple gesture from someone else, which changes everything for your protagonist.
26. A Sneaking Suspicion
— You're in a relationship, but you think your partner is hiding something from you. Write about what they might be hiding, and how it will impact your relationship when you discover whether or not they're telling the truth.
27. December Dystopia
— Write about what happens when your character's life becomes something out of a dystopian novel… during December of all months.
28. Dreamland
— At this time of the year, we often feel like dreaming and getting away from it all, so let your character take a trip into Dreamland — a magical fantasy world of adventure and fun!
29. Every Way But Loose
— Write about a conflict between your character and an authority figure in December.
30. The Case of the Missing Cheese Log
— Write about a time when your character, Sherlock Holmes-style, goes looking for something. It could be a missing cheese log, or even a missing person…
31. New Year's Eve
— Whatever your character wishes for really will come true next year… only they don't know it. What do they wish for, and how does the wish turn out?
>> Why yes, you CAN sign up to get these free December writing prompts in a printable PDF file sent right to your email!
More Creativity and Inspiration for December
50 Creative Writing Prompts For Adults
December Journal Prompts — Sometimes the best way to start writing is with a random word prompt.
15 Must-Have Creative Writing Gift Ideas
17 Ways to Develop Your Creativity – Verywell Mind
18 December Quotes That Will Inspire You to Enjoy the Month
In Conclusion…
With these December creative writing prompts, you'll have plenty of opportunities to explore your imagination! You'll probably end up with an abundance of creative ideas.
Whether you're using the month to make headway on that novel, begin a new writing practice, or you're exploring writing short stories, I hope you have fun with these unique writing prompts!
Don't forget to get your printable prompts! Sign up below to have them sent to your inbox…
Need more prompts for next month? You'll love these January creative writing prompts for some cozy writing in the new year!
---
Did you enjoy this post? Know someone else who might like it? Please take a moment to share on Pinterest, Facebook, or your favorite social media… (Click the sharing buttons at the bottom of the post.) Thank you!