The start of the new year always seems like the perfect time to get inspired and motivated to start creating new stories and writing all.the.words. That's why I've put together this collection of 31 January creative writing prompts for adults.
No matter the weather outside, I hope these January writing ideas will encourage you to explore different topics, genres, and themes. If you need even more inspiration, check out my other creative writing ideas.
This is a great month to get cozy, delve deeper into your writing, and revive your passion for storytelling. Let's get started!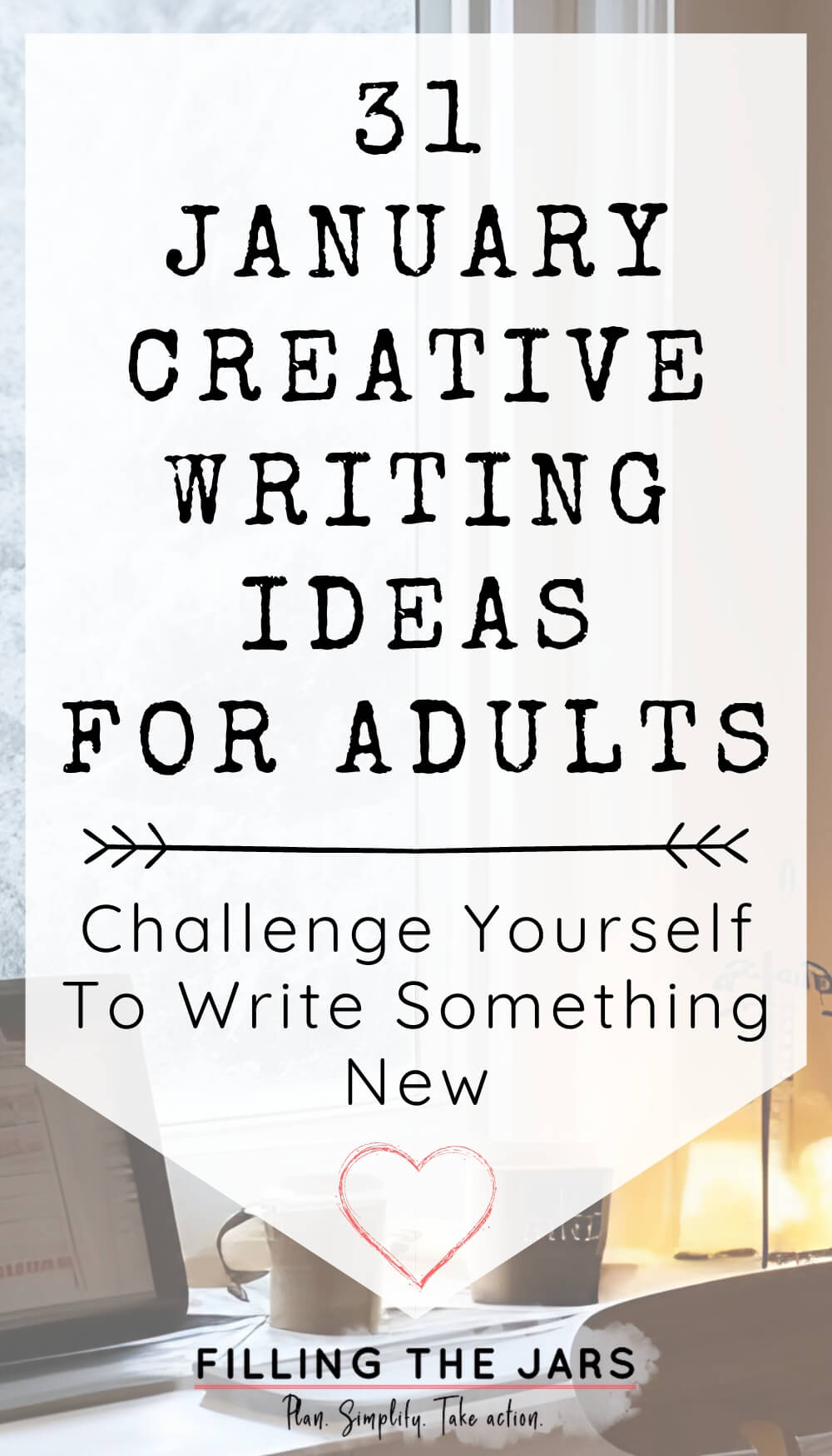 This post may contain affiliate links. If you choose to purchase through an affiliate link, I may receive a small commission at no additional cost to you. You can see my full disclaimer here.
Why Should You Try Creative Writing In January?
I always tell my readers that having a creative outlet is incredibly important. Of course, this could be anything that helps you express yourself or expand your personal horizons.
I happen to love writing and feel that storytelling is a powerful thing that everyone can do. Plus, January is the perfect time to get into the full-blown cozy winter writing aesthetic. There's nothing better than settling in for a writing session next to the woodstove while the snow and freezing wind swirl outdoors.
If you're experienced at creative journaling, then creative fiction writing is a natural next step. But even if you haven't written a word since high school or college, you'll probably be surprised at how enjoyable the creative process can be.
Just like journaling, a creative writing habit gives you a way to safely vent your feelings. The great thing is that with creative writing, you may be able to turn those feelings into entire stories… so much fun!
However, sometimes it can be difficult to know where to begin, find that spark of creativity, or come up with fresh writing ideas. Writing prompts can help you overcome writer's block and explore new ideas as you develop your writing skills.
Now, let's look at some unique writing prompts for Janauary — one for each day — as well as tips for using them to begin or improve your writing practice.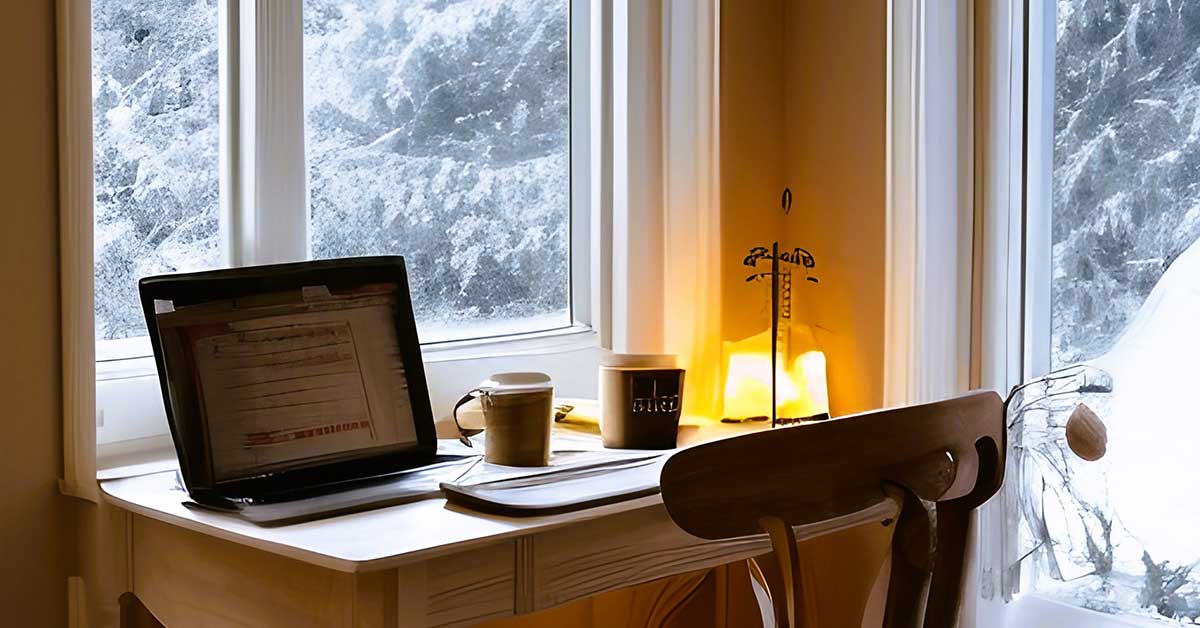 January Creative Writing Prompts
Each of the following story starters is designed to inspire creative exploration and challenge your writing practice. Enjoy!
(No time to read them all? Click here to have a printable version sent to your inbox.)
1. The New Year's Time Capsule
— Write a story about a person who discovers a mysterious time capsule on New Year's Day, containing objects and messages from a distant future that hold the key to humanity's survival.
2. New Year, New Mew
— Write a story from the perspective of a cat named Kit. It's a brand new year, and Kit has big plans for exploring the world beyond her humans' home.
3. Commitment Issues
— Write a story about a person who struggles with commitment in all aspects of their life, until they meet someone who changes everything.
4. Spaghetti Love Story
— Write a romantic comedy about a couple whose relationship is built on their shared love of spaghetti.
5. Whipped Cream Romance
— Write a steamy romance about a couple whose passion for each other is matched only by their passion for whipped cream, leading to sweet and sensual adventures in the kitchen.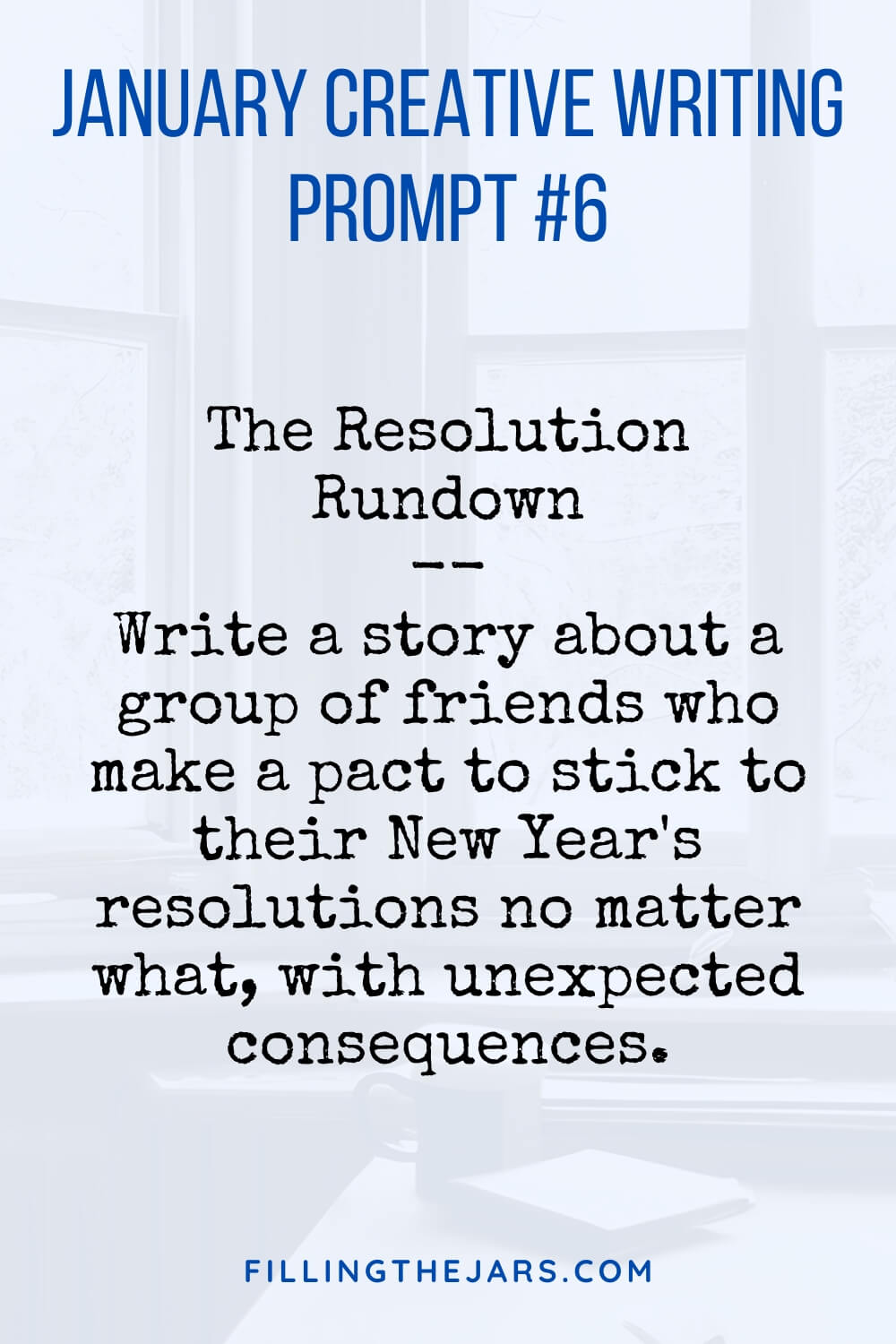 6. The Resolution Rundown
— Write a story about a group of friends who make a pact to stick to their New Year's resolutions no matter what, with unexpected consequences.
7. The Old Rock Collector
— Write a fantasy story about a person who collects old rocks as a hobby. One day, they discover that each rock has a magical power to lead them on an adventure of a lifetime.
8. A Devilish Sunday Supper
— Write a horror story about a person who attends a mysterious Sunday supper party, only to find out that their hosts are not what they seem.
9. The Word Nerd Detective
— Write a mystery story about a word nerd who solves a crime by using their knowledge of language and literature to crack the case.
10. Frosty's Fresh Start
— Write a story about Frosty the Snowman's journey to discover his true purpose in the new year.
11. Soup for the Soul
— Write a story about a person who opens up a soup restaurant with the mission of healing people's emotional wounds through the power of soup.
12. A Steaming Excursion
— An adventure story about an intrepid explorer striking out into unknown territory, armed only with his trusty thermos full of hot tea.
13. Twinings on the High Seas
— A swashbuckling pirate adventure with plenty of action, witty quips, and the occasional moment to enjoy a good cup of Earl Grey amidst all the chaos!
14. Boardwalked
— Write a thriller set in a mysterious beach town where nothing is quite as it seems — and a strange vision board holds the clues to unlocking dark pasts and deadly secrets.
15. The Art of Starting Over
— Write a story about a struggling artist who decides to reinvent their style and start fresh.
16. A Vision of Love
— When a lonely heart creates a vision board to manifest the perfect partner, she finds that love may come from an unexpected source.
17. The Cable Car Killer
— A serial killer targets passengers on a cable car route, and a detective races against time to catch the perpetrator before more lives are lost.
18. The Healing Brew
— When a woman's grandmother falls ill, she turns to an old family recipe for a healing tea. But as she searches for the rare ingredients, she uncovers a family secret that could change everything.
19. Strange Brew
— An offbeat horror comedy featuring misfits and mad scientists brewing up a concoction filled with strange sights and eerie discoveries.
20. The Potion Master's Challenge
— Write a fantasy story set in an ancient realm filled with dragons and demons, where one extraordinary wizard stakes his life on brewing the most powerful potion envisioned by mankind!
21. Toil & Trouble Brewing Co.
— A lighthearted comedy following two friends who open up their own underground brewery – specializing in magical potions that cause hilariously exquisite results.
22. Mystery Under the Northern Lights
— A pair of old mittens and a mysterious note found under the aurora borealis in January were only the beginning of an adventure that none of them expected to have.
23. Winter Crossroads
— As snowflakes settled onto a forgotten crossroads in the middle of a silent forest in January, she knew this was the place where destiny would finally set her free.
24. Resolutions
— Your character has made a list of New Year's resolutions, but they're already struggling to stick to them. What happens when they encounter a stranger who seems to know all of their hopes and dreams for the year ahead?
25. My Interests? I've Got No Time For That Right Now
— Write about someone who has no interest in new or exciting things–until she meets someone who can't stand not having an interesting life! What happens?
26. A Little Fun, A Little Creepy, A Lot Too Real
— Your character has been dreaming of the upcoming year… literally. They can't stop the dreams from happening every night, and they aren't sure if the visions are dreams, premonitions, or memories. After a while, your protagonist is convinced their dreams are more than just visions…
27. Midwinter Masquerade Madness
— A dazzling murder mystery full of colorful characters, where everyone is wearing masks… and no one has their true intentions revealed until the snow melts away!
28. Patchwork Promises
— A heartwarming saga centered around a family facing hardship, who find solace through their shared love for sewing and creating patchwork quilts — leading them on journeys both hushed and grand…
29. Snowed In
— A group of strangers find themselves trapped in a cabin during a snowstorm, but tensions rise as secrets are revealed and they realize they might not make it out alive. Add your own twist to this classic scenario.
30. Winter Wishes
— On a particularly cold January day, a young woman makes a wish to escape the monotony of her small town. What happens when her wish comes true?
31. Hell's Winter
— When a freak winter storm hits Hell, the demons must band together to survive the bitter cold. But as they huddle for warmth, they begin to realize that the storm is no accident.
Love these ideas? Fill out the form below to have this printable January prompt list sent right to your inbox…
Tips For Your Creative Writing Routine
January can be a tricky month for creative writing. There's the excitement of a new year and all the possibilities that it brings, but that also means there are a lot of things competing for your time and attention.
How often should I write?
Set aside time each day dedicated solely to your writing — even if it's just ten minutes! Make this part of your personal routine so it becomes easier to stick with it over time. I've found that getting up just a little earlier and writing 500 words is a fantastic way to begin the day.
Developing the habit of creative writing every day serves so many purposes. It helps to lessen writer's block, increase writing speed, and improve writing quality.
Schedule your daily writing time and make it YOUR time.
What if I only want to write in one genre?
Here's the thing… When using writing prompts, it really helps to approach them with an open mind and a willingness to explore. Use prompts as a way to push yourself outside of your comfort zone.
You can use them as a starting point for freewriting to get warmed up or as a way to generate new ideas for a larger project which may or may not end up being in 'your' genre.
I always suggest that you try each prompt. And to make things easy, use them in the order they're written.
But if you really can't get into a certain prompt, skip it and use something else. This is YOUR writing session, after all.
Don't be afraid to write badly
There are absolutely no rules when it comes to writing… this is purely for you! So don't be afraid to write anything that comes to mind.
Allow yourself creative freedom; don't put too many rules or limits on your work. Sometimes it pays off not knowing where you're going next and the worst writing can lead to the best ideas and results.
The most important thing is to just keep exploring and writing, even if the words feel awkward or wrong at first. It's all part of the process! You can always go back and refine things later if you want.
Favorite Writing Resources
You may not need all of these, but here are some things that can make writing every day easier and more enjoyable during the frigid days of January.
A notebook that you love to write in is essential. It should be big enough to write in comfortably, but not so big that it's cumbersome to carry around. I like this refillable journal with 4 inserts so I can write about different things and keep them sort of organized.
You may not use your journal for all of your daily writing, but it's nice to have when you want to jot down ideas for characters, scenes, or brilliant storylines… you know those always come to you when you're not near your computer.
Don't forget the coffee mug! Every writer needs a great mug. 😉
Related post: Best Journals for Writing: 6 Top Picks
A pen that you love writing with is also important. You want one that's comfortable to hold and use, and it should have a smooth ink flow. My perfectionist side prefers to write with erasable Frixion pens, but they're not always the best choice for journals that are left in hot cars, etc. (The ink disappears with heat.)
My other favorite – Pilot G2 pens – aren't erasable, but they definitely write more smoothly and have a bolder line. The ink can be a little smeary until it dries.
If writing by hand isn't your thing, there's nothing wrong with using Google Docs for your daily creative writing. When I'm really motivated and the words are flowing, this is my go-to because I can type much faster than I can write.
When the ideas are there, you have to capture them as quickly as possible!
This leads me to one of my favorite things: the voice-to-text app otter.ai — it's perfect for rambling through messy scene ideas or making character notes whenever they occur to me. Otter syncs across all of my devices (android, iPhone, and Windows PC) and does a pretty decent job of transcribing for copying into Google Docs or your favorite writing program.
You can gamify your writing prompts with this fun set of writing dice.
Ready to get serious about your book idea? You might have a storyline in your head, but there's a little more to the process. Grab this printable story planner workbook and start getting some of the details down in writing. Trust me, this kind of development and planning makes the process go much more smoothly!
So if you're looking to make writing easier and more enjoyable, be sure to try some of these resources.
More Writing Inspiration For January
28 February Creative Writing Prompts for Adults to Write Your Heart Out
30 Terrific June Creative Writing Prompts For Adults
23 Winter And Coffee Quotes To Warm Your Soul
Creative Writing Questions: 25 Prompts to Unlock Your Imagination
I hope these January creative writing prompts give you something fun to look forward to this year!
Will you take on the challenge of writing every day for the month of January? Remember, the more you write, the better you'll become.
Use these prompts to kick off your writing practice in the new year and enjoy an amazing year of growth and creative exploration.
Happy writing!
Don't forget to grab your free printable!
---
Did you enjoy this post? Know someone else who might like it? Please take a moment to share on Pinterest, Facebook, or your favorite social media… (Click the sharing buttons at the bottom of the post.) Thank you!