Do you need creative writing prompt ideas with an adult spin to kick your creativity into gear? If so, this blog post is for you!
This collection of creative writing questions along with some of my other creative writing prompts for adults will help get your creative mind going and hopefully vanquish any pesky writer's block!
This post may contain affiliate links. If you choose to purchase through an affiliate link, I may receive a small commission at no additional cost to you. You can see my full disclaimer here.
Using Writing Questions And Prompts In Daily Life
You can use these creative writing prompts in a variety of ways:
to fill up a journal with stories and poems
in the spur of the moment when the writing urge strikes
as a warm-up before tackling your regular daily writing goals
as part of a personal creative writing challenge
for fun, just because you feel like it!
Writing questions are tools that help to jump-start creative thought processes, but they don't dictate EXACTLY what should be created. A creative writer has many options when it comes to using this type of prompt as a writing aid.
Using creative writing questions as journal prompts or warm-up exercises gives writers an opportunity to explore new narrative paths without worrying about how good (or bad) their ideas might be since there are no limitations.
Creative writing questions offer an unlimited array of possibilities for creative expression; anything goes when using them as long as imagination is involved!
Creative prompts can be used by people who write for a living or simply have an interest in creative self-expression through the written word. Plus, every time you practice writing, you improve your writing skills and naturally become a better writer.
These creative writing exercises can also inspire new ideas on any given topic and, by shifting the thought process, help writers get out of a rut when trying to generate material for future work projects.
Some of these creative writing questions are variations on some of the classics. Instead of a simple 'What's your favorite color?' let's take it a step further with 'What's the story behind your favorite color?'
Write more, use your brain a little differently, and find new topics to explore with creative writing questions you may have never been asked before…
This fun mix of creative journal writing questions and flat-out fiction story starters is sure to help unlock your imagination and get you writing with plenty of creative ideas.
So, grab your favorite notebook or writing journal and let's get started!
Enjoy!
Creative Writing Questions To Get Your Mind Moving
1. What's the story behind your favorite color?
2. What do you think is the weirdest thing in your home?
3. What was your favorite cartoon character like before you met them?
4. What would your spirit animal be, and why?
5. What if you woke up one day and could no longer speak?
6. What if you could time travel but only forward?
7. How do different creative writing prompts affect your mood?
8. What would life be like if the earth were flat instead of round?
9. What happened during your boss's last office party?
10. What is the worst piece of writing advice that you have ever received?
11. If only one family member survived a zombie apocalypse, who would it be and how would they do it?
12. Would you rather be the smartest person in the world or be able to 'delete' anyone you wanted with your mind?
13. What's the craziest thing that could happen on a first date?
14. What would you do if you found out that you were a clone of someone famous?
15. If your life were a movie, what would the title be and who would be the stars?
16. What if you discovered a secret society of monsters who lived among us?
17. If you could change only one thing from your past, what would it be and how do you think it would affect your life?
18. Would you rather have superhuman strength or the ability to read people's thoughts?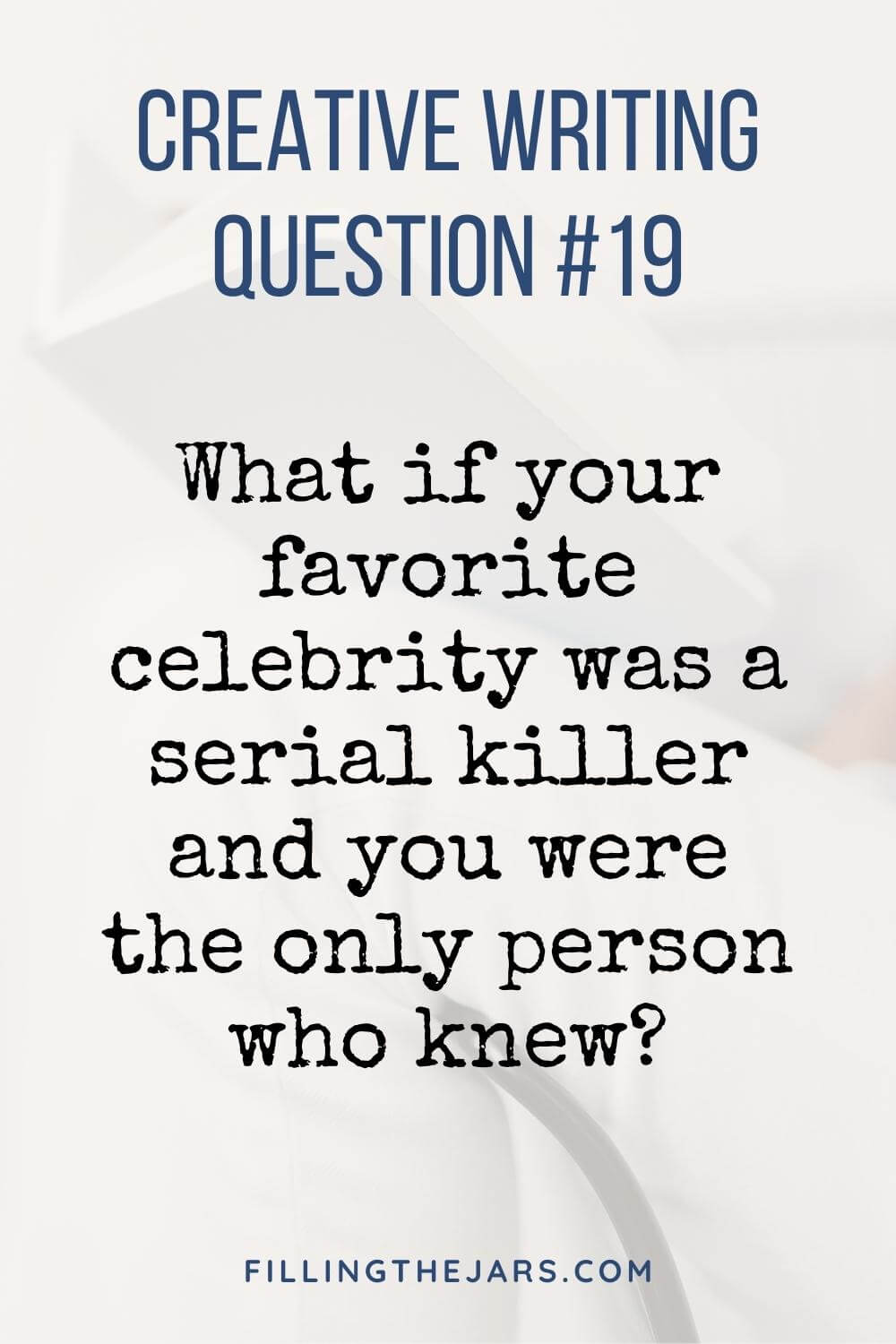 19. What if your favorite celebrity was a serial killer and you were the only person who knew?
20. What is the most creative thing you have ever done (so far)?
21. If you were to start a creative writing journal, what would your journal's title be?
22. How can you overcome your fear of failure by failing on purpose?
23. What if your favorite author wrote a book about you?
24. What if you wrote and published a story about your life, but it was completely opposite of what actually happened?
25. If you could have a pet dragon, what would it be like?
Want these prompts in printable form? Click here to have the creative writing questions pdf sent right to your email.
More Creative Writing Inspiration And Resources
The Magic of Getting Up Early and Writing 500 Words
9 Best Creative Writing Journals: Take Your Thoughts to the Next Level
30 November Writing Prompts for Adults to Fuel Your Creativity
How To Start Morning Creative Writing for More Productive Days
More Than 1064 Journal Writing Prompts
Favorite Writing Supplies
Concluding Thoughts…
Establishing a daily writing habit is such a great way to express and explore your creativity!
I hope these creative writing questions will inspire some new ideas for you and give you a boost when starting out a piece of creative writing during your next writing session.
Have fun exploring your creativity through imaginative stories, poems, journal entries, or scripts… and always remember:
You've got this!
Don't forget to sign up below to grab your printable writing questions…
---
Did you enjoy this post? Know someone else who might like it? Please take a moment to share on Pinterest, Facebook, or your favorite social media… (Click the sharing buttons at the bottom of the post.) Thank you!