It would be a major mistake to think that all journals are created equally. When it comes to the best journals for writing, nothing could be further from the truth!
The experience of journaling by hand can be something truly special. With some of my journal writing prompts and at least one of these top writing journals, you'll be well on your way to a lifelong habit that promotes productivity and positivity.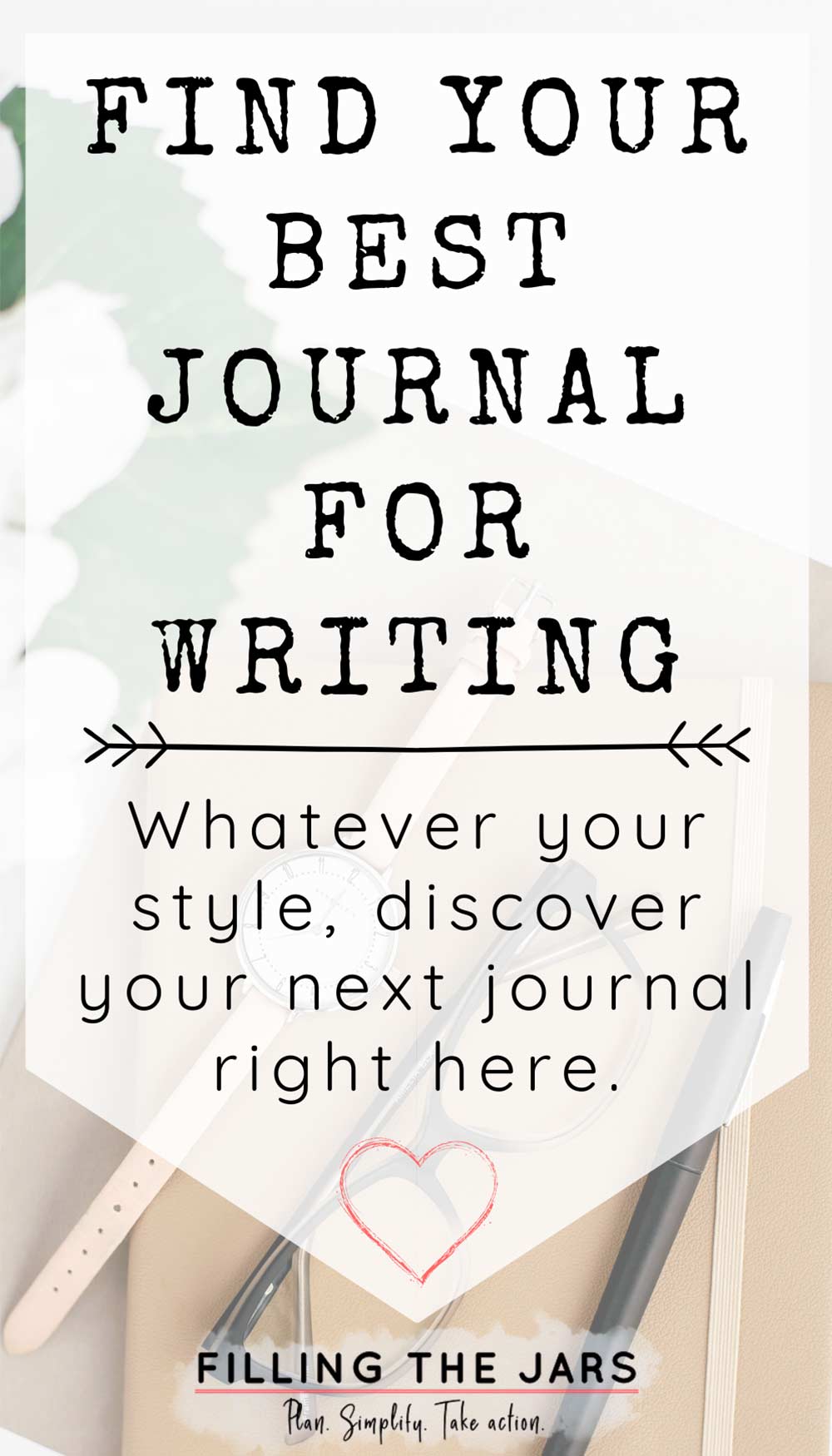 This post may contain affiliate links. If you choose to purchase through an affiliate link, I may receive a small commission at no additional cost to you. You can see my full disclaimer here.
There's a world of difference between a really well-made, high-quality notebook or journal and something that could be best described as scratch paper — and it's something you can feel the moment you put pen or pencil to paper.
Below, you'll find the highlights of some of the best writing journals with options that touch every budget and every purpose. By the time you're done with this quick guide, you'll have no trouble zeroing in on your new journals!
---
Best Journals for Writing
The Classic
Moleskine Ruled Hard Cover Notebook
When most people think of the best journals for writing, they think of Moleskine. This is the legendary simple, elegant, and luxurious brand of notebooks beloved by luminaries like Ernest Hemingway, Pablo Picasso, and even Vincent van Gogh.
The paper here is silky smooth and almost buttery to write on, but still thick enough and resilient enough not to bleed through. That's a huge bonus, letting you write on both sides of the paper without having to worry about legibility issues.
If you're going to be journaling and want to make sure that your notes stand the test of time, this acid-free paper and a halfway decent pen is the way to go!
The (Kinda) Classic
Amazon Basics Classic Lined Hardcover Notebook
Amazon has their own knockoff of the classic Moleskine available at a super reasonable price point — often much less than what a legitimate Moleskine would set you back.
The paper isn't quite as high quality or as smooth, but it's just as thick and has that perfect off white/ivory color that really helps make the journaling process worthwhile. The binding is solid, the quality is top-tier, and the price is almost impossible to beat.
This is a good choice if you're ready to upgrade from the bargain-price wire-bound school notebooks and make your journaling feel a little more special, but you're not yet sure whether or not a hardcover journal is right for you.
The Refillable Rustic Leather Journal
Ox and Pine Premium Leather Journal
When you hear the word journaling, who doesn't immediately envision a worn leather journal with tattered pages filled with precious thoughts and sketches?
This selection ticks all the boxes, and it's truly the epitome of the 'rustic journal.' Thick leather, wraparound leather strap closure, quality paper (80-lb weight, so not overly thick or heavy), and available personalization.
My favorite part? Because it's refillable with up to 4 individual notebooks, you can customize the way you use it. Think of ALL the journal page styles you might want to use — lined, blank, dot grid, full grid (graph) — and consider the possibilities of mixing and matching different sets of refills in this ONE journal.
Note: I prefer an easier-to-open-and-close style, so I purchased the similar Premium Leather Journal with Elastic Closure from the same shop.
The Utility Pick
Five Star Spiral College Ruled Notebook
Of course, not everyone wants to spend 'extra' money on really fancy notebooks or journals – and this Five Star College ruled notebook is the perfect multi-functional 'utility' journal for sure. (It has lots of pockets!)
The low-key look and feel of this notebook lets you write in a more free flow kind of state, important if you worry about only filling your more expensive journals with your highest-quality thoughts or ideas.
The paper is smooth, and the college ruled lines help to add a bit more structure to the overall experience.
The Bullet-Style Journal
Leuchtturm1917 Medium A5 Dotted Hardcover Notebook
Bullet journaling has taken off like a rocket over the last few years, and there might not be a better journal on the market designed specifically for that purpose than this one. Features like numbered pages and a blank table of contents make getting started extremely simple.
The paper is so smooth and so elegant that you might not want to start scribbling in it right away — but once you start to get into the swing of things with bullet journaling it's going to feel like second nature.
Note: Because there are so many pages in this journal, the paper is slightly thinner than some other brands. This shouldn't be an issue if you use a fine-point pen or pencil for writing, but you may find some ghosting with heavier markers or other mediums.
The Dot Grid Paper Notebook
Not everybody wants a notebook that is lined or completely structureless, but instead like to journal within the semi-structure of a grid – and that's where this notebook comes into action.
Journalers and those who just want to jot down notes or their ideas every now and again will appreciate the quality that went into this notebook.
The grids aren't restrictive at all and the paper is fairly thick (without being heavy), takes ink very well, and you won't have to worry about ink-bleed with general use.
All of those factors combined make this a great choice for beginning bullet journalers!
More Journaling Resources and Inspiration
20 Spring Journal Prompts for Reflection and Seasonal Goal-Setting
28 Confidence Journal Prompts to Improve Your Self-Esteem
November One Word Journal Prompts
Ready to give this journaling thing a whirl? Let go of the guilt and the perfectionist expectation of having to journal the 'right' way. There's no 'right' way — only what's right FOR YOU.
That said, matching one of the best writing journals from this post to your personal style is sure to make your daily journaling feel like an exceptional experience.
The thoughts and ideas you release with every journaling session will be steps toward more intentional living. And what could be more valuable than that?
You've got this!
---
Did you enjoy this post? Know someone else who might like it? Please take a moment to share on Pinterest, Facebook, or your favorite social media… (Click the sharing buttons at the bottom of the post.) Thank you!