Uncover a creative goldmine with these unique February creative writing prompts for adults! You'll discover endless ways to awaken your inner storyteller and bring hidden characters and stories to life.
And the fun doesn't end here. These writing prompts for February are just part of my collection of creative writing ideas. Once you get started, you'll be writing all sorts of things you never expected!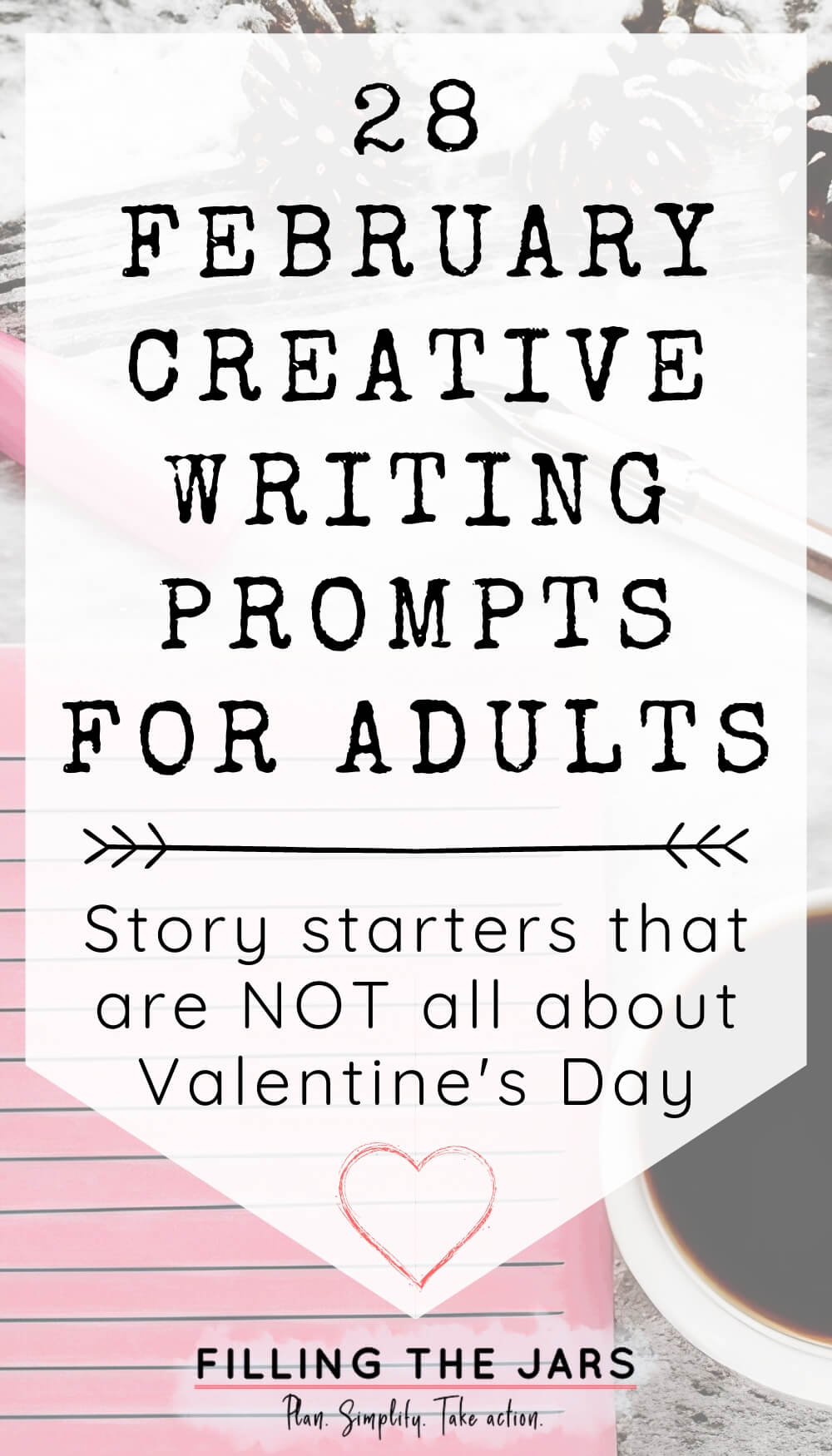 This post may contain affiliate links. If you choose to purchase through an affiliate link, I may receive a small commission at no additional cost to you. You can see my full disclaimer here.
What To Write About In February?
I know, I know… it seems like nearly every February-inspired creative prompt you see is based on Valentine's Day or chocolate. Well, these prompts are definitely different… and I think you'll appreciate the variety.
Here in Michigan, we're still in the depths of winter, so you'll see plenty of story ideas with a seasonal influence. You can bring your winter experience into your writing, or imagine what it would be like to live in a place where there's cold and snow and ice at this time of the year. 
(Funny but not funny… we're expecting a winter storm to hit any moment as I'm writing this…)
Reimagine your writing goals and explore new genres in creative writing with February's adult prompts. Keeping an open mind is key; venture out into a world of adventures and experiences that have the potential to become your personal works of art.
Challenge yourself to push the boundaries even further and write from unfamiliar perspectives or personas. Stretch past your comfort zone this month by trying something out of the ordinary.
Let's begin!
February Creative Writing Prompts
Unleash your innermost thoughts and use these unique February story starters to set your imagination on fire.
1. The Flower War
— In order to save the land from being overrun by darkness, two rival fiefdoms — one ruled by spunky older women and another ruled by young men — are forced into an all-out war over possession of a magical flower.
2. The Rise of the Toterators
— An alien species arrives on Earth offering plentiful resources and unimaginable technology in exchange for unlimited access to our seemingly harmless supply of tater tots…
3. Scarlet Fever
— A young woman falls in love with a mysterious man who always wears a red scarf. But as their relationship deepens, she begins to uncover dark secrets about him.
4. Brain Freeze
— Sarah's parents always told her that ice cream was only meant for dessert. But one day, she wakes up early and sneaks a bowl of mint chocolate chip for breakfast. She discovers that eating ice cream for breakfast gives her the power to freeze time.
5. Brain Freeze 2: The Revenge
— After using her ice cream-powered time-freezing ability to save the world, Sarah thought she had hung up her cape for good. But when a new villain threatens to take over the world with an army of brainwashed ice cream addicts, Sarah is forced to suit up once again.
6. Ice Breakers
— Your character is stuck in a small town in the middle of winter and is desperate for some company. They decide to attend a speed dating event — but when they arrive, they realize it's not what they expected. What's the twist?
7. A Rose in Winter
— In the depths of a cold and snowy February, Lady Isabella Sinclair finds herself unexpectedly drawn to the brooding and enigmatic Duke of Lancaster. But their budding romance is threatened by the secrets of his past and the scandalous rumors that surround her own family.
8. Winter's End
— In a post-apocalyptic world where winter has lasted for years, a group of survivors finally sees signs of spring on the horizon. But as they venture out into the thawing world, they discover that the end of winter may be even more dangerous than the season itself.
9. Cocoa Conspiracy
— A young journalist discovers a conspiracy behind a popular chocolate company's sudden success. As they delve deeper into the investigation, they uncover a secret ingredient that is not only addictive but also deadly.
10. The Umbrella Artist
— A struggling artist in a small town during a particularly bleak February finds inspiration in an unlikely place — the umbrellas of the locals. As she creates a series of stunning paintings featuring the colorful umbrellas, she finds herself drawn into the lives of the people who own them.
11. Procrastination Nation
— In a world where everyone is a chronic procrastinator, a group of unlikely heroes must band together to save their city from destruction, despite their tendency to put things off until the last minute.
12. The Winter Wanderer
— A man decides to spend the month of February walking across the country, performing random acts of kindness along the way. But as he makes his journey, he discovers that the people he meets are just as eager to help him as he is to help them.
13. A Voice in the Dark
— When high school student Jamie discovers an old radio in their grandfather's attic, they don't expect to hear anything but static. But when a mysterious voice begins to speak through the static, Jamie is drawn into a dangerous game of cat-and-mouse with a serial killer who's been hiding in plain sight for decades.
14. The Book Thief's Valentine
— On Valentine's Day, a notorious book thief breaks into a wealthy collector's home. Instead of stealing the rare books, he leaves behind a new book with a personalized love letter inside. As the collector becomes obsessed with finding the book thief, she discovers the true reason behind his actions.
15. A Modern Day Job Hunt
— In a world where people have become obsessed with finding the perfect job, a hapless job seeker must navigate a maze of bizarre interviews and impossible requirements to land their dream job.
16. A Rose Among Thorns
— When a feisty gunslinger rides into town, she turns the small community of Thornfield on its head. But as she begins to uncover the corrupt underbelly of the town's leadership, she realizes that the only way to save it may be to team up with a rugged cowboy and his trusty steed.
17. The February Family Reunion
— The Johnson family has been torn apart for years, but they still make a point to gather together every February for a weekend of skiing. This year, tensions are high, and old grudges come to the surface
18. The Winter Guardian
— In a world where seasons are controlled by powerful guardians, a young girl discovers that she has been chosen to be the next Winter Guardian. But as she takes on her new responsibilities, she realizes that there are dark forces at work that threaten to destroy the delicate balance of the seasons.
19. February Flames
— When Lila starts her new job at the local fire station, she's excited to be living out her childhood dream of being a firefighter. She soon discovers that her new coworkers are a quirky bunch, each with their own unique personality. And then there's the captain, the handsome and enigmatic Sam, who seems to have a secret he's not willing to share. What happens as Lila gets caught up in the daily dramas of the firehouse?
20. That One Thing
— A woman becomes obsessed with finding out what her late husband's secret was, the one thing he kept from her for their entire marriage. As she delves deeper into the mystery, she realizes that the truth may be more dangerous than she ever imagined.
21. The Case of the Missing Groundhog
— When the town's beloved groundhog disappears just before Groundhog Day, amateur detective Maria must track down the culprit before the town's annual celebration is ruined.
22. Pink Pajama Party Panic
— A group of friends plan a wild pink-themed pajama party. But when one of them accidentally orders a shipment of live pigs instead of pink decorations, chaos ensues as they try to keep the party going while dealing with the unexpected guests.
23. February Fantasia
— In February, the streets of New York City come alive with magic. Every night, creatures from fairy tales and legends walk among the humans, and a mysterious carnival appears in Central Park. But when a young woman accidentally crosses into the world of magic, she must navigate the dangers of the fantastical realm to find her way back home.
24. The February Funk
— In the dead of winter, a teenager struggles with seasonal affective disorder and a general sense of malaise. But when they join a quirky after-school club, they discover a community of misfits who help them find purpose and joy.
25. The February Fossil
— A team of scientists sets out to explore a remote island in search of rare fossils. But when they stumble upon a mysterious artifact that defies explanation, they find themselves embroiled in a thrilling adventure that takes them to the far corners of the globe.
26. The Secret Garden of February
— A young woman inherits a dilapidated mansion and discovers a hidden garden that is always in bloom, even in the dead of winter. When she starts to spend time there, she realizes there is much more to the garden than meets the eye.
27. The Arctic Detective
— When a famous detective is called to investigate a series of polar bear attacks in a remote Arctic town, they soon discover that the real danger may be lurking within the tight-knit community. With the help of a mysterious local guide, they must race against time to solve the case before the killer strikes again.
28. Pirates of the Caribbean Cruise
— When a group of friends decide to take a pirate-themed February getaway cruise in the Caribbean, they get more than they bargained for. From cheesy costumes to bad karaoke, the cruise is a hilarious disaster from start to finish.
Love these ideas? Fill out the form below to have this printable February prompt list sent right to your inbox…
How Overthinkers Can Make The Most Of Writing Prompts
Overthinkers, listen up! These daily February creative writing prompts are meant to help you break out of your usual thought patterns and unleash your creativity. Instead of getting caught up in the details and overanalyzing every word, these prompts will give you a starting point to let your imagination run wild.
With each prompt, embrace the freedom to write without judgement or self-criticism, and watch as your creativity flourishes.
Don't be afraid to approach the prompts from different angles. Use personal experiences or even switch up the genre to keep things interesting.
Remember, not everything you write has to be perfect. It's okay to take risks with your writing. In fact, it can lead to some of the most interesting and unexpected results.
So start each session with an open mind and see where your pen takes you. Whether it's a silly story or a heartfelt passage, trust in yourself and let the words flow.
By committing to this daily writing practice, you'll not only expand your creativity but also make time for yourself when you can set aside some of those overthinking tendencies.
More Writing Resources And Inspiration
31 March Creative Writing Prompts For Adults To Spark Your Inventiveness
9 Best Creative Writing Journals: Take Your Thoughts to the Next Level
25 Creative Writing Prompts About Love
31 July Creative Writing Prompts To Ignite Your Summer Writing
Concluding Thoughts…
Whether you use my February writing ideas or find other ones that work for you, the most important thing is to enjoy yourself.
Writing can be an incredibly rewarding experience if you remain open to the possibilities. Allow yourself to play, discover, and create. Who knows what stories you'll tell by the end of the month?
So grab a pen and notebook (or open up that blank document) and get started on today's prompt!
Happy writing!
Don't forget to grab your free February creative writing prompts!
---
Did you enjoy this post? Know someone else who might like it? Please take a moment to share on Pinterest, Facebook, or your favorite social media… (Click the sharing buttons at the bottom of the post.) Thank you!