Hey there, indoorsy winter warriors! As the temperature drops and the days get shorter, it's more important than ever to cuddle up with a warm mug of coffee and enjoy some relaxation time indoors. (#amIright?!) And to add some cheer to your cozy day, I've compiled a list of winter and coffee quotes for all my fellow indoor enthusiasts.
So grab that comfy blanket and settle in with your favorite drink — it's time to indulge in some seasonal inspiration. Who knows, maybe this post will even inspire you to try out a new hot beverage or cozy spot to curl up in. Happy hibernating!
And don't forget to check out the rest of my seasonal and motivational quotes collection… so much good stuff!
This post may contain affiliate links. If you choose to purchase through an affiliate link, I may receive a small commission at no additional cost to you. You can see my full disclaimer here.
Ahhh… the joys of a hot cup of coffee on a chilly winter morning. As an indoorsy person, there's nothing quite like cuddling up underneath a cozy blanket next to the fire with a steaming cup of java and watching the snow fall outside.
Winter can be a beautiful time of year, but where I live, it's downright COLD!
That's where coffee comes in — a hot cup of coffee can help warm you up on a cold day. Plus, there's nothing quite like the smell of coffee brewing to make your house feel cozy and inviting.
So, make yourself a mug and enjoy your coffee along with these quotes about coffee and winter…
Winter And Coffee Quotes
"Oh, the weather outside is frightful; but my coffee is so delightful."
"My favorite winter activity is going back inside and drinking more coffee."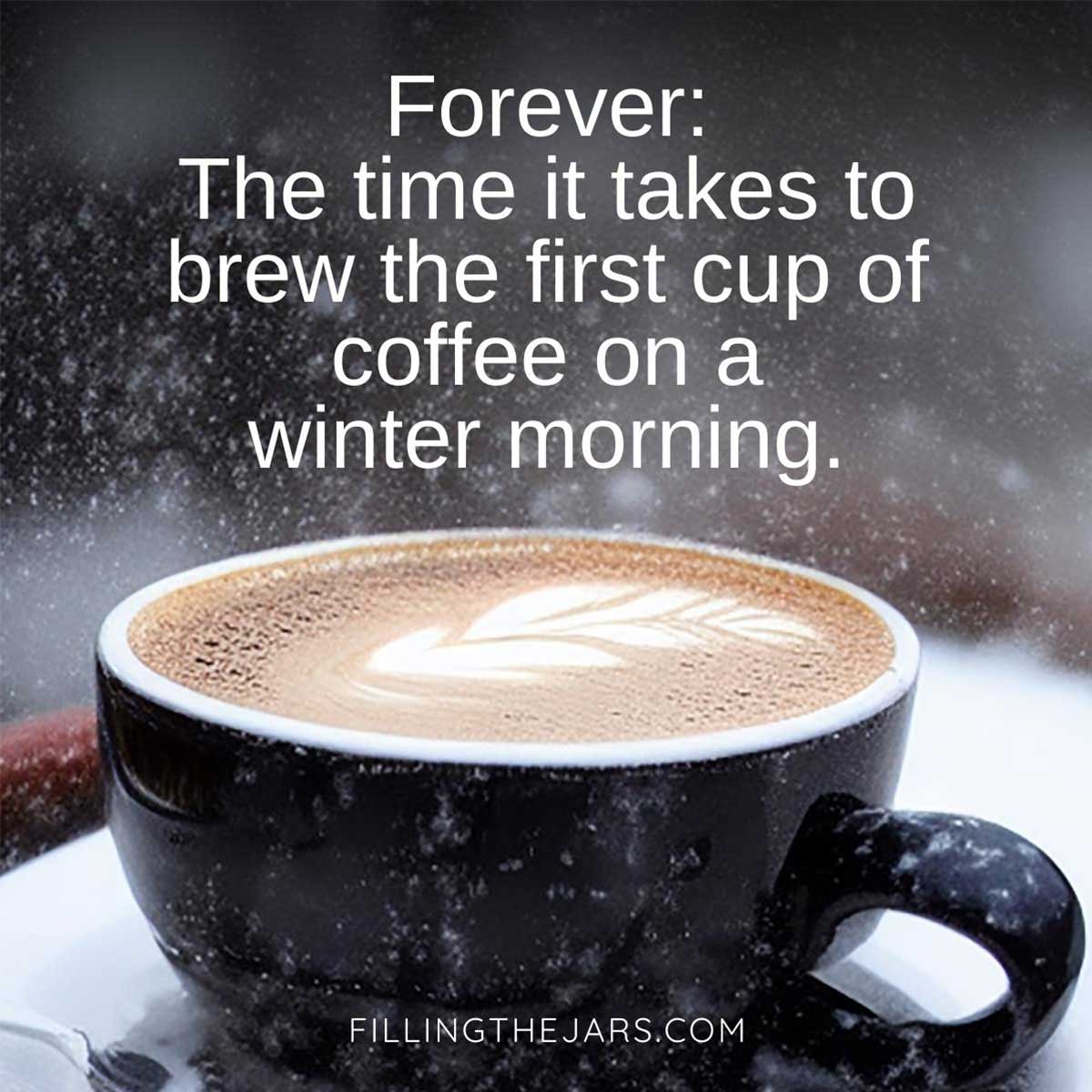 "Forever: The time it takes to brew the first cup of coffee on a winter morning."
"Coffee and love are best when they are hot."
"A cup of coffee – real coffee – home-browned, home ground, home made, that comes to you dark as a hazel-eye, but changes to a golden bronze as you temper it with cream that never cheated, but was real cream from its birth, thick, tenderly yellow, perfectly sweet, neither lumpy nor frothing on the Java: such a cup of coffee is a match for twenty blue devils and will exorcise them all."
— Henry Ward Beecher
"Winter means double the coffee."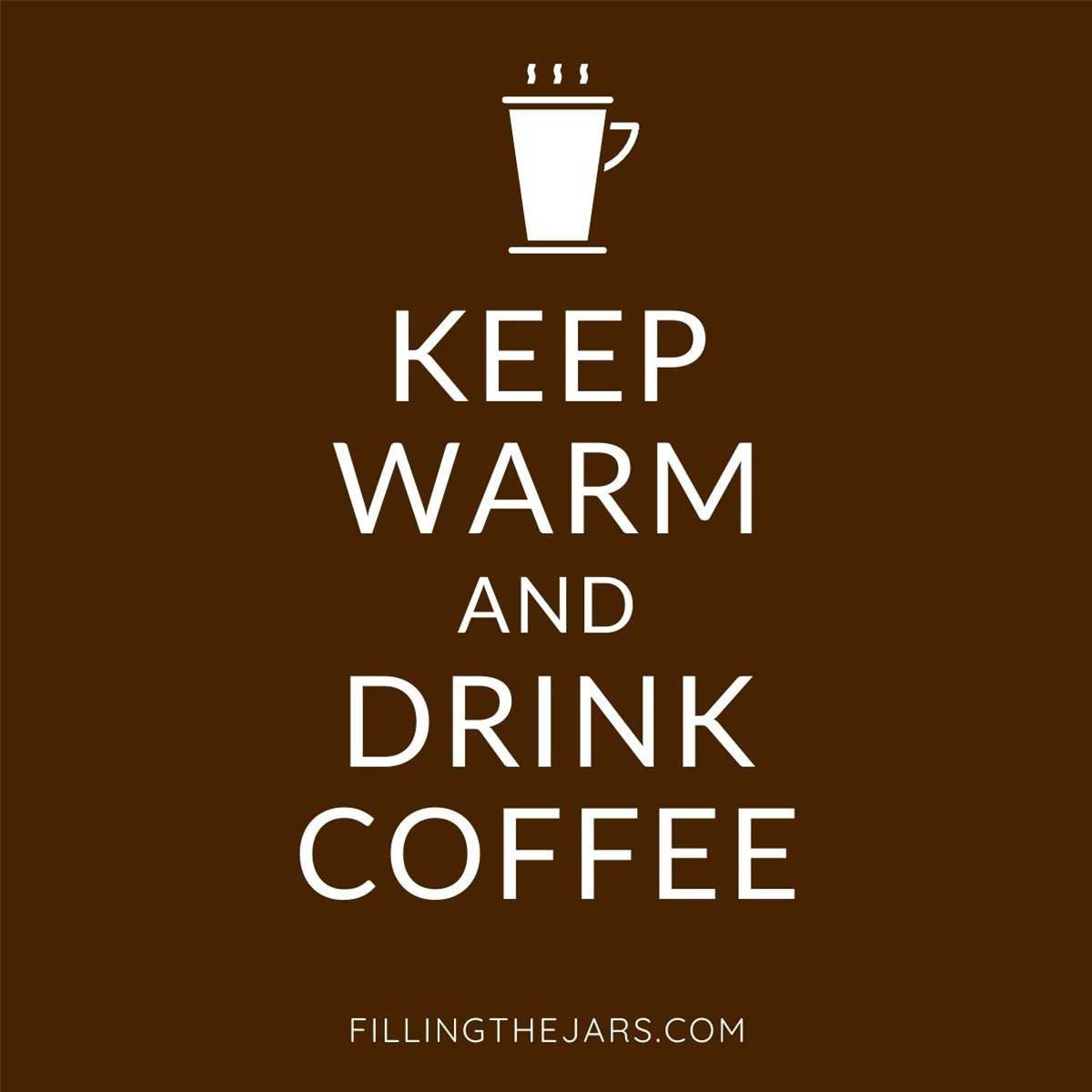 "Keep warm and drink coffee"
"My favorite kind of coffee is the kind where no one talks to me while I'm drinking it."
"All you need is coffee and warm socks."
"What goes best with a cup of coffee? Another cup."
— Henry Rollins
"Coffee is a hug in a mug."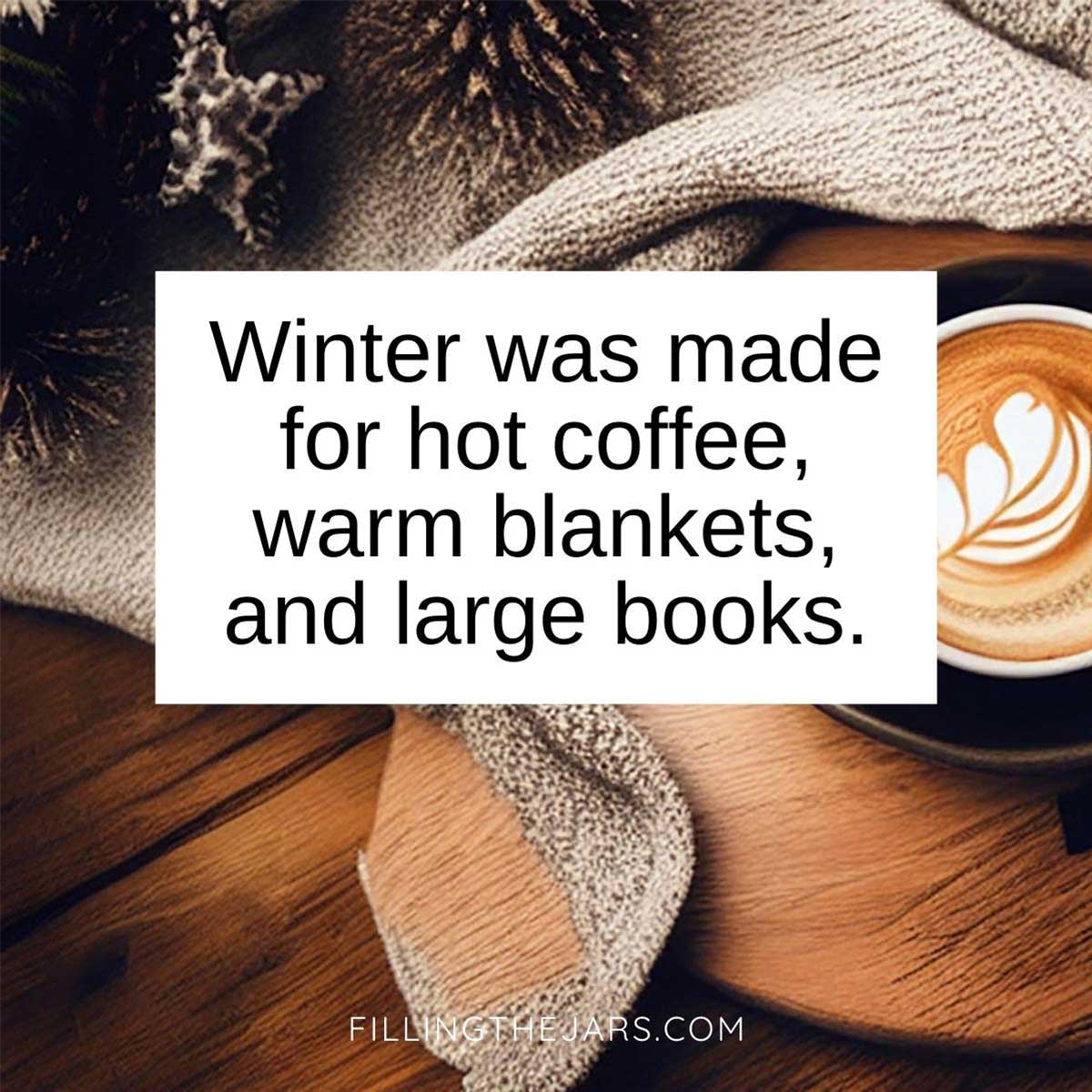 "Winter was made for hot coffee, warm blankets, and large books."
There's even a mug with this quote on it!
"My favorite winter sport is walking to the coffee maker."
"It's early on a beautiful winter morning. The house is quiet. The sun is shining. I'm thankful. I'm happy. My cup runneth over. Now there's coffee everywhere."
— Mindy Levy
Hot Coffee In Cold Weather Quotes
"It's so cold out I saw a snowman drinking coffee."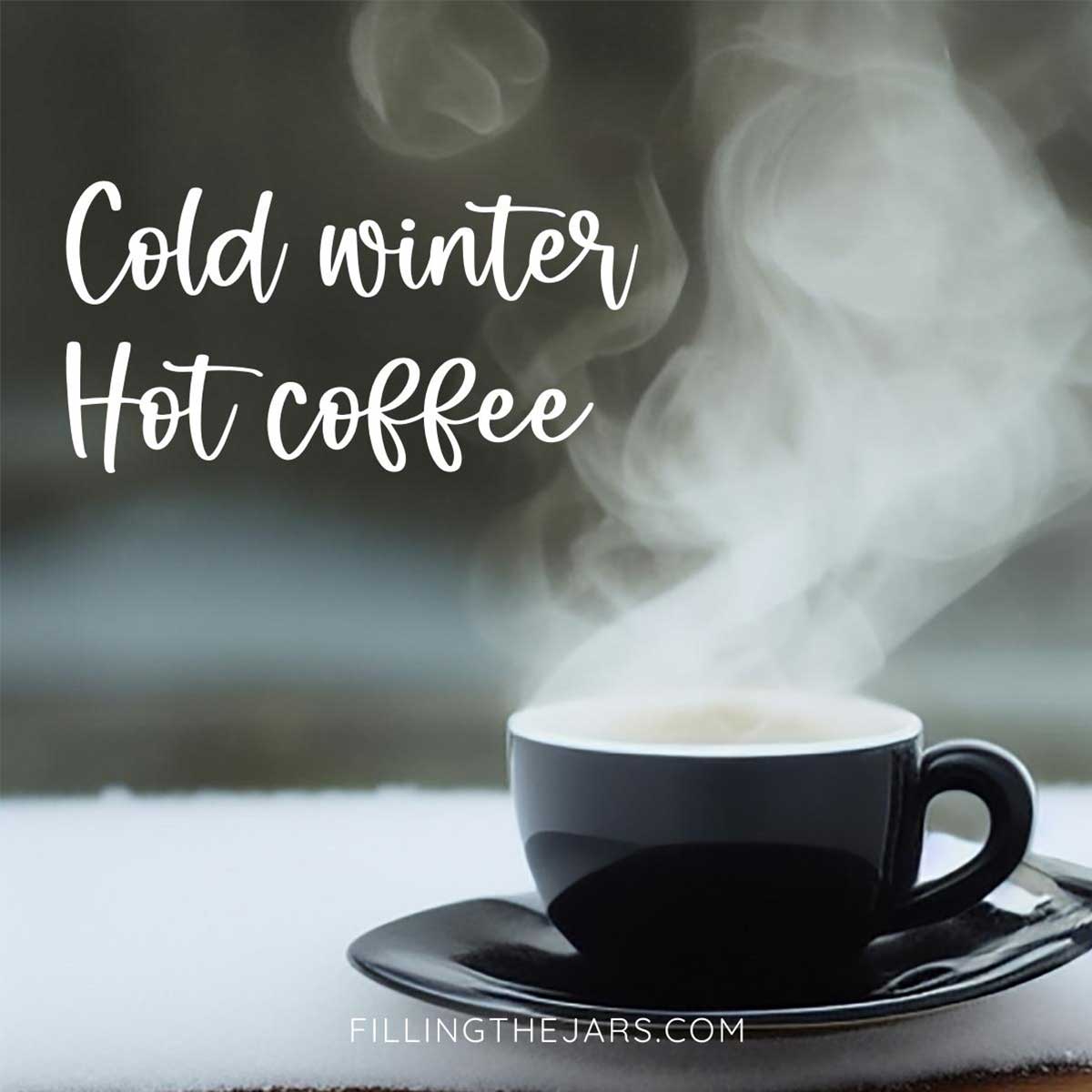 "Cold winter hot coffee"
"This cold makes you want to make hot stuff… like coffee!"
"Give me a hot drink and I'm happy. Hot cider, hot chocolate, coffee… I like all winter beverages."
— Alexis Bledel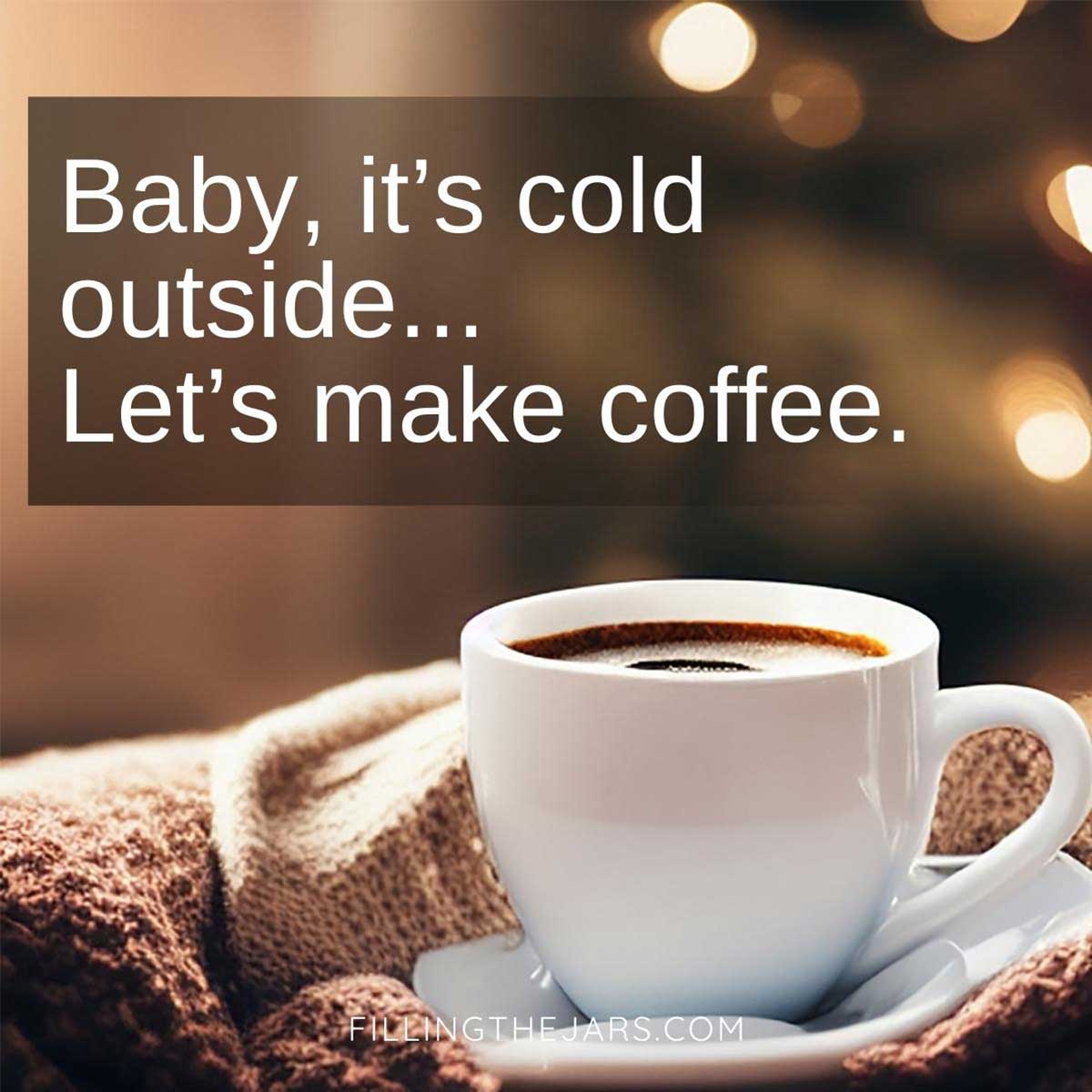 "Baby, it's cold outside… Let's make coffee."
"Cold weather gives me an excuse to drink more coffee."
"The weather might be cold, but at least our chocolates and coffee are warm."
"Hot coffee and cold winter mornings are two of the best soul mates who ever did find each other."
"It's so cold, my coffee needs coffee."
How Can Coffee Inspire Your Cozy Winter Vibes?
Winter brings out the desire for cozy in all of us. And what's cozier than a hot cup of coffee?
From pumpkin spice lattes to peppermint mochas, there are endless flavor options to enjoy as you curl up with a good book, write in your journal, or binge-watch your favorite show.
As the temperature continues to drop, consider upping your coffee game this winter.
Don't forget about the accessories that go along with all that coffee coziness! Gotta keep the winter vibes strong!
My favorite coffee mug — This is my at-home mug that I use every day. I've also been eyeing these travel mugs because they're so pretty!
The best blanket for cuddling — This is literally the best blanket I've ever owned (seriously — I've purchased nine of them over the past couple of years and they all still look brand new). Get a few in the twin size to use as living room throws and keep one in your bedroom for extra-chilly nights. They also make great gifts!
Need a little extra warmth? Try a heated throw or a personal heater. Not gonna lie, there are days when I use both of these at the same time — AND a steaming mug of coffee — as I work at my computer.
Winter candles — I'm partial to a deep woodsy scent or a citrusy scent in the winter. Or, heck, why not burn a coffee-scented candle while you're drinking your morning brew? 
Indoorsy definition printable – This printable 'indoorsy' word definition is perfect for everyone who prefers the great indoors. Hang it in your own home and/or print and frame as a gift for your indoorsy friends and family members
More Winter Quotes And Motivation
29 Winter Quotes: Wise and Cozy Words for an Inspired Season
7 Simple and Productive Things To Do Over Winter Break
35 Beautiful Quotes to Celebrate the Last Day of Winter
Single-Word December Journal Prompts
Concluding Thoughts
I hope these coffee and winter quotes will inspire you to embrace some extra-cozy winter vibes this season.
So, grab your blanket, put on some fuzzy socks, and sip that warm goodness while you snuggle on the couch. Watch the snow fall, read a great book, or try something new like painting or writing.
Winter may not be everyone's favorite time of year, but with coffee by your side, it can certainly be a cozy and enjoyable season. Cheers!
---
Did you enjoy this post? Know someone else who might like it? Please take a moment to share on Pinterest, Facebook, or your favorite social media… (Click the sharing buttons at the bottom of the post.) Thank you!