Ahhh… the 'in-between week' — that one week at the end of the year that we all love so much. You know what I'm talking about… the week before New Year's Day when we usually have extra time off work. It always seems like the perfect time for goal setting and coming up with huge lists of productive things to do over winter break.
And then we binge-watch Netflix instead of doing anything on the list.
Well, here's your chance to actually do some realistic, productive stuff over winter break while still getting some much-needed rest.
This post may contain affiliate links. If you choose to purchase through an affiliate link, I may receive a small commission at no additional cost to you. You can see my full disclaimer here.
7 Productive Things To Do During Winter Break
Let's talk about my favorite productive things to do every winter break. Then we'll throw in some fun extra ideas that may be new to you… but that you'll want to try! 😉
These ideas are great because they won't take up all of the available hours of every day. You'll still have time to relax and refresh, as well as make memories with family & friends.
To be productive, you can…
1. Start a Bullet Journal
Bullet journals are wonderful, flexible tools for both organization and creativity. They roll your to-do lists, daily-weekly-monthly-yearly planners, calendars, and personal journals into one. They even accommodate personal creativity.
They capture your racing thoughts and make mindfulness a part of how you get your life together.
They grow along with your lifestyle, and a key part of their functionality is the index at the front of the journal. When you add new pages to the journal, you add the page numbers to the index.
Some bullet journals are very basic, while others are intricate works of art. Descriptions alone will not do them justice, so here's a detailed introduction to them. Suffice to say at this point that they consolidate your productivity and life organization into one place… and it even becomes fun. 
A 'BuJo' might even be a key part of organizing the productive things you've chosen to do during the winter.
Related: Best Journals for Writing: 6 Top Picks
2. Start a Sketchbook Made of Index Cards
Maybe you just want to spend your downtime between holidays creating. But who has the money left over for a good sketchbook?
There's a better alternative to a pricey sketchbook and it will even give you more freedom.
Buy a pack of 5"x8" index cards. Maybe get a zipper pouch to store them in. You just got the best sketchbook in the world.
Why?
The price alone of a 'good' sketchbook pressures you to make every page a masterpiece when the purpose of the thing is to capture quick ideas and play with them. That's something that's messy and crude and doesn't always end in a masterpiece.
Plus, you get many more index cards for a lower price than there are pages in an expensive sketchbook.
Large index cards are not only the perfect size for playing on, they're sturdy enough for a variety of media besides pencil and ink.
Do you like a particular sketch and want to push it with paint? Index cards are sturdy enough to paint on with both acrylics and watercolor. Sketchbooks can fall apart under that kind of punishment.
Sketches that get painted on become little works of art and they make amazing one-of-a-kind gifts to give away to friends and family. Plus, they give you the freedom to create a finished work in a short span of time.
The cheapest canvases are often 11"x14" and that can be an imposing surface area to fill with art. Adopting an index card sketchbook may allow you to create a small painting every single day.
How fun is that?!
3. Read Your Old Notebooks and Journals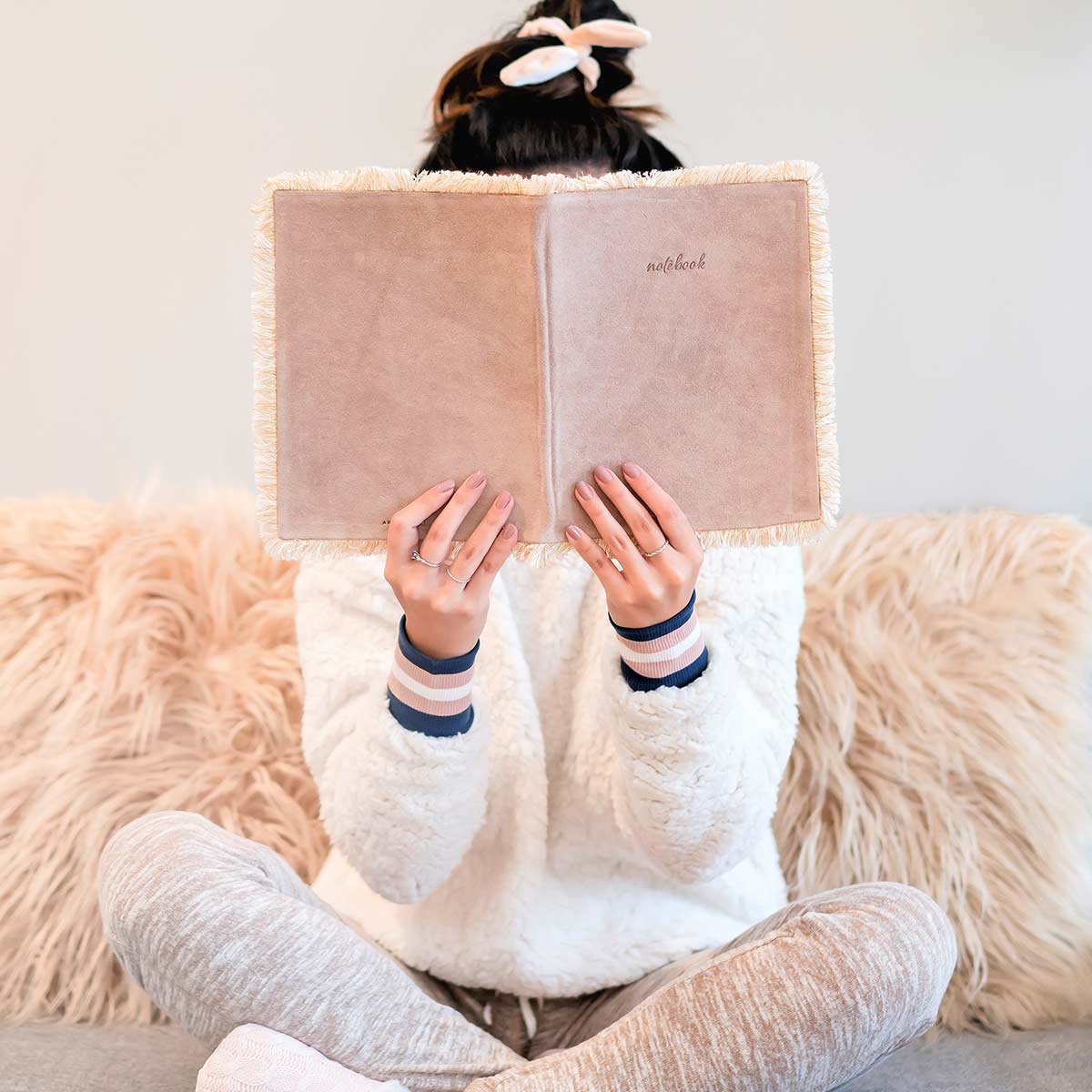 You probably have volumes of notes and doodles and journal entries that you haven't seen since you penned them.
Going through those old writings will yield treasures that you wish you hadn't forgotten and might yield some insights into the person you were 'back in the day.' You might even find some really interesting doodles you did in the margins influenced by what you were feeling. 😉
Journal entries especially might help you connect dots sitting in the back of your head. You'll see a clear path between where you were then and where you are now.
If you tend to be creative, one of the great joys of reading old notes is rediscovering story ideas you had jotted down but never revisited. They're like gifts to yourself, and they might have incubated long enough to be brought to life now.
Only one way to find out… Crack open those old notes and journals.
4. Get Organized
Okay, I don't mean TOTALLY organized… That would probably take far longer than a week. 😉
But you could definitely…
Organize your receipts and other paperwork so you're ready for tax season.
Make a menu for January so you're not cluelessly staring into the fridge every night before calling for takeout… again.
Make a list of home decorating projects or repairs to tackle during the year.
Start goal planning for next year.
5. Choose Your Word for Next Year
This is one of my favorite things to do during the in-between week. I love to sit down and reflect on the previous year, and then think about how I want to approach the upcoming months.
It really gets your head into a good place and bumps your motivation!
Here is the process I use to choose a word for the year… and here are plenty of great word of the year ideas.
6. Start a Podcast
Wait, what? These are supposed to be easy, stress-free projects. And they are. Look…
Visit Anchor.fm or download the free Anchor app and fill in some basic information about you and the kind of podcast you want to host. 
After that, you can record your episodes through your pc or through your phone. Anchor takes care of the rest. Anchor is Spotify's baby, and they've just started allowing you to use music hosted on Spotify on your show.
When your show episode is ready to be published, Anchor will distribute it across all the popular platforms, including Apple Podcasts and Google Podcasts.
Maybe you've been burning to hear certain issues addressed on your favorite podcast and they never get around to it. Maybe you've had an idea for a podcast that nobody else has done yet.
Maybe you just want to know what it's like to produce a podcast.
Anchor is 100% free and you can monetize it from the very first episode if you're willing to narrate a 30-second advertisement spot. You can also ask listeners to support you.
It's an excellent way to find out if you're serious about running an ongoing show. If you decide that you're ready for bigger and better things, you can grow with Anchor indefinitely, or you can sign on to a different service and Anchor will redirect your audience to your show's new location.
If you find out that you're not cut out for production, you've lost nothing but time.
Everything you've ever wanted to broadcast about crafts, social issues, stories, movies, or just ranting, is a tap of your phone away.
7. Start Writing on Medium
Wouldn't it be great to write about whatever you want and get paid for it? This is perfectly possible with a $5.00 subscription to Medium.com. Sign up for their partner program, start writing, and watch the money come in as your articles get discovered.
It's pennies at first, but the longer you stick with it and the more you learn about what makes a good article, the more money you see rolling in.
Only a few writers really 'strike it rich' on Medium, but everyone can make a few extra dollars writing on their platform. This might be the second-best option to starting your own podcast. If you're not comfortable speaking about the things you have to say, then you can write about them and still monetize them.
Even if you don't write for Medium, the quality of the articles you can read is golden. These aren't just writers trying to turn a dollar, these are people who are intelligent and passionate about communicating good information or a unique angle.
The time and effort you put into Medium as either writer or reader will never be wasted.
It may be one of the best spent $5.00 per month you'll ever invest. Depending on how well and how often you write, that money might come back to you PDQ (pretty darn quick).
More Productivity and Intentional Living Resources
Productivity isn't just about getting stuff done. It's about building an intentional life. Here's a post to help with that: Living An Intentional Life: 7 Powerful Steps to Make It Happen
My book 'The One Focus Method' contains expanded versions of my most inspirational posts on goal setting and achieving. It also helps you work on building the motivation to follow through on completing projects in short periods of time.
Winter doesn't quite feel like 'your' season for being productive? Here are some different productive things to do over the summer that might be more your thing.
So… One Week, huh?
Each of the above items can be done while relaxing and recuperating from the stress of the season. So don't completely shut down and vegetate. Educate yourself. Try any of these tips and see what you can accomplish.
These productive things to do over winter break will reward you in the long term as you Build Your Best Life.
You've got this!
---
Did you enjoy this post? Know someone else who might like it? Please take a moment to share on Pinterest, Facebook, or your favorite social media… (Click the sharing buttons at the bottom of the post.) Thank you!