Don't let these last few weeks of the year send you into a spiral of stress and exhaustion. Take care of yourself during these hectic winter days by spending time using this list of December journal prompts.
Developing a routine of using daily journal prompts for the entire month of December can help you feel more relaxed and better about your days and yourself. What a fantastic way to practice self-care!
Looking for even more monthly journal prompts? I've got plenty of journal writing prompts just for you!
This post may contain affiliate links. If you choose to purchase through an affiliate link, I may receive a small commission at no additional cost to you. You can see my full disclaimer here.
How to Begin Using These December Journal Prompts
Journaling is probably one of the most positive and inexpensive habits you can take up.
All you really need is something to write on and something to write with. A cheap, simple lined notebook will work. Or you can use a word processing program on your computer.
How do you start journaling when you don't know what to write about?
That's where the magic of journal prompts comes into play.
You can use ANYTHING as a journal prompt, but I absolutely love collections of prompts. My favorites are lists like the printable December writing prompts I've made for you here — single words that often have more than one meaning. They really get your imagination and thought process working.
Sometimes those thoughts emerge on paper as fictional writing — which may surprise you. If it happens, go with it!
Sometimes the writing helps you work through different events of the day or feelings you may have that are blocking your seasonal joy or natural good mood.
You don't have to spend a lot of time 'training' for journaling. Just print out the list (sign up here to have it sent to you via email), pick up your pen, and begin.
If you're not used to writing daily, you may find the words come slowly at first. But, as you continue the habit, your thoughts flow more easily and you look forward to journaling as a way to help you think and unwind every day.
Should you journal in the morning or the evening?
That is absolutely up to you! You can try daily journaling every morning for a week. Then switch to the evening to see if there is a difference.
I find that morning journaling works better for me. Writing those 500 words or so before the day begins really makes me feel like I'm starting the day the best I possibly can.
However, journaling in the evening gives you a chance to capture memories from the day, reflect on events, and settle your mind before you go to sleep for the night.
Do you have to write a certain number of words?
No, of course not! I mention 500 words because that's the average of what I can write in about 15-20 minutes when everything is flowing well. It's like a personal goal… but you should set a goal that works for YOU!
Do you HAVE to use a journal prompt?
Nope! You can write about whatever you want! But the benefit of a journal prompt — even a single word — is that is can spark your imagination or give your writing some focus and direction.
There may be days you don't want to feel 'confined' by a journal prompt. And that's totally fine! But I find most days, the little bit of structure that a prompt gives is exactly what I need for a satisfying journaling session.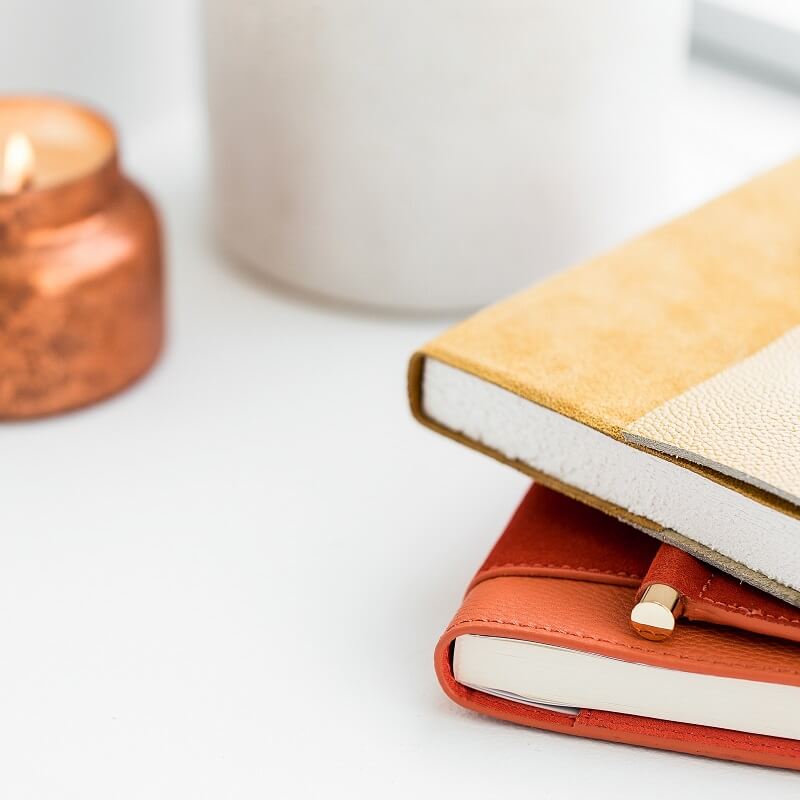 One-Word December Writing Prompts
Using these one-word journal prompts to start your daily writing is so much fun!
While you can use these in any order you wish, I recommend just starting at the beginning of the list. Spending too much time choosing the 'perfect' word each day can negate the benefits of letting your mind roam freely — and we don't want that!
Click here or fill out the form below to have the printable list sent to your email inbox.
Humble
Reflection
Sparkle
Twinkle
Cabin
Cozy
Passage
Social
Elevate
Cardinal
Untold
Escape
Believe
Select
Browse
Embrace
Basket
Guest
Persistence
Joy
Fluff
Consideration
Treat
Flurry
Despair
Review
Eager
Brittle
Sign
Rush
Prosper
Concluding Thoughts About Journaling
Don't feel guilty if you skip a few days. It happens to everyone!
If you're making journaling part of your self-care practice, then you only want to associate the experience with positivity. Sure, you may write about difficult things at times, but the overall feeling you get from journaling should be satisfaction and maybe even relief at getting the 'stuff' out of your head.
So let go of the guilt and the perfectionist expectation of having to journal the 'right' way. There's no 'right' way — only what's right FOR YOU.
At the end of the month, be sure to go back and read over what you've written. I think you'll be amazed at what you write AND how you feel about the process.
Give daily journaling a try this month with these December journal prompts and you'll be well on your way toward Building Your Best Life.
You've TOTALLY got this!
(Looking for prompts for next month? Here are some printable January journal prompts to keep you writing.)
---
Did you like this post? Please take a moment to share on Pinterest or your favorite social media… Thank you!