Whether you love winter or just try to survive until your favorite season comes around again, these winter quotes will help you appreciate the positive things about winter. They are a great addition to my collection of seasonal and motivational quotes that provide inspiration for getting through every day.
This post may contain affiliate links. If you choose to purchase through an affiliate link, I may receive a small commission at no additional cost to you. You can see my full disclaimer here.
I don't know if it's my age showing, or if the world is really changing, but winter seems so different now than it did when I was young. Winter FEELS like it should be the slow, quiet time.
Yet here we are, rushing around trying to 'get everything done' just like it's any other time of the year.
For some, the brisk winter days are energizing, spent in outdoor pursuits.
The rest of us scurry through the dark days, making our way from one beacon of light to the next, awaiting the return of the sun and light and warmth.
My challenge to you this winter is to find joy in every day. It's not always easy, I know… but I hope these winter quotes and a few ideas for welcoming winter will help.
---
How Do You Welcome Winter?
There are seasons in nature for a reason. Every living thing needs a quiet time to rest and renew its inner energy.
Be cozy. Heated blankets and soft throws are a daily necessity. I also love to begin the day with a mug of hot coffee in front of the woodstove… wearing super-comfy clothes of course!
Get reflective and creative. Read, journal, draw, color, craft… whatever makes your mind happy.
Grab these free motivational coloring pages.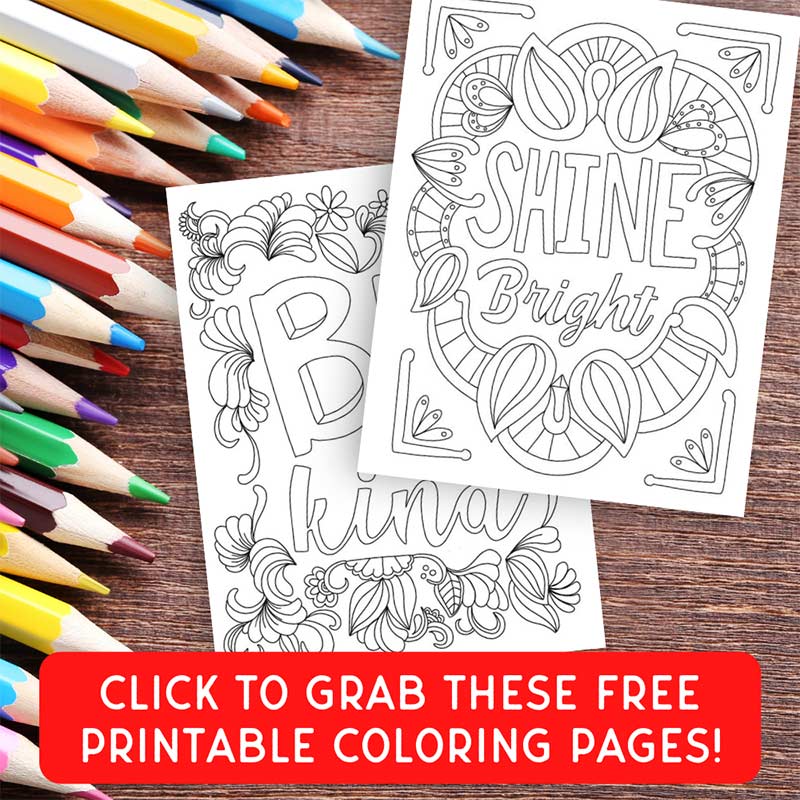 ---
Bring in the light — as in, ALL the twinkle lights and candles. Either flameless candles or deliciously-winter-scented candles will add a wonderful ambiance to your space. If you feel like you don't see the sun for days or weeks at a time, try a daylight lamp.
Talk to people. I'm pretty sure most of us have learned how to connect by video after living through weeks or months of stay-at-home orders. Hop on a video call. Text funny pictures or GIFs. Stay connected.
Sleep at night and get some fresh air every day during the brief hours of daylight. Even on the gray and frigid days, at least stand on your front porch for a minute or two.
Enjoy these quotes. Use them as journal prompts if you wish… or maybe inspiration to slow down, take a step back, and take advantage of the season to renew your inner strength.
Winter Season Quotes
"But I do feel a little teeny right now that I'm just about ready to start, and winter is entering. Half past autumn has arrived."
— Gordon Parks
---
"Welcome, winter. Your late dawns and chilled breath make me lazy, but I love you nonetheless."
— Terri Guillemets
"No animal, according to the rules of animal-etiquette, is ever expected to do anything strenuous, or heroic, or even moderately active during the off-season of winter."
— Kenneth Grahame, The Wind in the Willows
"The snow doesn't give a soft white damn whom it touches."
— e.e. cummings
"Winter changes into stone the water of heaven and the heart of man."
— Victor Hugo
---
"You can't get too much winter in the winter."
— Robert Frost
"I do an awful lot of thinking and dreaming about things in the past and the future – the timelessness of the rocks and the hills – all the people who have existed there. I prefer winter and fall, when you feel the bone structure of the landscape – the loneliness of it, the dead feeling of winter. Something waits beneath it, the whole story doesn't show."
— Andrew Wyeth
"Winter is the time of promise because there is so little to do – or because you can now and then permit yourself the luxury of thinking so."
— Stanley Crawford
Winter Warmth Quotes
"Winter is the time for comfort, for good food and warmth, for the touch of a friendly hand and for a talk beside the fire: it is the time for home."
— Edith Sitwell
"It is in the coldest months that hugs linger snug, and they warm the soul the most."
— Richelle E. Goodrich, Making Wishes
"Shut the door not that it lets in the cold but that it lets out the coziness."
— Mark Twain
---
"There's nothing better than curling up with a good book and sitting in front of the fire on winter evenings."
— Leo Sayer
"Surely everyone is aware of the divine pleasures which attend a wintry fireside; candles at four o'clock, warm hearthrugs, tea, a fair tea-maker, shutters closed, curtains flowing in ample draperies to the floor, whilst the wind and rain are raging audibly without."
— Thomas De Quincey, Confessions of an English Opium Eater
"When winter comes, wrap yourself in a blanket of love."
— Marty Rubin
"Reading books is like wearing winter clothes; it covers and warms up the body of your naked soul."
— Munia Khan
Inspirational Quotes for Winter
"If we had no winter, the spring would not be so pleasant; if we did not sometimes taste of adversity, prosperity would not be so welcome."
[Meditations Divine and Moral]
— Anne Bradstreet, The Works of Anne Bradstreet
"Wisdom comes with winters."
— Oscar Wilde
---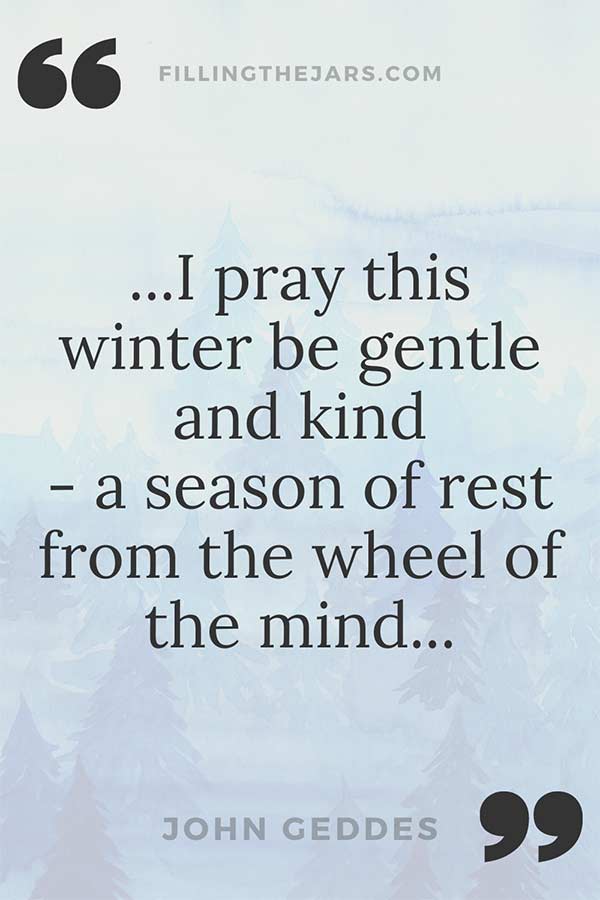 "…I pray this winter be gentle and kind – a season of rest from the wheel of the mind…"
— John Geddes, A Familiar Rain
"Winter, a lingering season, is a time to gather golden moments, embark upon a sentimental journey, and enjoy every idle hour."
— John Boswell
"In seed time learn, in harvest teach, in winter enjoy."
— William Blake
---
"Winter is a season of recovery and preparation."
— Paul Theroux
"Grace grows best in winter."
— Samuel Rutherford
"It seems like everything sleeps in winter, but it's really a time of renewal and reflection."
— Elizabeth Camden, Until the Dawn
Winter Poetry Quotes
"Feathered with hoarfrost,
skeletal trees loom closer;
fog shrouded arches."
— Paul Brown
"the summer chair
rocking by itself
in the blizzard"
— Jack Kerouac
---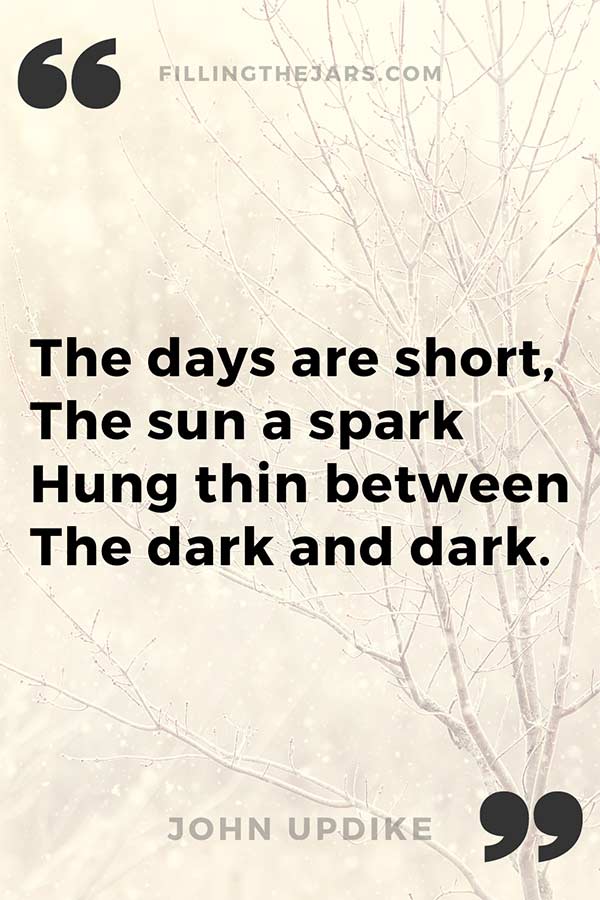 "The days are short,
The sun a spark
Hung thin between
The dark and dark."
— John Updike
"Blow, blow, thou winter wind!
Thou art not so unkind
As man's ingratitude."
— William Shakespeare
"Then comes Winter, with bluster and snow,
That brings to our cheeks the ruddy glow…"
— Gertrude Tooley Buckingham
"Snow was falling,
So much like stars
filling the dark trees
that one could easily imagine
its reason for being was nothing more
than prettiness."
— Mary Oliver
More Quotes and Posts You May Enjoy
Gratitude Journal With Prompts: Building Positivity and Resilience
24 Intentional Living Quotes to Inspire Your Best Life
Living An Intentional Life: 7 Powerful Steps to Make It Happen
43 Fabulous Quotes to Help You Bring Closure to the Year
Next Steps for Your Best Winter Season
Feeling inspired after reading these beautiful winter quotes? Wondering what you can do next?
Choosing a personal motivational word for the year is a wonderful way to set your intention for everything you do. Here's how to choose your own word for the year and a huge list of more than 180 word of the year ideas.
Have a lot on your mind from the past few months? Deep winter is the perfect time to journal about it. Try this printable personal growth journal to get some clarity.
Get inspired. Find the words and tools that speak to you and your unique personality.
Take action. Use those words and tools to make improvements wherever you possibly can.
Build Your Best Life
You've got this!
Don't forget to grab your motivational coloring pages! Winter is a fantastic time for relaxing and indulging in this creative hobby. Sign up below to have the PDF sent right to your email box.
---
Did you enjoy this post? Know someone else who might like it? Please take a moment to share on Pinterest, Facebook, or your favorite social media… (Click the sharing buttons at the bottom of the post.) Thank you!