June is a month full of potential for writers, and these June creative writing prompts are sure to keep your inspiration running high.
Add these June writing prompts to your stockpile of creative writing ideas and you'll have plenty of solutions whenever you need a little somethin'-somethin' to help you get over writer's block or the dreaded blank-page paralysis.
To get you started this month, here are 30 grown-up writing prompts for June that should help to inspire your inner writer.
This post may contain affiliate links. If you choose to purchase through an affiliate link, I may receive a small commission at no additional cost to you. You can see my full disclaimer here.
What's Different About Creative Writing In June?
As the seasons change, so does our inspiration for writing.
During the bleak days of winter, we may find ourselves drawn to creating dark and brooding tales. But then spring and summer arrive, and we may be more inclined to produce stories with a lighter touch.
The weather is warm, the days are long, and there's a feeling of possibilities in the air. Whether you love writing in the blazing sun at the pool or the beach, or you retreat to your artificially-cooled writing cave, June is a great time to try out some new creative story starters.
It doesn't matter if you're looking to start a completely new writing project or just want to flex your creative muscles with various June daily writing prompts.
Whatever you choose to write, let these first days of summer provide a backdrop for your creativity to flourish. As always, don't overthink… just write!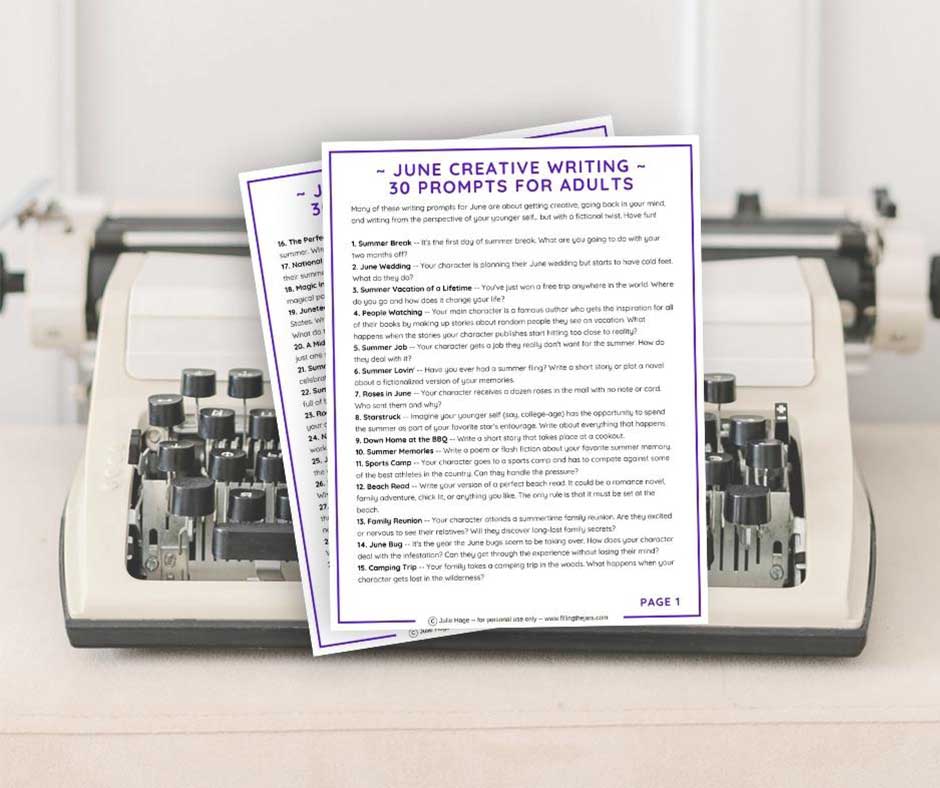 30 June Creative Writing Prompts For Adults
Many of these writing prompts for June are about getting creative, going back in your mind, and writing from the perspective of your younger self… but with a fictional twist. Have fun!
1. Summer Break — It's the first day of summer break. What are you going to do with your two months off?
2. June Wedding — Your character is planning their June wedding but starts to have cold feet. What do they do?
3. Summer Vacation of a Lifetime — You've just won a free trip anywhere in the world. Where do you go and how does it change your life?
4. People Watching — Your main character is a famous author who gets the inspiration for all of their books by making up stories about random people they see on vacation. What happens when the stories your character publishes start hitting too close to reality?
5. Summer Job — Your character gets a job they really don't want for the summer. How do they deal with it?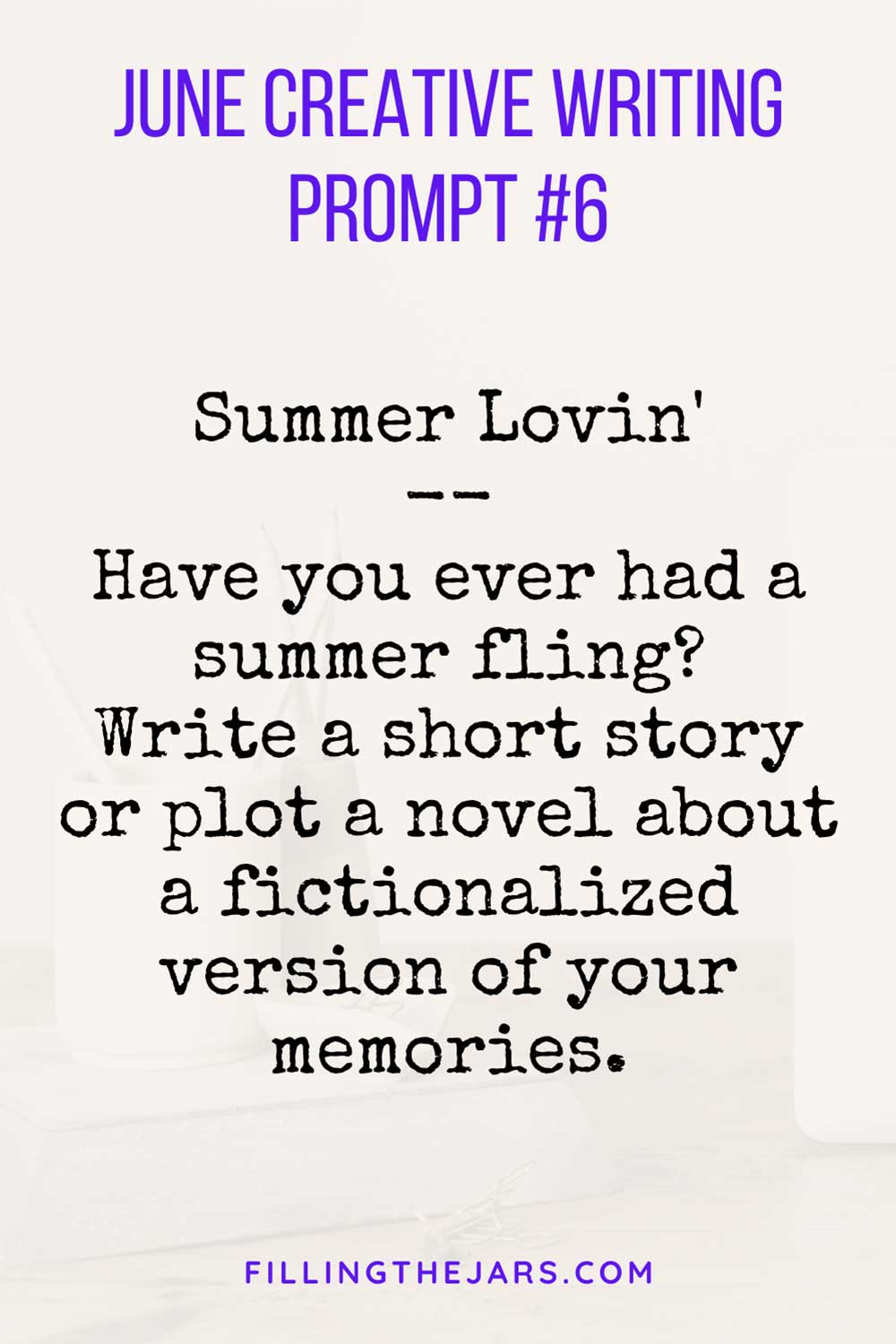 6. Summer Lovin' — Have you ever had a summer fling? Write a short story or plot a novel about a fictionalized version of your memories.
7. Roses in June — Your character receives a dozen roses in the mail with no note or card. Who sent them and why?
8. Starstruck — Imagine your younger self (say, college-age) has the opportunity to spend the summer as part of your favorite star's entourage. Write about everything that happens.
9. Down Home at the BBQ — Write a short story that takes place at a cookout.
10. Summer Memories — Write a poem or flash fiction about your favorite summer memory.
11. Sports Camp — Your character goes to a sports camp and has to compete against some of the best athletes in the country. Can they handle the pressure?
12. Beach Read — Write your version of a perfect beach read. It could be a romance novel, family adventure, chick lit, or anything you like. The only rule is that it must be set at the beach.
13. Family Reunion — Your character attends a summertime family reunion. Are they excited or nervous to see their relatives? Will they discover long-lost family secrets?
14. June Bug — It's the year the June bugs seem to be taking over. How does your character deal with the infestation? Can they get through the experience without losing their mind?
15. Camping Trip — Your family takes a camping trip in the woods. What happens when your character gets lost in the wilderness?
16. The Perfect Summer Crime — Write a story about a criminal who only operates during the summer. Why? What is their crime? Do they ever get caught?
17. National Flip Flop Day — Write about a character who loves flip-flops. Have fun describing their summertime adventures and how flip-flops are involved.
18. Magic in the Summertime — Write a story about a character who discovers they have magical powers, but ONLY during the summer.
19. Juneteenth — June 19th is a day that commemorates the end of slavery in the United States. Write about a character for whom this day has deep meaning. How do they feel? What do they do to mark the day?
20. A Midsummer's Day — Write a short story or poem that captures the feeling of summer in just one day.
21. Summer Solstice — It's the longest day of the year. Write about how your character celebrates this special day. Why is this day meaningful to them?
22. Summer Fears — Your character is afraid of the water. How do they deal with a summer full of beach days and pool parties?
23. Road Trip — Write a short story set during a summer road trip. What adventures await your character(s)? How will the trip change them?
24. National Take Your Dog To Work Day — Write about a character who takes their dog to work with them.
25. June Fun Run — Your character signs up for a 5K fun run but doesn't start training until the week before. How do they fare on race day?
26. Summer Dreams — Write about a character who is literally living in a summer dream. What do they do and where do they go? What happens when they realize they're dreaming?
27. Small Town Summer — Your character moves to a small town for the summer. What do they think of the slower pace and the people? Create a cast of characters who are quirky but not obnoxious or predictable.
28. The Perfect Day — Write about a day at the beach, lake, or pool that is absolutely perfect. What makes it so perfect?
29. Stargazing — Your character goes summer stargazing for the first time. Describe the experience and what they see.
30. Summer Storm — A storm is brewing and it looks like it's going to be a big one. How does your character prepare? Are they excited or scared? What happens during and after the storm?
Like these prompts? >> Click here to have the printable June creative writing prompts sent to your inbox.
How Can You Make Daily Writing A Priority During June?
For adults, June can be a busy month. Summer is in full swing and there are cookouts, graduation parties, weddings, and family vacations to enjoy.
Sometimes it seems like the lazy days of summer are just a dream… But don't let the busyness of summer keep you from your writing goals.
Make time each day to sit down and write for at least 15 or 20 minutes. The grown-up June writing prompts in this post are a great place to start, especially if you just want to have some fun or play around with different ideas.
I love getting up with the sun, and it seems so much easier to enjoy getting up early and writing 500 words at the crack of dawn. But if you're not a morning person, you can always use the long evenings to squeeze in your writing before the sun sets.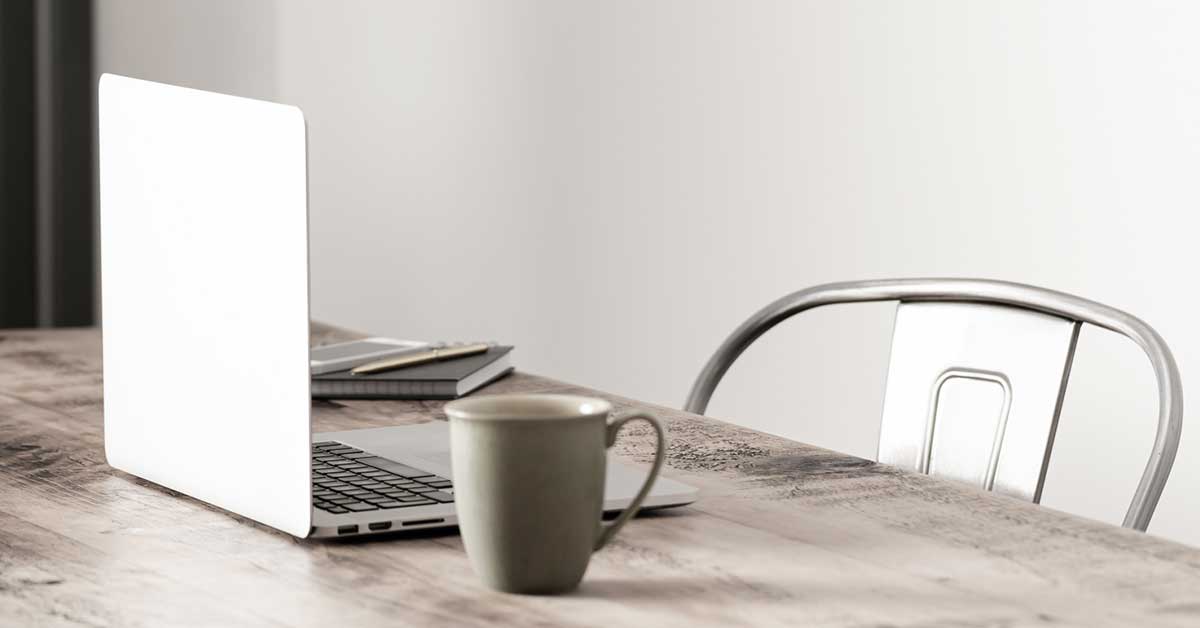 What Tools Should You Use For Creative Writing?
You may not need all of these, but there are some items that can make writing every day easier and more enjoyable, even if you're away from your regular writing space.
A notebook that you love to write in is essential. It should be big enough to write in comfortably, but not so big that it's cumbersome to carry around. I like this refillable journal with 4 inserts so I can write about different things and keep them sort of organized.
You may not use your note journal for all of your writing, but it's so nice to have when you want to jot down ideas for characters, scenes, or brilliant story ideas… you know those always come to you when you're not near your computer. 😉
Related post: Best Journals for Writing: 6 Top Picks
A good pen is also important. You want one that's comfortable to hold and write with, and it should have a smooth ink flow. My perfectionist side prefers to write with erasable Frixion pens, but they're not always the best choice for hot summer days. (The ink disappears with heat.)
My other favorite – Pilot G2 pens – aren't erasable, but they definitely write more smoothly and have a bolder line.
If writing by hand isn't your thing, there's nothing wrong with using Google Docs. When I'm really motivated and the words are flowing, this is my go-to because I can type much faster than I can write.
When the ideas are there, you have to capture them as quickly as possible!
This leads me to the voice-to-text app otter.ai — it's perfect for rambling through messy scene ideas or making character notes whenever they occur to me. Otter syncs across all of my devices (android, iPhone, and Windows PC) and does a pretty decent job of transcribing for copying into Google Docs or your favorite writing program.
You can gamify your writing prompts with this fun set of writing dice.
Ready to get serious about your book idea? You might have a storyline in your head, but there's a little more to the process. Grab this printable story planner workbook and start getting some of the details down in writing. Trust me, it makes the process go much more smoothly!
So if you're looking to make writing easier and more enjoyable, be sure to try some of these resources.
More Creative Writing Inspiration And Resources
31 July Creative Writing Prompts To Ignite Your Summer Writing
Creative Journaling Exercises, Prompts, and Ideas to Keep You Writing
31 Unique December Creative Writing Prompts for Adults
9 Best Creative Writing Journals: Take Your Thoughts to the Next Level
Concluding Thoughts About Writing In June…
So there you have it, friends: a collection of June creative writing prompts to help get your summer started off right.
But don't just take my word for it — try writing every day, and see how much more amazing your summer can be. Let the summer writing begin!
You've got this!
Don't forget to grab your June writing prompts printable PDF. Fill out the form below to have it sent to your inbox…
---
Did you enjoy this post? Know someone else who might like it? Please take a moment to share on Pinterest, Facebook, or your favorite social media… (Click the sharing buttons at the bottom of the post.) Thank you!