Hello summer quotes are the perfect way to welcome the warm weather and sunny days! After a long, dark winter and chilly spring, we're so excited to finally have some warmer weather and longer days.
To help get everyone in the spirit of the season, I've put together a list of favorite sayings and quotes to welcome summer. Whether you're looking for some short summer captions to post on social media or just want some inspiration for your own summer adventure, I hope you'll find the perfect quote on this list!
For even more inspiration to have your best summer, check out my full collection of seasonal and motivational quotes… lots of good stuff!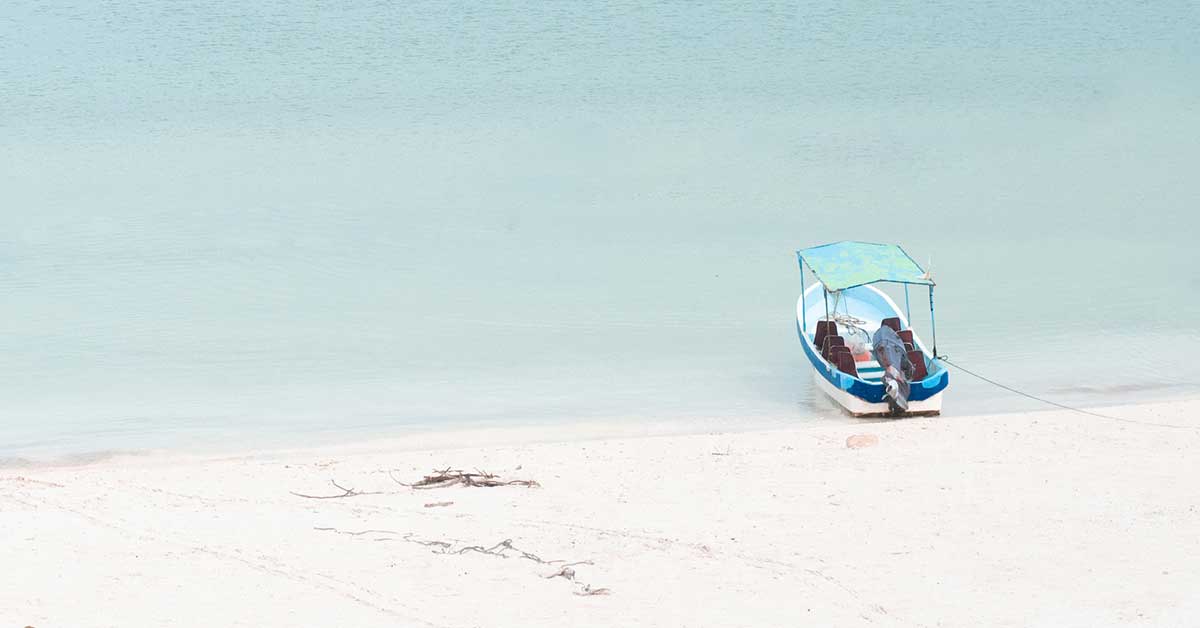 This post may contain affiliate links. If you choose to purchase through an affiliate link, I may receive a small commission at no additional cost to you. You can see my full disclaimer here.
The Importance of Welcoming Summer
These quotes for saying hello to summer truly are for everyone. I willingly admit that I'm a completely indoorsy person… and I still love the sun and the relaxed spirit of summer!
It's all about feeling those summer vibes. Take some tasks off your plate, settle back, and let the stress float away like the outgoing tide.
Make a conscious effort to enjoy the parts of summer that you've always loved, and maybe try a couple of new things to welcome summer into your life and your home.
You may be surprised at what a difference a season makes. 😉
"Summer:
Hair gets lighter.
Skin gets darker.
Water gets warmer.
Drinks get colder.
Music gets louder.
Nights get longer.
Life gets better."
Hello Summer Quotes
"Goodbye, spring… Hello, summer!"
"Hello Summer, I've been waiting for you."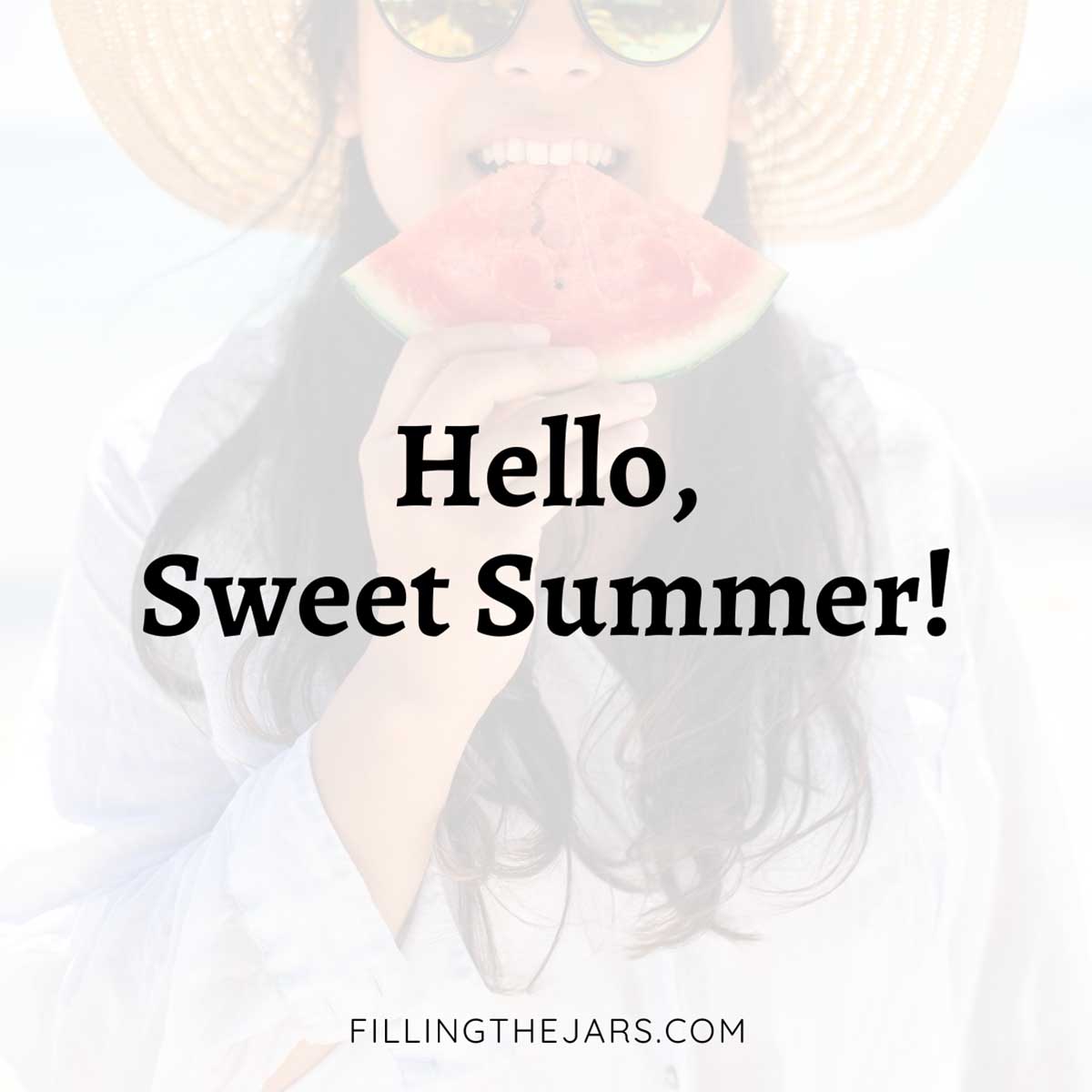 "Hello, Sweet Summer!"
"Say hello to Summer!"
"Hello there, sunshine."
"Hello, Summer! Let's have some fun!"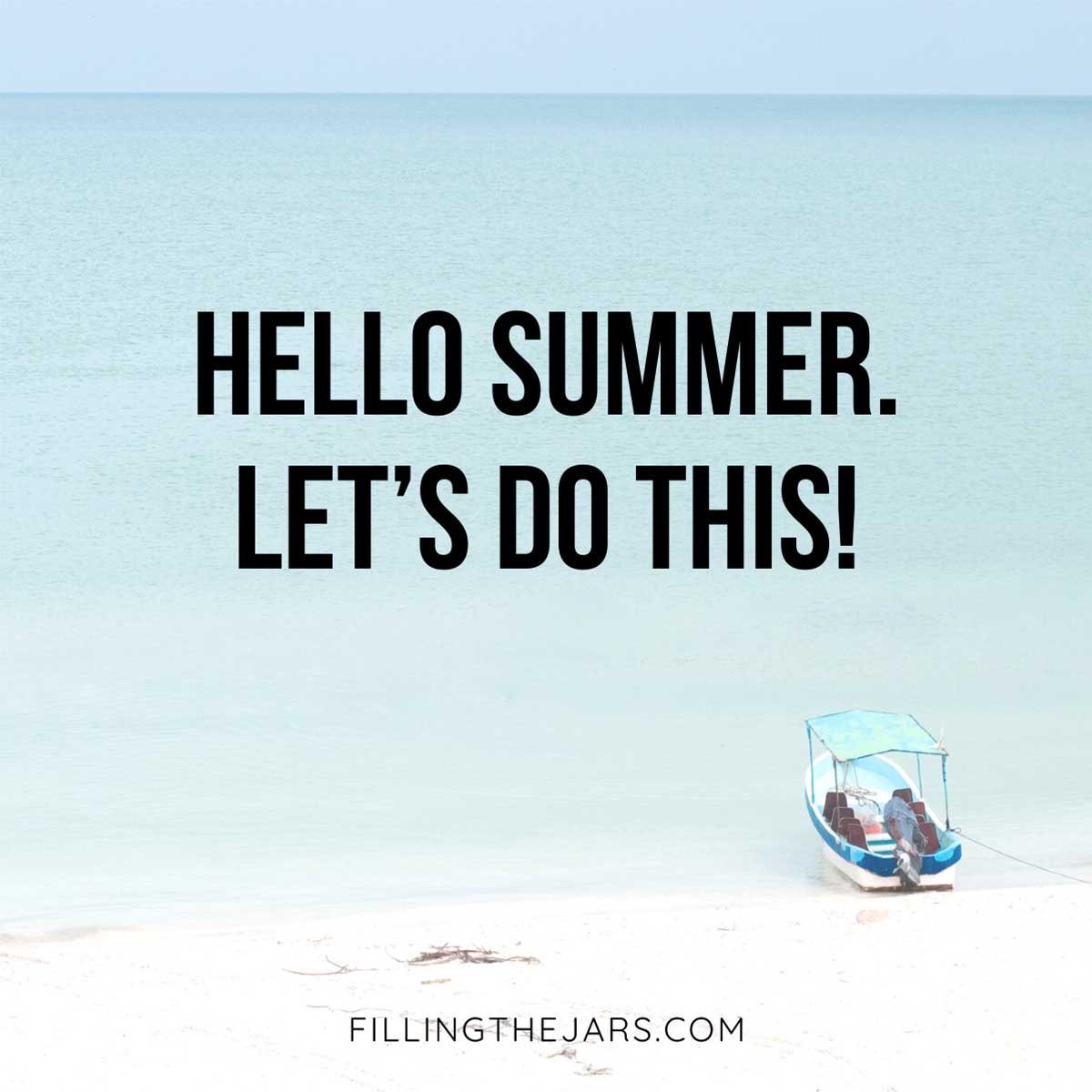 "Hello summer… Let's do this!"
Welcome Summer Quotes
"Welcome, summer!"
"Summer, you are welcome here."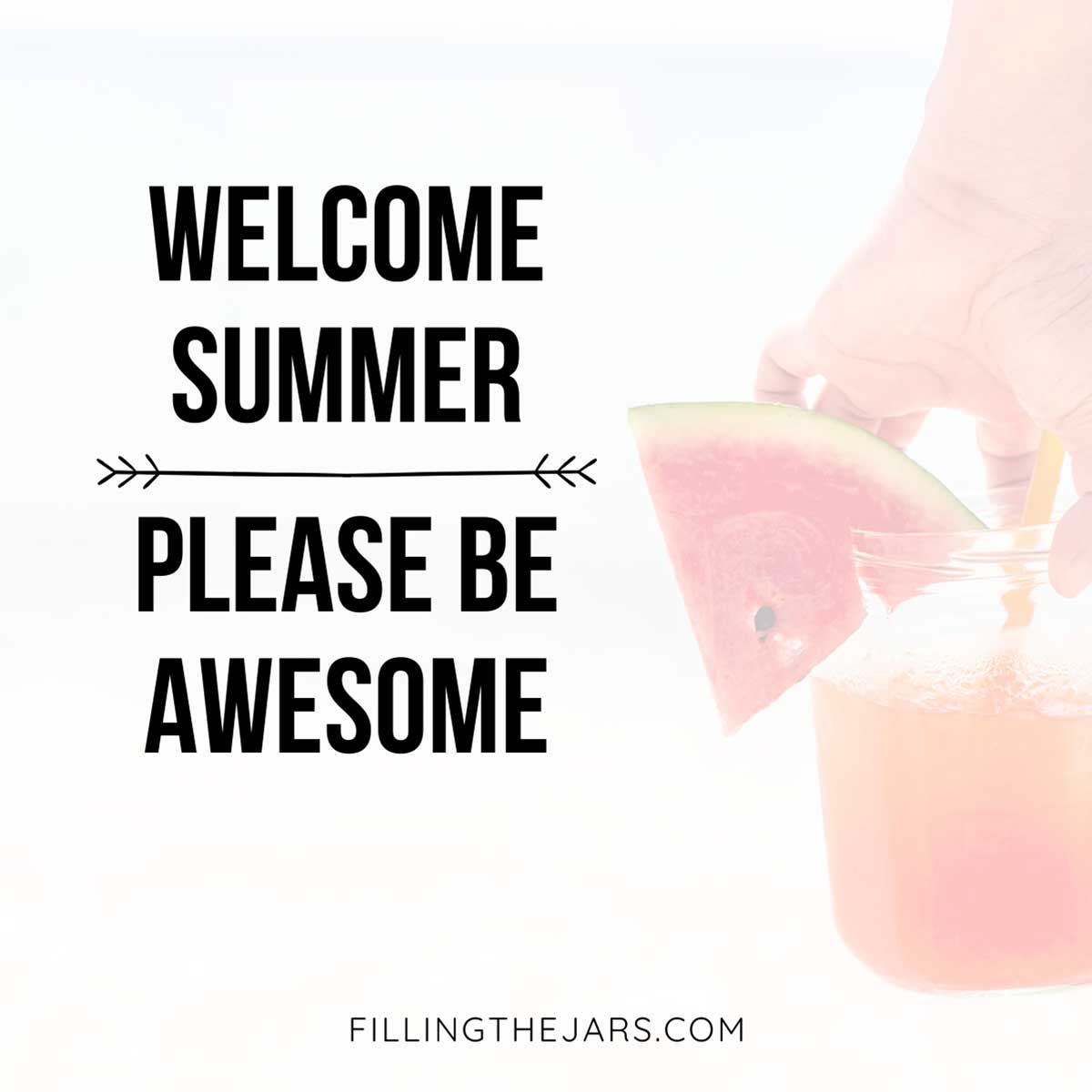 "Welcome, summer. Please be awesome."
"Welcome back, summer."
Short Summer Sayings
"Summer is a state of mind."
"Let the summer begin!"
"Happiness is cold watermelon."
"Watch more sunsets than Netflix."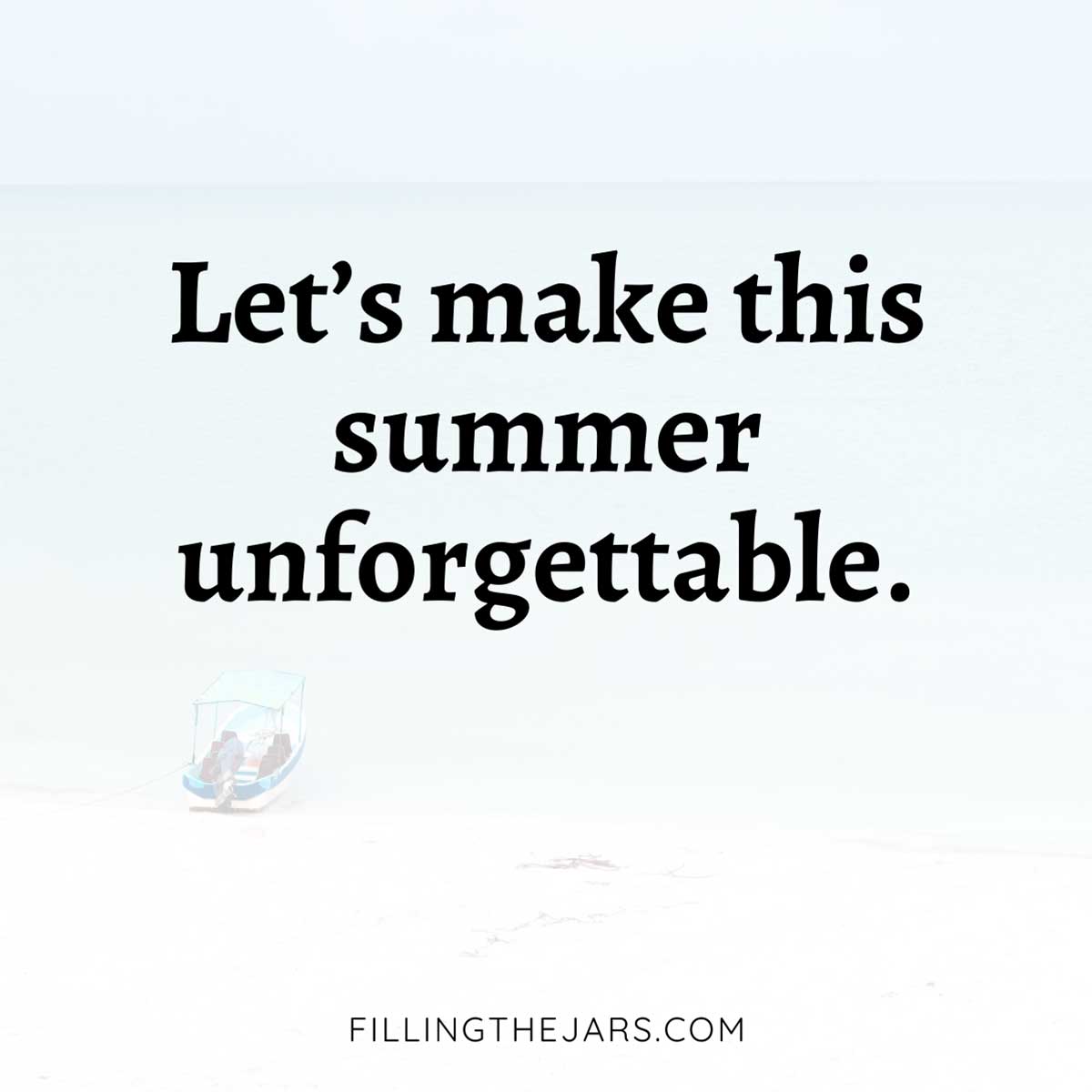 "Let's make this summer unforgettable."
"Summer vibes only."
"I need to go where there's no shoes and no responsibilities."
"Every summer has a story."
"Summer is the best excuse for lazy days."
"It's summer, y'all!"
"Sunshine on my mind."
"I was made for sunny days."
"Sunrise, sunburn, sunset, repeat."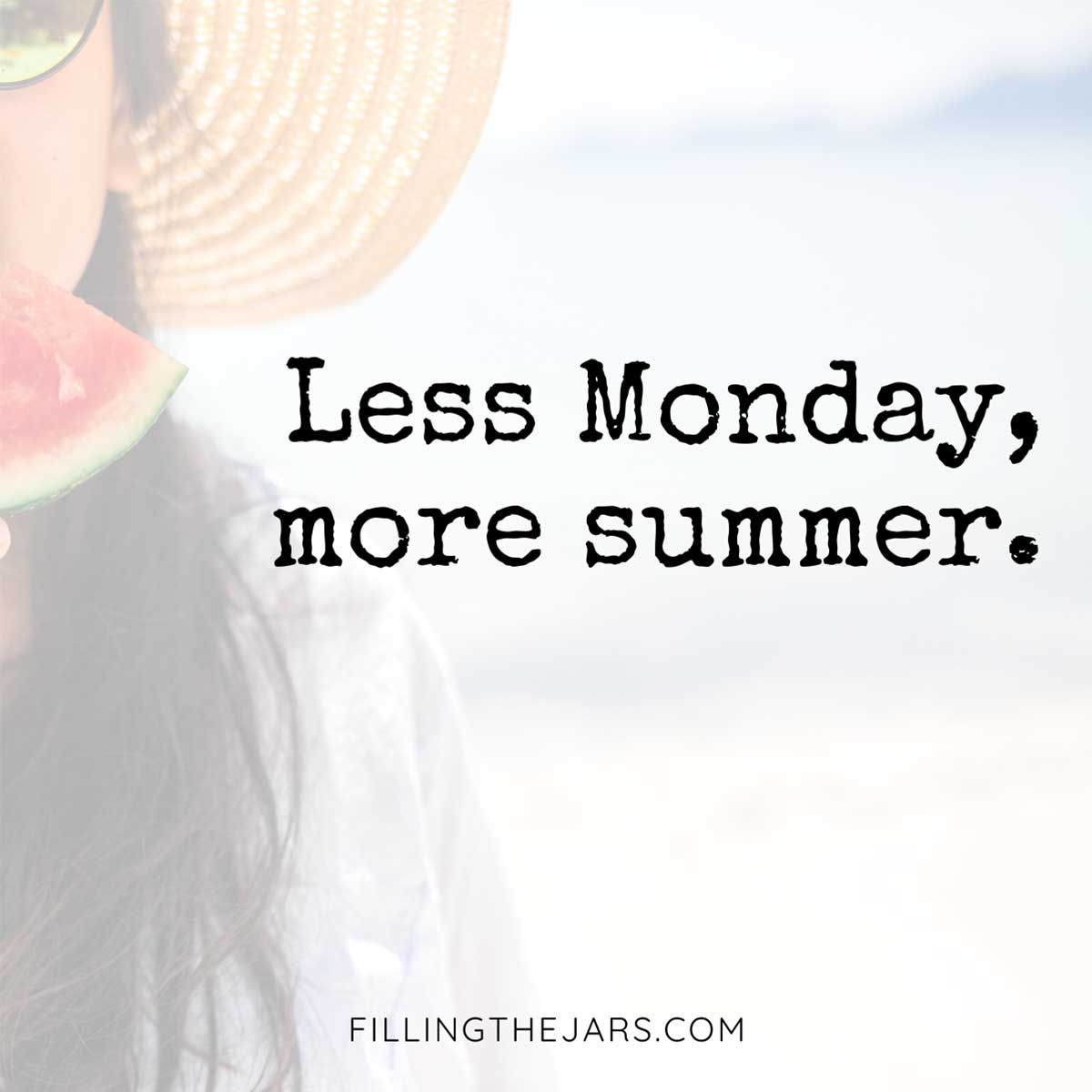 "Less Monday, more summer."
"Summertime and the living is easy."
"Easy, peasy, summer breezy…"
Hello Summer Beach Quotes
"The beach is calling and I must go."
"Love you to the beach and back."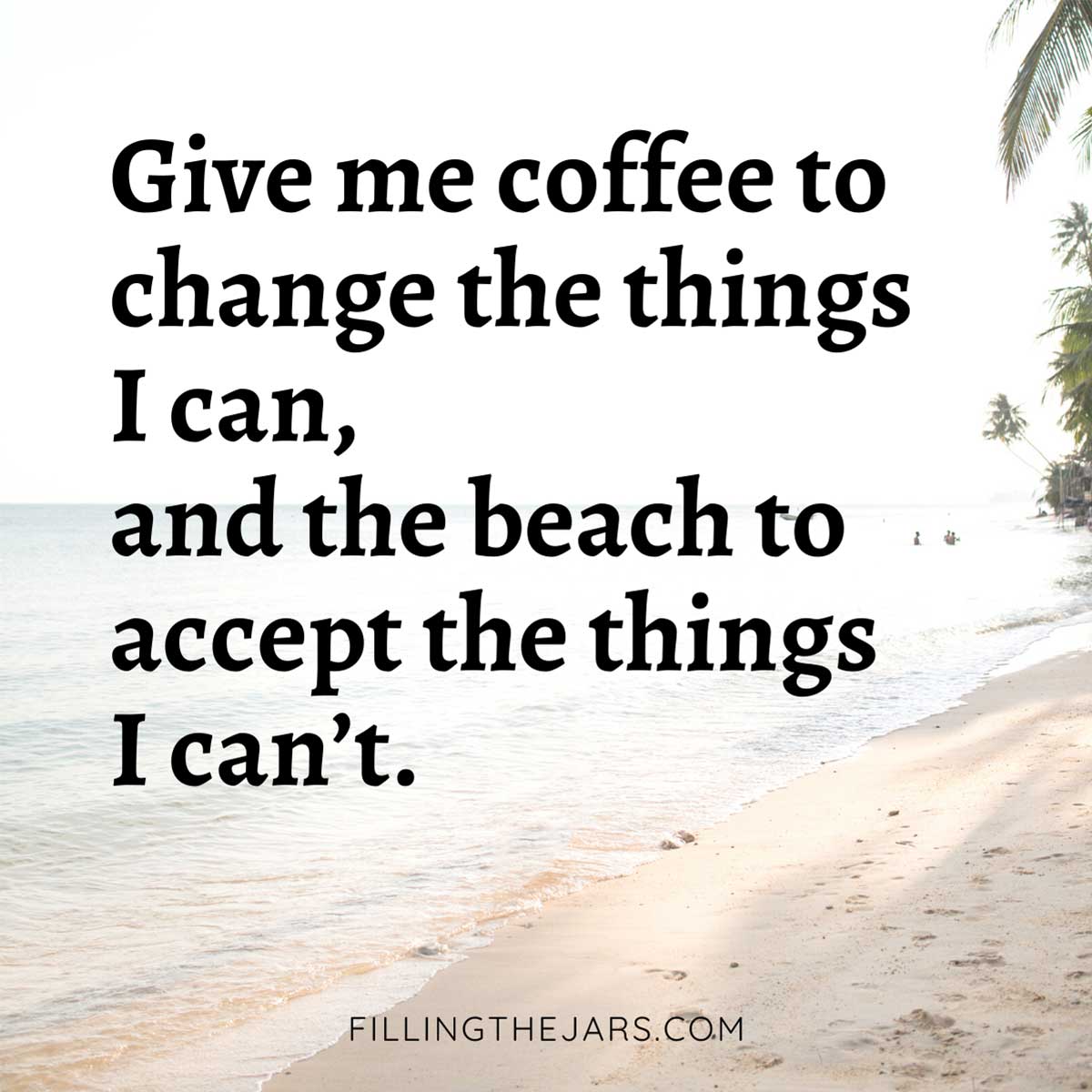 "Give me coffee to change the things I can, and the beach to accept the things I can't."
"Sand and sun, summer has begun!"
Using Hello Summer Quotes As Inspiration For Your Amazing Summer
1. Pick one or two of your favorite quotes and use them as motivation to make this summer the best one yet. Print them out, hang them up on your mirror or your fridge, write them in your planner, or carry them around with you to remind you of your 'enjoy this summer!' goals.
Related: 18 Summer Inspiration Quotes for June
2. Plan out your dream summer goals. Use these quotes as motivation to make your summer plans a reality. Whether you want to travel, learn something new, or just relax and enjoy the warm weather, start planning now so you can make the most of the season.
Related: Productive Things To Do Over the Summer: Make Your Goals a Reality
3. Use these quotes as a starting point for brainstorming fun summer activities that you can do with your friends or family. Make an adult summer bucket list of all the things you want to do and cross them off as you go along.
Related: The Ultimate Summer Bucket List: 50 Fun Ideas For Adults — Enjoying the Art of Living
4. Keep these quotes in mind if you start feeling down or stressed out during the summer months. They can serve as a reminder that there's so much to enjoy about this time of year, and that every day is an opportunity to welcome summer all over again, slow down, and create amazing memories.
Related: 12 Summer Slow Down Quotes for Your Best Season Ever
5. Share your favorite quotes with others to welcome summer! Post them on social media or text them to a friend. Doing this can kick off discussions about fun summer things you can do together, or you can give each other great ideas for personal summer goals.
Must-Have Items To Help You Enjoy The Summer
Even if you're an indoorsy sort of person, you can still enjoy summer!
Feel the summer vibes by using the hello summer quotes in this post on a cute rustic felt letter board.
Bring some summer decor to your home with a beautiful summer door wreath or a few cute summer things for your tiered tray or shelves.
Burn summer-inspired candles like watermelon lemonade or summer citrus.
Summer to me has always meant more time to read! It's the perfect time to try out a Kindle Unlimited subscription… or maybe see if audio books are your thing with a free Audible trial subscription.
Concluding Thoughts…
So there you have it, my top hello summer quotes to get you excited for the warmer months ahead! I hope this post has inspired you to make the most of summer when it arrives.
Whether you're planning a beach holiday, a road trip or simply spending time in your garden or reading and napping in the cool shade, make sure you take the opportunity to enjoy all that summer has to offer.
I hope you enjoyed this list of quotes to welcome the summer! What's your favorite quote or saying about the season? Use it to start making plans today.
You've got this!
---
Did you enjoy this post? Know someone else who might like it? Please take a moment to share on Pinterest, Facebook, or your favorite social media… (Click the sharing buttons at the bottom of the post.) Thank you!