Spring is the perfect time of year for a fresh start! And what better way to start fresh than by doing some spring cleaning? These motivational spring cleaning quotes are sure to inspire you to tackle a messy house with a smile on your face.
Let's be honest, sometimes the idea of housework isn't very appealing on a beautiful spring day. However, getting your home in order for spring is a great way to set the tone for the new season, and quotes about spring cleaning can help you remember just how important that is.
If you need another push to start that spring cleaning, be sure to check out my other motivational quotes for cleaning. So go on… read all the quotes, and then get started on your spring cleaning!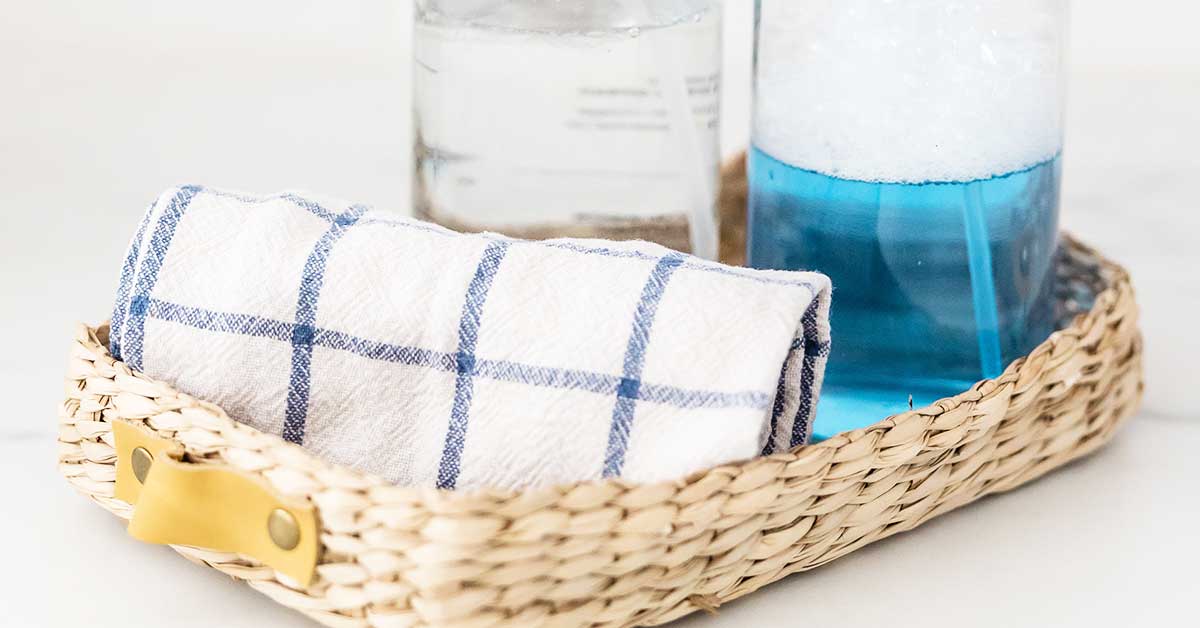 This post may contain affiliate links. If you choose to purchase through an affiliate link, I may receive a small commission at no additional cost to you. You can see my full disclaimer here.
Positive Spring Cleaning Quotes
Not only it make your house look nicer, but spring cleaning can also make you feel better. What a great way to start the new season on a positive note!
"Sweeping away the winter grime and clutter is like welcoming spring with open arms."
"I look forward to spring cleaning and putting things in their place. It's therapeutic for me."
— Kimora Lee Simons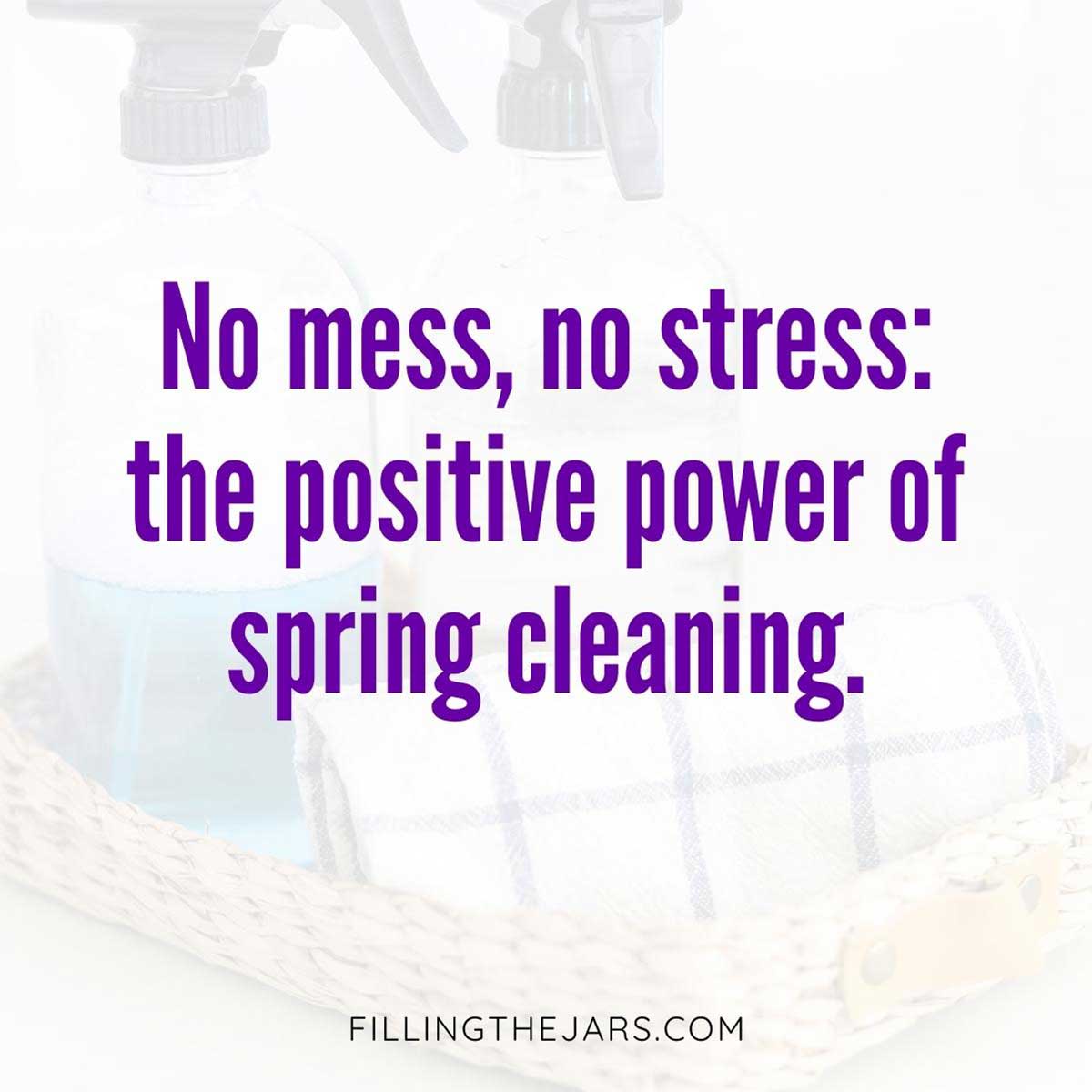 "No mess, no stress: the positive power of spring cleaning."
"The objective of cleaning is not just to clean, but to feel happiness living within that environment."
— Marie Kondo
"Spring Cleaning isn't just for your home, or just for the Spring for that matter."
— Dondria B. Johnson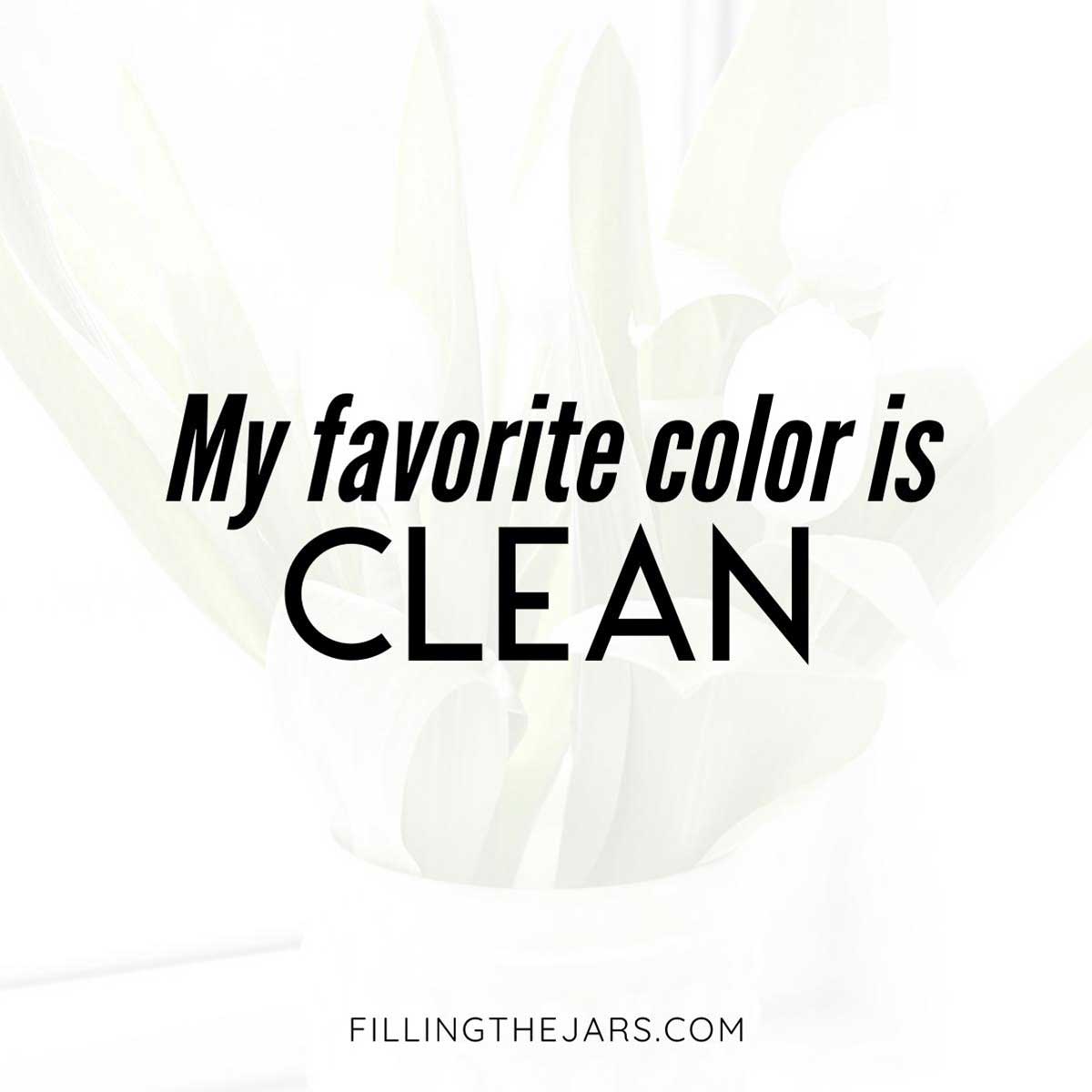 "My favorite color is clean."
"Spring cleaning doesn't have to be a dreaded list of chores. It can be a rewarding experience that helps provide some structure and organization in your life."
— Peter Walsh
Funny Spring Cleaning Quotes
Here you'll find some famous quotes about spring cleaning – and cleaning in general – that can always make us laugh. Enjoy them, have a good chuckle, and then use the more positive humorous sayings about spring cleaning as motivation to power through with a smile on your face. 😉
And if you're clinging to the funny-but-negative side of these quotes, perhaps it's because you're overwhelmed? Here's how to make cleaning easier so you can enjoy a fresh and clean home this spring!
"Spring cleaning always sounds like a good idea until you're knee-deep in old toys & clothes, wondering why you did this to yourself."
"Ain't no fun like spring cleaning fun!"
"If you want to get rid of stuff, you can always do a good spring cleaning. Or you can do what I do. Move."
— Ellen DeGeneres
"I love the smell of 409 in the morning."
This makes me smile because I grew up cleaning with good ol' Formula 409 every week.
"I'm in the mood to do some spring cleaning. Apparently, cabin fever has made me delirious."
— Maxine
"Spring has sprung and so has my cleaning schedule!"
"Cleaning your house while your kids are still growing up is like shoveling the walk before it stops snowing."
— Phyllis Diller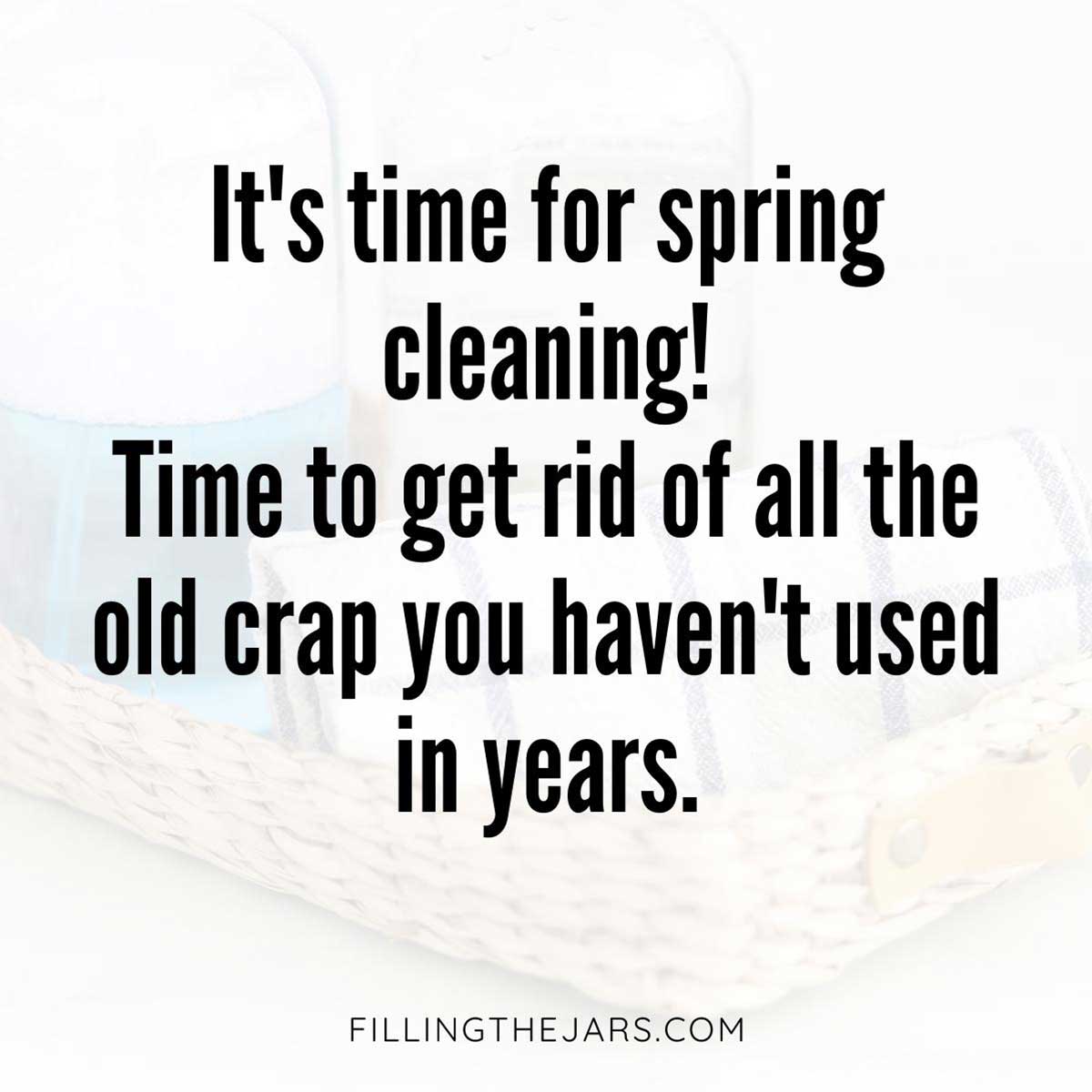 "It's time for spring cleaning! Time to get rid of all the old crap you haven't used in years."
"The key to spring cleaning is to be ruthless! Throw out anything and everything you never use. (Or that may be incriminating. Burn, if necessary, but remember if using gasoline, those fires should be contained in a non-flammable container.)"
— Josie Brown
"I like having a clean house, but I also like watching Netflix."
"Has it really been almost a year since I last put off spring cleaning?"
More Quotes About Spring Cleaning
Here are a few more spring cleaning inspirational quotes and some spring cleaning short quotes that are easy to remember for a quick burst of motivation.
"There's nothing quite like the feeling of a fresh start that comes along with spring cleaning."
"Spring is the usual period for house-cleaning and removing the dust and dirt which, notwithstanding all precautions, will accumulate during the winter months from dust, smoke, gas, etc."
— Isabella Beeton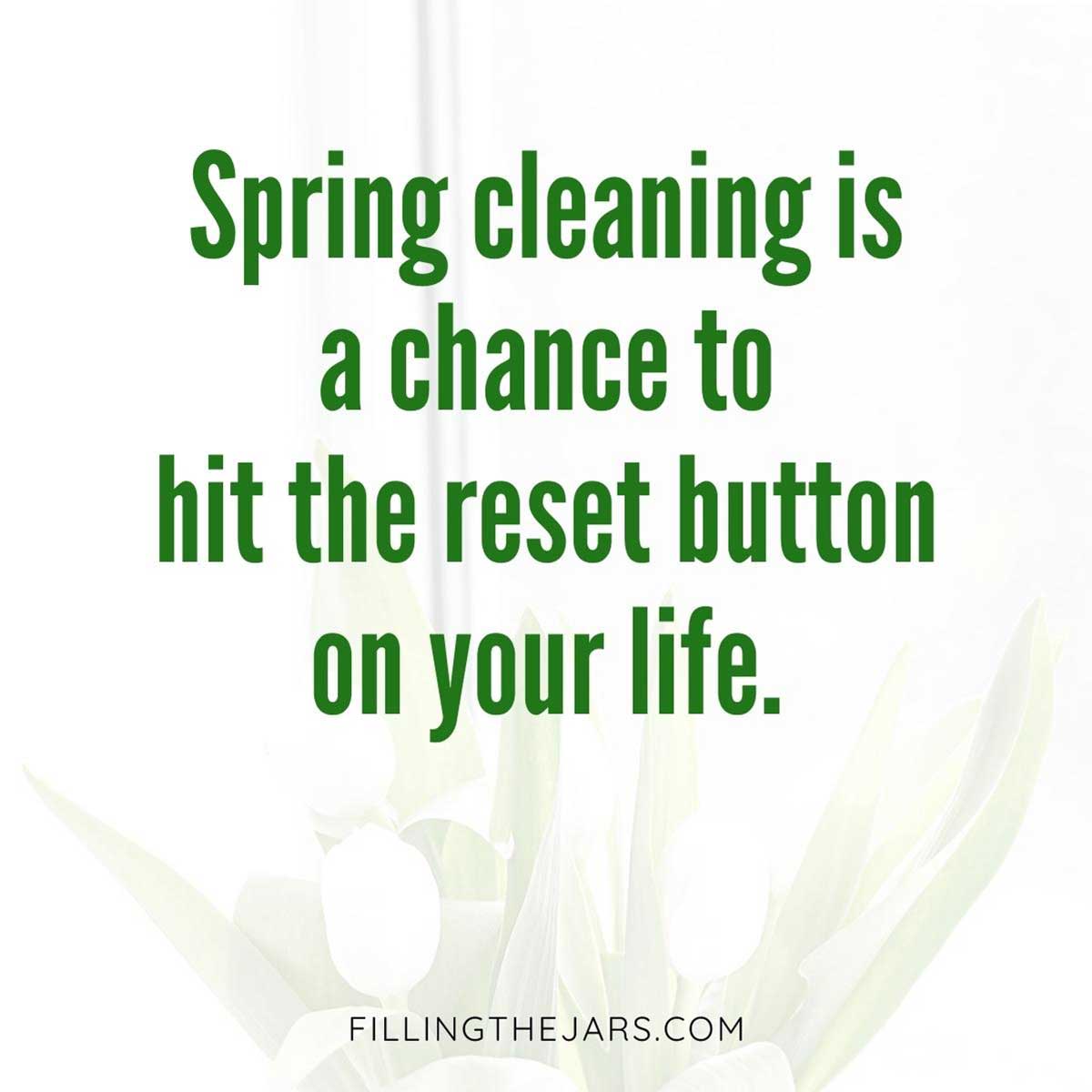 "Spring cleaning is a chance to hit the reset button on your life."
"Let's spring clean our minds and homes."
"Spring cleaning is all about personal satisfaction."
— Peter Walsh
"Time to spring clean and get our lives back on track!"
How To Use Spring Cleaning Quotes For Motivation
As spring approaches after the long, dark, cold winter, we get excited about the return of the sun and warmer temperatures. We long to open doors and windows, letting the fresh breezes of spring blow through our homes.
Oh, but then we remember the dust bunnies hiding under the furniture. And those piles of clutter that collected over the winter that might be blown over by that stiff breeze.
Instead of worrying that we won't be able to enjoy the spring season, let's use these quotes as motivation to get the house cleared out and cleaned up. How can we do that?
Here are a few ways to use spring cleaning quotes as motivation to get the job done:
Write inspirational spring cleaning quotes in your daily planner or on sticky notes and stick them on the refrigerator door or around the house. Seeing positive and uplifting messages every day will help you stay motivated to finish the job.
Make your own inspirational spring cleaning quote artwork, or buy some 'clean wall art' on Etsy. Hang this up in a prominent location as a reminder of your goal to make progress toward a cleaner home.
Share motivating spring cleaning quotes with friends and family members who are also tackling the task. This will help everyone stay on track and encourage each other along the way.
Make a Pinterest board full of inspiring spring cleaning quotes and photos to help get you in the mood to declutter and reorganize your home.
Send encouraging texts of your favorite quotes to yourself.
By using these simple tips – and maybe with this cute spring cleaning candle – you'll be able to make spring cleaning fun and productive!
More Cleaning And Decluttering Help
'What Do I Need To Clean My House?' My List Of Essential Cleaning Supplies
The Clean Mama Store on Amazon
How To Clean Your House So You Can Enjoy Your Space
Declutter Tips for When You're Overwhelmed With Too Much Stuff
Need more help for regular cleaning? My 27-page Essential Cleaning Planner has everything you need!
This cleaning planner was designed to take the stress out of cleaning. Create your personal scaled-down cleaning plan, or use the checklists as-is to stay on top of the exact cleaning and maintenance tasks that will keep your home clean and comfortable.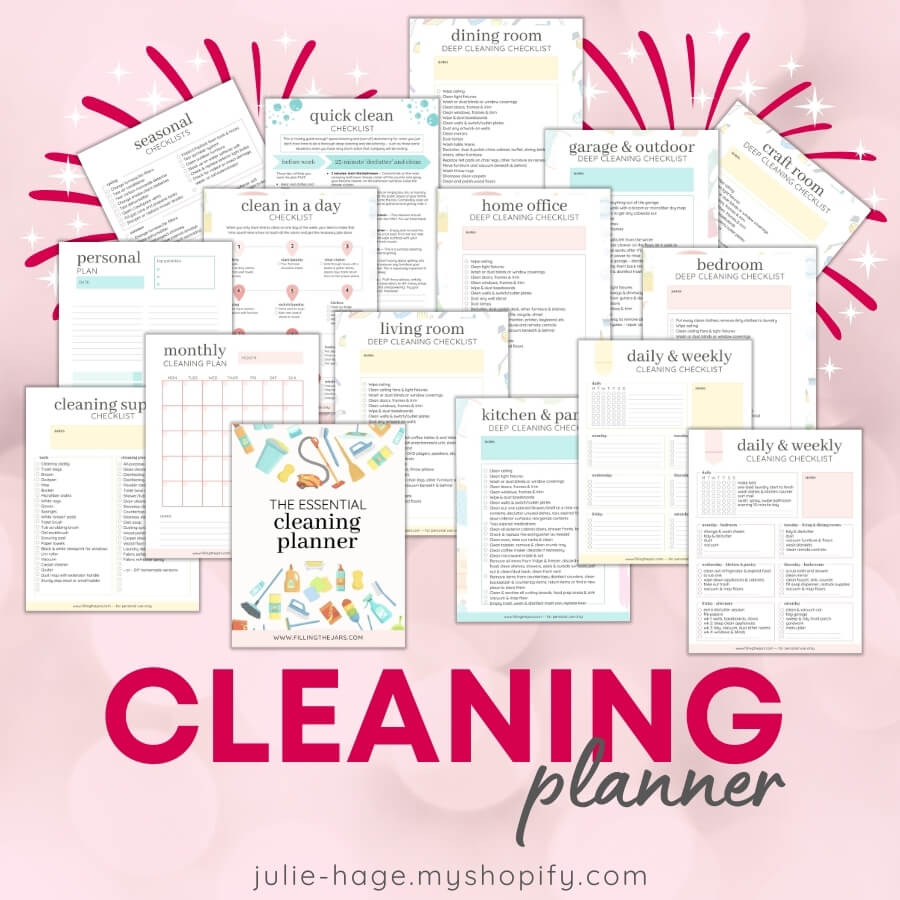 Next Steps…
Now that you've memorized or written down your favorite spring clean quotes, it's time to get to work.
Look around your house and decide which area needs your attention first. Start there, and just keep on going until the entire place is done!
It may take you a day, a week, or a month, but the results will totally be worth it!
You've got this!
Not ready to jump into spring cleaning yet? Sign up below to grab a printable daily and weekly cleaning checklist. You can start small now and the actual spring cleaning will be easier when you get to it!
---
Did you enjoy this post? Know someone else who might like it? Please take a moment to share on Pinterest, Facebook, or your favorite social media… (Click the sharing buttons at the bottom of the post.) Thank you!