No matter the size of your home, it certainly deserves a good cleaning on a regular basis. But… we don't always feel like it. Let's talk about the positive 'clean your house' quotes that help you get started on how to clean your house. I've pulled together 20 motivational quotes for cleaning that should inspire your efforts.
I have to admit, there are a lot of days when I'm really not in the mood to do much at all. That's when I love to browse the full collection of motivational quotes on this site. It's so awesome to find the perfect words that help you take action!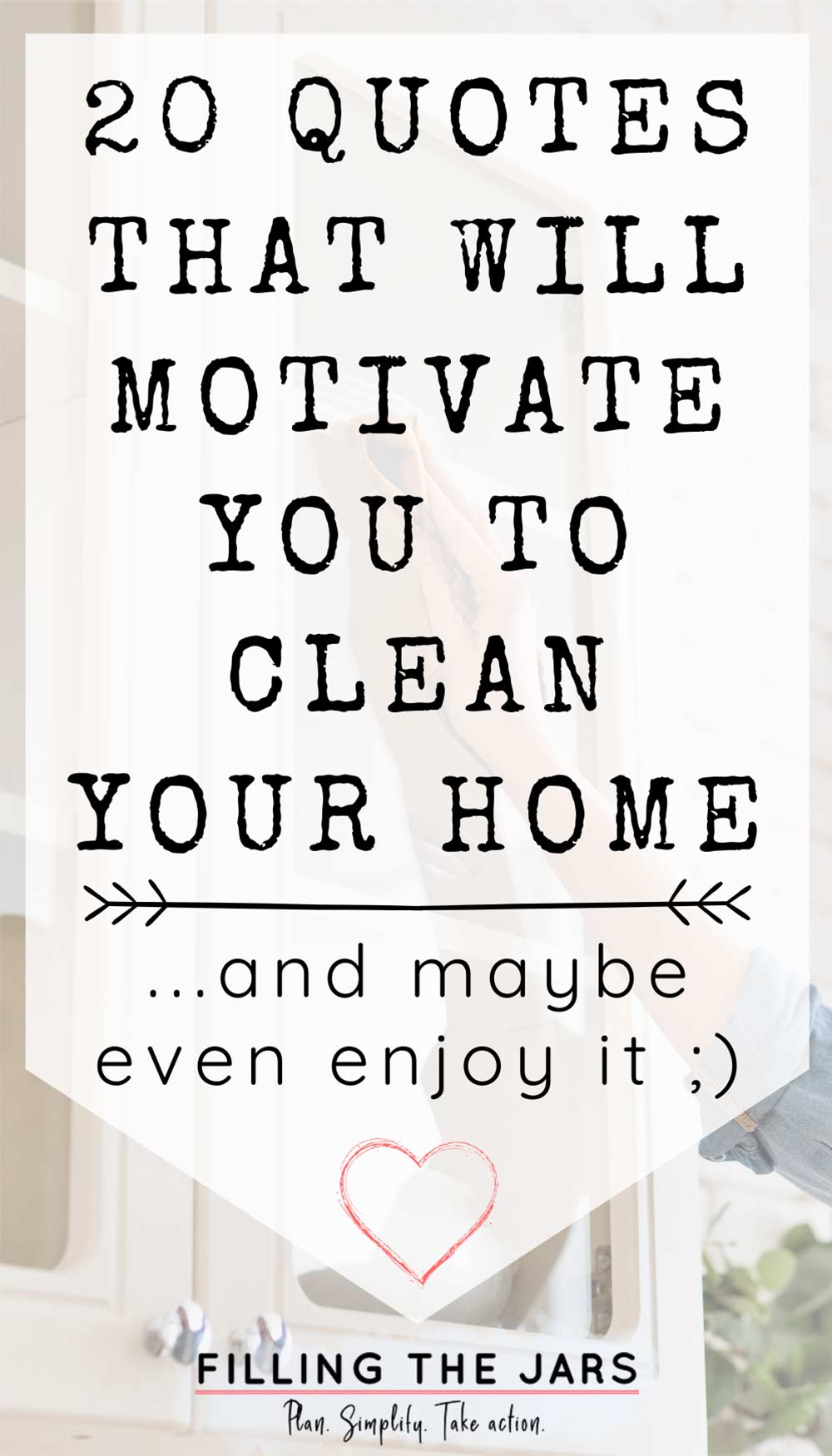 This post may contain affiliate links. If you choose to purchase through an affiliate link, I may receive a small commission at no additional cost to you. You can see my full disclaimer here.
Why We Need Cleaning Motivation Quotes
We all know how great it feels to have a clean and tidy home… and how life just feels more stressful when things are cluttered and messy.
The whole 'cleaning' issue is one of the main reasons I started decluttering years ago… because cleaning is wayyyy easier and faster when the house isn't packed with stuff.
Still, cleaning is not my favorite thing in the world to do. Not even close, actually. I love having a clean-enough home, but doing.all.the.things has always been a struggle.
But in the spirit of practicing better self-care and living more intentionally, I'm working on improving my attitude about doing the work so that I can enjoy the results on a more regular basis.
And since quotes always motivate me, it seemed like the perfect time to gather some clean house quotes and share them. It actually took much longer than expected to find positive and inspirational cleaning quotes. (I guess I'm not the only one who doesn't really love cleaning?)
I do love all of these clean space quotes. Some of them make me laugh, others make me think about cleaning differently. I hope you enjoy them as well!
Quotes About Being Clean and Tidy
"Don't let the perfect be the enemy of the good. Lower the bar. Actually spending ten minutes clearing off one shelf is better than fantasizing about spending a weekend cleaning out the basement."
— Gretchen Rubin
"This house is clean enough to be healthy, and dirty enough to be happy."
— Unknown (There's a cute printable version of this quote on Etsy!)
---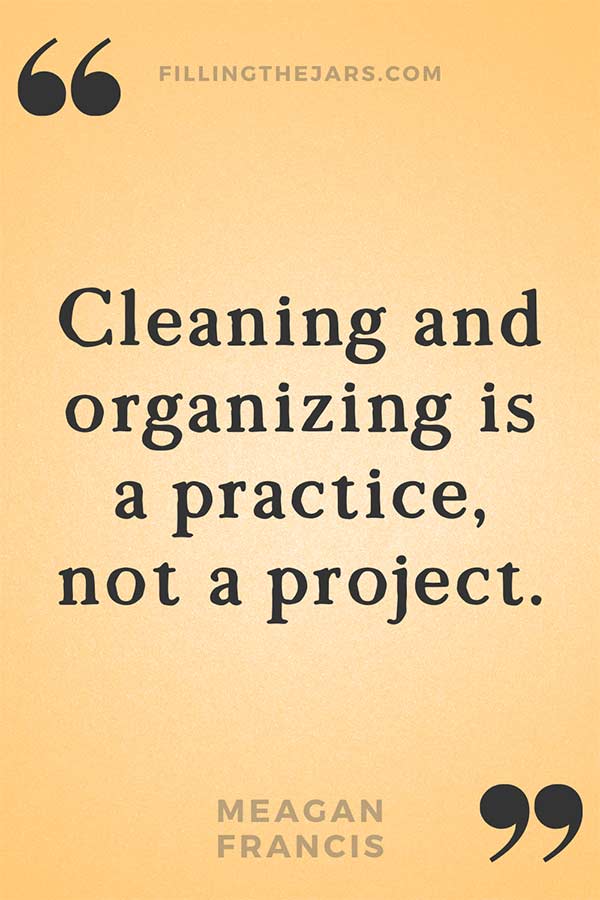 "Cleaning and organizing is a practice, not a project."
— Meagan Francis
"For every minute spent on organizing, an hour is earned."
— Benjamin Franklin
"So, we have a paradox where washing the dishes one time is seemingly unimportant. But washing them 10,000 times (consistently, every day) is important because that repetition ensures that we always have plates and silverware at our disposal. But we can't wash the dishes 10,000 times unless we start by washing them once. A single action done correctly and repeatedly makes all the difference in our lives."
— Alex Kakuyo, Perfectly Ordinary: Buddhist Teachings for Everyday Life
"Keeping your space clean is as much a part of the end result as the dish being tasty."
— Carla Hall
"The way to get started is to quit talking and start doing."
— Walt Disney
"Instead of communicating 'I love you, so let me make life easy for you,' I decided that my message needed to be something more along these lines: 'I love you. I believe in you. I know what you're capable of. So I'm going to make you work.'"
— Kay Wills Wyma, Cleaning House: A Mom's Twelve-Month Experiment to Rid Her Home of Youth Entitlement
---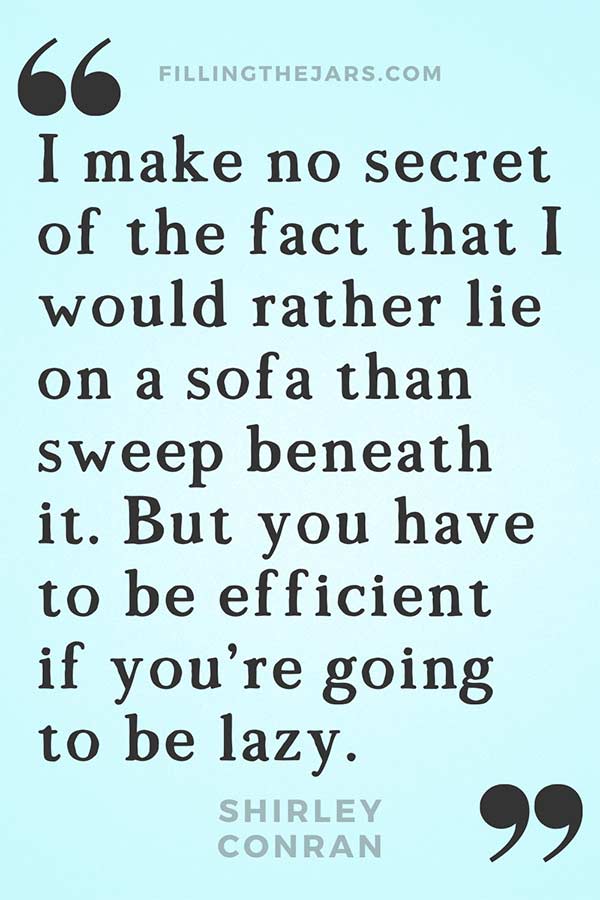 "I make no secret of the fact that I would rather lie on a sofa than sweep beneath it. But you have to be efficient if you're going to be lazy."
— Shirley Conran
"Nothing inspires cleanliness more than an unexpected guest."
— Radhika Mundra
Clean Home Clear Mind Quotes
"When your environment is clean you feel happy motivated and healthy."
— Lailah Gifty Akita
"When all else fails, cleaning house is the perfect antidote to most of life's ills."
— Sue Grafton
---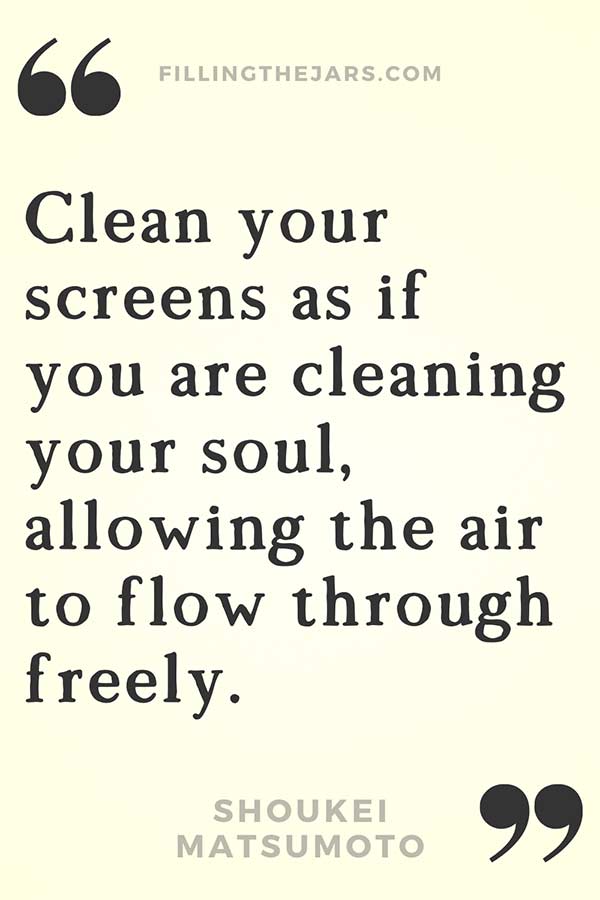 "Clean your screens as if you are cleaning your soul, allowing the air to flow through freely."
— Shoukei Matsumoto, A Monk's Guide to a Clean House and Mind
"Cleaning is my favorite way to relax. I clear things out and get rid of the stuff I don't need. When the food pantry and the refrigerator are organized, I feel less stressed."
— Jennifer Morrison
"The objective of cleaning is not just to clean, but to feel happiness living within that environment."
— Marie Kondo
"Spring cleaning isn't just about sorting through things, and getting rid of clutter. It's about taking stock of who you are, and how others see you. It's a chance to redefine yourself, to change expectations, and to remember that it's never too late to recapture who you were, or to aim for where you want to be."
— Unknown
"Outer order contributes to inner calm."
— Gretchen Ruben
"Once you learn how to see how your inner turmoil manifests itself through your surroundings, you can reverse engineer this, mastering yourself by mastering the space in which you live."
— Shoukei Matsumoto, A Monk's Guide to a Clean House and Mind
---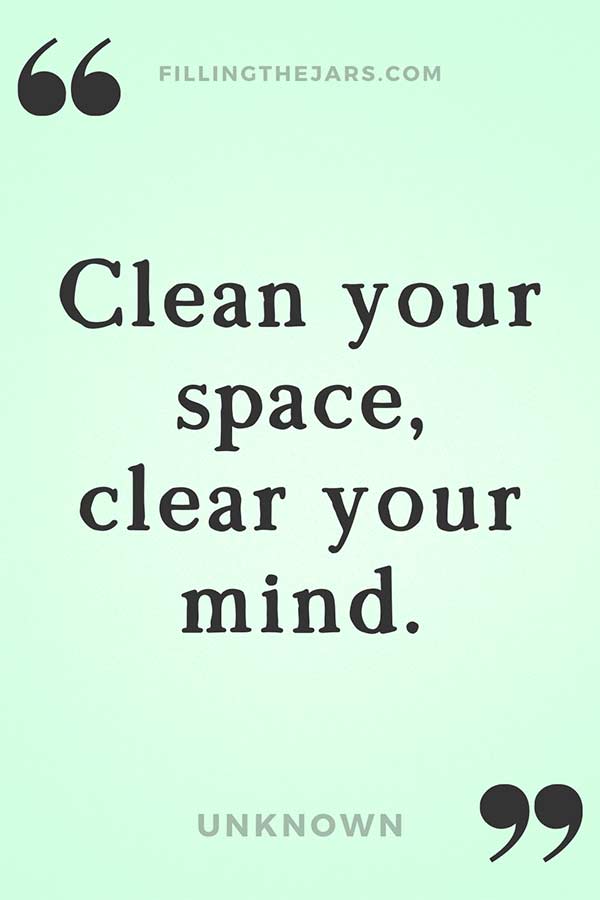 "Clean your space, clear your mind."
— Unknown
"The best time for planning a book is while you're doing the dishes."
— Agatha Christie
More Quotes and Motivation for a Clean Home
39 Inspirational Quotes for Women That We All Need to Read
24 Spring Cleaning Quotes That Might Actually Motivate You To Clean
How to Clean a Cluttered House Fast: The One-Hour Cheater Method
21 Spring Motivational Quotes to Welcome the Season
How to Get Motivated to Clean and Declutter
Need more help for regular cleaning? My 27-page Essential Cleaning Planner has everything you need!
This cleaning planner was designed to take the stress out of cleaning. Create your personal scaled-down cleaning plan, or use the checklists as-is to stay on top of the exact cleaning and maintenance tasks that will keep your home clean and comfortable.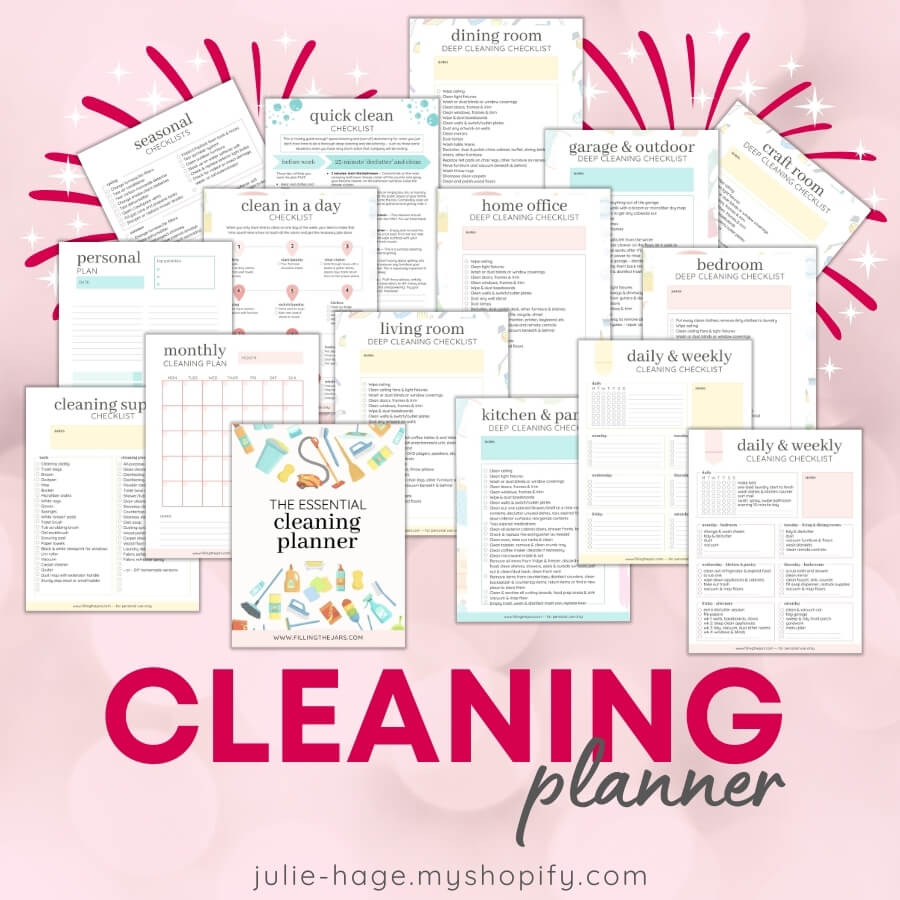 Final Thoughts on Using Cleaning Quotes
Now… usually I talk about how to incorporate quotes into your everyday life by journaling and other creative outlets. And of course you can do those things with these quotes if you wish.
But mainly, these cleaning quotes are meant to motivate you to reframe your thoughts, take action, form positive habits, and reap the benefits.
Find your favorite motivational quote for cleaning and turn it into your cleaning inspiration.
That's NOT to say you should start spending hours of your life cleaning each day. In fact, motivating others to clean may even be your end goal… and that's totally fine!
Do what you can, and concentrate on the areas that have the most impact. See how you feel about your space — and yourself — after a week or a month, and adjust from there.
You've got this!
---
Did you enjoy this post? Know someone else who might like it? Please take a moment to share on Pinterest, Facebook, or your favorite social media… (Click the sharing buttons at the bottom of the post.) Thank you!