The light of longer spring days is finally about to conquer the endless dark hours of winter. Let's use these spring motivational quotes to inspire us to get up, get moving, and increase our daily efforts as we build our best lives and pursue our priority goals and dreams.
Craving more spring quotes? You'll find plenty in my collection of seasonal and motivational quotes.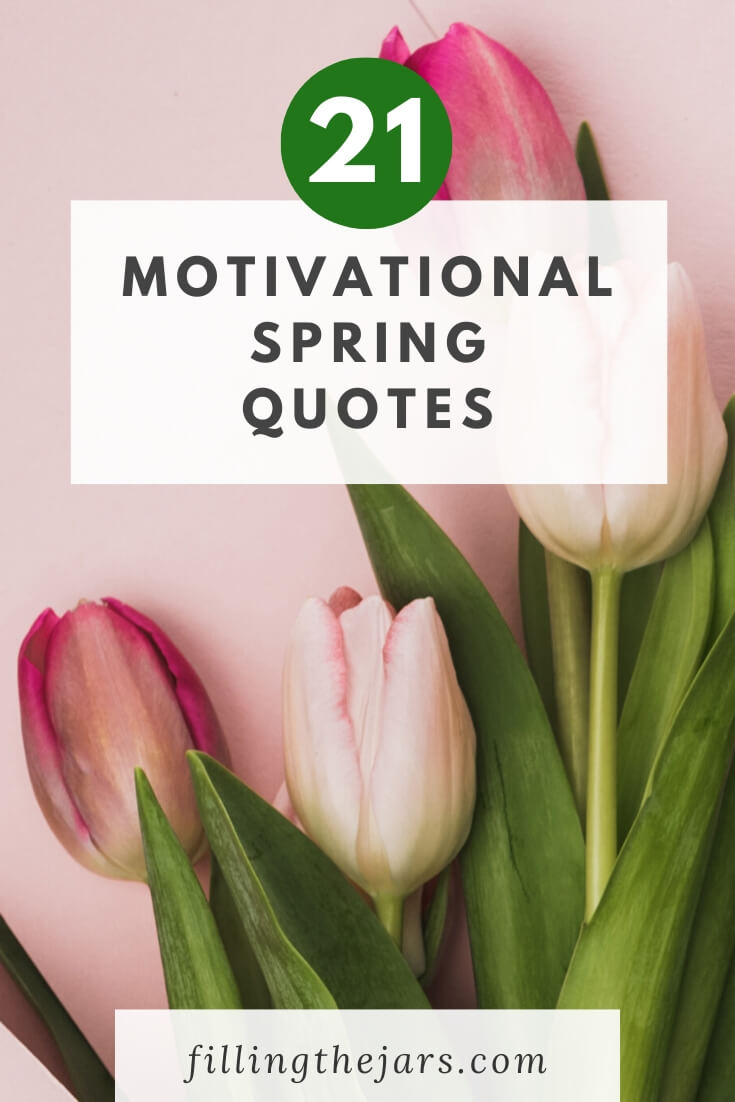 This post may contain affiliate links. If you choose to purchase through an affiliate link, I may receive a small commission at no additional cost to you. You can see my full disclaimer here.
Now that we are emerging from the deepest, darkest days of winter, it's nearly impossible not to feel the possibilities inherent in the turning of the season. Nothing matches the rising energy of spring, both in nature and within ourselves.
For those who have difficulty surviving the deep winter, this is a time of renewal, rejoicing, and celebration. Maybe our lives begin to feel less off-kilter, more aligned with what we wish and hope they would be. And it's not always that things are so different, but our perspective changes.
Use the new perspective from these motivational quotes about spring to make the most of each day. Whether it's time to plant a garden, start a new hobby or business, or make other changes, do those things with all the vigor you can muster. Don't waste even one day of the light and beauty.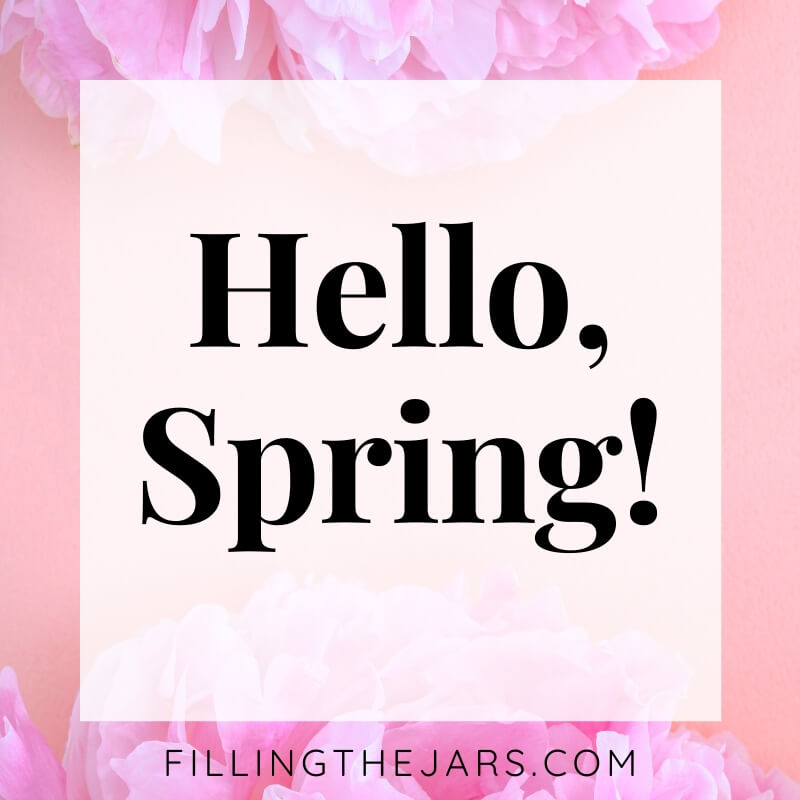 Spring Motivational Quotes
"Spring is the time of plans and projects."
— Leo Tolstoy
"The spring wakes us, nurtures us and revitalizes us. How often does your spring come? If you are a prisoner of the calendar, it comes once a year. If you are creating authentic power, it comes frequently, or very frequently."
— Gary Zukav
"You must prune to bloom. If the dead weight is not pruned and removed, it compromises the quality, performance, and output of the vine. When you prune what's not working in your life, you make the space and place for renewal to happen and for new growth to spring forth."
— Susan C. Young
"Without ambition one starts nothing. Without work one finishes nothing. The prize will not be sent to you. You have to win it."
― Ralph Waldo Emerson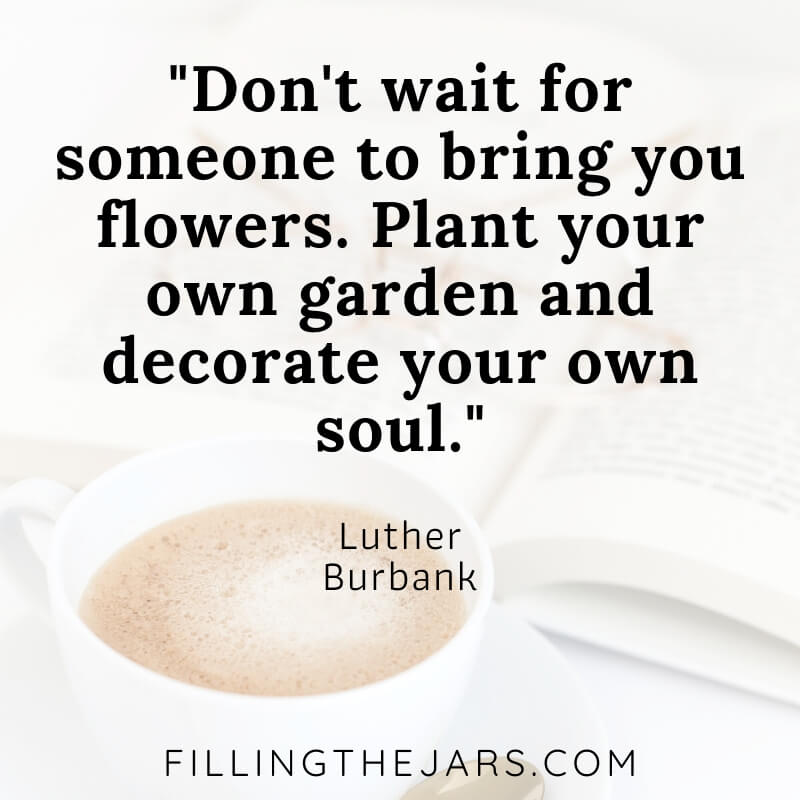 "Don't wait for someone to bring you flowers. Plant your own garden and decorate your own soul."
— Luther Burbank
"Some people plant in the spring and leave in the summer. If you're signed up for a season, see it through. You don't have to stay forever, but at least stay until you see it through."
— Jim Rohn
"Spring is coming… Time for some cleaning. Remove all the self-doubt, worry, jealousy, regret, anger, guilt, or any other negative emotions that are holding you back from your happy, fulfilled life."
― Nanette Mathews
Positive Spring Quotes
"Spring is proof that there is beauty in new beginnings."
— Matshona Dhliwayo
"Life stands before me like an eternal spring with new and brilliant clothes."
— Carl Friedrich Gauss
"Don't walk in front of me… I may not follow
Don't walk behind me… I may not lead
Walk beside me… just be my friend"
― Albert Camus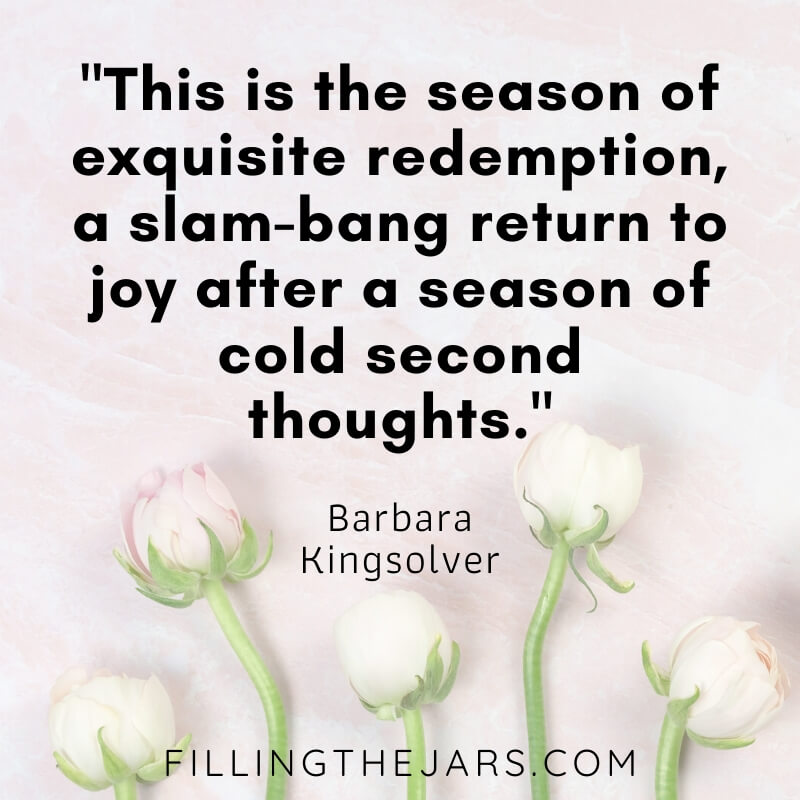 "Spring is made of solid, fourteen-karat gratitude, the reward for the long wait. Every religious tradition from the northern hemisphere honors some form of April hallelujah, for this is the season of exquisite redemption, a slam-bang return to joy after a season of cold second thoughts."
― Barbara Kingsolver, Animal, Vegetable, Miracle: A Year of Food Life
"This perspective has helped me to see that there is no way to happiness. Happiness is the way. So, treasure every moment that you have. Stop waiting until you finish school, until you go back to school, until you lose ten pounds, until you gain ten pounds, until you have kids, until your kids leave the house, until you start work, until you retire, until you get married, until you get divorced, until Friday night, until Sunday morning, until you get a new car or home, until your car or home is paid off, until spring, until summer, until fall, until winter, until you are off welfare, until the first or fifteenth, until your song comes on, until you've had a drink, until you've sobered up, until you die, until you are born again to decide that there is no better time than right now to be happy."
— Crystal Boyd
Spring Reflection Quotes
"To find the universal elements enough; to find the air and the water exhilarating; to be refreshed by a morning walk or an evening saunter; to be thrilled by the stars at night; to be elated over a bird's nest or a wildflower in spring — these are some of the rewards of the simple life."
— John Burroughs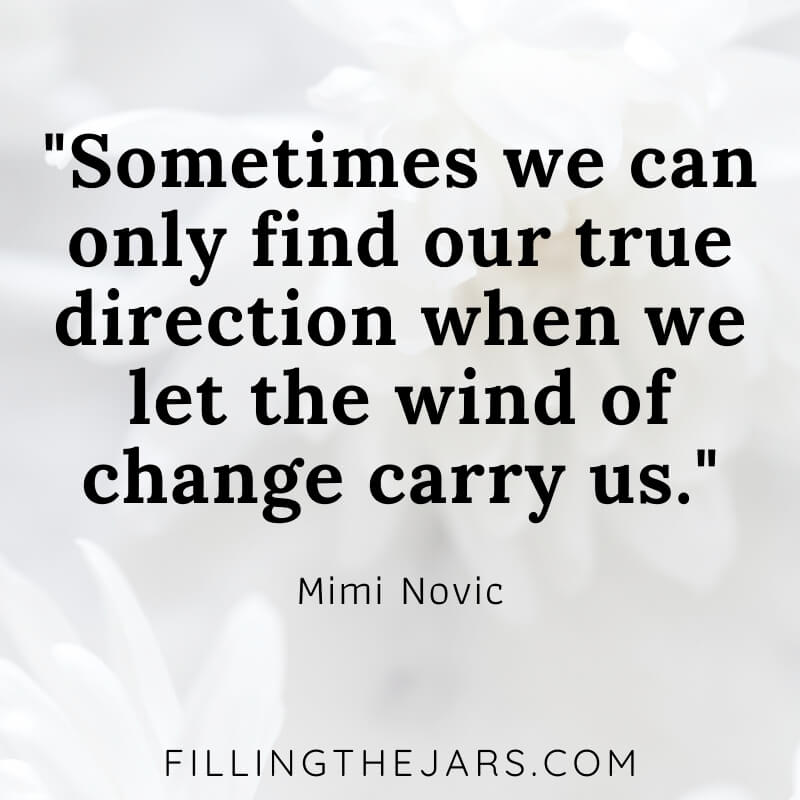 "Sometimes we can only find our true direction when we let the wind of change carry us."
— Mimi Novic
"One attraction in coming to the woods to live was that I should have leisure and opportunity to see the spring come in."
— Henry David Thoreau
"To be interested in the changing seasons is a happier state of mind than to be hopelessly in love with spring."
— George Santayana
Enjoying Spring Quotes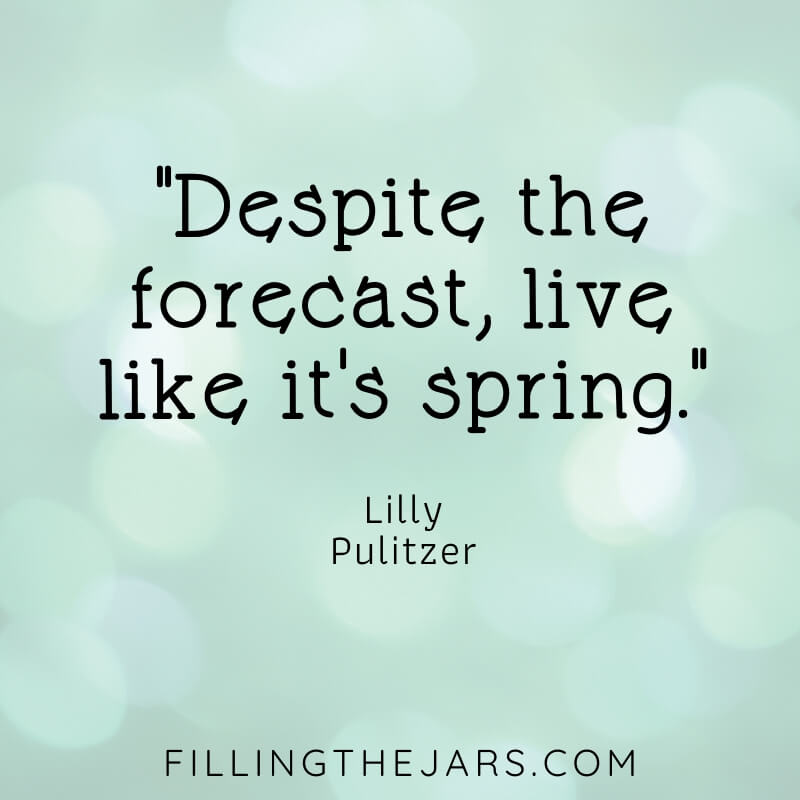 "Despite the forecast, live like it's spring."
— Lilly Pulitzer
"A little madness in the Spring
Is wholesome even for the King."
— Emily Dickenson, # 103
"Spring is nature's way of saying, 'Let's party!'"
— Robin Williams
"The air is like a butterfly
With frail blue wings.
The happy earth looks at the sky
And sings."
— Joyce Kilmer (Spring)
"Spring is when you feel like whistling even with a shoe full of slush."
— Doug Larson
How can you use these spring quotes in your everyday life?
Use them as journal prompts.
Can you imagine how you'll feel after spending 10-20 minutes writing about one of these inspirational quotes about spring and renewal every day for a month?
Give it a try, and see if it doesn't help you feel motivated to try new things… or do better at the things you're already working on.
Interested in starting a spring journal? Grab my 90-day printable Spring Journal and get started today!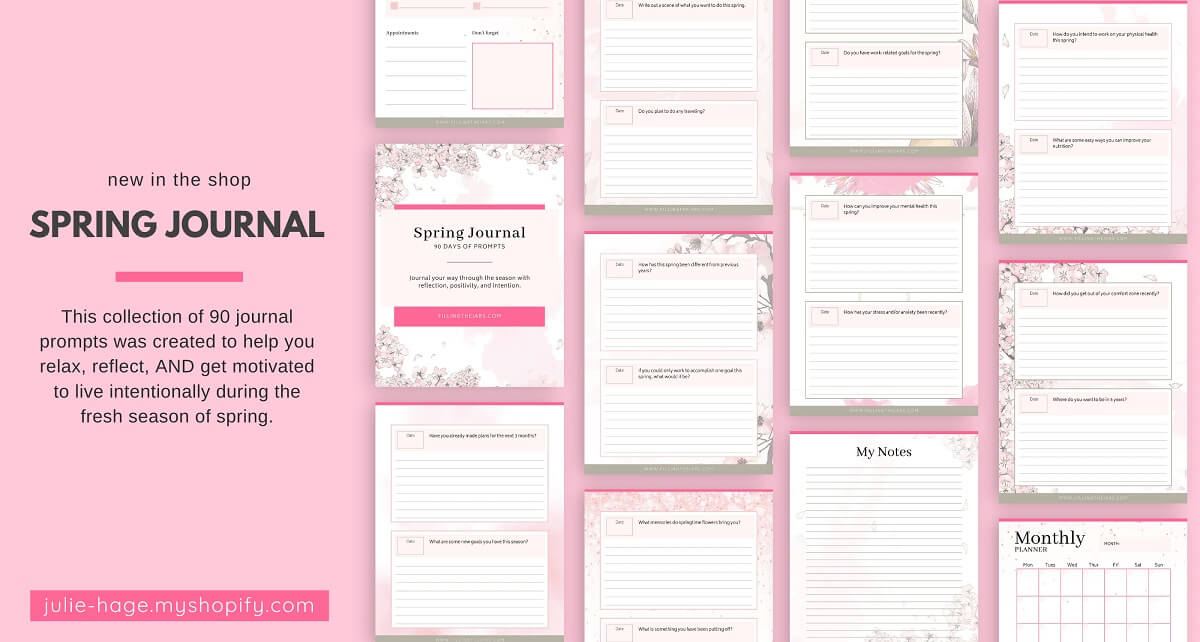 ---
Add quotes to your daily planner.
My free printable daily planner page has a space for a daily motivational quote.
Try it out… having those words in front of you and reading them frequently throughout the day might be just what you need to stay on track with your goals and daily to-do list.
Get creative.
Use your favorite spring quotes to create inspirational artwork.
Practice your lettering.
Create something with your Cricut.
Write the quote in the middle of a page and mind-map what it means to you and add doodles to decorate the page. Frame it or add it to your planner for inspiration.
More Posts You May Enjoy:
Motivational Quotes of the Month for April
35 Beautiful Quotes to Celebrate the Last Day of Winter
Fun Things to Do in the Spring: 70 Ideas for Your Spring Bucket List – Unexpectedly Domestic
Pursuing Your Passion: Recognize the Spark and Let It Ignite You
15 Slow Down Quotes to Help You Enjoy More Living
15 Fun Spring Activities You Don't Want to Miss This Year – Smart Mom Smart Ideas
Motivational Quotes on Intentional Living for the Month of May
Picks for Springtime Motivational Reads
Replenish: Experience Radiant Calm and True Vitality in Your Everyday Life by Lisa Grace Byrne
The Joy of Missing Out: Live More by Doing Less by Tonya Dalton
See more of my choices for life improvement reading.
Concluding Thoughts About Using These Spring Quotes
Remember, in order for these spring motivational quotes to 'work' for you, you have to USE them. It's not enough to just read them and go on with your life.
Incorporate the words into your thoughts and actions. Give in to every spark of energy and motivation these words bring out, and use that energy to make meaningful progress toward your goals and live happier every single day as you Build Your Best Life.
You've got this!
Want 20 free printable gratitude quotes? Enter your name & email below to have them sent right to your email inbox: