IN THIS POST: I'm sharing 15 slow down quotes about enjoying life. While it's important to focus on time management and productivity when it comes to goal setting and achieving, there's another side of the story.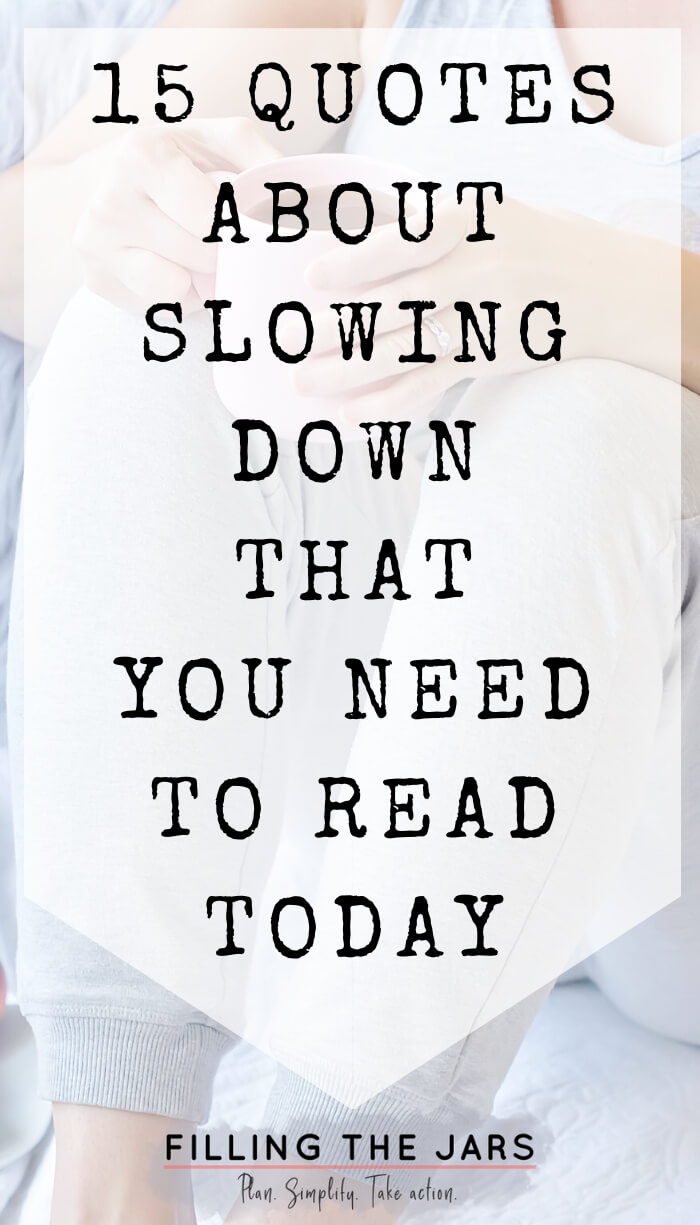 It's imperative to slow down, be grateful, and relax. When it comes to working and achieving goals, setting limits is so important.
I decided to look up some quotes about the importance of slowing down and write a post about them. Hopefully they will inspire you as they have me.
Use these quotes about slowing down and enjoying life as reminders that life isn't all about constantly being busy.
Need more quotes? I have a huge collection of seasonal and motivational quotes to help you get through every day.
Priorities + Focus = the satisfaction of a rewarding life and the time to enjoy it. #intentionalliving #inspiration #quotes
Click To Tweet
This post may contain affiliate links. If you choose to purchase through an affiliate link, I may receive a small commission at no additional cost to you. You can see my full disclaimer here.
Why Do We Need Slow Down Quotes?
Imagine for a moment that you had time every day to slow down and think for 15 or 20 minutes. Or to do something that seems random, silly, and unproductive.
What would that feel like?
Perhaps you can't even imagine it because your life is so busy.
Some weeks — or even months — really are stupidly busy. But allowing that to become a permanent way of life is no way to actually LIVE.
We all need reminders — including myself — that we can't really ENJOY life when we're caught up in going, going, going all.the.time.
When we slow down and pay attention, we're better able to catch ourselves before diving headlong into actions that will actually cost us time and frustration in the end.
And for goodness' sake, we must learn to stop working and slow down to enjoy life!
I'll admit, I'm terrible at this. I love what I do, and I could honestly work from the moment I get up until I go to bed. But then, after a few weeks, I lose focus because I'm exhausted (although I may not even realize it).
Gradually, I'll notice the house is messier than usual, personal relationships are slipping, I haven't read a book in a month, I probably haven't taken the time to sit in my comfy chair with my feet up in days or weeks….
At that point, I know it's time to take a few steps back!
There's a time for hustle, and a time to slow down and relax.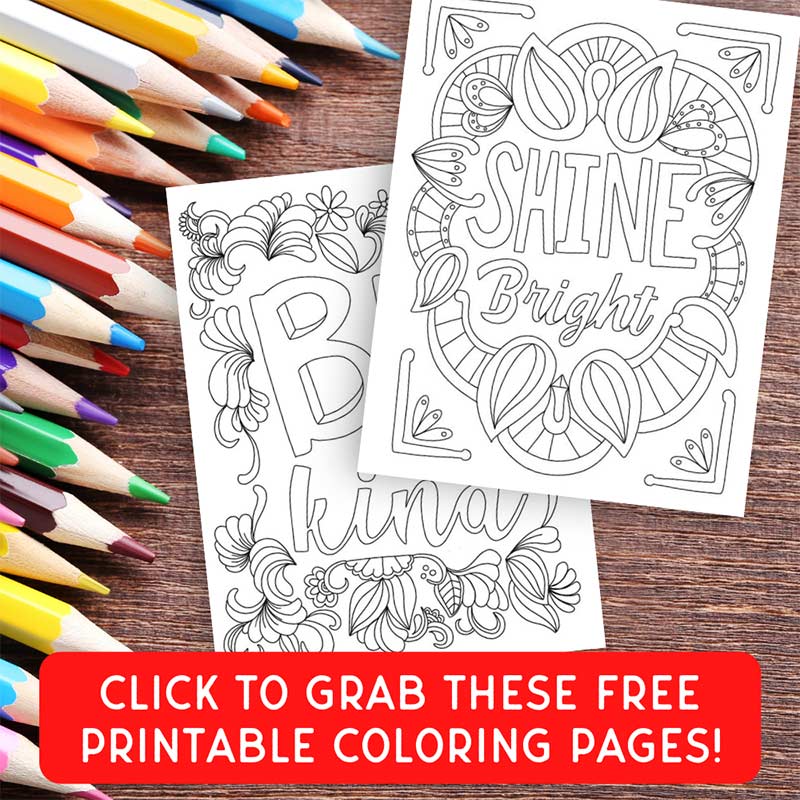 ---
We can't go from being busy at work putting out fires to busy family activities to busy dinner to busy housework to busy relaxing. Yes, that 'relaxing' is often rush, rush to parties or shopping or stressfully browsing Facebook or Instagram.
Slow your roll, my friend. The scenery along the way is pretty darn amazing.
Priorities + Focus = the satisfaction of a rewarding life and the time to enjoy it.
Use these slow living quotes to slow down and improve your quality of life. Then, when it's time to hustle and be productive, your mind will be clear and focused.
Slow your mind and truly reflect on these quotes about being busy…

Quotes About Not Rushing
1. "Sometimes our stop-doing list needs to be bigger than our to-do list."
― Patti Digh, Four-Word Self-Help: Simple Wisdom for Complex Lives
2. "Never be so busy as not to think of others."
― Mother Teresa, The Joy in Loving: A Guide to Daily Living
3. "Most people's minds are almost always too busy for them to feel their skins being caressed by the wind or the sun."
― Mokokoma Mokhonoana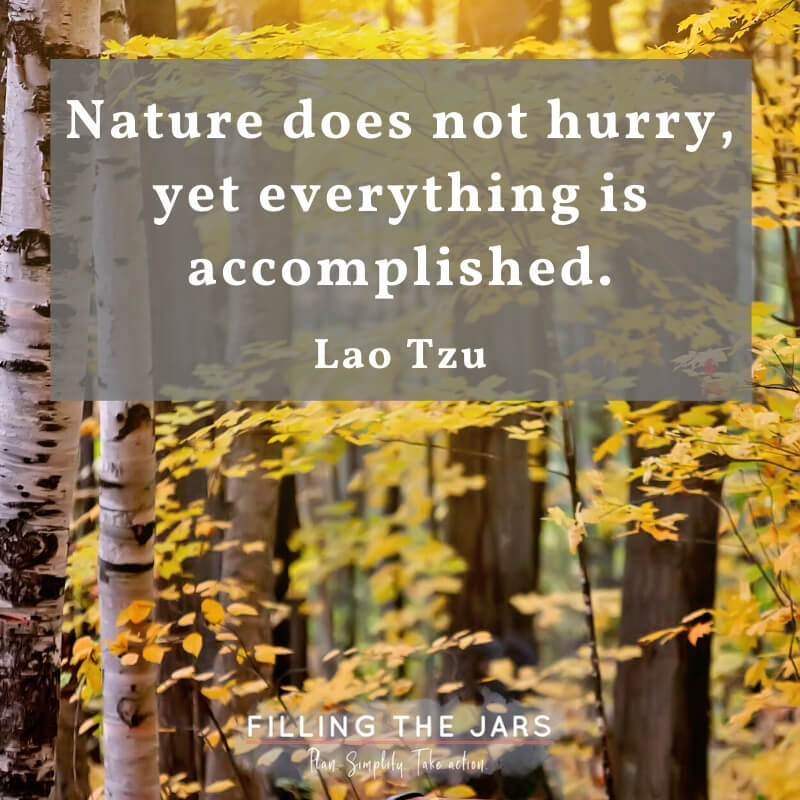 4. "Nature does not hurry, yet everything is accomplished."
― Lao Tzu
5. "Instead of saying 'I don't have time' try saying 'it's not a priority,' and see how that feels… I have time to iron my sheets, I just don't want to. But other things are harder. Try it: 'I'm not going to edit your résumé, sweetie, because it's not a priority.' 'I don't go to the doctor because my health is not a priority.' If these phrases don't sit well, that's the point. Changing our language reminds us that time is a choice. If we don't like how we're spending an hour, we can choose differently."
― Laura Vanderkam, Are You As Busy As You Think? — Wall Street Journal
6. "Set expectations for yourself that are not based on what you believe everyone else is doing."
― Julie Hage
7. "Once she stopped rushing through life, she was amazed how much more life she had time for."
― Unknown
8. "The new disease of our age is being OK doing everything at exactly the same time."
― Nigel Cumberland, 100 Things Successful People Do: Little Exercises for Successful Living
Quotes That Inspire You to Slow Down and Pay Attention
9. "Slow down and enjoy life. It's not only the scenery you miss by going too fast – you also miss the sense of where you are going and why."
― Eddie Cantor
10. "I spent a lifetime in a garden one afternoon."
― Craig D. Lounsbrough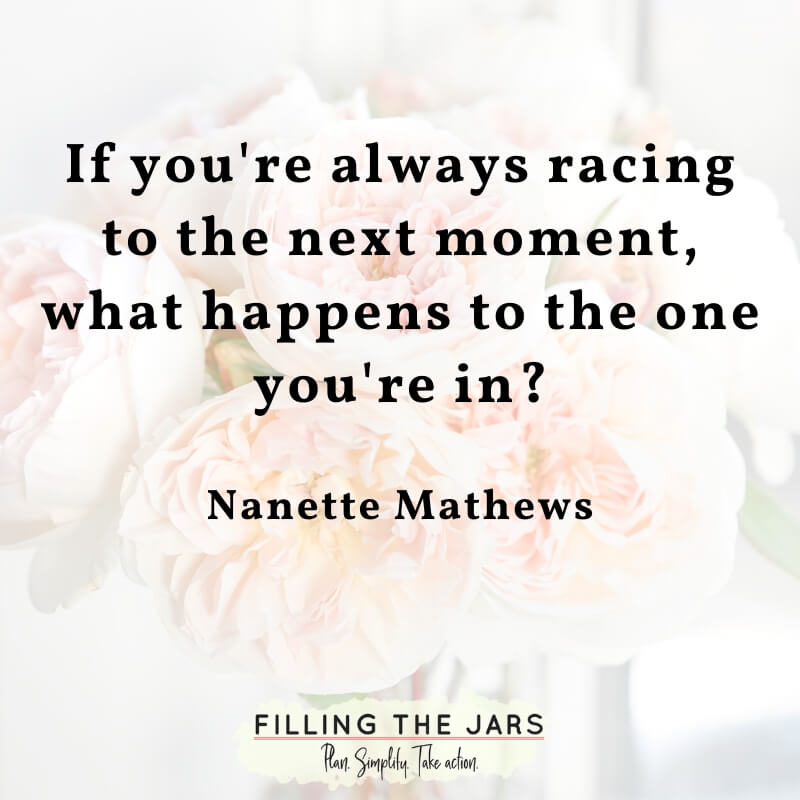 11. "If you're always racing to the next moment, what happens to the one you're in? Slow down and enjoy the moment you're in and live your life to the fullest."
― Nanette Mathews
12. "S.T.O.P. = Start To Open Possibilities"
― Richie Norton
13. "Be slow to speak, and only after having first listened quietly, so that you may understand the meaning, leanings, and wishes of those who do speak. Thus you will better know when to speak and when to be silent."
― Saint Ignatius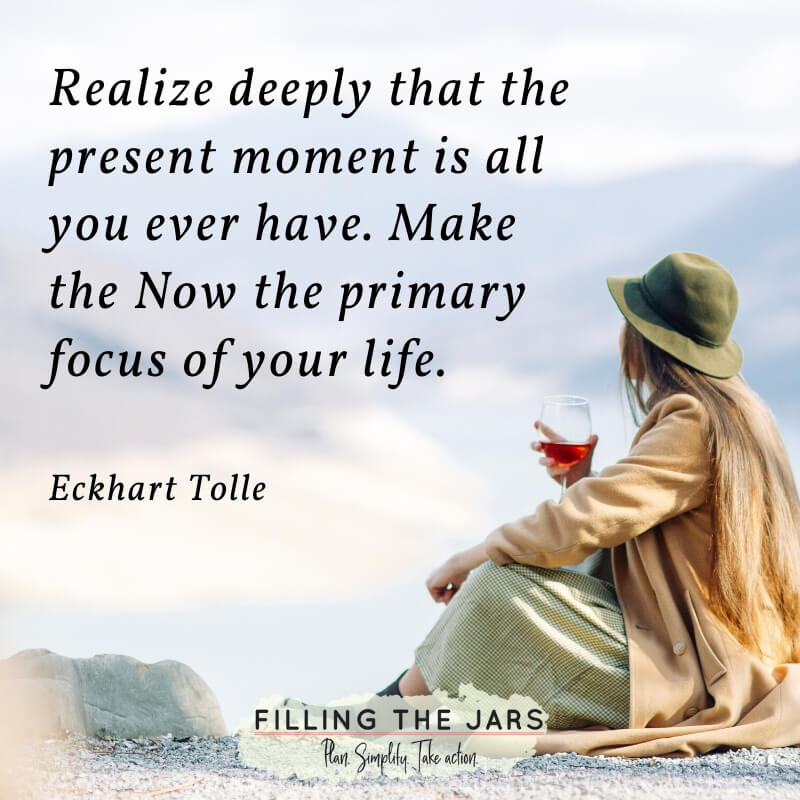 14. "Realize deeply that the present moment is all you ever have. Make the Now the primary focus of your life."
― Eckhart Tolle
15. "Successful writing is a slow, daily, meticulous form of mental illness."
― Don Roff
As a writer, this one just made me laugh and I had to include it. 😉
More Inspirational Quotes and Posts
Seeking Simplicity in a World of Hustle — Filling the Jars
38 Overthinker Quotes to Help You Get Unstuck — Filling the Jars
Enjoying Life in the Slow Lane — Becoming Minimalist
22 Fantastic Gratitude Journal Prompts You Need Today — Filling the Jars
Why I Chose a Slower Life — Field and Nest

Resources to Make Use of Quotes About Slowing Down
Want to use these quotes as journal prompts? Here are some journaling resources:
Here is a pretty journal with yellow flowers on the cover that would definitely inspire a bright and happy mood for relaxing.
These erasable gel pens are my favorite brand of pens and I use them every day. Love having so many colors for making notes and doodles.
Not quite sure what you can ACTUALLY do to slow your life and live intentionally? The Passion Planner (my current favorite planner!) walks you through figuring out YOUR important goals and tasks, with mind maps and reflective questions to help you create a plan that's best for YOU.
Whether or not you decide to take up journaling or start using a planner to make more sense of your days, I do hope you will take these slow down quotes to heart as you Build Your Best Life.
You've got this!
---
Did you enjoy this post? Please take a moment to share on Pinterest or your favorite social media… Thank you!