What do I need to clean my house? The right attitude! Well, that plus some helpful cleaning tools and supplies.
But what exactly do you need in your cleaning arsenal? Here's a rundown of my essential cleaning supplies, which I hope will help you decide what you need when it comes to cleaning your house.
This post may contain affiliate links. If you choose to purchase through an affiliate link, I may receive a small commission at no additional cost to you. You can see my full disclaimer here.
The Importance Of The Right Cleaning Supplies
If you're like me, cleaning isn't your favorite activity. In fact, it's probably somewhere at the bottom of your to-do list, if it's on there at all. I know I would much rather curl up with a good book or take a nap than scrub toilets.
But let's be real, cleaning is a necessary evil if we want to live in a semi-decent clean house. The best way to make cleaning less of a chore is to have the right supplies on hand.
Here's a list of cleaning supplies that will help you get the job done quickly and efficiently. From all-purpose cleaners to cloths, these items will help you tackle even the most daunting cleaning tasks.
So next time you're dreading even the simplest of cleaning jobs, remember that with the right supplies, cleaning can be (somewhat) tolerable. And maybe, just maybe, you'll even find yourself looking forward to cleaning day.
Notes About My Favorite Cleaning Supply List
Keep in mind, I live on a dirt road way out in the country, which means…
We have a septic system, so I don't use bleach other than what comes in things like my dishwasher tabs. Also, I try to limit excessive use of antibacterial products that could end up going down the drain and throwing the system off balance.
That does not mean I use all-organic cleaners. It's just not 'me' and unfortunately, they don't always work with our water.
Speaking of water… Our well water is VERY high in iron and minerals. We use a water softener with rust-removing salt, but it can only do so much. Therefore, my cleaning product choices may seem surprising to someone who is used to good water.
Not only do we live on a dirt road, but we're surrounded by farmers' fields and we heat with a woodstove 8-9 months of the year. This adds another layer of cleaning challenges, which is super-fun for someone like me who detests dusting. *said with a sarcastic eye-roll*
I use the cleaning supplies that I've found work the best for my situation. Sometimes that's a DIY solution, sometimes not. Sometimes I choose re-usable products, sometimes not.
We may not have the same needs when it comes to cleaning products, and that's okay! These are some of the cleaning tools and supplies I use for my household of 3 adults, a cat, a dog, and a lot of dust.
Don't worry, I'll explain why I like each item, or why I use something even if it's not my favorite.
Best Daily Cleaning Supplies
I do NOT deep clean my home every day. But I do my best to try to keep up with the areas of our house that really need it. You know, the cleaning tasks that don't have to take much time, but are essential for maintaining a healthy-enough, clean-enough home.
Floors
There's pretty much zero chance I'm going to vacuum and mop floors in the whole house on a daily basis. But I have pets and live in a dust-magnet house, so I love my lightweight Swiffer sweeper and heavy-duty dry refills that grab extra dust, dirt, and pet hair.
Even if I don't get every corner or under every chair, I can quickly zip around and stay on top of the worst of the dust and pet hair tumbleweeds. The Swiffer products also now come in a wider width to make the job even faster.
Also, there's nothing stopping you from using a regular cleaning cloth instead of the disposables. It's simple to push a microfiber cloth into the rubber grippers on the Swiffer.
I have some old microfiber dishtowels that I bought at a dollar store years ago. I hated them for dishes since they aren't absorbent at all, but they make GREAT floor dusting cloths.
I love Method daily wood floor cleaner for spot-cleaning my wood floors and trim. The almond scent is amazing!
For the occasional slightly icky pet mess, the Rocco & Roxie Stain & Odor Eliminator spray has worked well on our hard floors and rugs.
Kitchen
I use Method multi-surface cleaner every day on my kitchen counters and everywhere else in the room. By the way, it also works fairly decently as a glass cleaner in a pinch. The pink grapefruit is my favorite, and I also have a bottle of lavender for when I want something different.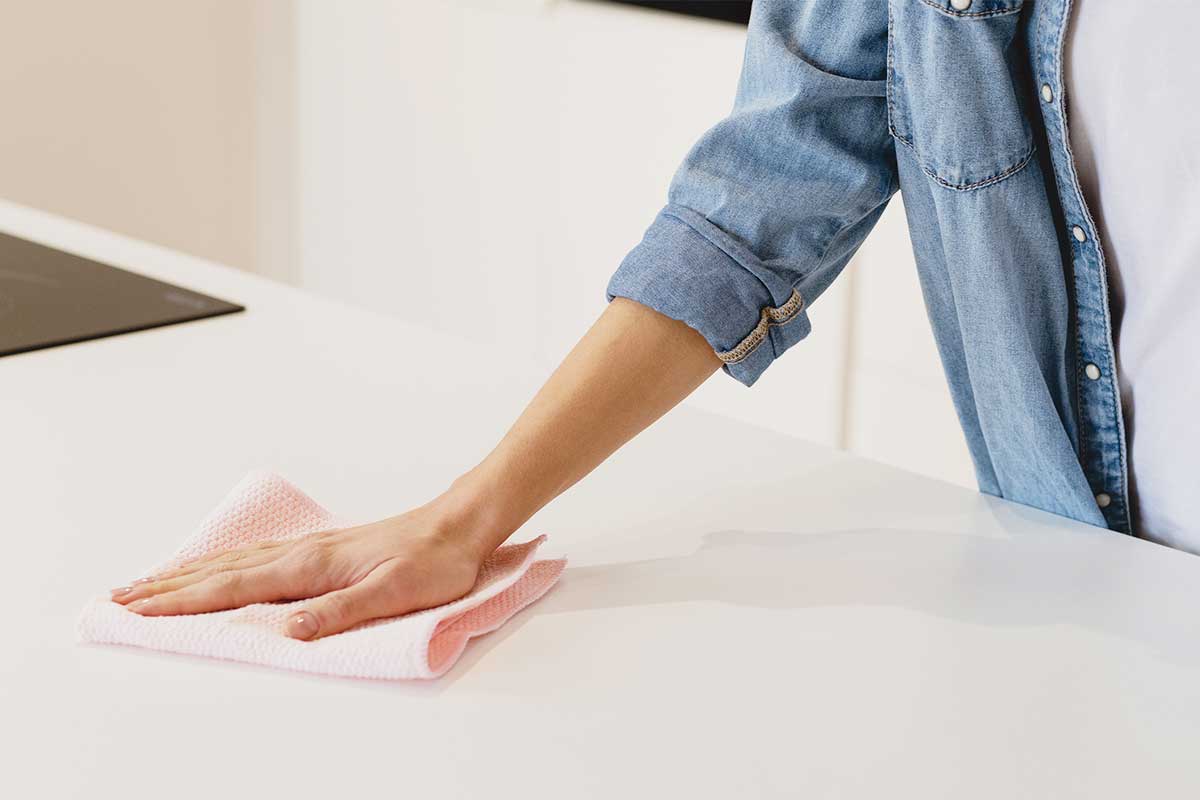 I've tried a couple of varieties of Mrs. Meyer's Clean Day spray cleaners, but the scents were just too intense for my family. Plus the triggers on the bottles were constantly drippy, which bothered me.
*Tip: While you can buy the Method and Rocco & Roxie products on Amazon, you may want to check your local store first to test the scents and avoid having to deal with shipping liquids.
Oh, I also buy the Method foaming hand soap. I love the foaming pump and the shape of the container – it's not 'tippy.' Since I wash my hands *a lot* every day, we go through a container pretty quickly. Then I can refill it.
*Tip: You can refill the foaming soap pump with some dish soap and warm water several times before having to replace it with a fresh container.
These little scrapers work really well for getting really stuck foods off pans and other flat surfaces.
Recently I started using Swedish dish cloths and I am completely obsessed with them. They feel a little different than anything I've ever used, and they're not exactly pretty after they go through the laundry. However, they're absorbent — better than paper towels — and so easy to use!
I run the dishwasher almost every day with Cascade Platinum Actionpacs. To be completely honest, I do NOT love the strong scent, but I have never found any other dishwasher detergent and/or rinse agent that leaves our dishes as clean.
I used to use Finish Max-In-1 tabs or Finish Quantum tabs and Finish Jet-Dry rinse aid. Unfortunately, our dishes would nearly always come out with spots on the glasses and a heavy white film on the plastic. I would definitely try these again – or even something more 'natural' – if we ever move to a house with better water.
Bathroom
My goal is to keep the main bathroom 'clean enough.' It's not like you have to douse it in Clorox every day.
A sloppy swish of the toilet with a toilet brush and a quick wipe of the rim with some toilet paper is a simple, great way to keep the toilet from looking too awful. I don't use harsh cleaner every day… but maybe a squirt or two of foaming hand soap before the swishing.
Along with that, I usually swipe the mirror/counter/sink with the hand towel before replacing it for the day. But if you want to go a step further in effort and cleanliness, use an e-cloth.
I do keep a container of cleaning wipes on hand in case things need an extra hit of disinfecting.
If the 'swish and swipe' term sounds familiar, that's because it's something I learned from FlyLady many years ago and use the phrase often.
While the shower is still a little bit wet, I try to remember to spray it with a daily leave-on cleaner. When the bottle is empty, I often refill with a DIY daily shower cleaner. Honestly, I don't notice much difference in effectiveness, and the DIY version has less scent.
General
Admittedly, I don't do this EVERY day, but I do my best to keep up with the pet hair that collects on upholstery. This OXO Furlifter Furniture Brush does an amazing job! Even when I think the living room furniture doesn't look too bad, a few swipes with that tool shows me just how much hair would have ended up on my pants.
I also use this free printable cleaning checklist so I don't have to think very hard about what needs to be done next!
Favorite Deeper Cleaning Tools And Supplies
In order to make the cleaning process as efficient as possible, it is important to have the right tools on hand. This list includes the cleaning supplies I use every week-ish or so.
For some people, these might actually be tools and products they use for cleaning every single day… and that's totally cool.
With these supplies, you'll be able to tackle even the most challenging cleaning tasks. So whether you love to clean or hate it, this supply list will help you get the job done quickly and easily.
Floors
Although I love the Swiffer for dry-cleaning floors, I actually don't care for the Swiffer wet pads. They tend to leave my wood floors dull and streaky.
If you have sealed hard floors, a steam mop and distilled water does a MUCH better job, resulting in truly clean floors. I *have* used one on my prefinished pine floors (similar to this Shark steam mop) and loved it. However, our dog's nails eventually chipped through the floor's finish in the high-traffic areas, which made a steam mop not such a great idea. 🙁
If I had the right flooring to buy a new steam mop today, I would choose something like this versatile PurSteam 10-in-1 Mop Cleaner.
But, since I have to be more careful with our pine floors, I use the O-Cedar EasyWring spin microfiber mop and concentrated Murphy's Oil Soap.
By the way, Murphy's is a great all-purpose cleaner. I keep a spray bottle with a slightly heavy-duty mix on hand for quick cleanups of all kinds of things. My husband especially loves it for cleaning the outside of the grill.
But wait… what about vacuuming? Oh, yeah, I actually do that sometimes.
I recently bought this Shark cordless stick vacuum. Honestly… it's just kinda 'meh.' It does okayyy on carpet (although by no means fantastic) and it kind of dusts the hardwood floors as it vacuums thanks to the fins on the roller.
But the suction tube gets VERY small at the connection points, so it can't suck up anything chunky even if it's lightweight. And if you want decent suction, you have to constantly pull on the 'max power' trigger, which really hurts my hand after a couple of minutes.
Then again, I do like just being able to pull this out and do a quick bit of vacuuming. And the light suction means I can vacuum the bottoms of my dining room curtains without having to be all that careful.
So… it does the job… mostly. Thankfully I don't have a lot of floor space to care for.
For my next vacuum cleaner, I'll probably go back to a corded model like this Shark Navigator Lift-Away, which is very similar to the one I just replaced when it died after several years of use.
It was kind of heavy and tippy, but had fantastic suction and washable filters that were cheap to replace… all in all a solid choice if the new models are anything like the one I had.
Kitchen
Bar Keeper's Friend: This stuff is magic for stubborn stains and rust in my stainless steel kitchen sink and does pretty well with burned-on stovetop messes. It's also perfect for removing rust stains from the white porcelain bathroom sinks when we forget to fill the water softener.
Cleaning with this product is also the ONLY time I ever use a sponge (I think they're really disgusting) — and it's usually this sponge by Scotch-Brite.
To keep down messes in the microwave, we've used splatter covers for many years now. Thanks to those nifty devices, the microwave rarely needs a deep cleaning. Grab at least two, and you can have one in use while the other is in the dishwasher at any time.
Bathroom
As I mentioned earlier, we have very hard water. Even with a water softener and usually remembering to use a shower spray, cleaning the tub and shower can be a challenge.
When it's time to clean 'for real,' I don a pair of vinyl gloves, then grab a regular old scrub brush and The Works shower cleaner or a 50/50 mix of Dawn & vinegar in a spray bottle. I prefer to use the Dawn/vinegar mix, but sometimes the hard water stains require more power.
I'm definitely looking for suggestions for an easier tub & shower cleaning method, because scrubbing that hard water soap scum absolutely kills my arm. Leave a comment if you know of anything! I'm especially wondering if an electric spin scrubber lives up to the hype.
For deeper cleaning in the bathroom, I like Method bamboo-scented antibac spray cleaner. Be forewarned, a little scent goes a long way… You don't want to douse your entire bathroom with it or clean every single door handle and light switch in the entire house at once.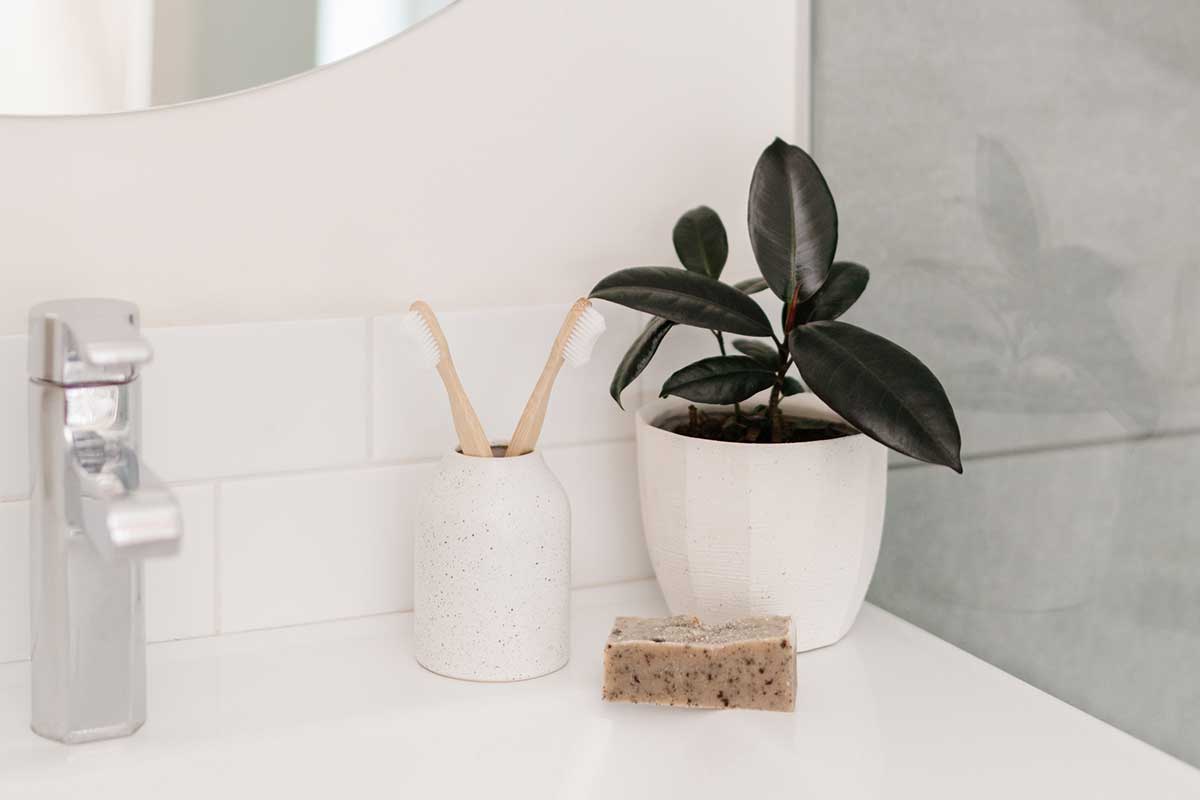 For more lightly-scented disinfecting cleaning, I use a heavy mix of concentrated Lysol cleaner and water in a spray bottle. Let it sit for a bit to really work, then wipe with rags and toss them into the washing machine. This works great on the toilet and for cleaning hairspray off our vinyl tile floor.
General
For dusting, I usually reach for a Swiffer heavy-duty duster with extender handle or this OXO microfiber duster and extra microfiber dusting cloths. It all kind of depends on my laundry plans for the day.
When it's time to clean windows, try a squeegee with a DIY window cleaning solution on the exterior and E-cloths on the interior to get sparkling clean results.
*Bonus: The squeegee I mentioned is part of a cleaning accessory kit, so you can dust and clean your ceiling fans, tall ceilings, and more indoors and out – although that's really more of a seasonal job, definitely doesn't happen weekly-ish in my house.
I like to keep most of my cleaning supplies in the area where they will be used. But that doesn't always work, so it's nice to have a large caddy with compartments. That way, you can carry what you need with you when it's cleaning time instead of running back and forth to the cleaning supply cabinet.
One of the best ways to stay consistent with cleaning is to use a home cleaning schedule printable. I keep mine on the refrigerator in a magnetic page protector. That way I can use a wet-erase marker (I prefer them over dry-erase markers) to check off my tasks, then erase everything at the end of the week to start fresh.
More Inspiration For A Clean And Tidy Home
7 Practical Ways To Get the Energy to Clean Your House
19 Cleaning Hacks That Will Make Keeping A Clean Home Easier
How to Clean a Cluttered House Fast: The One-Hour Cheater Method
Need more help for regular cleaning? My 27-page Essential Cleaning Planner has everything you need!
This cleaning planner was designed to take the stress out of cleaning. Create your personal scaled-down cleaning plan, or use the checklists as-is to stay on top of the exact cleaning and maintenance tasks that will keep your home clean and comfortable.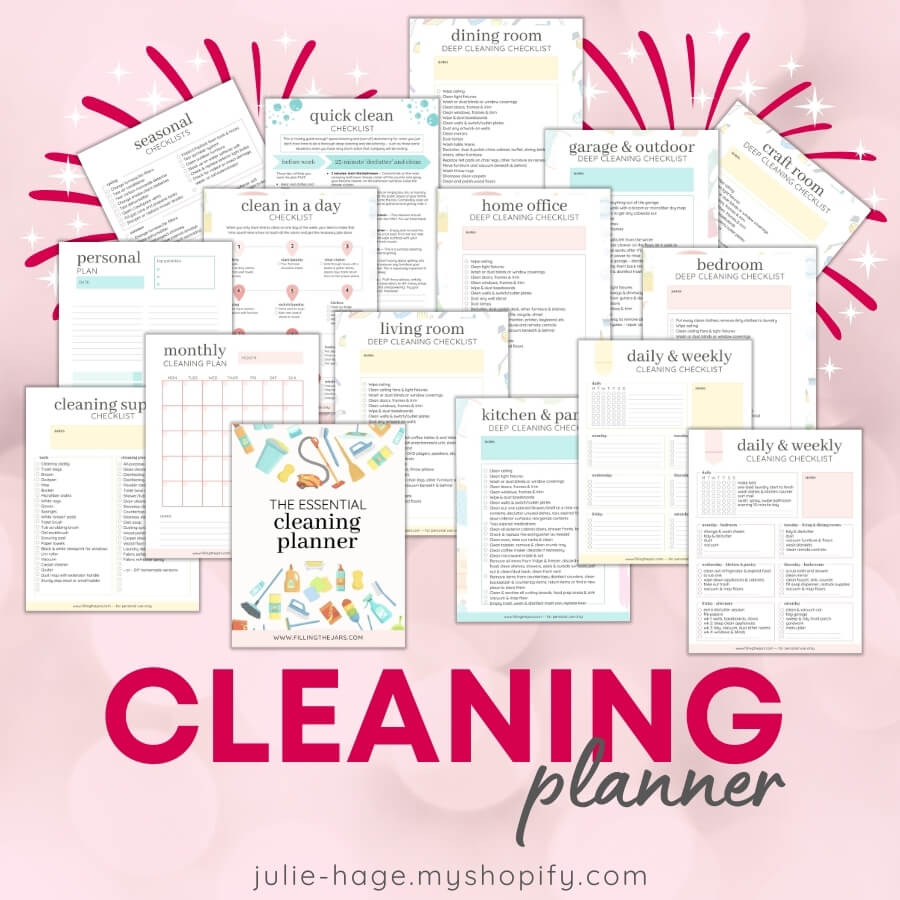 Next Steps
Now that you know what my essential cleaning supplies and tools are, you can easily pull together what you need for your own regular house cleaning.
Don't forget to download the 2-in-1 daily and weekly cleaning checklist. This will help make sure you stay on track when it comes time to clean your house. Happy cleaning!
You've got this!
---
Did you enjoy this post? Know someone else who might like it? Please take a moment to share on Pinterest, Facebook, or your favorite social media… (Click the sharing buttons at the bottom of the post.) Thank you!