Keeping your home clean can feel like a daunting task. This 2-in-1 daily and weekly home cleaning schedule printable can help you organize and manage your cleaning tasks so they're less overwhelming.
This simple household cleaning schedule includes room-by-room checklists with a variety of tasks that range from mopping floors to vacuuming carpets and everything in between!
The home cleaning schedule is designed for those who need a little help organizing their household chores. Along with reading these tips for how to clean your house, this free cleaning checklist can be used by most people as an effective way to make sure they stay on top of their home cleaning tasks every day and week.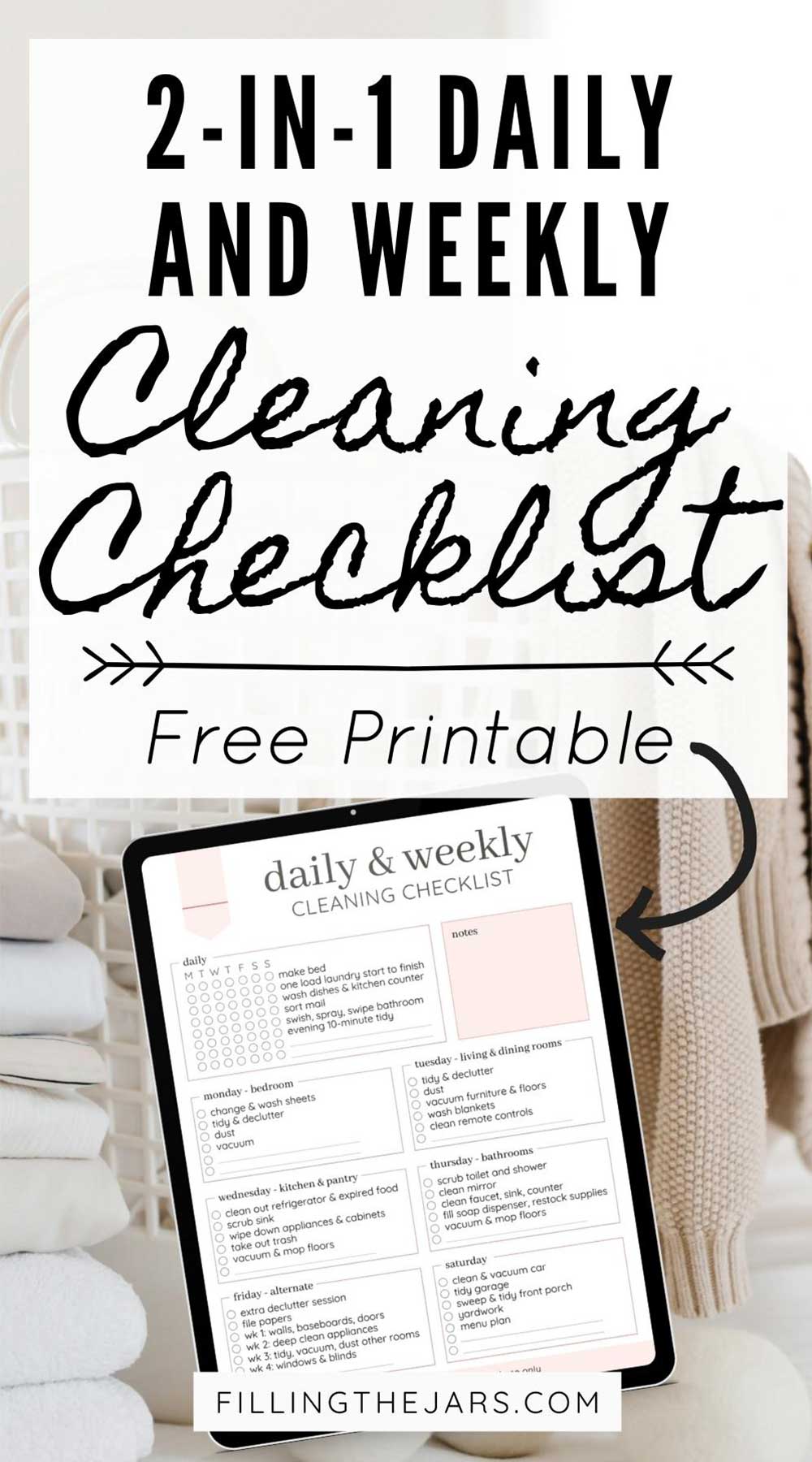 This post may contain affiliate links. If you choose to purchase through an affiliate link, I may receive a small commission at no additional cost to you. You can see my full disclaimer here.
How To Maintain A Clean House With A Simple Cleaning Checklist
One of the secrets to keeping a clean house is to use a cleaning schedule and set aside some time every day to do the tasks. I know, that's not always easy, and I have some tips for how to get the energy to clean that work really well with this checklist.
Using a cleaning checklist means you know exactly what to do every day. For overthinkers, this eliminates the time and energy you might otherwise waste trying to decide which daily cleaning tasks you need or want to do.
To get started, click here to grab the free printable cleaning schedule. This schedule includes both a daily and weekly cleaning checklist, so you have everything you need on one page.
The daily tasks list can help you stay on top of smaller messes and prevent them from snowballing into larger ones, while the weekly schedule can help you keep up with the regular room cleaning tasks.
The daily cleaning schedule includes tasks such as making the bed, doing a load of laundry, and loading the dishwasher.
The weekly cleaning checklist breaks down room cleaning into Monday through Thursday, with Friday dedicated to a different task each week of the month and Saturday set aside for miscellaneous outdoor tasks.
Tips For Making A Cleaning Schedule Work For You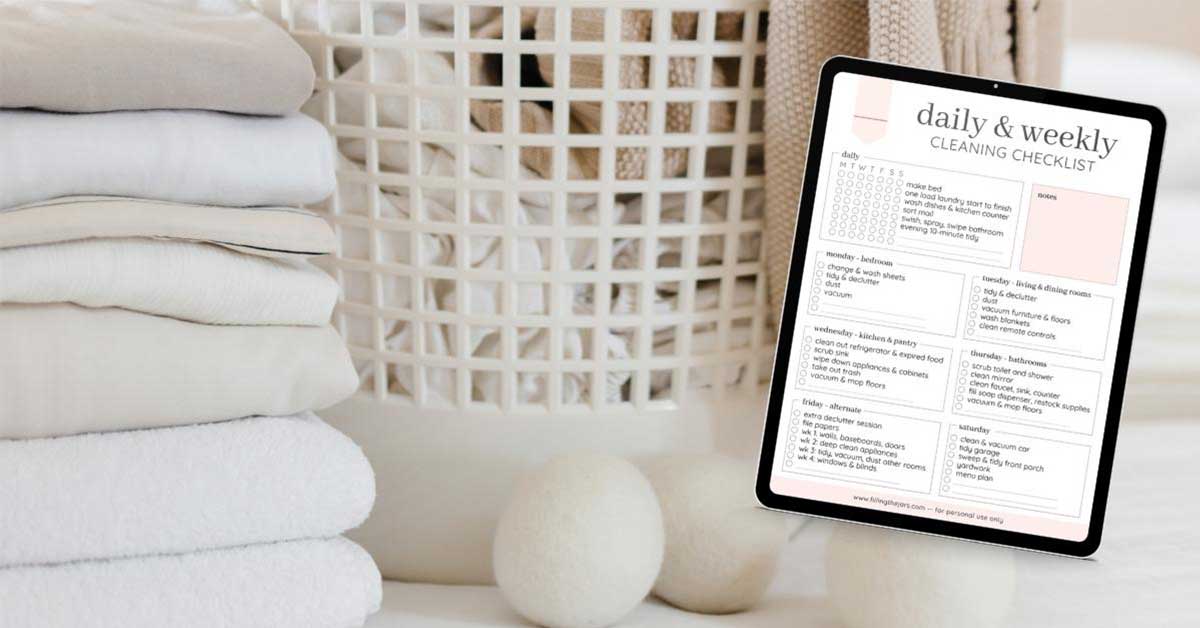 1. Assign entire days or just specific chores to family members
Just because something is on the list doesn't mean YOU need to do it if others are also capable.
2. Keep your schedule in a page protector
Or you can use a clear magnetic pocket and keep your printable checklist readily visible on the fridge. With either method, you can use wet-erase or dry-erase markers to check off each task as it's completed. At the end of the week, simply wipe and start over.
3. Decide on your best time to work
Do you have energy first thing in the morning before the day gets crazy? Or are you a night owl? Maybe you can only do one task at a time throughout the day. You get to choose!
Also, don't be afraid to change things up if you realize your chosen cleaning time doesn't actually work with your usual daily routines.
4. Cross off any items you just can't do
Don't feel guilty. If you've never been able to keep a clean home, then ANY cleaning is better than none! Start with what you can do and work from there.
If your house is super-cluttered, you'll probably need to do a few things before you can get into a regular cleaning schedule. Here's how to start cleaning a cluttered house.
What About Deep Cleaning?
This printable home cleaning schedule is purposely NOT created for deep cleaning seasonal larger tasks or monthly chores. It's a basic cleaning schedule, meant to be used to help organize and manage regular housekeeping tasks that will ensure your home is 'clean enough' at any given time.
Of course, there will always be necessary deeper seasonal cleaning, such as fall cleaning and spring cleaning.
Need more help for regular cleaning? My 27-page Essential Cleaning Planner has everything you need!
This cleaning planner was designed to take the stress out of cleaning. Create your personal scaled-down cleaning plan, or use the checklists as-is to stay on top of the exact cleaning and maintenance tasks that will keep your home clean and comfortable.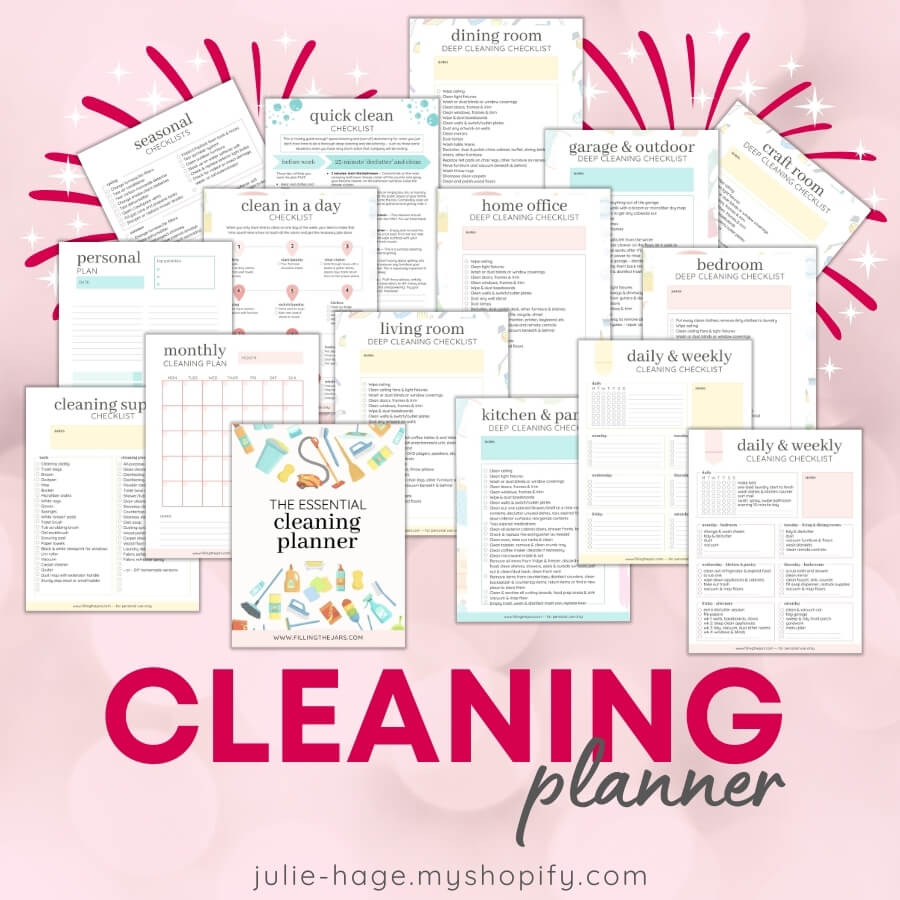 More Cleaning and Organizing Motivation
Motivational Quotes For Cleaning: 20 Positive Clean Home Sayings
Cleaning Motivation Tips: 7 Ways To Stop Procrastinating and Channel Your Inner Neat Freak
A Monk's Guide to a Clean House and Mind – Shoukei Matsumoto
4 Fast + Simple Habits to Keep a Clean and Tidy Home
My Must-Have Cleaning Products
Everyone has those favorite cleaning tools and products that make the job just a little easier. Here are some of the things I use:
Method Products: I use the all-purpose spray cleaner (which also works fairly decently on glass), the Wood for Good daily cleaner, and the foaming hand soap every day.
I also love the bamboo-scented antibac spray cleaner, but a little scent goes a long way… You don't want to douse your entire bathroom with it or clean every single door handle and light switch in the entire house at once.
*Tip: You can refill the foaming soap pump with some dish soap and water several times before having to replace it with a fresh container.
Concentrated Murphy's Oil Soap is a great all-purpose cleaner. I keep a spray bottle with a slightly heavy-duty mix on hand for quick cleanups. It's also a good floor cleaner, especially with the amazing O-Cedar EasyWring spin microfiber mop.
There's pretty much zero chance I'm going to vacuum the entire house and mop every day. But I have pets and live in a dust-magnet house, so I love my lightweight Swiffer sweeper and heavy-duty refills (a DIY version works if the floors aren't too bad).
Even if I don't get every corner, I can quickly zip around and stay on top of the worst of the dust tumbleweeds and pet hair.
Bar Keeper's Friend: This stuff is magic for stubborn stains and rust in my stainless steel kitchen sink and does pretty well with burned-on stovetop messes. It's also perfect for removing rust stains from the white porcelain bathroom sinks when we forget to fill the water softener.
Cleaning with this product is also the ONLY time I ever use a sponge (I think they're really disgusting) — and it's usually this one by Scotch-Brite.
To keep down messes in the microwave, we've used splatter covers for many years now — and thanks to those nifty devices, the microwave rarely needs a deep cleaning. Grab at least two, and you can have one in use while the other is in the dishwasher at any time.
Old rags and inexpensive microfiber cloths round out my list of most frequently used cleaning items. I also recently purchased a set of Swedish dishcloths and I'm really loving them!
Concluding Thoughts…
From home cleaning to laundry, there are many tasks that must be completed on a regular basis. With so much on our minds, it's very important to reduce the overwhelm of keeping a tidy home!
While cleaning house isn't exactly fun, using a home cleaning schedule to get into a weekly cleaning routine is the best way to simplify and manage your home while giving you peace of mind in knowing that your entire house is 'clean enough' without spending hours every day keeping it that way.
You've got this!
Get your free printable house cleaning checklist PDF by signing up below.
---
Did you enjoy this post? Know someone else who might like it? Please take a moment to share on Pinterest, Facebook, or your favorite social media… (Click the sharing buttons at the bottom of the post.) Thank you!