With recent forecasts predicting a 'season of chills,' it's more vital than ever to put in extra effort when it comes to important fall cleaning chores. Taking care of these tasks now will help ensure that you and your family can snuggle into a comfortable, warm, and cozy home when the winter months arrive.
With this list and my tips for how to clean your house, your fall cleaning will be done quickly — leaving you plenty of time to enjoy the season!
This post may contain affiliate links. If you choose to purchase through an affiliate link, I may receive a small commission at no additional cost to you. You can see my full disclaimer here.
Is Fall Cleaning A Thing?
Fall cleaning is becoming just as popular as spring cleaning. Since I live in the cold and snowy north, I know exactly why!
After a hot, busy summer, fall is THE perfect season to take advantage of nice, cooler weather and do a thorough cleaning on all the things that will make winter much more simple and comfortable.
This blog post will share some tips on fall outdoor cleaning as well as fall indoor cleaning, so your home can be ready for the winter season!
This is NOT an overly detailed list. Think of it as reminders to take care of simple fall cleaning tasks that you don't want to deal with during the upcoming seasons when the snow is 3 feet deep and it's too cold to open the windows.
Outdoor Cleaning Tasks For The Fall
Getting out into the crisp fall air to clean up during the beautiful autumn days can make outdoor tasks actually enjoyable! You'll want to tackle these items before soaking rains set in or the snow flies!
Gutters
In the fall you should make an extra effort to give your gutters a good cleaning. For many, this project may not seem like the best DIY project due to the need for a ladder.
Tip: You can make it easier with a gutter cleaning tool for your pressure washer.
If there are trees around your home, you have a multi-story home, or your gutters have not been cleaned in a while, it's a good idea to make an appointment with a gutter cleaning company right away. That's the best way to make sure your gutters are ready for heavy fall rains and snow build-up to help save you money on home repairs later.
Outdoor trash cans
Outdoor trash cans are hard to clean once the weather turns cold and everything freezes. These trash cans can still hold odors that are more likely to attract critters and other pests that are hungry in the cold weather.
Give your outdoor trash cans a good scrub down with some dish soap or a good heavy-duty environmentally-friendly cleaner before you shut your garden hose connection off for the winter to prevent pipes freezing. (Don't forget to do that!)
Yard
Give your yard a quality fall cleanup. Brush, old toys, and other odd items lying around in your backyard can provide shelter for pests that you do not want to attract to your home.
In the fall, look for places that could shelter rats and other rodents. Clean them up to help protect your home from invasion.
A clean yard is also much easier to navigate when the snow is piled across the ground.
Maintenance tip: While you're at it, this is the ideal time to do one final mowing and mulching. It's good for your lawn and you'll be glad you made the extra effort come spring when the grass starts growing like crazy.
Outdoor furniture, etc.
Clean and store outdoor items such as patio furniture, gazebo covers, and other items that may not hold up well to harsh winter weather conditions.
Tip: If your furniture cushions are discolored, try a mildew remover or fabric cleaner. (Follow the directions and test your fabric!)
This will help protect your investment so you can use these items next year when the warm weather returns.
Related: How to Organize a Cluttered Garage
Windows
Clean your windows — inside and out. I live on a dirt road, and I can tell you the dust that rolls off the road and from surrounding fields collects on windows and screens in a way that not even the craziest summer thunderstorms can wash off.
Ignoring that dirt means even less light gets into the house during the short, gray winter days — so you definitely want clean windows. Whether you do a few windows every day or set aside several hours to get them all done at once, make sure this task gets done… Your sunlight-deprived winter self will be grateful!
If you have window screens, take them off and clean them as well. To keep more light streaming into your home during the winter, you might consider keeping your screens in a storage area until spring.
Tip: Try a squeegee with a DIY window cleaning solution on the exterior and E-cloths on the interior to get sparkling clean results.
Indoor Cleaning Projects For The Fall
While spring cleaning is all about clearing out the old, stale winter air and grime to make room for fresh clean air and lighter living as the weather turns warm, you should consider doing the same in the fall as well.
This fall version of spring cleaning is a great way to ensure that your home is comfortable for the winter when your family is stuck inside.
Decluttering
This is a good time for fall decluttering and getting rid of things you don't need that simply take up space you'll want when you are stuck inside.
While decluttering in itself isn't exactly cleaning, letting go of the extra stuff and piles makes it so much easier to do all the other cleaning! Plus you'll have more room for indoor winter activities!
Got lots of clutter? Don't get bogged down in deep decluttering. Just take care of the 'easy' areas that will make it simpler to do your other fall cleaning right now. You can always use my declutter tips to work on more decluttering during the upcoming months.
Related: How To Start Cleaning A Cluttered House
Bedding
Washing your bedding is an important part of fall chores. You want to give all of your bedding — including pillow protectors and mattress pads — a wash and pull out your winter bedding to wash or refresh in the dryer with a few dryer sheets.
This will give you plenty of nice warm blankets should the winter get cold. Don't forget to include other winter linens like throw blankets for your living room sofa that help to give your space a cozy warm feeling.
Oven
Fall is known for being the start of heavy-duty baking season. To allow you to make the most of your fall baking, give your oven a clean now so it's fresh and ready to use in the early fall.
If you use the self-cleaning option on your oven, remember to remove the racks first to avoid damaging their finish.
Another option is to try a DIY baking soda oven cleaning method. Don't forget to clean between the glass so you can watch those tasty fall and winter dishes as they cook.
Pantry and spice rack
With fall comes more homemade hearty meals. Cleaning out your pantry (or food storage in your kitchen cabinets) in the fall allows you to get an inventory of your food storage to help you to make the most of your hearty fall soups, stews, and tasty treats.
It also allows you to prepare for weather-related issues. Cleaning your pantry out in the fall lets you know what you need to stock up on during a sale to ensure that you have foods you can eat in the event of power outages caused by winter storms.
While you're at it, don't forget to pay special attention to ways you can deter pests who are looking for winter food and places to live. Store opened and 'problem' foods like grains in closed containers, make sure your pantry is spill-free, sanitized, and try some natural pest deterrents like peppermint or bay leaves.
Related: The Perfect 3-Step Pantry Declutter
Like your pantry, your spice rack is vital to fall and winter baking and cooking. To help make the most of every meal toss out old spices and refresh with new ones and fill in any gaps of herbs and spices you use often in the winter to be sure you always have what you need to whip up your family's favorite foods.
Curtains
Washing your curtains is a great way to refresh your space for fall. With open windows and rolling dust from the past few months, those window treatments are probably a lot dirtier than you might expect.
If you have thermal curtains you use during the colder months, this is the perfect time to pull them out and give them a wash to get out the wrinkles from storage before hanging up.
Have blinds instead of curtains? You'll still want to vacuum the lingering dust or wash them with hot water and soap to get the summer dirt off them.
Rugs and carpets
Now is a fantastic time to clean and replace your area rugs and take care of cleaning regular carpets if you've been avoiding it for a while.
Many people pull up area rugs in the summertime to help make a space feel cooler from the open hard flooring. If you do this, then fall is the perfect time to clean the rugs and put them back down to help make your home feel warm and cozy.
Tip: Switch to machine-washable Ruggables for even easier cleaning at any time of the year.
If you keep your area rugs out year-round or have any rooms with wall-to-wall carpet, cleaning them in the fall helps keep your home smelling fresh over the winter.
---
Need more help for regular cleaning? My 27-page Essential Cleaning Planner has everything you need!
This cleaning planner was designed to take the stress out of cleaning. Create your personal scaled-down cleaning plan, or use the checklists as-is to stay on top of the exact cleaning and maintenance tasks that will keep your home clean and comfortable.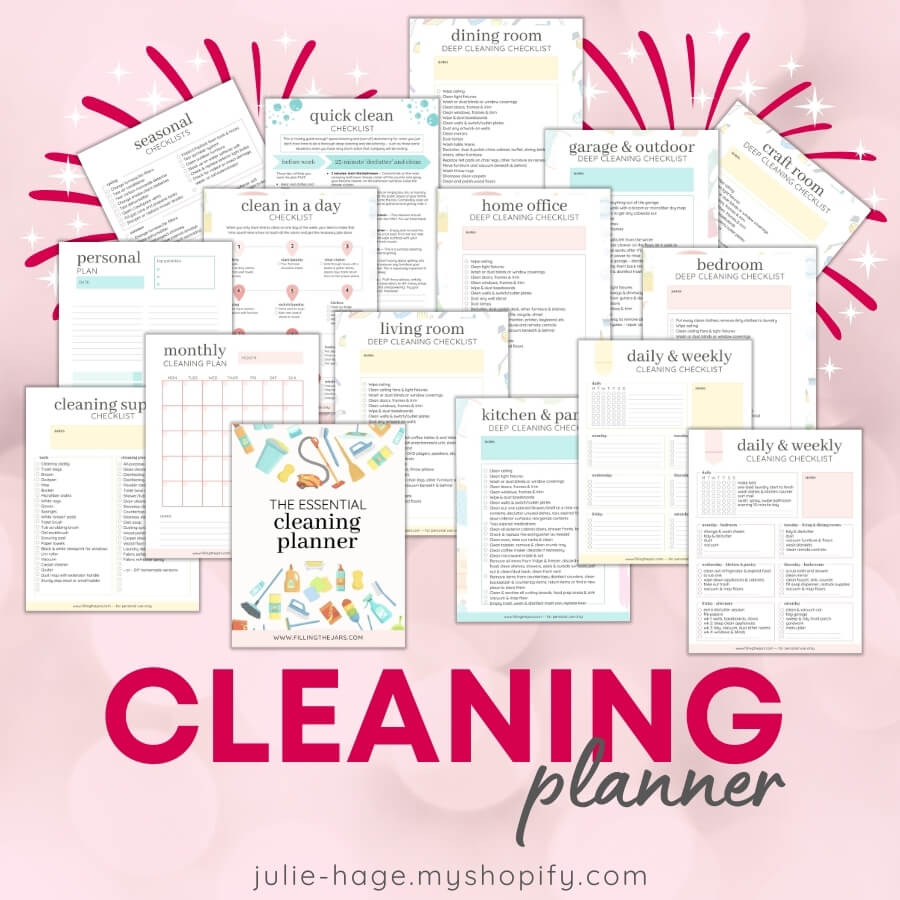 How Much Cleaning Needs To Be Done In The Fall?
You're the judge of how much extra cleaning your spaces need in order to be ready for winter!
Could you clean MORE than what's on this list? Absolutely! You could definitely do a really deep fall cleaning of your entire home, either instead of or in addition to a spring cleaning.
But if you're low on energy and live in a climate where you can't open the windows or spend time in the yard for months on end, this list will get you through. 😉
More Cleaning and Organizing Help
Storage Ideas For Clutter: 8 Dynamite Ways to Organize the 'Must-Keep' Stuff
How To Stop Being Lazy and Clean My House: Solutions for the Overwhelmed
4 Fast + Simple Habits to Keep a Clean and Tidy Home
Motivational Quotes For Cleaning: 20 Positive Clean Home Sayings
Concluding Thoughts
If you're overwhelmed and dreading the idea of fall cleaning, here are few ideas that might make your life easier:
Use your favorite music for fall cleaning in order to boost your energy level and focus without getting distracted.
Divide and conquer. If you live with someone else or have a friend who can help, work together to tackle the chores and knock them out super-fast.
Open the windows and let some fresh air in to clear your head and improve your mood. This might be the last time you get the chance for months!
Make fall cleaning a priority, but schedule the tasks in a way that makes sense for YOU. Your personal fall cleaning schedule might mean slightly heavier work once a week, a long weekend when you get it all done at once, or doing a little bit every day.
Now that you have your cleaning list and some tips to make the tasks easier, I'm sure you'll find getting your home cleaned up this autumn will be worth the effort as you enjoy your spaces during the cold months to come.
You've got this!
Don't forget to grab the printable Essential Cleaning Planner with all the regular cleaning, detailed cleaning, and seasonal maintenance checklists you need for a clean and comfortable home.