Is your garage a cluttered mess? Has it gotten to the point where you can *maybe* park one car inside your two-car garage? You're not alone! So… let's talk about how to organize a cluttered garage.
Chances are your messy garage is not the only thing that might need to be decluttered and organized. If you're also trying to get the clutter under control in the rest of your home, then these declutter tips might help you.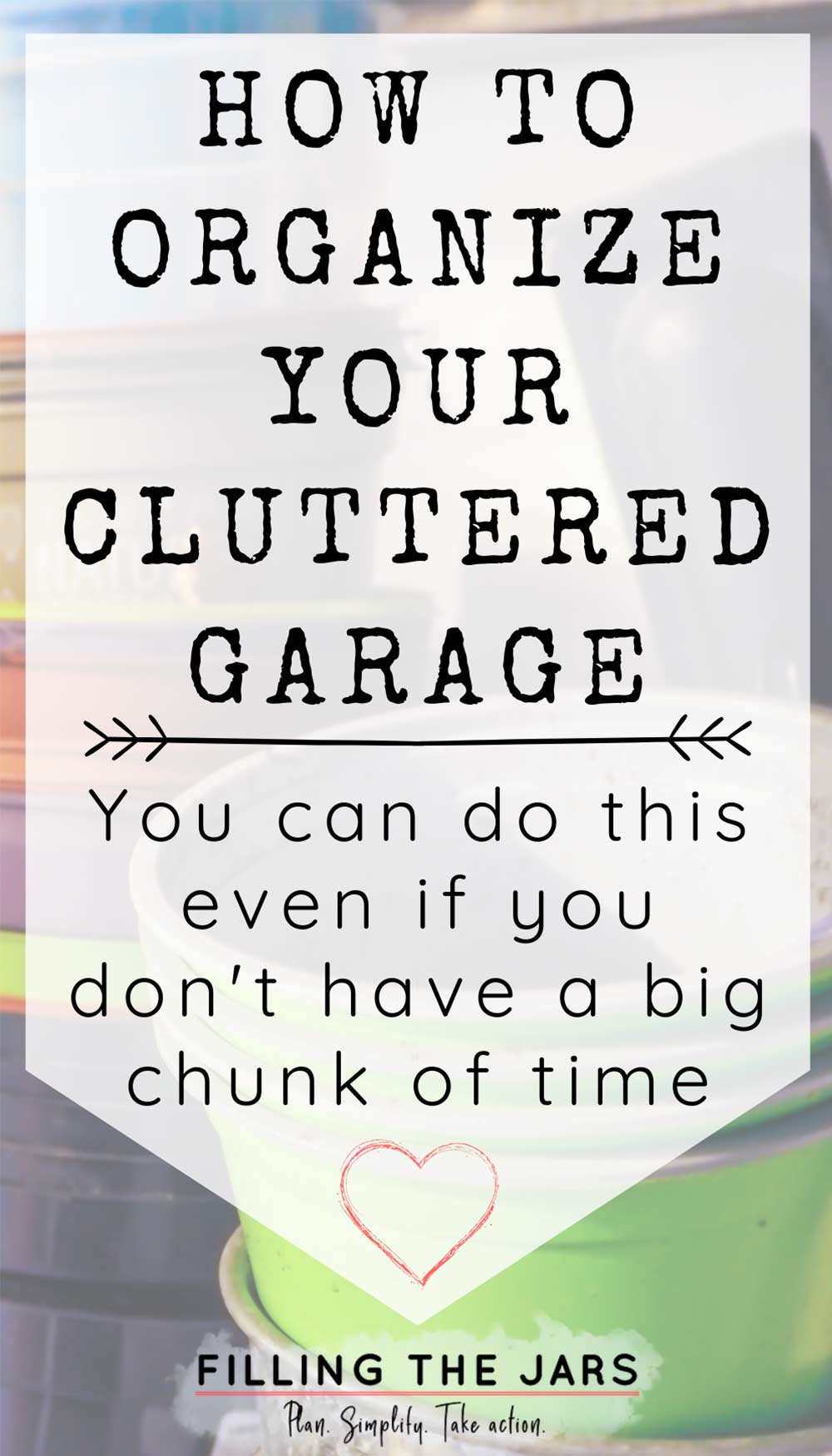 This post may contain affiliate links. If you choose to purchase through an affiliate link, I may receive a small commission at no additional cost to you. You can see my full disclaimer here.
Garages have a way of becoming the place where we shove everything that we can't find a place for inside the house. Even if your garage is packed full of items that do belong there — like outdoor gear, tools, and automotive equipment — it can be difficult to find what you need if your garage is cluttered and unorganized.
Organizing a cluttered garage doesn't have to be difficult, although it may take some time to accomplish.
Many people love the idea of tackling the garage together as a family over a weekend. If you can set aside an entire weekend for the project, awesome! But if you don't have a large chunk of available time, you can still make progress in shorter periods.
I believe working in shorter bursts is the best solution for most people. This way, you just focus on one section of the garage at a time. Plus, you don't end up with a driveway full of stuff after pulling everything out on a Saturday and no idea what you're going to do with it. 😉 
Before you begin organizing your cluttered garage, you need to assess the clutter level and be realistic about how long the job will take.
Make sure that you have the right tools for the job. You don't want to have to stop working in the middle of your project to go buy trash bags or containers to hold your items to sort.
Have some empty boxes that you can use for items that will be donated. Also, be sure to grab a good supply of black, heavy-duty trash bags. Nobody (who isn't directly involved in the process) needs to see what you're tossing… that only leads to second-guessing and re-cluttering.
Finally, round up more boxes, empty storage containers, and bins of varying sizes. These containers will hold like items as you sort each section of the garage.
Speaking of 'who should be involved' — I'm going to repeat something I often say in my decluttering posts: Do NOT declutter other people's stuff without their knowledge and permission.
If the garage is your own space, then have at it! If it tends to be more your partner's space, then you may want to read this post about partner's clutter before you tackle the job together.
How to Clean Up a Cluttered Garage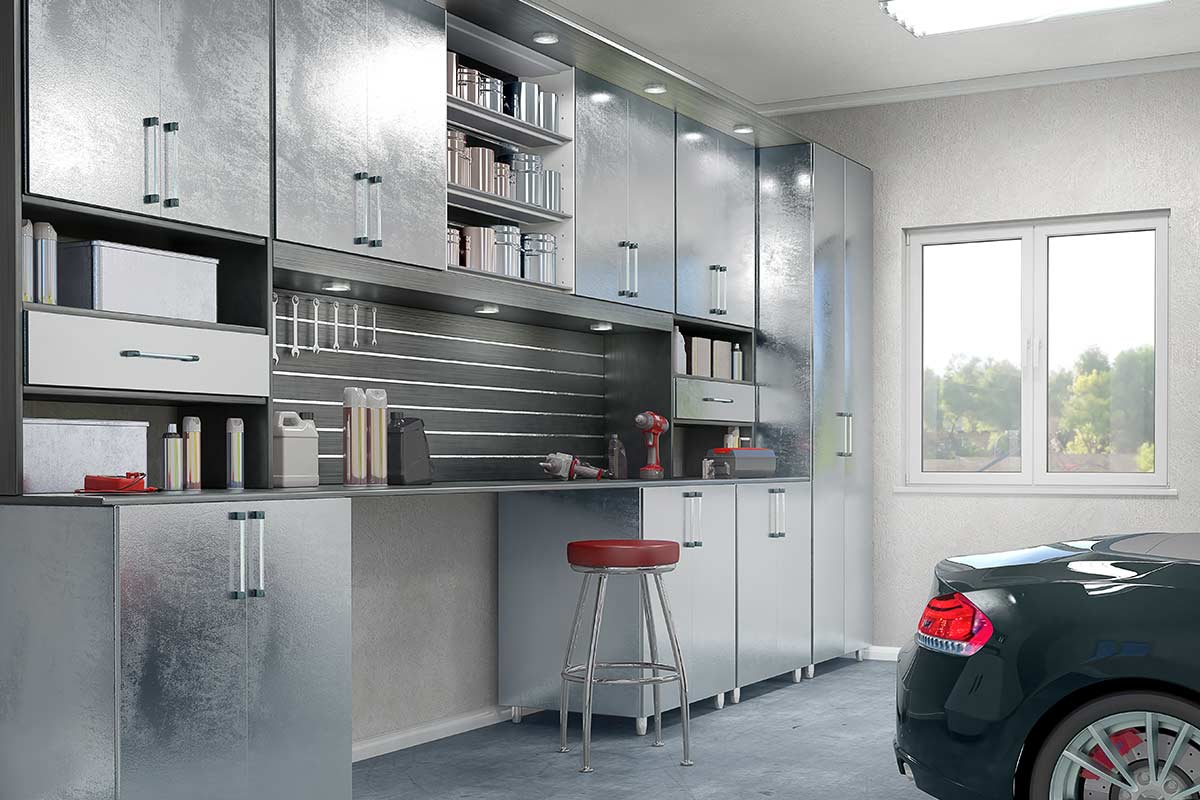 First, let's cover the decluttering part… what you do BEFORE you go out and buy 'storage solutions.' 😉 One nice thing about organizing garages is that there is usually less sentimental clutter, which makes the process much faster.
Since we're talking about doing one section of the garage at a time, you need a place to begin. I recommend the area just to the right of the door. You choose the door… either the overhead door or the regular walk-through door.
Whichever you choose, that will be your 'home base' — where you begin decluttering and where you end after you have worked your way around the garage.
Declutter as you go. Grab the 5-page quick-start mini decluttering plan for printable questions you can ask for each item.
When you are sorting each area, group similar items together. As you clear things out, you will have more room for your groupings. This will make them easier to sort later if you find that you end up with duplicates. For example, you may have categories like these:
Sports equipment
Automotive parts and supplies
Hand tools
Power tools
Gardening and yardcare supplies
Seasonal decor
You should throw out anything that is broken — yes, even that pile of household items that you were going to try and 'fix' that ended up living in the garage for a year… or longer.
Donate anything that still has life in it that might be of use to others. Some charities will even come to pick up donations for you so you don't have to load it up.
Related: Where to Donate Your Stuff After Decluttering
Consider carefully how you will handle disposal of hazardous materials. Contact your county or waste disposal company for specific local guidelines and read this EPA information on household hazardous waste.
Once you have finished working your way around the garage and decluttering, you can start going through your different categories of stuff. Eliminate duplicates
If you have high-value items that still have a lot of life in them you might consider selling those. I'm talking items like expensive hiking or camping gear, a high-end bicycle, or power tools that you didn't need as much as you thought.
If the idea of selling these items seems like a hassle, or you know you aren't likely to follow through, go ahead and donate them to get that clutter out of your garage. Also read this blog post about why I recommend to declutter and donate instead of selling.
How to Organize Garage Clutter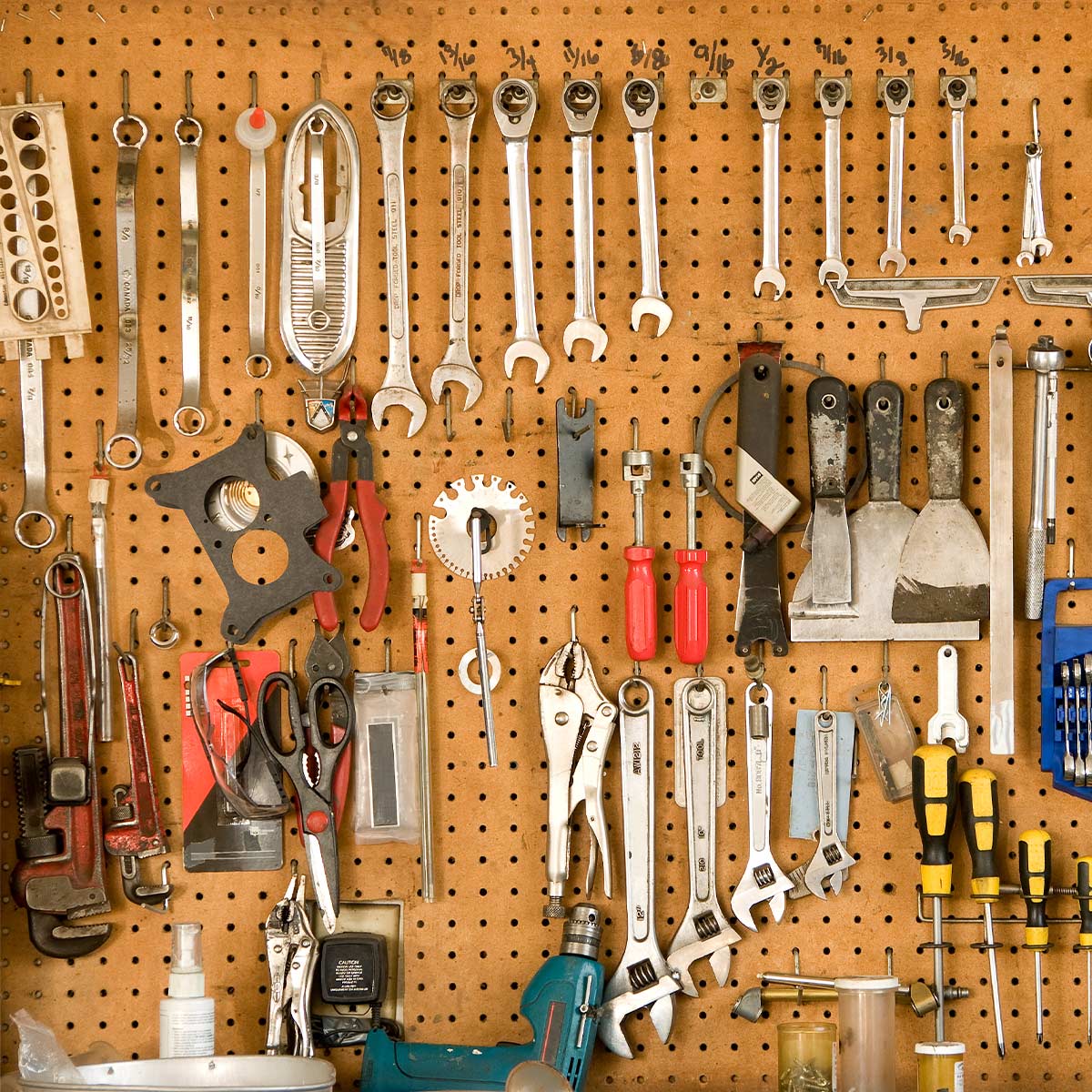 To properly clean and organize your garage, everything needs to come out. This will be much easier now that the clutter is gone. 😉
Floors need to be swept and mopped if applicable. The walls, shelving, and garage door should be wiped down, and the cobwebs in the corners should be removed. Then you have a truly clean and blank canvas to work with.
While the garage is empty, think about how you would like it to be organized — and then set to work making your vision a reality.
Now that you know what you are keeping and you have gotten the donation and trash items out of the way you can take a good look at what you have left and decide the best way to store it. Some organization professionals recommend dividing the garage into zones so that you know where to find and place like items together, much like the clutter-sorting categories we discussed earlier:
Sports equipment
Automotive parts and supplies
Hand tools
Power tools
Gardening and yardcare supplies
Seasonal decor
There is no one size fits all way to organize a cluttered garage though, you need to use a system that works best for you and your family.
Chances are you already have some form of shelving in your garage for boxes, totes, and other miscellaneous items, but you could probably use more — or possibly a different style altogether. Your garage has at least three walls of available vertical storage and organization space. Put them to use!
Place a pegboard on one wall that you can use to hang your hand tools like screwdrivers, hammers, wrenches, saws, pliers, and paintbrushes. You can also hang some baskets to hold small jars of items like screws, washers, and nails so that they can be found easily.
Larger tools like shovels, rakes, and brooms can be hung on the garage walls to keep them safely out of the way and easy to find. Weed eaters and power trimmers can also be hung vertically or horizontally on hooks. Keeping things off the floor and in easy reach makes it so much easier to keep everything organized!
Does your family own multiple bicycles? The garage is a great place to keep them out of the weather, but they take up an awful lot of room, don't they?
Consider hanging your bicycles from the ceiling of the garage or on the walls to free up your floor space. Stroller, if you have younger children can also be hung on the garage wall to keep them safely out of the way.
Do you need more garage storage and have an available corner? You can easily build corner shelves in that section of the garage. This makes a perfect place to store all kinds of smaller items like spray cans, cleaners, or bottles of oil that haven't found a home elsewhere in the garage, such as a lockable metal cabinet.
For easy, movable storage, one of my favorite solutions is this metal wire shelving unit. It can hold plenty of plastic storage bins for quick access and has lockable caster wheels.
If you are storing things in plastic boxes with lids, make sure that you place similar items together and label your boxes so that you know what is in them. There is nothing more frustrating than knowing what you want is in a box and not being able to find it because all of those boxes look the same!
Speaking of 'looking the same,' your garage really will look more organized if your storage solutions coordinate, and especially if your storage bins match. Clear or sheer plastic bins are also helpful because you can see some of the contents, but it can still get frustrating and difficult to find what you're looking for if you have a lot of them.
Labels and a permanent marker are a key component to getting and keeping your cluttered garage organized. You can write directly on the boxes if you like, but that might get confusing if in the future you decide to put something else in them.
What should not be stored in a garage?
There are some things that we often don't think twice about, like using the garage as a sort of pantry, or storing an extra tank for the grill. But there are some things you need to think about when it comes to planning for organizing your garage safely.
Don't store these items in your garage:
1. Clothing in open boxes or closed cardboard boxes. If you must store extra clothes in the garage, keep them in plastic bins with gasket-sealed lids. Mice love clothing in open storage, and some regular plastic bins have holes beneath the handles that allow the little critters access. The same goes for things like sleeping bags.
2. Special documents, photographs, and books. The temperature extremes and potential for insect infestation in your garage will ruin them.
3. Propane tanks. The risk of a leaking tank and a spark is too dangerous. The same goes for gasoline and other flammable products.
4. Birdseed and pet food in open bags. Once again… critters and bugs. The same gasketed plastic bins will work for these, or something like a galvanized can with a very tight-fitting lid. I use this rolling pet food container for our cat food and dog food.
5. Food. Your garage isn't an extra pantry. Extreme temperatures and critters are likely to ruin your groceries.
6. Paint. I know… it seems like the garage is the perfect place to store all those cans of paint and stain, right? Well, it's not. Keep them indoors with more controlled temperatures, and they will last much longer!
More Decluttering and Organizing Help
Stop Being a Victim of Clutter [Mindset Transformation]
9 Awesome Ways Your Life Will Become Simpler When You Declutter
Decluttering Tips for Hoarders and Pack Rats: 11 Steps to Clutter Freedom
Remember — above all, keep your needs few and your systems simple. Just because you don't know where to store something inside your home doesn't mean it belongs in your garage!
Now you know everything that you need to know about how to organize a messy garage, so what are you waiting for? The task might not seem very exciting, but you never know what you might find tucked away in there… and you will love the end result!
You've got this!
Don't forget to grab your garage organization checklist. Sign up below to have it sent right to your email box: