Let's face it… we're not all crafty or artsy. But because elements of those qualities are incredibly important for a full life, I've compiled a list of creative outlets for non-creatives. It is possible to enjoy the process of growing your creativity, and I'm sure one of these activities will help you do exactly that!
I once wrote a blog post about WHY you must discover and develop a creative outlet. Give it a read, and then come back here to find your perfect 'starter' creative outlet.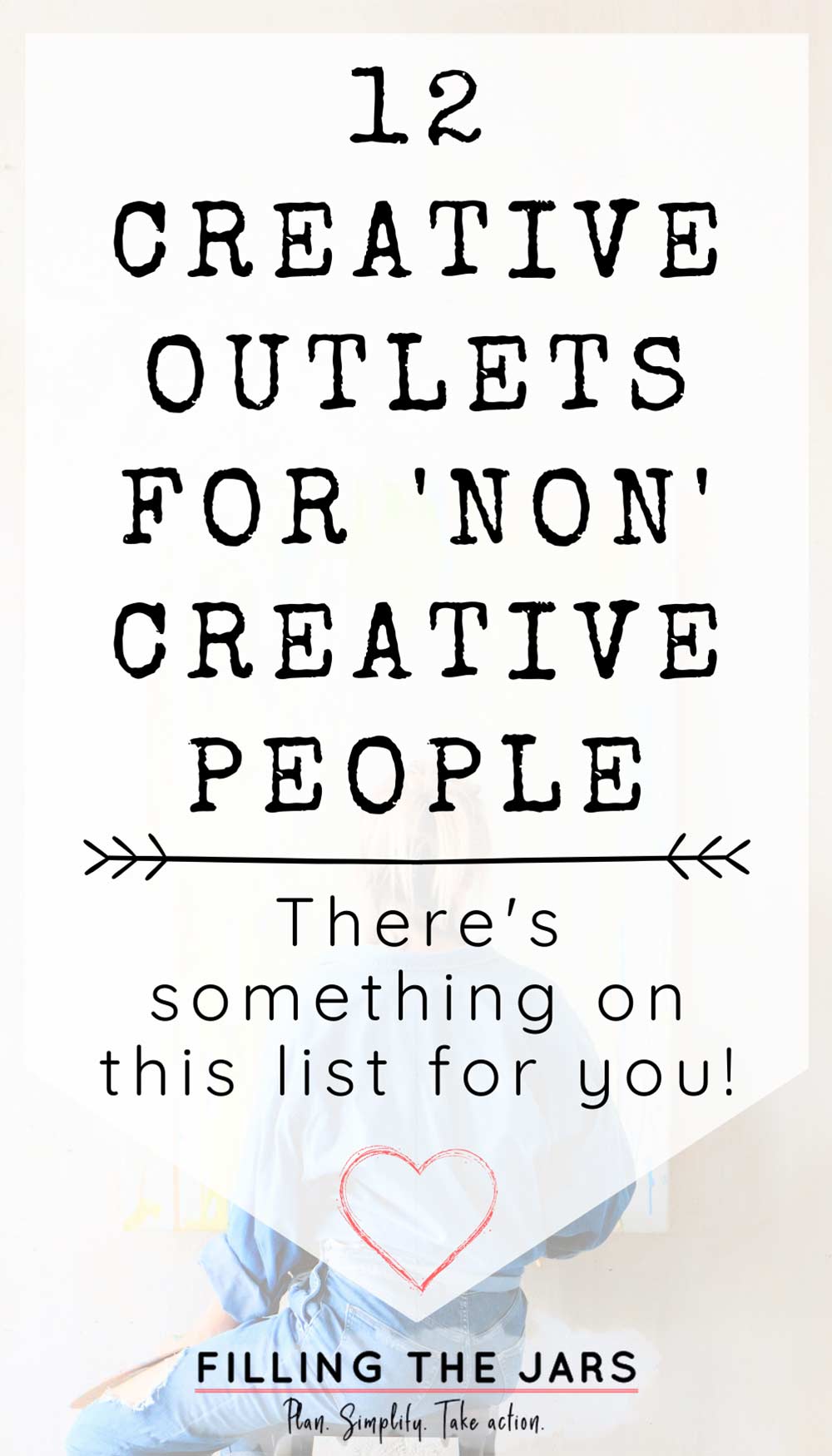 This post may contain affiliate links. If you choose to purchase through an affiliate link, I may receive a small commission at no additional cost to you. You can see my full disclaimer here.
What Is Your Creative Outlet
We all know those creative people — the ones who live for the times they can knit, quilt, paint, draw, create their own amazing SVG files for their Cricut. The card-makers, scrapbookers, jewelry-makers, and all those things that just make our jaw drop in admiration of their talent.
I have them in my family… grandparents, aunts, sisters-in-law, cousins, my own children. And I'm just like 'How do you DO those things?!' Seriously, the thought of walking into a store like Michael's nearly gives me a panic attack.
I'm in the sorta-creative camp. I can write. And… that's about it. 😉
But what about if you think you're one of the REALLY non-creative people? You still crave a positive outlet for stress, overwhelm, and overthinking, but you're TOTALLY clueless about 'that artsy stuff' and whether or not it's for you?
You're not alone!
---
Creative Outlet Ideas
Deep down, perhaps you don't believe there are creative things you, the non-creative, can actually do? Well, there are!
Here's a simple list of creative outlets that can work for anyone. They really are the best ways to start unlocking your creative side.
1. Dancing
This could be anything from taking a dance class to putting in your earbuds, closing your eyes, and letting loose in the living room for 10 or 20 minutes every day.
Letting the music flow through your brain and your muscles is an amazing way to reduce stress and refresh your mind.
2. Doodling
Hey, don't laugh… some of my best ideas come to me when I'm doodling. And your little drawings don't have to be artistic. You can start with a circle or a square on graph or dot grid paper and just start working outward.
Let your mind wander, have conversations with yourself (I won't tell if you have them out loud), work out all.the.things as you create… art. Or, don't think at all. Just concentrate on each line, swoop, or shape… but don't stress. It doesn't have to be perfect or symmetrical, just fun.
3. Coloring
Okay, you may think you left this behind in grade school. But there's a reason adult coloring products are so incredibly popular. You can color just about anywhere. It's a quiet pastime if your mind needs to wind down. And you can put as much or as little effort into it as you want.
Really feeling non-creative? Try some color-by-number options. Then you can just watch the color fill the space, and you don't have the stress of trying to choose the 'right' color.
Not gonna lie, when I began my first adult coloring page not too long ago, it took me a looooong time to put colored pencil to paper because I was afraid of 'messing it up.' Don't be me. LOL. Start right in with ANY color, make a mess with the first coloring page, then throw it away and start again.
Want to practice on some free motivational coloring pages? Sign up below to have two pages sent right to your email. Simply print and color!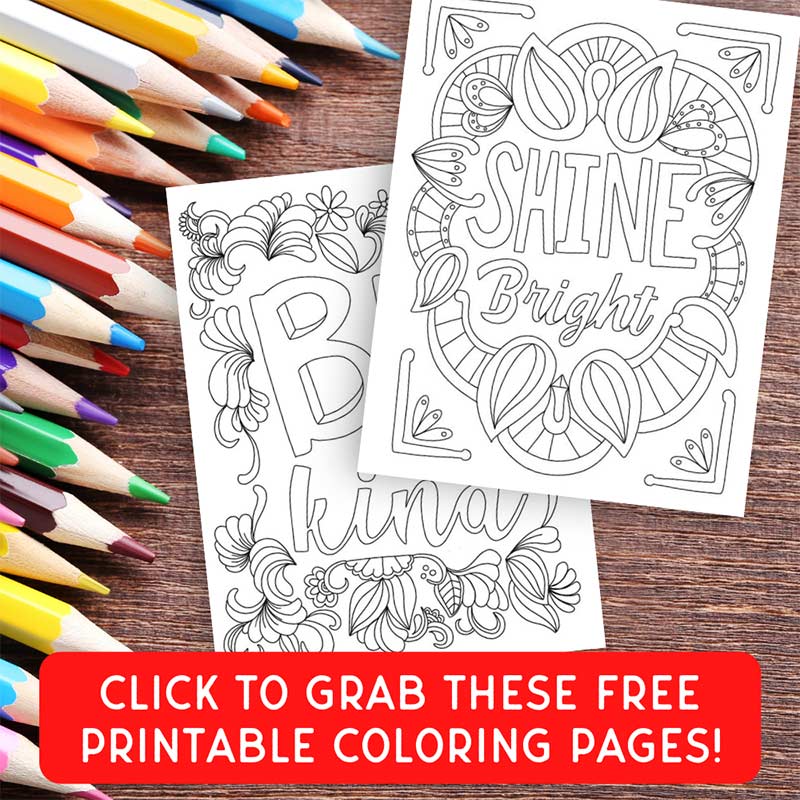 4. Working with thread, yarn, etc.
Knitting, crochet, cross-stitch, beadwork, macrame — All of these can be very creative and it's not too difficult to learn the basics. There are plenty of YouTube channels and sometimes in-person classes where you can learn.
And once you find the one that 'speaks' to you, don't be surprised if you become a little bit obsessed with creating. 😉 Don't say I didn't warn you.
5. Working with textiles
Think sewing, weaving, quilting, and more. It can take more time and extra equipment to learn the basic skills, but you could discover your perfect 'useful' creative outlet in one of these options.
6. Puzzles
All puzzles help your brain work in new ways, which can help you think more creatively in everyday life.
Want something portable? Try crosswords puzzles, word searches, or sudoku.
Love a challenge? Set up an area of your home where you can do jigsaw puzzles. I can't even tell you how many life problems I've worked out in my mind and how many ideas have popped into my head while putting together a 3000-piece puzzle. (Take my advice and always buy fully-interlocking puzzles. You can thank me later.)
7. Lettering or calligraphy
Learning to write beautifully by hand may seem like something completely unnecessary in today's world. After all, anyone can write a message on a computer and change the font to anything they want.
But there's something to be said for being able to CREATE beautiful words. Whether you use your skills to write out party invitations, make motivational wall art for your home, or embellish your planner pages, you may find this could be your perfect creative outlet.
8. Writing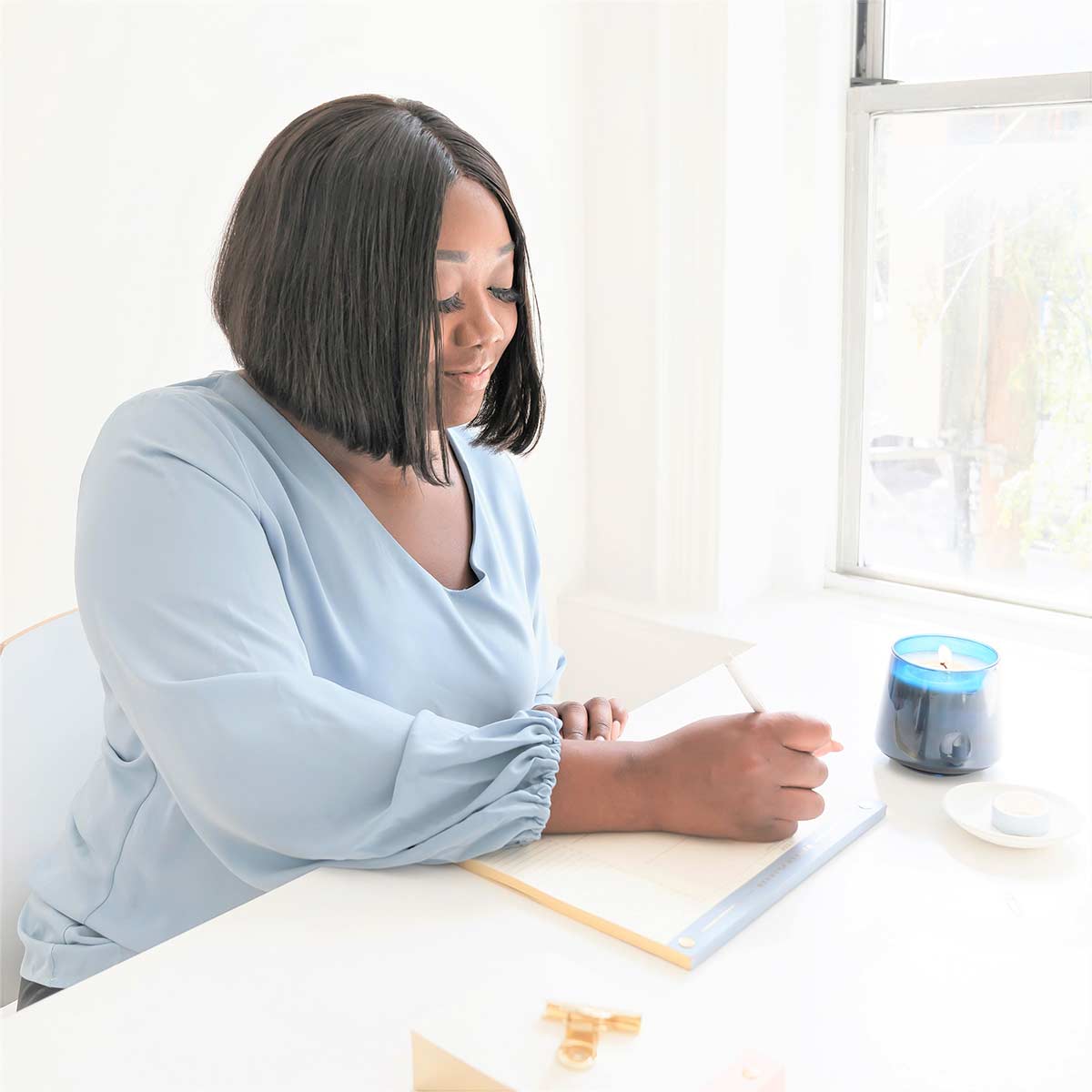 This is different than lettering. Here, I'm talking about writing sections of text. Your writing could be in response to journal prompts, creative prompts, or even blogging.
'Ugh,' you're saying. 'I hated writing in school. Why would I want to do that?' Here's the great thing… as an adult, you don't have to follow someone else's rules. You're writing for YOU.
Okay, unless you decide to try blogging. (This free introductory course is my favorite.) If you're a blogger, then you're writing to help others… and it's completely different than writing a term paper or weekly assignments for a teacher who picks apart everything you do. You still have control and can do things YOUR way. 😉 
I've been in the writing world for several years now. Honestly, it's often the 'worst' technical writers who actually write the best stories and most engaging articles.
So if you've got even a glimmer of interest in exploding your creativity, I highly recommend giving writing a try!
Related: 30 Important Journaling Prompts for Adults
9. Making music
Yes, I know this is the second time I've mentioned music — but it really IS powerful and creativity-inspiring. Even if you're the most tone-deaf person in the world, you can still enjoy the act of creation and playing the different notes.
Give yourself complete freedom. You don't have to learn how to read music. You don't even have to learn how to play a specific instrument unless you really want to.
Practice on something like a digital keyboard that records you music, or even a simple acoustic guitar played where nobody will ever hear. Record your sessions, not to see if you 'improve' as time goes on, but to inspire your future creative works.
10. Cooking
Wait, isn't this the thing we all hate to do? How could there possibly be any creativity to it?
Well, I don't know about you, but my husband and I have watched a LOT of food shows during the past year or so. And you know what? We've actually been inspired to try new things. And they've been so fun to try!
So, don't be afraid to try new ways of cooking and new foods. It really will make you think differently about many things. Plus, you get to eat what you create!
11. Photography or videography
You don't even need any equipment for this… your phone will work just fine. Start taking snapshots or quick videos of anything that catches your eye. (Just get permission first if you're filming people… be kind.)
Eventually you'll find yourself looking at things differently, getting more 'creative' in your shots, and perhaps eventually doing fun things like traveling so you can enjoy taking photos in new scenery.
12. Painting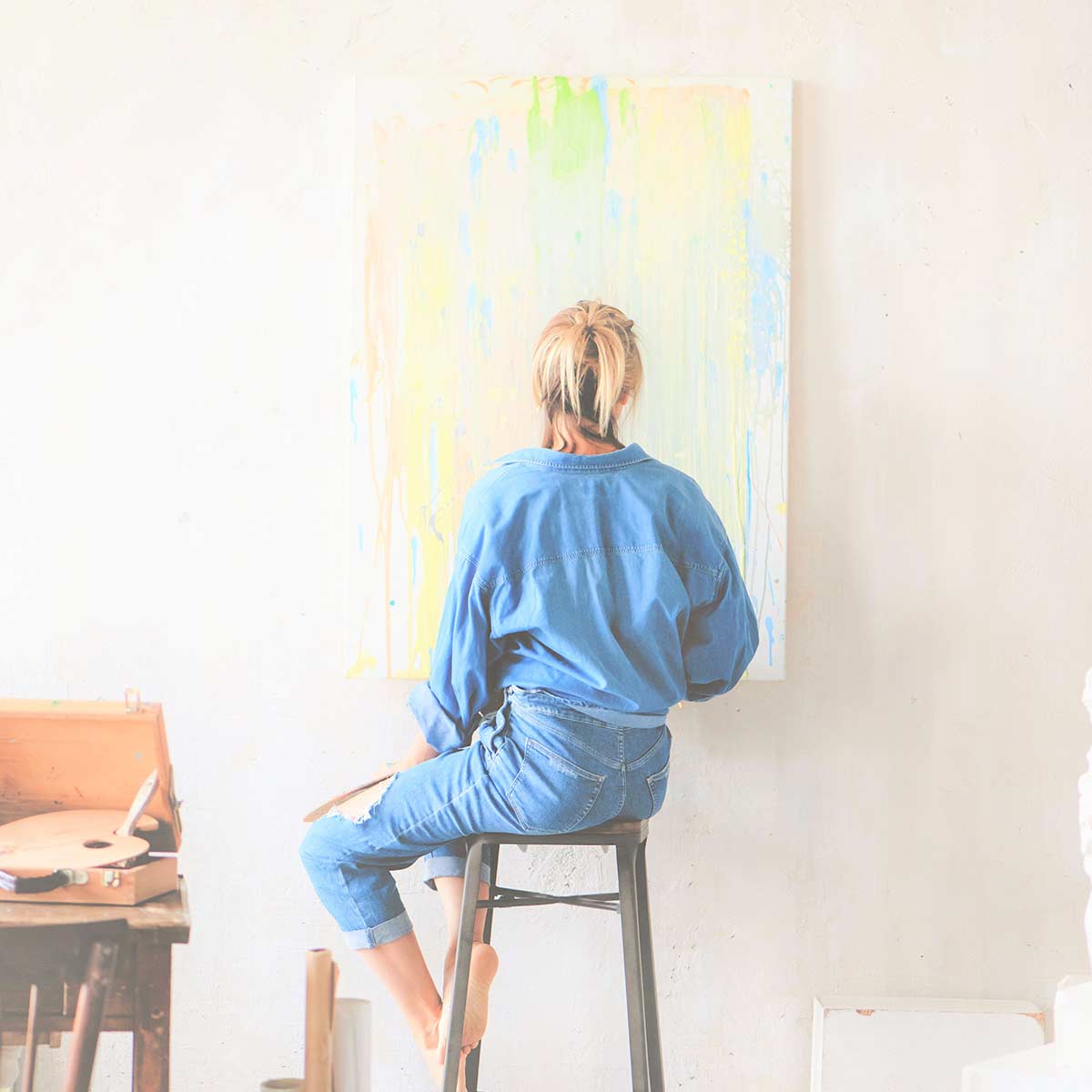 I know, I know, this sounds way too 'artsy' when you think you're non-creative. But it doesn't have to be! You can enjoy this creative outlet even if you don't know watercolors from pastels.
There are types of painting you can try that take zero skill. A few I can think of are splatter painting, 'diamond' dot painting, and paint-by-number.
If you're looking to create something that you might want to find a place for in your home, look into a wine-and-paint class or even a more formal art class at a local college. You may be surprised by your talent!
Finding a Creative Outlet
For fun, try something completely opposite of your 'normal' self.
Spend all day crunching numbers? Try painting or dancing.
Does your day job demand constantly dealing with people when you're a total introvert? Try creating music.
Is your regular life a little chaotic? Try textile arts that require concentration and order or learning to cook a new cuisine.
Maybe you've always secretly wanted to try making macrame plant hangers, but were afraid you wouldn't be good at it. Toss aside the fear and give in to that secret desire!
Or, just close your eyes and pick something.
A few words of advice…
Don't spend weeks researching each of these options, pondering which would be the best for you. And good grief, don't spend even MORE time researching HOW to do your chosen activity.
Just start. Buy a puzzle, grab a journal and some prompts and start writing, pick up your phone and start taking pictures.
I mean… yes, some of these outlets are all about learning how to do a new thing… so obviously that's what you'll spend your time doing. But don't spend weeks figuring out which course is the best or watch a gazillion different methods and then try to combine them all. Check three sources max, then choose the one that makes the most sense to you.
For starting off easily, choose something that doesn't require a lot of special equipment. Do ONE search at your favorite online retailer (not 3 hours or 3 days of searches) and order what you need to get started.
There… done! Now you're well on your way to finding and enjoying your perfect creative outlet.
More Creativity and Intentional Living Inspiration
Why Unplugging From Technology Will Make Your Life Better
Here's How Creativity Actually Improves Your Health — Forbes
Living An Intentional Life: 7 Powerful Steps to Make It Happen
Concluding Thoughts on Creativity for Non-Creatives
Whether you try all of the creative outlets for non-creatives that we've discussed in this article or just a couple, I'm absolutely certain you'll discover your new activity adds benefits and dimensions to your life that you never expected.
Don't be afraid, don't get overwhelmed, and don't overthink it… just try it and see what happens.
You've got this!
---
Did you enjoy this post? Know someone else who might like it? Please take a moment to share on Pinterest, Facebook, or your favorite social media… (Click the sharing buttons at the bottom of the post.) Thank you!