Hey, you! Yeah, you, the one with the kinda messy house and the never-ending to-do list. I see you over there, wishing you had some great spring cleaning tips that would make the process effortless.
You're probably all too familiar with the feeling: It's finally starting to warm up outside, the sun is shining, you're ready to get out and enjoy the new season, but then the guilt sets in about getting your house in order for the spring and summer.
How do you handle that when you would really rather do just about ANYTHING else? The whole process of spring cleaning can be overwhelming, but it doesn't have to be!
With these simple tips for spring cleaning and my other ideas for how to clean your house, you'll be able to make a plan that works for you and get the job done quickly and easily.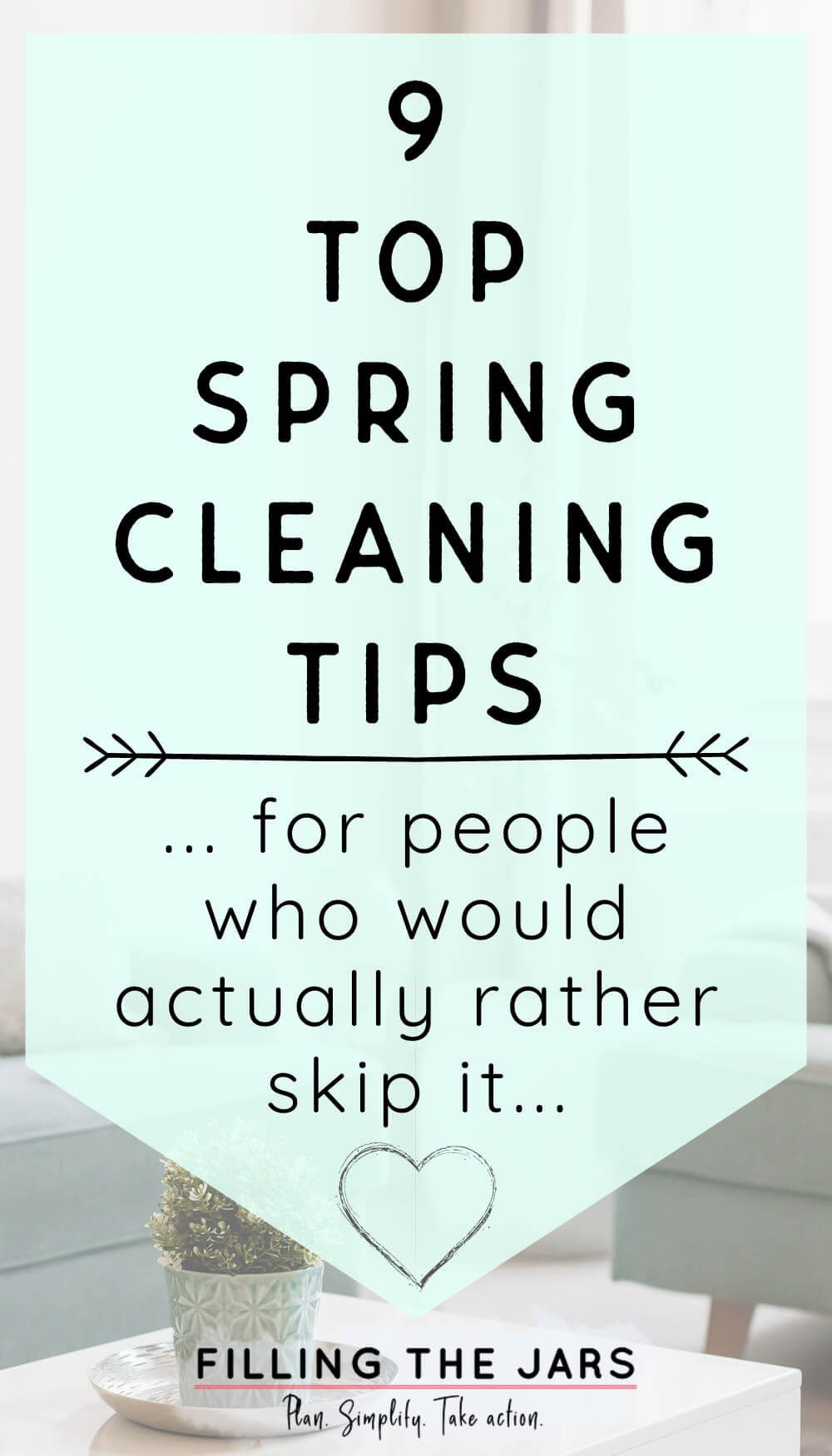 This post may contain affiliate links. If you choose to purchase through an affiliate link, I may receive a small commission at no additional cost to you. You can see my full disclaimer here.
Why We Need Simple Spring Cleaning Tips
There are so many things we want to do once spring finally arrives. One thing that usually makes the top of our 'should do' list is spring cleaning.
The concept of a fresh start by cleaning out all the dust and grime from the long dark months of winter is so appealing! But when we have a lot going on or start overthinking, the idea of doing an annual deep clean can just add guilt and overwhelm to all the stuff that's already in our head. All of that overwhelm makes it hard to feel any spring cleaning motivation.
Let's simplify the whole idea and process of spring cleaning!
It can feel impossible to try and tackle the entire house in one go. But by taking it one step at a time and following some simple spring cleaning tips, we can make seasonal deep cleaning a lot easier.
Tip 1: Clear The Clutter
It's important to do a spring decluttering before cleaning because you can't clean effectively if there's stuff in the way! This is ALWAYS the first step to making your home look clean and tidy.
You could try to clean around the clutter, but the results will be less than stellar and the actual cleaning job will take far longer than necessary.
You're not doing a DEEP declutter here. Instead, you're working quickly to sort the excess.
Everything you're getting rid of needs to leave the house immediately.
For the things you're keeping, make sure to put everything in its place so that the cleaning process goes as quickly as possible.
Tip 2: Evaluate How Much You ACTUALLY Need To Clean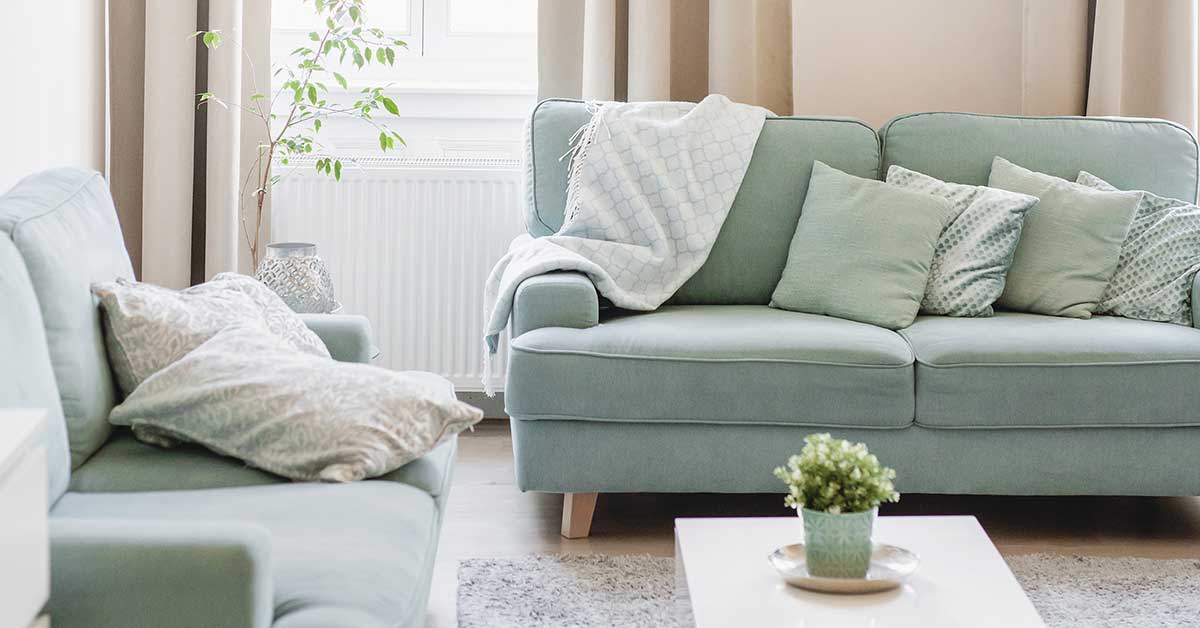 Before you start scrubbing your baseboards and dusting those ceiling fan blades, there's one important step you need to take: evaluating how much you actually need to clean.
Let's be real, we don't all have the time or energy to clean every single nook and cranny of our homes every spring. So make a list of the areas or tasks that are most important to you and focus your cleaning efforts there.
There are some areas that you can probably get away with skipping, like the bathroom if you already do a good scrub in there every week. Similarly, some places might still look good after fall cleaning. But other areas, like the kitchen or windows, definitely need a good deep clean.
By taking the time to assess your true cleaning needs, you can make your spring cleaning more efficient and less overwhelming.
Tip 3: Decide On Your Best Cleaning Order
When it comes to spring cleaning, YOU get to decide the method that you prefer. You can choose either room-by-room or single tasks; whichever works best for you!
Room-by-room gives you a manageable goal, as you clean your way through each single space in the house from top to bottom. With this approach, each room is finished before moving on to the next one.
Single task lets you have a birds-eye view of your work and systemize by concentrating on one specific activity at a time, such as decluttering or cleaning carpets. This helps make sure nothing is missed! It can also save time because you don't have to switch tools or change focus as you work.
Tip 4: Write Your Plan
One thing you definitely want to do when it comes to spring cleaning is to start with a plan. Having a game plan with checklists will help you stay organized and on track while you're cleaning.
Before you start cleaning, walk through each area of your home and determine what must be completed. Sit down and make a list of all the spring cleaning tasks and areas in your home that you want to focus on.
Once you have your to-do list, you can schedule days and times to start tackling each area or task one by one.
Make this step really easy by grabbing my Essential Cleaning Planner. With printable room-by-room deep cleaning checklists and seasonal non-cleaning task lists, it's got everything you need to start spring cleaning quickly and confidently.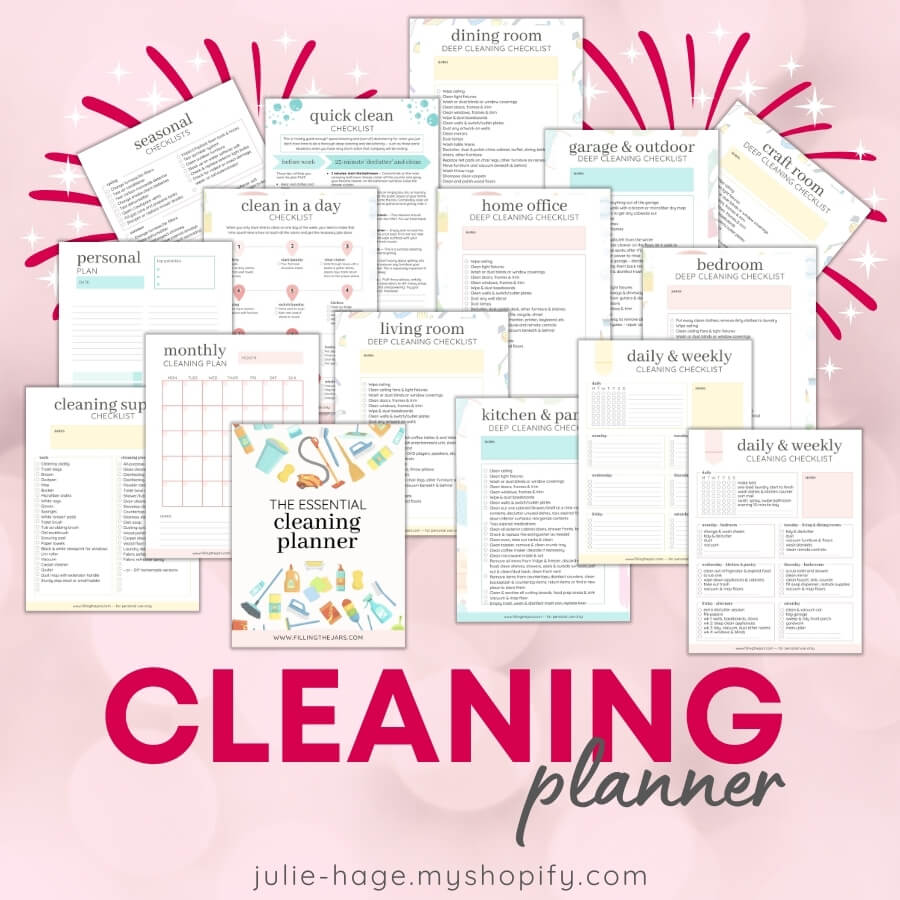 Tip 5: Don't Do Everything Yourself
The dirt and messes that have accumulated since your last deep cleaning are not all made by you, which means you DEFINITELY should not do all the spring cleaning. Enlist the help of everyone who lives in the house.
As much as possible, divide tasks to match each person's strengths. Even children can help with sorting and putting away items. You can even pretend to make it fun with a spring cleaning week activity pack or a housecleaning bingo game for kids.
Don't DIY everything — Hire a pro to do the biggest, most difficult tasks like carpet cleaning, window washing, and furniture steam cleaning.
Tip 6: Use The Right Tools And Cleaners For The Job
Invest in quality cleaning supplies. Spring cleaning can take up valuable hours of your day. It's worth buying durable brushes and mops instead of using products that fall apart after few uses, meaning wasted time & energy on fixing or replacing them multiple times while you're trying to finish a job.
Use reusable microfiber cleaning cloths instead of paper towels or disposable dusting products — they last much longer and clean better!
I picked up some really cheap microfiber kitchen towels a few years ago that are terrible at drying dishes, but PERFECT for tucking into my Swiffer for cleaning cobwebs and walls and floors. This saves me a lot of money over the years even though I sometimes do use the disposable products.
Related: 'What Do I Need To Clean My House?' My List Of Essential Cleaning Supplies
Tip 7: Work Smarter Not Harder
Apply cleaning solutions to tough stains and let them soak while you focus on other areas. This will require less scrubbing — and less time spent — to remove the stains. Set a timer so you don't forget to go back and finish what you started!
Also, for each job you're going to do, determine what supplies you need in advance and gather them in a portable container. Save yourself trips back and forth for cleaning items and tools by carrying them with you. Choose a container with a handle for easy transporting, like a plastic tote, basket, or bucket. Think of it as your spring cleaning basket.
Or, try customizing an apron with pouches to keep cleaning rags, sponges, and small tools handy. (Not crafty? You can buy a cleaning apron here.)
Tip 8: Clean In Layers
When cleaning a room, start at the top and work your way down. This way, any dirt or dust that falls will only land on surfaces that you haven't cleaned yet.
Cleaning from top to bottom in the room will eliminate the need to clean areas more than once due to cleaners dripping or dust scattering.
Remove curtains, linens, and other items to be washed or shaken before dusting or scrubbing. Save vacuuming and mopping floors for last, or you will end up doing them twice.
Tip 9: Set Limits For Spring Cleaning
Setting limits for spring cleaning can help make the process much more manageable. One approach is to decide how long you will spend on each task. It's important to be realistic and not set goals that are too ambitious. For example, you might decide to spend 30 minutes cleaning the kitchen, 20 minutes dusting cobwebs and ceiling fans, or 15 minutes decluttering your bedroom.
Once you've decided on your time limits, the next step is to actually set a timer for each task. This will help you stay on track and prevent you from spending too much time on one task. When the timer goes off, it's crucial to stop working and move on to the next task on your list or stop working for the day — whichever you decided before you began working.
One thing to keep in mind is that you should be okay with however much you accomplish during each cleaning session. Some days you might accomplish more than others, and that's perfectly fine.
The point of setting limits is to make the process more manageable, not to stress yourself out trying to accomplish all.the.things. Be proud of whatever you accomplish during each cleaning session. Good enough is good enough!
More Cleaning And Decluttering Inspiration
How to Clean a Cluttered House Fast: The One-Hour Cheater Method
7 Ways to Get Motivated to Clean and Declutter
Declutter Tips for When You're Overwhelmed With Too Much Stuff
Next Steps…
Spring cleaning doesn't have to be something you guiltily skip because it feels too overwhelming. By following these nine simple tips, you can simplify your personal concept and process of spring cleaning.
clear clutter
evaluate what actually needs to be cleaned
decide on YOUR cleaning order
write a plan
delegate tasks
use the right tools and methods
work smart
clean in layers
set limits
By implementing these tips, not only will your space look and feel clean, but you'll also experience a sense of clarity and accomplishment.
Even if the weather doesn't feel like spring yet, you can begin your spring cleaning process today! And if you need help organizing your cleaning plan, be sure to check out the Essential Cleaning Planner for even more guidance.
Happy cleaning!
---
Need more help for regular cleaning? My 27-page Essential Cleaning Planner has everything you need!
This cleaning planner was designed to take the stress out of cleaning. Create your personal scaled-down cleaning plan, or use the checklists as-is to stay on top of the exact cleaning and maintenance tasks that will keep your home clean and comfortable.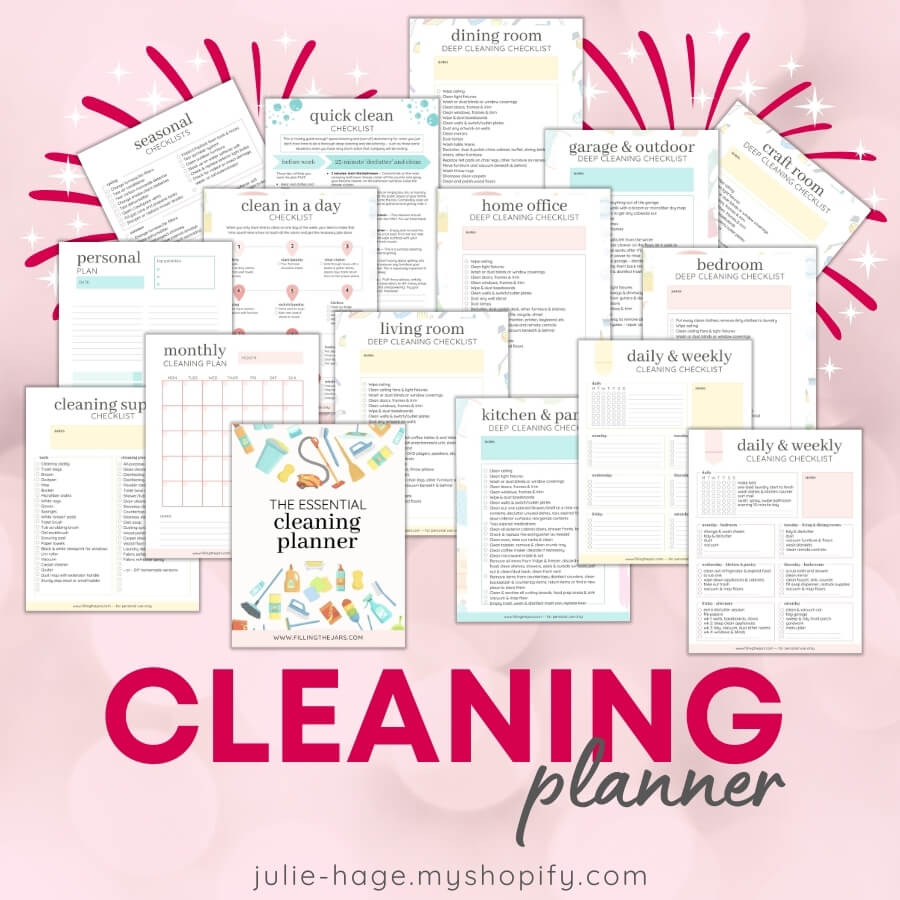 ---
Did you enjoy this post? Know someone else who might like it? Please take a moment to share on Pinterest, Facebook, or your favorite social media… (Click the sharing buttons at the bottom of the post.) Thank you!