Totally ready for the lazy days of summer? Do those even exist? They CAN… if you're intentional with your time and actions. These 12 summer slow down quotes will get your mind in the right place to make the season just as relaxed as you want.
Need more summer quotes? You'll love my collection of seasonal and motivational quotes.
This post may contain affiliate links. If you choose to purchase through an affiliate link, I may receive a small commission at no additional cost to you. You can see my full disclaimer here.
Are You Ready For a Slow Summer?
Well, I felt it and saw it today… summer. After months of cold, a chilly spring, intensely green new leaves and grass, and hints of warmth, today I looked out the window with a jolt of shock and thought, 'It looks like July.'
The air had that odd, whitewashed look and the hot breeze was turning the leaves until their paler undersides were all you could see. Even the grass looked tired.
The thing is… it's only May. Here in Michigan we could still get snow before 'real' summer hits.
It made me stop and realize that I'm not ready for summer! Not the summer I want to have, anyway… slow, relaxed, with plenty of time to read, write, and nap.
You see, when spring hit, I felt the urge to tackle some serious work projects. In my pokey and overthinking way, I've been working like crazy and getting a lot done. And there's still so much I want to do! At the same time, to be honest… I'm a little tired.
Everyone needs a break. If you're in a 'do everything' season of life and starting to see some signs of burnout, take these quotes to heart. A good summer slow down is probably exactly what we all need.
Perfect Summer Slow Down Quotes
"Summer is the annual permission slip to be lazy. To do nothing and have it count for something. To lie in the grass and count the stars. To sit on a branch and study the clouds."
— Regina Brett
"Learning how to be still, to really be still and let life happen — that stillness becomes a radiance."
— Morgan Freeman
---
"Summer needs to slow down."
"In the summer, the days were long, stretching into each other. Out of school, everything was on pause and yet happening at the same time, this collection of weeks when anything was possible."
— Sarah Dessen, Along for the Ride
"This summer, put your phone away for a few days. Make some memories that no one knows about. Make some memories that are just yours."
— unknown
"Deep summer is when laziness finds respectability."
— Sam Keen
---
"A vacation is having nothing to do and all day to do it in."
— Robert Orben
"In the long dusks of summer we walked the suburban streets through scents of maple and cut grass, waiting for something to happen."
— Steven Millhauser, Dangerous Laughter
"Give yourself permission to slow down."
"Summer gathered in the weather, the wind had the proper touch, the breathing of the world was long and warm and slow. You had only to rise, lean from your window, and know that this was the first real time of freedom and living; this was the first morning of summer."
— Ray Bradbury, Dandelion Wine
---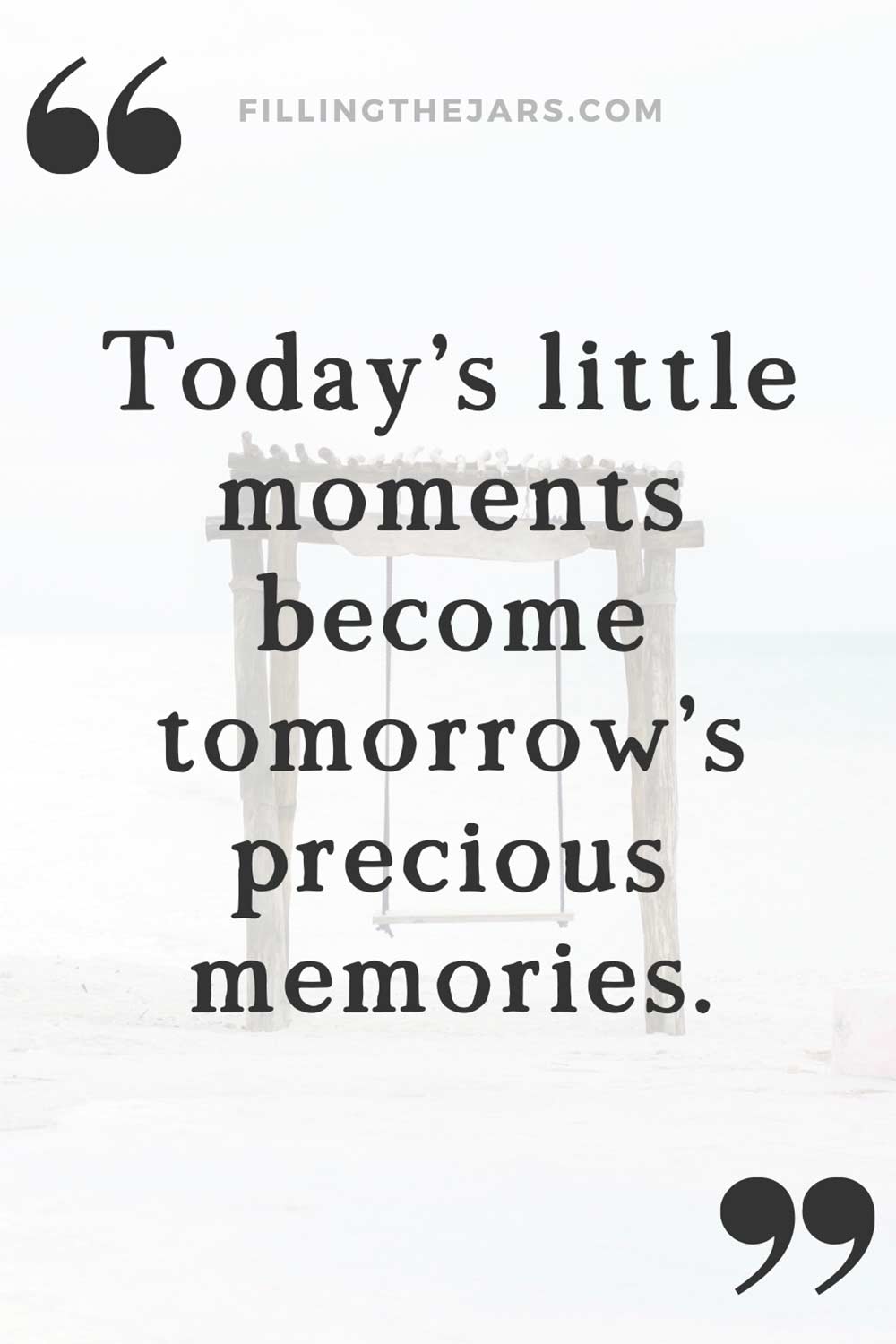 "Today's little moments become tomorrow's precious memories."
"The time to relax is when you don't have time for it."
— Sydney J. Harris
How Can You Use Summer-Themed Quotes?
Seasonal home decor — Grab some pretty summer wall art and scatter it around your home. Create your own quote art and frame it. Or you may get inspired to go all-out and fill your home with relaxed and fun beachy decor to really get into the summer feeling. Whichever you choose, make it a celebration you can enjoy every day of the season. 
Creative journaling prompts — Choose a quote to write about every day. Journal about the feelings or memories the quote brings up inside you. What action will you take today with that quote in mind? Use them as creative journal topics in several different forms. 
Inspiration for your summer bucket list — If your perfect slow summer includes a road trip to remote corners of the country, do it! Want to spend time by the water every day? Grab your big floppy hat, your perfect beach read, and enjoy!
Or maybe you want to hang at home and spend leisurely evenings eating simple and delicious dinners with friends surrounded by fireflies and patio lights? Ahh… meals with friends… I think we'll all appreciate those even more this year!
More Quotes and Inspiration to Slow Down
While we're on the topic of slowing down, here are even more slow down quotes for you to enjoy.
Not that we actually need reasons, but we seem to always want validation for those times we want to take a step back. Here are 22 reasons to slow down the pace — that should set your mind at ease!
If you're just beginning your intentional living journey, you'll want to read this: Living An Intentional Life: 7 Powerful Steps to Make It Happen
I know sometimes it can feel impossible to slow down, which is why we need to be very deliberate to set a slow and sane summer rhythm.
And finally, here are some gorgeous summer days quotes you're sure to love!
Concluding Thoughts
Protecting our personal time and space during the summer is not always easy. But I truly believe reading and surrounding yourself with quotes about enjoying a slow summer — like the ones in this post — can inspire you to take positive actions every day to Build Your Best Life.
You've got this!
Grab these free printable gratitude quotes to complement your slow summer!
---
Did you enjoy this post? Know someone else who might like it? Please take a moment to share on Pinterest, Facebook, or your favorite social media… (Click the sharing buttons at the bottom of the post.) Thank you!