Summertime is synonymous with positivity and good vibes. We all want to make the most out of the sunny days, warmer weather, and longer nights. These first day of summer quotes are just the ticket to fill our minds with positivity about the official start of the season!
These start of summer quotes can serve as a reminder to enjoy the simple things in life, spend time with loved ones, and make memories that will last a lifetime.
So whether you're looking for some summertime inspiration or just want to enjoy some feel-good reading, be sure to enjoy these beginning of summer quotes and check out my complete collection of motivational quotes.
Let's make this summer one for the books!
This post may contain affiliate links. If you choose to purchase through an affiliate link, I may receive a small commission at no additional cost to you. You can see my full disclaimer here.
Why Is The First Day Of Summer Important?
The summer solstice is the longest day of the year and marks the official start of summer. For many people, it's a day to celebrate the warm weather and enjoy time outdoors.
On the first day of summer, we can take a moment to appreciate the natural world and all the beauty it has to offer. We can also reflect on our own lives and set our intention for the days ahead.
This first day of summer is a time to celebrate life and all the possibilities that lie ahead.
First Day Of Summer Quotes
"Warm summer sun, shine kindly here."
— Mark Twain, Warm Summer Sun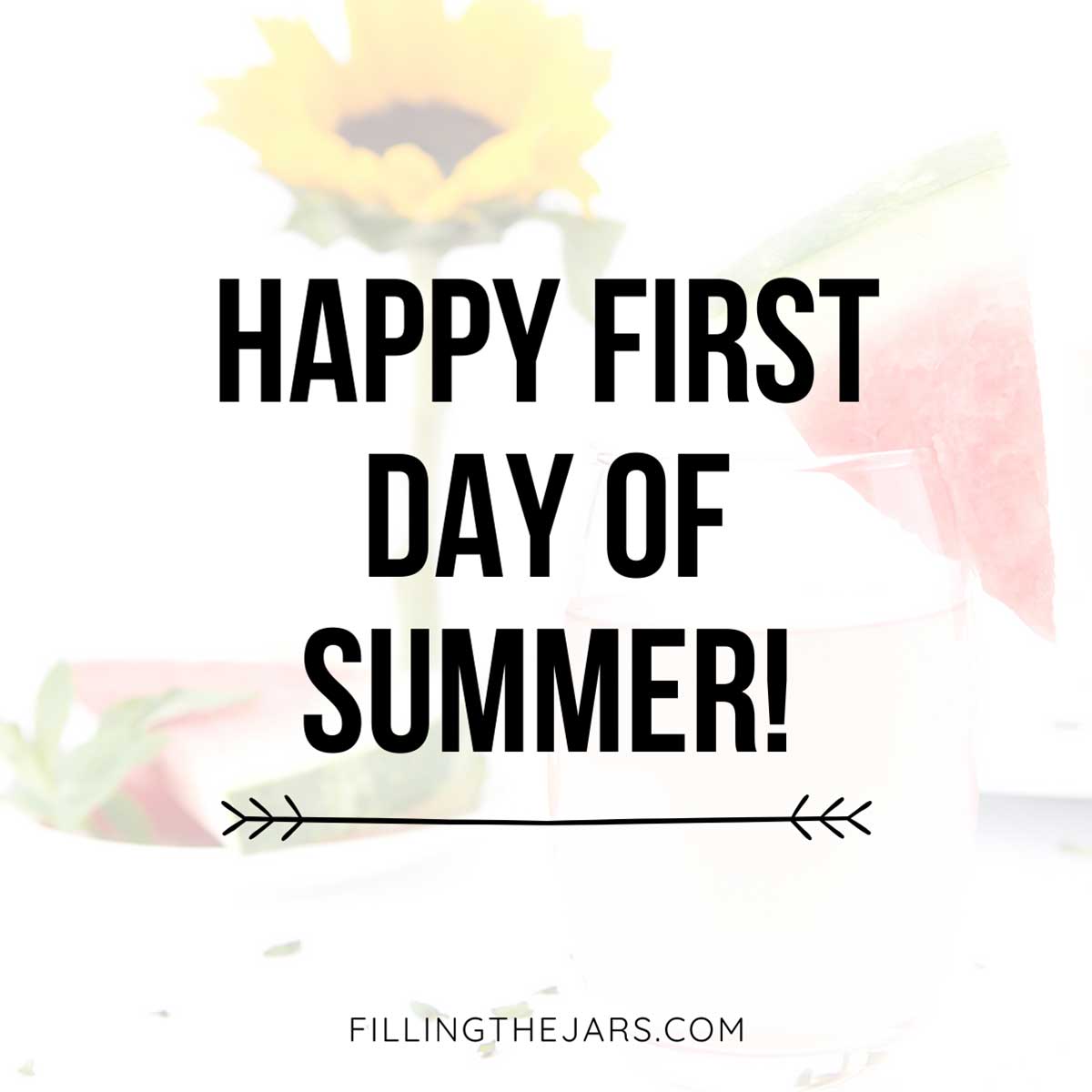 "Happy first day of Summer!"
"All green and fair the Summer lies,
Just budded from the bud of Spring,
With tender blue of wistful skies,
And winds which softly sing."
— Susan Coolidge (Sarah Chauncey Woolsey), Menace
"It was June, and the world smelled of roses. The sunshine was like powdered gold over the grassy hillside."– Maud Hart Lovelace, Betsy-Tacy and Tib
"Summertime is always the best of what might be."
— Charles Bowden
"Long stormy spring-time, wet contentious April, winter chilling the lap of very May; but at length the season of summer does come."

Thomas Carlyle
"What is one to say about June, the time of perfect young summer, the fulfillment of the promise of the earlier months, and with as yet no sign to remind one that its fresh young beauty will ever fade."
— Gertrude Jekyll, On Gardening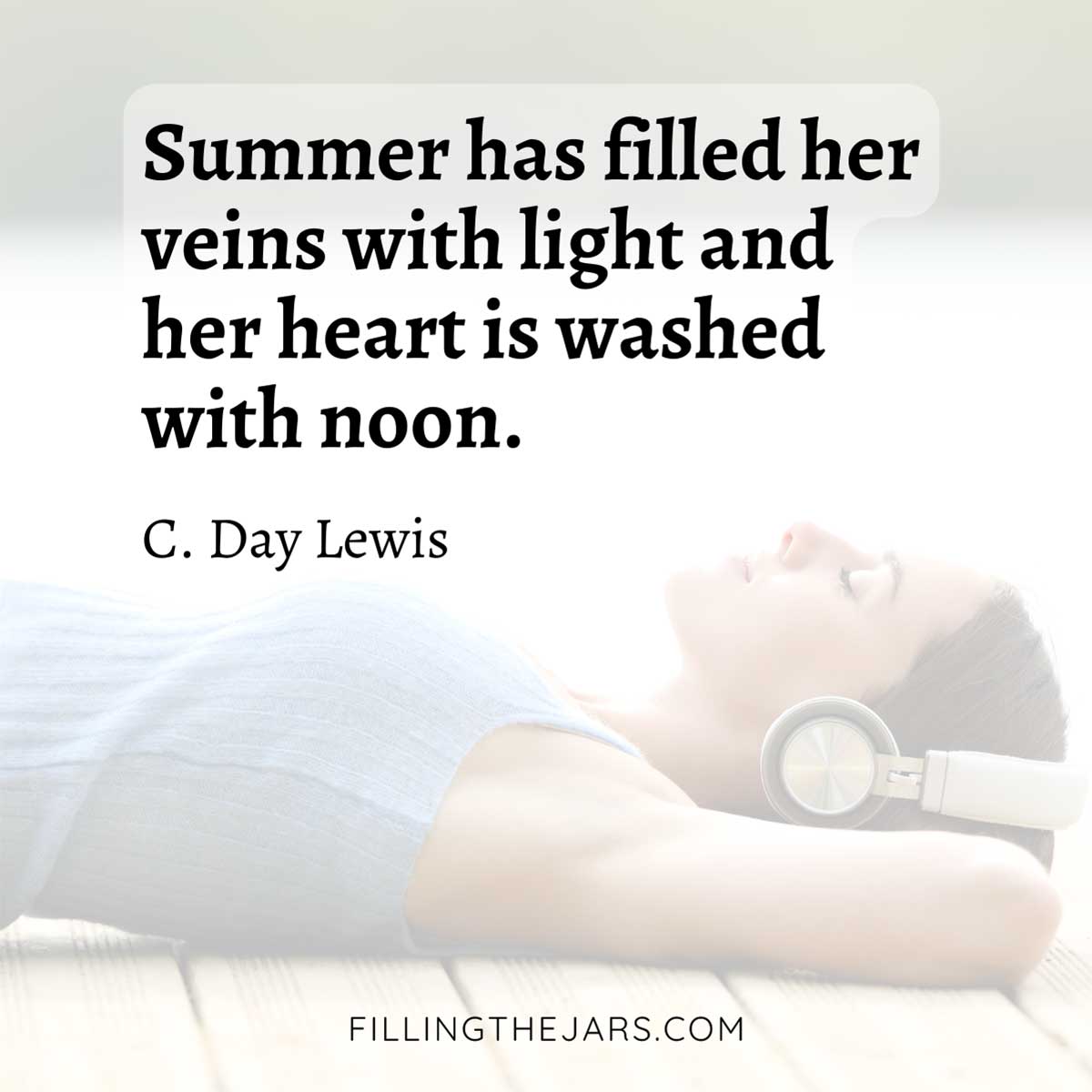 "Summer has filled her veins with light and her heart is washed with noon."
— C. Day Lewis
"Everything good, everything magical happens between the months of June and August."
— Jenny Han, The Summer I Turned Pretty
Let The Summer Begin Quotes
"Because it's summer and the memories are just waiting to happen."
"No price is set on the lavish summer;
June may be had by the poorest comer."
— James Russell Lowell
"And so with the sunshine and the great bursts of leaves growing on the trees, just as things grow in fast movies, I had that familiar conviction that life was beginning over again with the summer."
— F. Scott Fitzgerald, The Great Gatsby
"Take me away: I need the sand and the waves."
"I'm ready for barbecues and picnics; reading books in my hammock; lemon-berry iced tea and a rocking chair on the front porch, watching the sun set with friends; stargazing while eating s'mores in the backyard. Oh, summer…bring it on!"
— Oprah Winfrey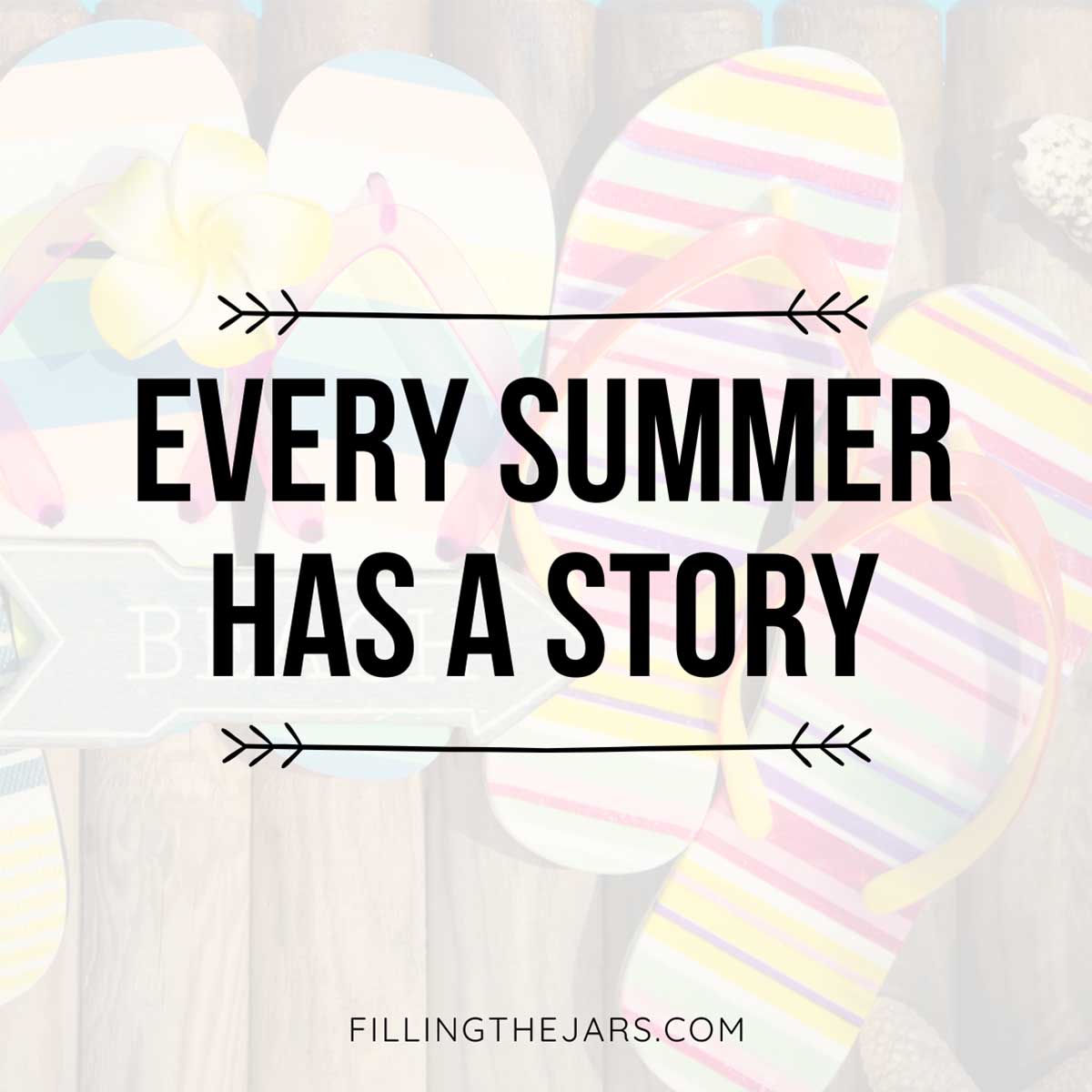 "Every summer has a story."
"Summer is singing with joy, and the beaches are inviting you with dancing waves."
— Debasish Mridha
"Summer means happy times, good sunshine and stunning sunsets."
Favorite Ways To Use Quotes Every Day
In addition to inspiring you to enjoy the first day of summer, these quotes can certainly be used to make the most of other days.
One of my favorite ways to use quotes is for journaling. Quotes often prompt memories or motivate us to set goals for our life and our actions. Write about all of those things!
From that beginning, you may end up doing even more creative things… like writing stories, painting, etc. Let that creativity flow, which may happen even more easily during the summer when we have more daylight and our mood is often more relaxed.
If doing all the creative things isn't quite your nature, you can still write quotes in your planner as inspiration and focus for your day or week.
Share a happy first day of summer quote with friends and family members. You don't even have to wait until the first day of summer. Start sharing on social media a couple of weeks beforehand and get everyone in on the fun.
Show your love for summer with decor like a summer quote sign or a fun t-shirt for the first day of summer. Okay, maybe a couple of shirts, because this v-neck t-shirt also looks perfect for summer.
More Quotes And Summer Inspiration
18 Summer Inspiration Quotes for June
How To Slow Life Down: 5 Essential Beginner Steps
32 Hello Summer Quotes That Perfectly Welcome The Season
30 Journal Prompts for a Positive Body Image
12 Summer Slow Down Quotes for Your Best Season Ever
Concluding Thoughts…
I hope these quotes inspire you to have an amazing summer full of new experiences, exciting adventures, and lasting memories.
Enjoy your first day of summer to the fullest. After all, it only comes once a year!
Thanks for reading!
---
Did you enjoy this post? Know someone else who might like it? Please take a moment to share on Pinterest, Facebook, or your favorite social media… (Click the sharing buttons at the bottom of the post.) Thank you!