Are you looking for that perfect gift for a writer? Whether you're looking for yourself or a special person in your life, you'll love these must-have creative writing gift ideas!
Writers come in all different shapes and sizes, and we each have unique styles. It doesn't matter if you're a hard-news journalist, a fiction writer, a poet, or a daily journaler, writing provides an outlet that can yield many benefits (and enjoyment!). 
From novelists to journal keepers, no matter how you write or what your writing style is, passion is at the very heart of what you do.
That's why any gift for a creative writer needs to either help spark that passion or help feed it. But it can be hard to know what that perfect gift idea is, so I've gathered a list of my top choices for creative writing gift ideas.
---
This post may contain affiliate links. If you choose to purchase through an affiliate link, I may receive a small commission at no additional cost to you. You can see my full disclaimer here.
Top Creative Writing Gift Ideas
Check out these gift ideas for creative writers and see if that special writer in your life (or you!) would benefit from one of these gifts. No matter who you have in mind, there's something for everyone on this list.
This fun set of 200 cards contains 10 categories — character, society, goal, situation, object, location, and more — to inspire plots and storylines like crazy. Mix and match, plus get even more ideas from the associated word list on each card.
Every writer needs that one perfect mug to sip from while they pour their blood, sweat, and tears into their work.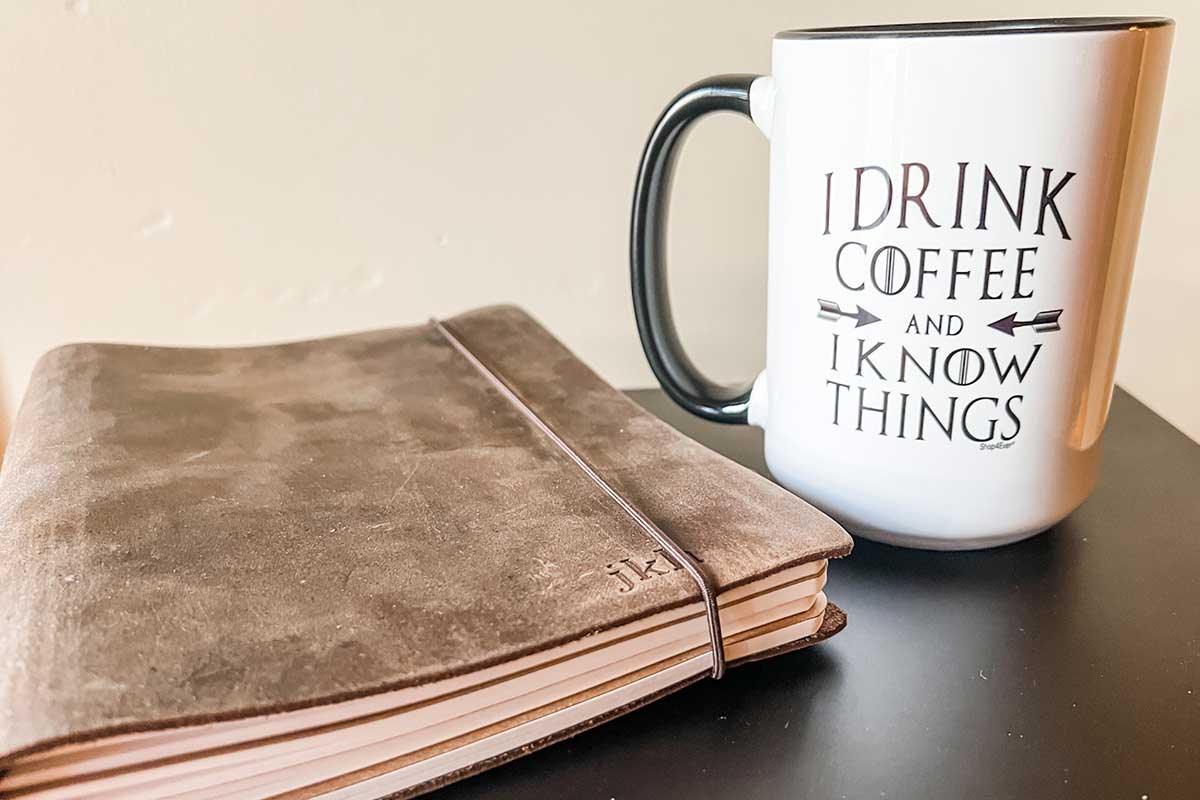 I saw this mug and knew it was exactly what I needed for my early-morning writing. I got the 15-oz size and it's absolutely perfect, with a nice big handle and a black interior so I don't have to worry about coffee stains. 😉
If your creative writing friend needs something to hold a beverage while they write, this mug is a great choice.
When you use something every day, it can quickly look like it's seen better days. Protect your writing with this refillable heavy-duty leather journal. It will last for years before the frequent use starts to take a toll!
This is leather journal one of my top picks for best journals for writing. If leather isn't quite your style, check out the post for more ideas.
A motivational print can go a long way toward helping a writer through a case of writer's block. I find reading through this manifesto to be inspiring and entertaining which always does the trick for me.
Feeling really stuck? This writing inspiration game set includes a 64-page booklet with instructions and exercises using the cards and spinners to fuel creative descriptions and inspire unexpected plot twists.
Sometimes the biggest challenge is to simply get in the right mindset to write. This toolbox accomplishes the task!
Who better to guide you through writing than the master of words himself, Stephen King? Part memoir and part master class in the craft of writing, King shares basic advice, tips, and tools of the trade to help make any writer better.
Writer Jessica Brody takes the established Save The Cat! writing method and adds her own tips and tricks to help any writer level up their skill. This book is a must-have creative writing gift idea!
Nonfiction writing is not the same as writing fiction. Author William Zinsser does a great job of making the information easy, practical, and entertaining to read.
If you or anyone you know wants to improve their writing skills, this book is one to put on the gift list. Even creative writers benefit from these tips!
Beat those writer's block blues and up your creative writing skills with the tips and exercises that you'll find in this book. This book is basic enough to help teens and sophisticated enough to challenge seasoned writers.
The best creative writing gift ideas simply encourage writing for its inherent benefits. Journaling is one of the most creative and personally satisfying exercises a person can do. Buy that writer in your life a special journal for creative writing like this one to encourage them to put pen to paper.
Related post: 9 Best Creative Writing Journals: Take Your Thoughts to the Next Level
Writing isn't just about penning novels that stand the test of time. Journaling offers many creative, mental, and emotional benefits. But if you want to journal (or give a journal), don't forget to include the next most important item: the pens!
How can you get the words to flow if you can't even get your pen to glide on the page? Forget about giving someone special pens that leak, bleed, or clog up. Instead, spend a little more for a high-quality pen that does what it's supposed to: glide across the page.
Where does inspiration strike? Often, it's in the shower when you can't write down your ideas! That problem is now a thing of the past with this waterproof notepad and pencil. Give your writer bestie the gift of inspiration – whenever it strikes!
These days, most of us do the bulk of our writing on a computer or laptop rather than with pen and paper. Relieve digital eye strain to help make writing for long periods of time easier by gifting a pair of these glasses.
Finding that perfectly quiet space to write isn't always possible. If I didn't have a quiet space to write, I would seriously consider these noise-canceling earbuds.
Reviews indicate they are so effective that a writer could be sitting in the middle of a busy airport or coffee shop. As long as they're wearing these earbuds, they can tune out the rest of the world and focus.
These days writers don't just write at home. They trek out to libraries, the park, coffee shops, etc. Give them the ability to take their work with them safely.
A nice messenger bag not only helps make transporting laptops stress-free, but it also keeps other items such as notes, pens, journals, and more where you can find them easily.
Writer's block. Every writer experiences it from time to time (including me!), and it can be maddeningly frustrating. Infuse some humor into the situation with this t-shirt to break the blockage and get those words flowing again.
More Writing Posts You'll Love
I hope this list of top creative writing gift ideas inspires you to find the perfect gift for yourself or that special writer in your life. No matter whether you're looking for practical or funny, this list has something for everyone!
---
Did you enjoy this post? Know someone else who might like it? Please take a moment to share on Pinterest, Facebook, or your favorite social media… (Click the sharing buttons at the bottom of the post.) Thank you!