Have trouble getting your life or your home organized? Do you need a little motivation to put in the hard work and improve your overall quality of life? Try these inspirational quotes about being organized.
An organized life is possible, even if you only feel like you're making a little progress at a time. Keep these organizing quotes handy for whenever you need a moment of insight. And be sure to check out the rest of my motivational quotes collection for every area of your life.
This post may contain affiliate links. If you choose to purchase through an affiliate link, I may receive a small commission at no additional cost to you. You can see my full disclaimer here.
Why Quotes About Being Organized Are So Important
We're not born organized — even though it may seem like some people are. We learn and acquire a few skills every day that keep us neat, tidy, and organized.
Some of us may not have been taught those skills.
Some of us have a brain that works in ways that make these skills more difficult to learn and practice.
Some of us are in life situations that make it difficult to implement systems for successful organization.
But even with those challenges, we can do little things every day to find inner calm and outer order.
Being organized is really important in a fast-paced life while we have no time to deal with clutter. Be it physical or emotional clutter, it tends to make us sad and depressed or frustrated.
Whether it's time to learn how to organize a cluttered house or figure out how to stop thinking and start doing, organizing makes things easier.
But it's difficult to make dramatic changes when we've spent a long time in an unorganized mess. That's why I believe it's SO important to do these things:
Let go of our old ideas of what MUST be done every day.
Determine and prioritize our important things — even if it's just ONE thing per day like an extra 10 minutes of decluttering our own space OR an activity to improve our family life.
Build daily routines and habits that are simple and adaptable.
Recognize that getting organized is a lengthy process — and that is TOTALLY NORMAL.
Soak up all the motivation we can, whether that's from the people around us, the things we choose to read, or inspirational quotes like these…
Organize Your Life Quotes
"First comes thought; then organization of that thought into ideas and plans; then transformation of those plans into reality."
— Napoleon Hill, The Law of Success
"If you want to make an easy job seem mighty hard, just keep putting off doing it."
— Olin Miller
"To accomplish great things, we must not only act, but also dream; not only plan, but also believe."
— Anatole France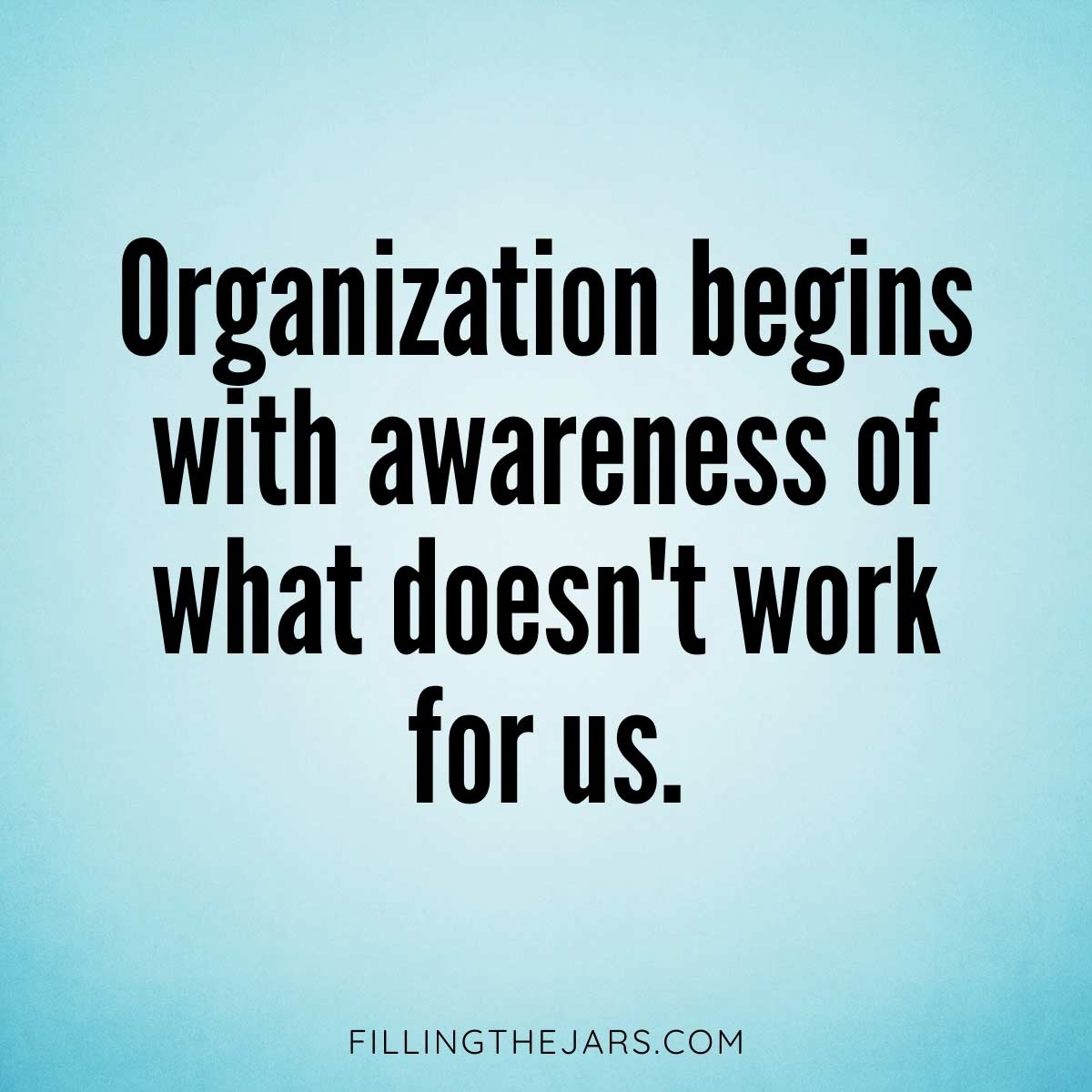 "Organization begins with awareness of what doesn't work for us."
— Unknown
"Being organized isn't about getting rid of everything you own or trying to become a different person: it's about living the way you want to live, but better."
— Andrew Mellen
"It always seems impossible until it's done."
— Nelson Mandela
"It takes as much energy to wish as it does to plan."
— Eleanor Roosevelt
"Organizing is what you do before you do something so that when you do it, it is not all mixed up."
— A. A. Milne
"A good system shortens the road to the goal."
— Orison Swett Marden
"Organizing has to be a 12-month endeavor."
— Tom Perez
"One of the core organizing principles of my life is that success comes through a delicate balance between making things happen and letting things happen."
— Robin Sharma
"The obvious rule of efficiency is you don't want to spend more time organizing than it's worth."
— Daniel Levitin
"Deciding what NOT to do is as important as deciding what to do."
— Steve Jobs
"For every minute spent in organizing, an hour is earned."
— Benjamin Franklin
"Organize your life around your dreams, and watch them come true."
— Unknown
"You'll never get organized if you don't have a vision for your life."
— Linda Eubanks
"With organization comes empowerment."
— Lynda Peterson
Home Organization Quotes
"Joy is not in things; it is in us."
— Richard Wagner
"Having a simplified, uncluttered home is a form of self-care."
— Emma Scheib, SimpleSlowLovely
"Organization isn't about perfection. It's about efficiency. Reducing stress and clutter, saving time and money, and improving your overall quality of life."
— Christina Scalise, Organize Your Life and More
"Clutter is nothing more than postponed decisions."
— Barbara Hemphill
"The ability to simplify means to eliminate the unnecessary so that the necessary may speak."
— Hans Hofmann
"The question of what you want to own is actually the question of how you want to live your life."
— Marie Kondo, The Life-Changing Magic of Tidying Up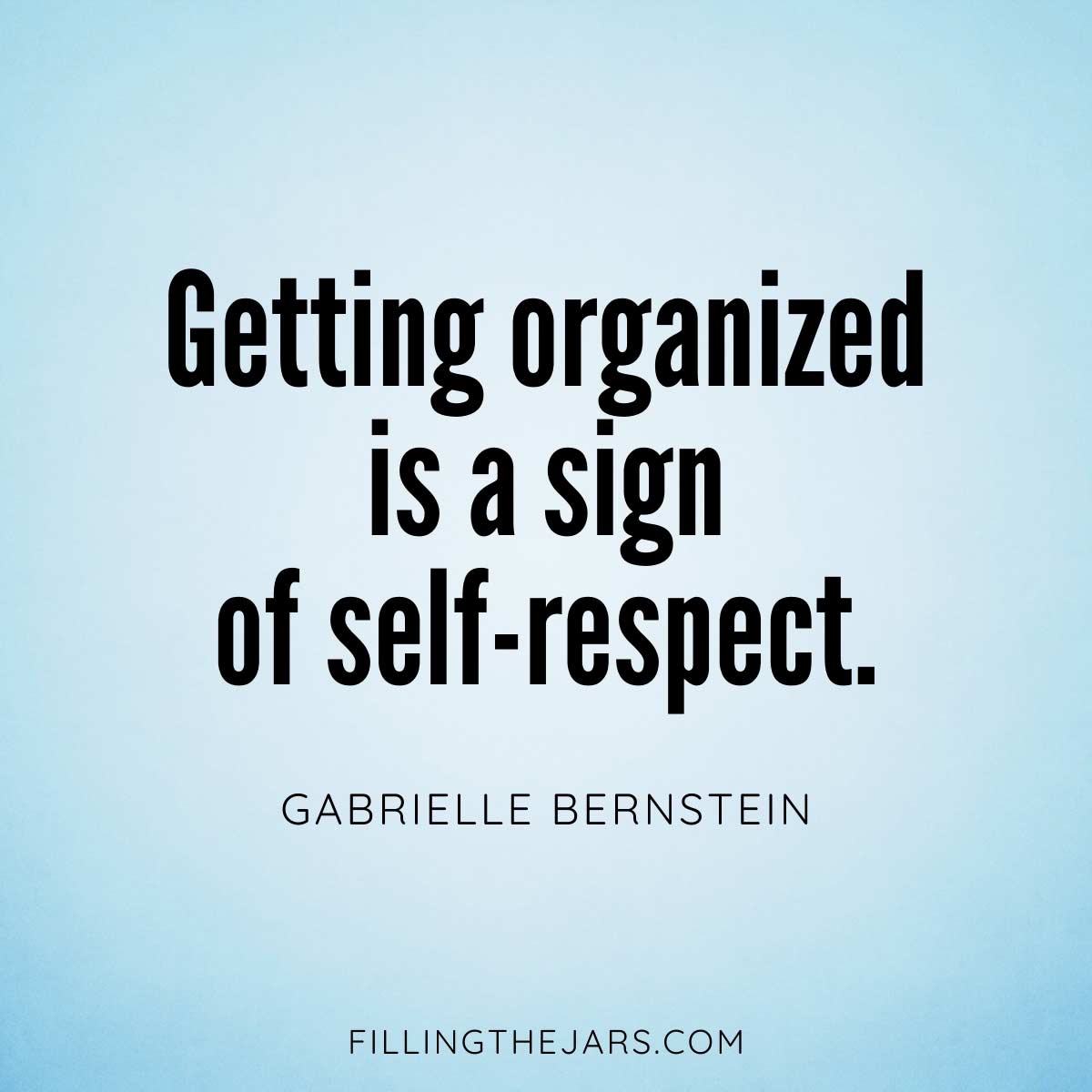 "Getting organized is a sign of self-respect."
— Gabrielle Bernstein
"Oh! Old rubbish! Old letters, old clothes, old objects that one does not want to throw away. How well nature has understood that every year, she must change her leaves, her flowers, her fruit, and her vegetables, and make manure out of the mementos of her year!"
— Jules Renard
"Nobody ever said, 'I regret organizing my house.'"
— Alejandra
"Edit your life frequently and ruthlessly. It's your masterpiece after all."
— Nathan W. Morris
"A nice, neat stack of fresh folded clothes can usually uplift the most sombre moods."
— Emma Lee Bach
"There is nothing more calming than an organized home."
— Unknown
"Get clear on what matters by getting rid of everything that doesn't."
— Courtney Carver, Be More With Less
"Life truly begins when you put your house in order."
— Marie Kondo
More Organizing Motivation
Declutter Your Life: 6 Things to Purge for More Intentional Living
4 Action Tips for How To Declutter When Overwhelmed
7 Ways to Get Motivated to Clean and Declutter
The Best 3 Ring Binder to Organize Each Area of Your Life
6 Easy Tips for Decluttering Your Cell Phone and Reducing Digital Overwhelm
Next Steps
If you're feeling frazzled and overwhelmed by the disorganization in your life, these quotes about being organized might be just what you need to take at least one step to get back on track.
You deserve less stress and a better life than one spent running around like crazy trying to keep up with everything!
Take 5 minutes today and read through these quotes for inspiration.
Choose your favorite great quote and keep it in a place where it will inspire you every day.
Print out a dreams and goals worksheet to brainstorm all.the.things.
Choose which organizing project will make the biggest positive difference in your life.
Grab these pretty printable habit trackers to help you see the progress you're making on forming organizational habits.
With consistent self-discipline and positivity, you just might wake up one day to find you've gotten to a level of control of your life that you never expected.