If you're an overwhelmed overthinker who can't seem to actually stop thinking and start doing, this post is for you! As part of setting powerful goals, you need to create a starter plan that will help you take action. This post will show you how… 
Most people fall into one of these two camps:
"I love setting goals and crushing them faster than expected."
-or-
"I'm afraid to set goals. By the time I research and then think through every possible step and outcome, it always seems like I've missed the best opportunities."
If you're in the second group, then I'm right there with you! Deciding on goals and actually accomplishing anything is an everyday struggle for overthinkers, one that I know all too well.
(And if you're in the first group, I love learning from you!)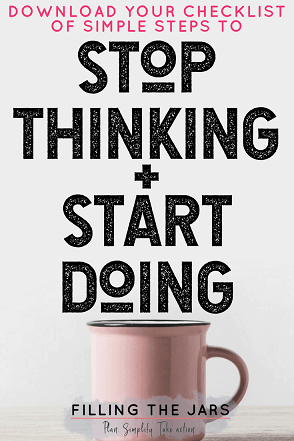 The reality is that you're NEVER going to be as productive as you THINK you should be or it SEEMS like everyone else is.
What you need to realize is — that's okay!
You just need to work differently and set expectations for yourself that are NOT based on what you BELIEVE everyone else is doing.
Sometimes productivity articles from super-accomplished people can be a little depressing. While we rejoice in the fact that there are people who are out there "crushing it," we overthinkers feel like we will never catch up.
If you are going through the same thing, keep reading… I've got some suggestions to help!
I'm going to throw myself out there as an example. There are SO MANY things I think I should be working toward all.the.time. I love blogging and graphics and writing and decluttering and Pinterest and DIY projects and reading and….
You get the idea? But, very recently I had to face the fact that trying to do all of those things at the same time meant I wasn't getting anywhere. I simply cannot have multiple goals.
This is what I'm doing now, and I know you can make this goal setting starter plan work for you.
---
This post may contain affiliate links. If you choose to purchase through an affiliate link, I may receive a small commission at no additional cost to you. You can see my disclaimer here. 
---
How to Start Setting Goals?
First, fill out a dreams and goals worksheet.
This will get your imagination going and help you start seeing possibilities for what amazing things you COULD make happen in your life.
Then, do a brain dump.
This list will be long, and it should include vague future goals as well as all of the little tasks you keep putting off (like, um, dusting).
When you're done, move the little tasks to a separate list. Block time daily or weekly to knock out a few of these at a time, but don't let them distract you right now. If you leave them on your "big things" list, they will take your focus off your main goal.
Once the little things are off your list, forget about them until your scheduled time block.
Tip: DON'T divide your "big things" list into different priorities like professional, personal, health, home, family, etc. For overthinkers, that's a recipe for overwhelm, indecision, and failure. 
Next, take 30 seconds to force yourself to choose the most important thing from your "big things" list.
How do you know what's most important? Simply put, it's the thing that bothers you all the time — the goal or task that your mind dwells on no matter what else you are doing. This is THE ONE THING you will work on.
I know, I know, it feels like you should be doing a little something in every area.
It's tempting to make a priority goal for each section of your life. But if you do that, you're going to be right back where you started — overwhelmed and unable to make a decision or get anything done.
Now, break your ONE goal into actionable steps. You're not writing a how-to volume here. Just spend 10 minutes to work out the basics. You can always break it down more as you're working.
Don't get caught up in the "first I need to…" procrastinating actions that will push the actual beginning of working toward your ONE THING off for hours, days, or weeks.
Allowing yourself to do all of those little things first means you will NEVER succeed at what you REALLY want to do.
---
Related posts:
5 Ways Overwhelmed Overthinkers Can Beat Procrastination – Filling the Jars
One Simple Tip to Break the Procrastination Habit – Our Heritage of Health
---
Action Steps for Working Toward Your Goal
Every day, set a schedule of tasks with time limits. Using a simple daily planner or a printable daily planner sheet can help you visualize the task/time relationship and keep track of your progress.
Choose the ONE TOP TASK and make that your focus for the day. Draw a box around that task with your favorite colored pen or marker — it should be the ONLY thing you notice when you glance at that paper.
I know you think you need to do all 19 things on your list, but it's not going to happen in one day. You know this. I know this. We don't like to admit it, but it's the truth.
However, if you get that ONE TOP TASK done, you will be incredibly motivated to knock out the next task.
Believe me, you CAN surprise yourself by what you can do in a day, but don't put that kind of pressure on yourself to start with. Set a time limit for your task. Then double it. Just trust me on this.
(Eventually I would love to write a post about how to get things done in the same amount of time as "regular" people, but, well… I have to figure out how to DO that. For now, it's all about getting SOMETHING done.)
Side note: Okay, those of you who are familiar with my post 3 Steps to Build Your Best Life are thinking, "But she used to say 3 things per day." Yep, I did. But I found myself constantly thinking about the next two things I was supposed to do and then it took me farrrrrr too long to finish the one important thing.
Now I just worry about ONE FOCUS. (<– That's my book on Amazon.  🙂 )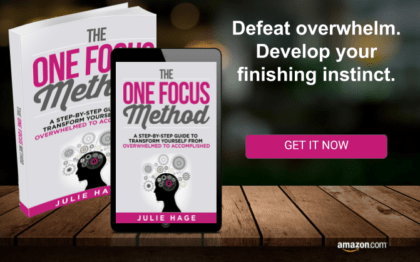 Don't Get Stuck, Overwhelmed, or Distracted
If you're in the planning stage for a project, blog post, whatever… don't allow yourself to get stuck.
Stop reading books and blog posts about how to do things related to your goal. Limit your research to something reasonable — say 1-2 SHORT books and 3 articles. That's enough. You really will have the information you need to move on.
As an overthinker, you also need to scale down the advice you read.
For example, new bloggers are usually told to be very active on at least three social media platforms.
I tried that for months and was getting burned out. A few weeks ago I realized that even with scheduling programs, I can't keep up with that and I do not want to hire someone to do it for me. I made the decision to concentrate on only one thing — Pinterest — and let the other two platforms go for now. (By the way, would you believe my blog traffic has more than tripled since I did that?!)
As you get more comfortable with your daily capabilities and accomplishments, don't get distracted by your other goals.
Just because you're making progress working toward the one "big thing" doesn't mean you can start adding various tasks related to your other goals. It's not going to work.
If you think of something new that you "need" to do, add it to your master list. For a while it may seem like your list just keeps growing, but you really will start working through the list. Some things will also naturally become unimportant or fall off the list completely. Don't feel bad about that.
---
Related posts:
How to Develop Your Finishing Instinct: The Magic Final Step to Real Productivity – Filling the Jars
5 Time Management Tips to Achieve Your Dream Life – Mom's Small Victories
---
Calling the "Big Thing" DONE
It may have taken you longer than you wanted (doesn't it always?), but eventually you will be on the brink of accomplishing your goal. This is where things get exciting and scary.
Don't let yourself overthink! Don't get scared, pull back, and decide you need to do more research or tweaking.
You can always fix the little things later. Give your "big thing" time to work (whatever it is — a new blog, a book, a product, a new family routine or cleaning schedule…) and don't constantly monitor the progress every.second.of.the.day. Once a day or once a week is enough!
NOW you can move on to your next goal/project.
You CAN be successful at setting goals and crushing them. Just because it may take you longer doesn't mean it won't happen. Focus on ONE GOAL and don't give up! 
Click here to have the goal-setting steps printable sent to your inbox and get started on your goals today!
---
Did you enjoy this post? Please take a moment to share on Pinterest or your favorite social media. Thank you!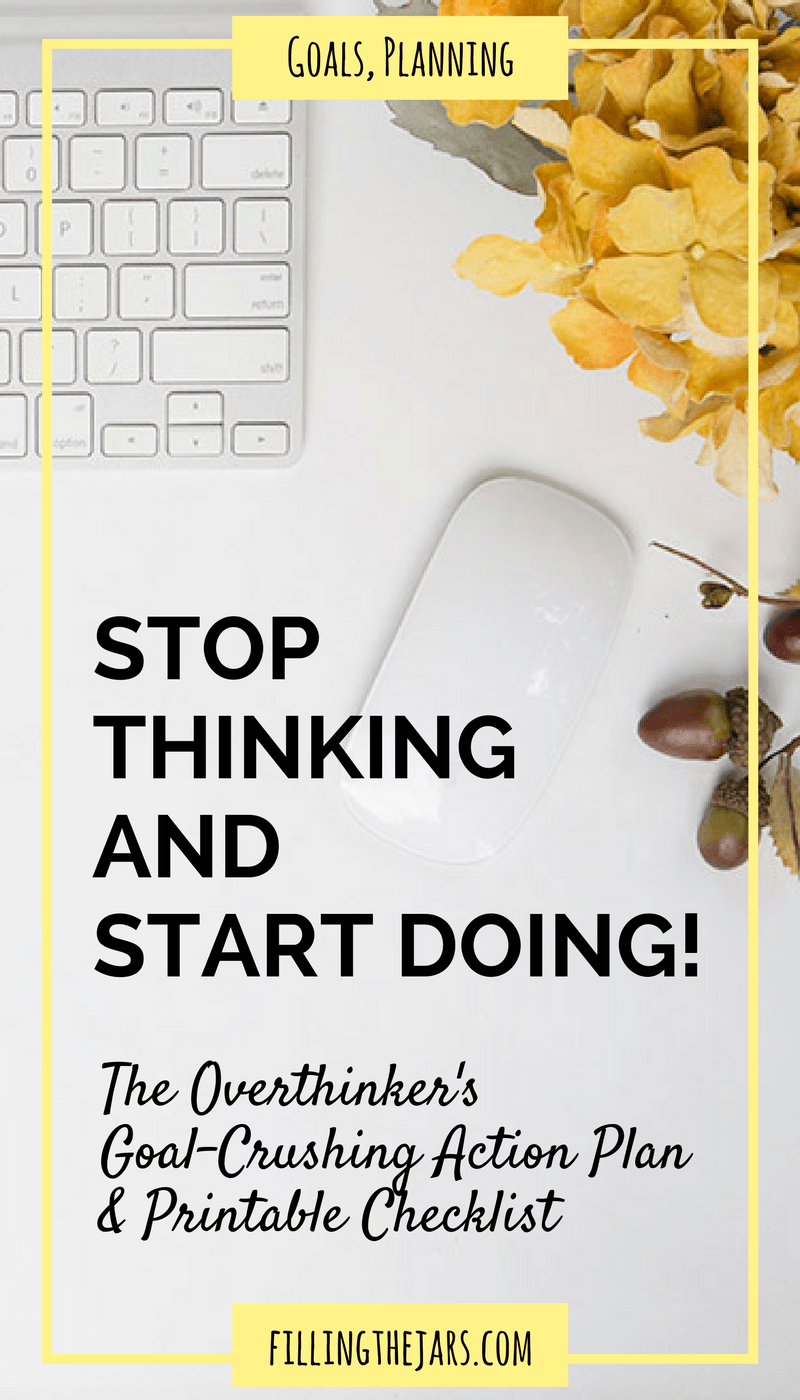 Get the FREE 5-Step Checklist to Reach Your Goals
You CAN reach your goals! Grab your FREE printable 'Stop Thinking & Start Doing' checklist and get started TODAY.
Choosing to join the Filling the Jars email list means you will receive regular emails with tips and recommendations to help you on your journey to Build Your Best Life.

Filling the Jars Privacy Policy