Are you ready for December? Things get a little crazy this time of the year, which is why I love having a December monthly dinner menu ready to go! If you've never tried to plan a monthly menu, this is a great time to start!
Since winter officially arrives during December, this monthly meal plan is full of winter dinners that make heavy use of the oven and stovetop. Simmering soups, plenty of pasta… and family-friendly dinners.
Print or save the list, check out some of the recipe links, and let me know how it all works for you!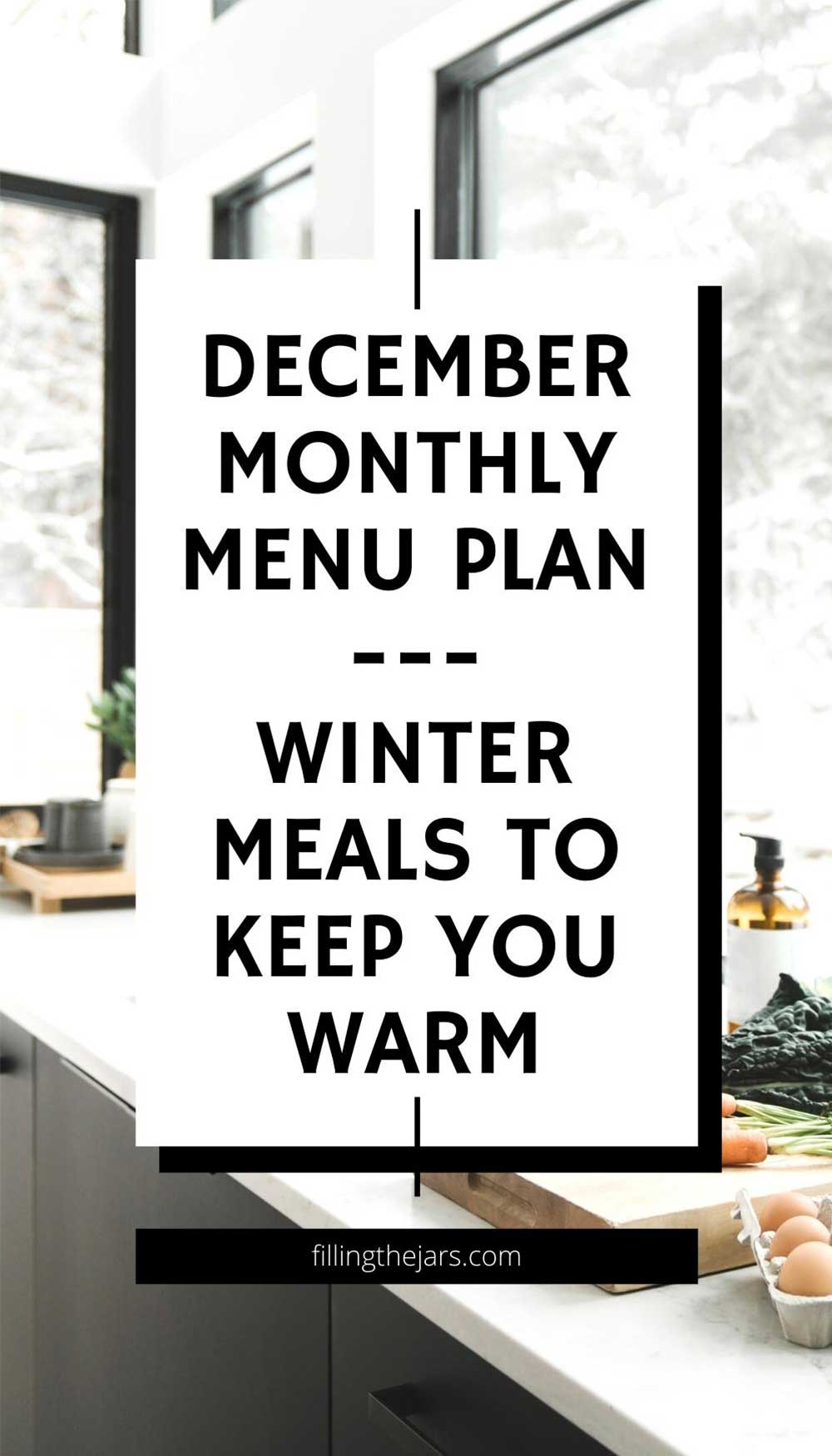 This post may contain affiliate links. If you choose to purchase through an affiliate link, I may receive a small commission at no additional cost to you. You can see my full disclaimer here.
December Meals Monthly Menu Plan
This list of 26 dinners is probably more than we will actually need for the month of December.
Sometimes we'll eat a favorite dinner more than once. Plus, over the years I've learned to leave several open nights for leftovers and restaurant dinners.
Follow my Pinterest board for main dish recipes for more dinner inspiration.
1. Cheeseburgers
2. Steaks
3. Homemade Pizza
6. Bean Soup w/ Ham Bone
7. Macaroni Cheeseburger Casserole
8. One-pan Roasted Smoked Sausage, Chicken & Potatoes
9. Tostadas
10. Nachos
11. Roast Turkey Dinner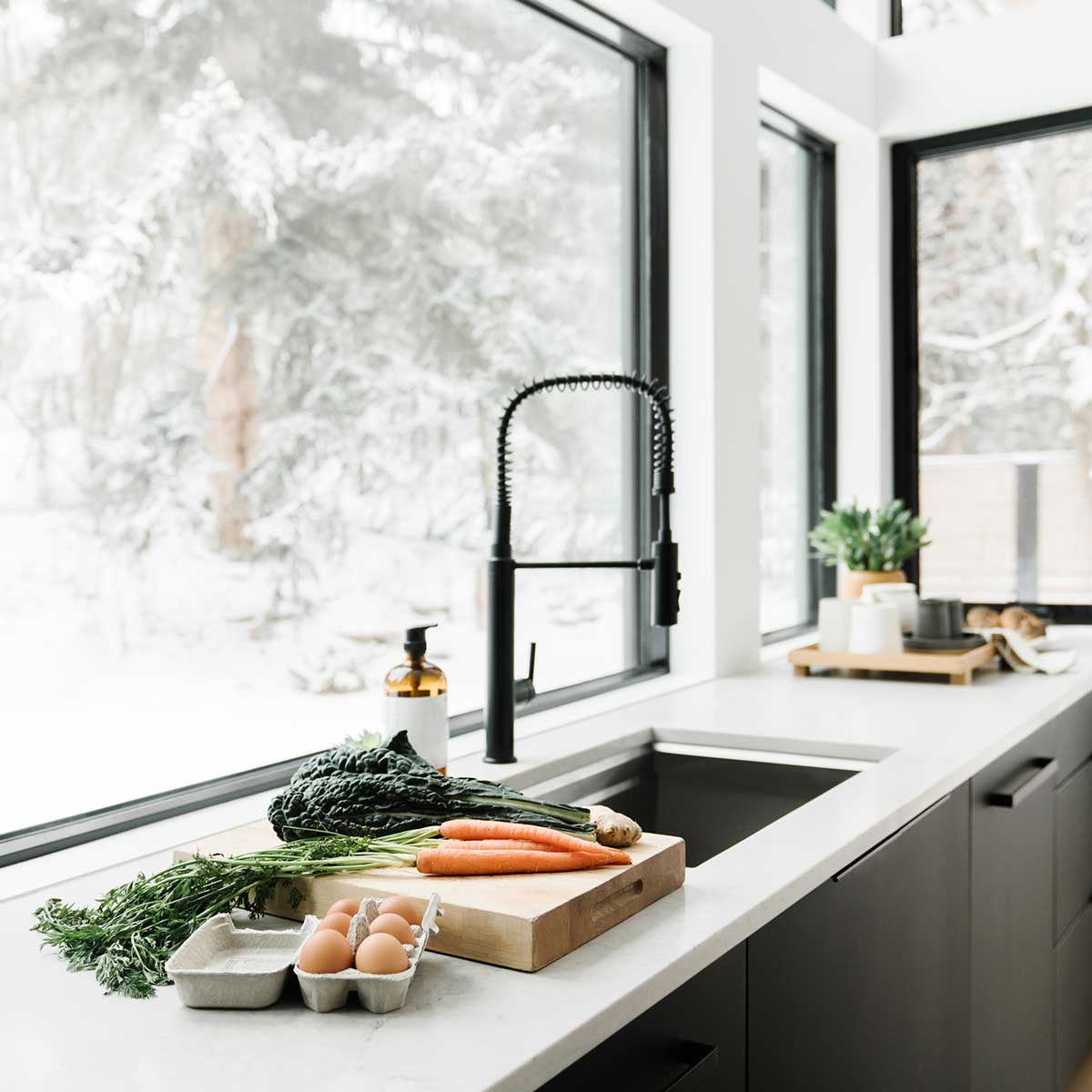 12. Grilled Cheese Sandwiches & Tomato Soup
13. Spaghetti
14. Pastor Ryan's Pasta Carbonara
16. One-Dish Chicken & Stuffing Bake
17. Easy Chicken Parmesan Bake
18. Beef Enchiladas and these crockpot "refried" beans
19. *crockpot meal* Slow Cooked Balsamic Beef Roast
20. 30 Minute One Pan Beef Penne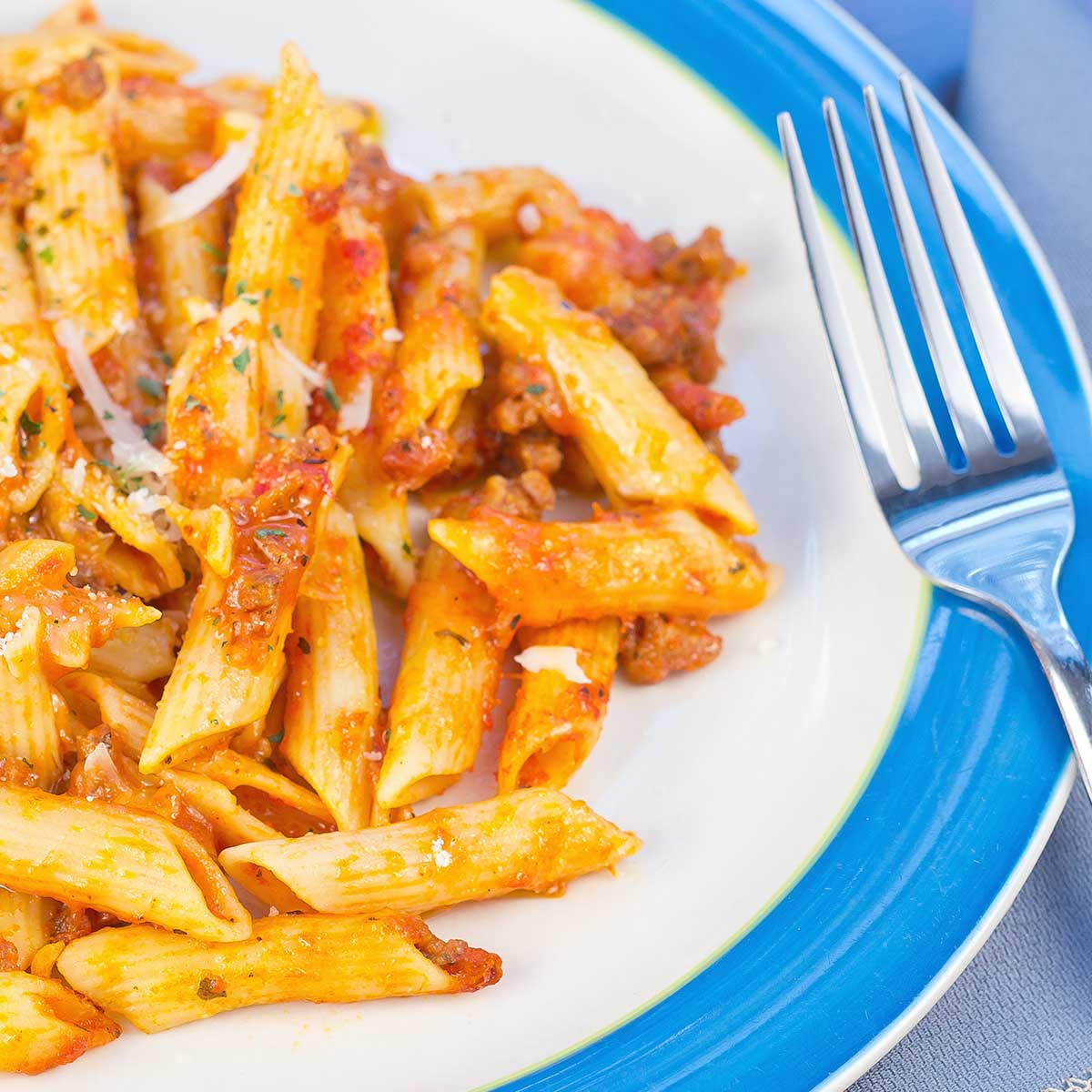 21. Locke Family Chicken Fried Steak
22. Best and Easiest Mongolian Beef
23. Hamburger Sliders in the Oven
24. Oven Cooked Barbecue Brisket
25. Burger in a Bowl (I can imagine this as a salad)
>> Click here to get your FREE printable monthly meal ideas list.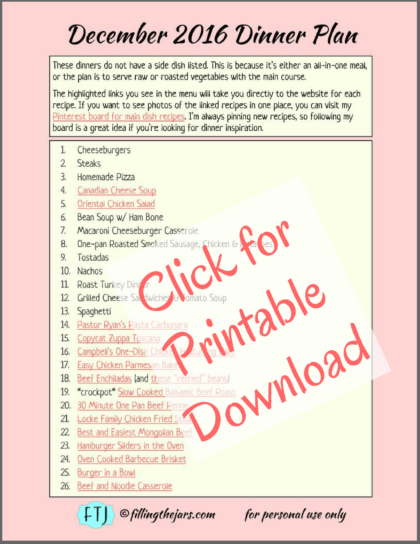 Favorite Kitchen Tools For Winter Cooking
For one-pot stovetop meals and simmering soups, we love this 8-quart stainless steel stockpot. And I make SO MANY oven meals in this giant rectangular covered roaster.
These aluminum half sheet pans are my favorite for roasting vegetables in the oven.
Try these 13×18 plastic sheet pan lids to hold meat as it thaws in the fridge. They keep any drips contained and provide a layer of separation between the meat packaging and fridge shelves and surrounding foods. Plus, they fit over sheet pans for storing cooked food, baked goods, etc. I also have this quarter-size sheet pan and lid combo for when I need a smaller size.
I use these silicone and stainless steel tongs every single day. They're different than most other tongs because they open/close with a touch of the button on the side. That means you can operate them completely one-handed.
A good, large silicone spoon spatula makes all the difference when cooking and baking. I have one similar to this spoon scraper and use it every day. Actually, I have two large and two small ones… This is one of those tools where multiples just make sense.
Frequently Asked Questions About Monthly Meal Planning
Why meal plan for an entire month?
Honestly, once a month meal planning actually relieves a lot of stress. After you get the hang of the process, it's pretty simple… and completely eliminates the 'what's for dinner' dilemma that most of us face every day.
I sit down ONCE, plan for the month, and make it EASY. For details on how I do that, read my post How to Plan a Monthly Menu That Works For YOU.
Pretty much everything I do is about making life easier. Creating a monthly meal plan really does fit that philosophy.
What tools do I use for monthly meal planning?
I keep these monthly dinner ideas as a base. I often browse Pinterest for ideas and add new recipes to try.
Then, when it's time to plan, I grab my Essential Meal Planning Printables to keep myself organized and make the process EASY.
Why is this post only a list of main dishes?
This is because it's either an all-in-one dish, or my plan is to serve raw or roasted vegetables with the main course. On shopping day, we usually just buy whatever produce looks good and then work it into the menu.
Many nights, we roast vegetables. That might mean fresh vegetables or a couple of bags of frozen green beans tossed with oil, chopped onion, salt & pepper. Whether fresh or frozen, roast the vegetables on a sheet pan for about 20-30 minutes at 450F.
What do we eat besides dinner?
Breakfast – This really isn't our thing. When my boys were young, I used to try pretty hard to get them to eat a 'good breakfast' in the morning. Eventually, I had to admit defeat.
I keep 'real' oatmeal and fruit on hand for the times I get into the breakfast mood. About once or twice a month my husband will make eggs and bacon on the weekend. A few days a week, my son might eat a banana for breakfast.
Lunch – We nearly always eat leftovers, which is why my dinner menu is so important. If there's nothing in the fridge, my husband will make lunchmeat sandwiches or take crackers and cheese for work.
Sometimes I'll make a salad or a wrap, but I especially love leftover soup for lunch. So delicious!
Snacks – Fruit, crackers, nuts, tortilla chips.
I usually don't make desserts. However, because it's December and the whole family will be together, I'll be making more treats. It is the season of excess before we all promise to get healthy again in January. 😉
More Inspiration for Meal Planning and Preparation
How to Grocery Shop for a Month
January Menu Plan – Tips for Affordable Dinners
Quick Food Prep Routine for a Week of Easier Meals
I hope this December monthly dinner menu motivates you to create your own plan for good winter meals for the month.
Start with old favorites. Try some new recipes. Enjoy a month of less stress when you're not constantly thinking about what to make for dinner.
You've got this!
---
Did you enjoy this post? Know someone else who might like it? Please take a moment to share on Pinterest, Facebook, or your favorite social media… (Click the sharing buttons at the bottom of the post.) Thank you!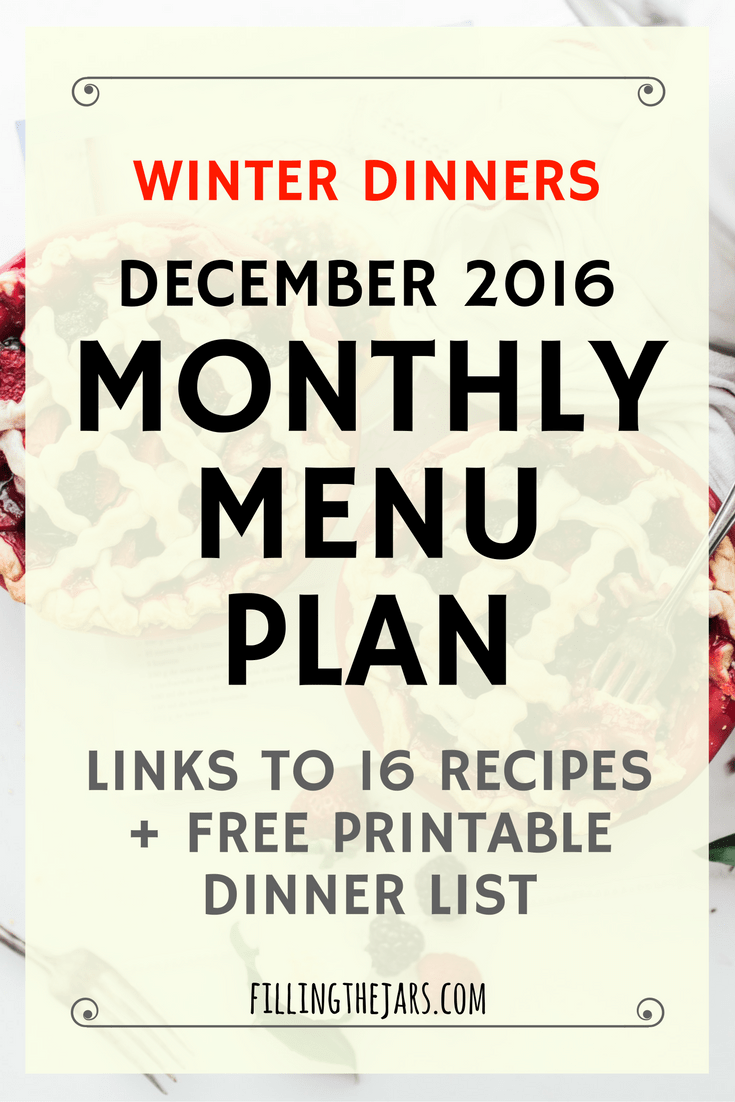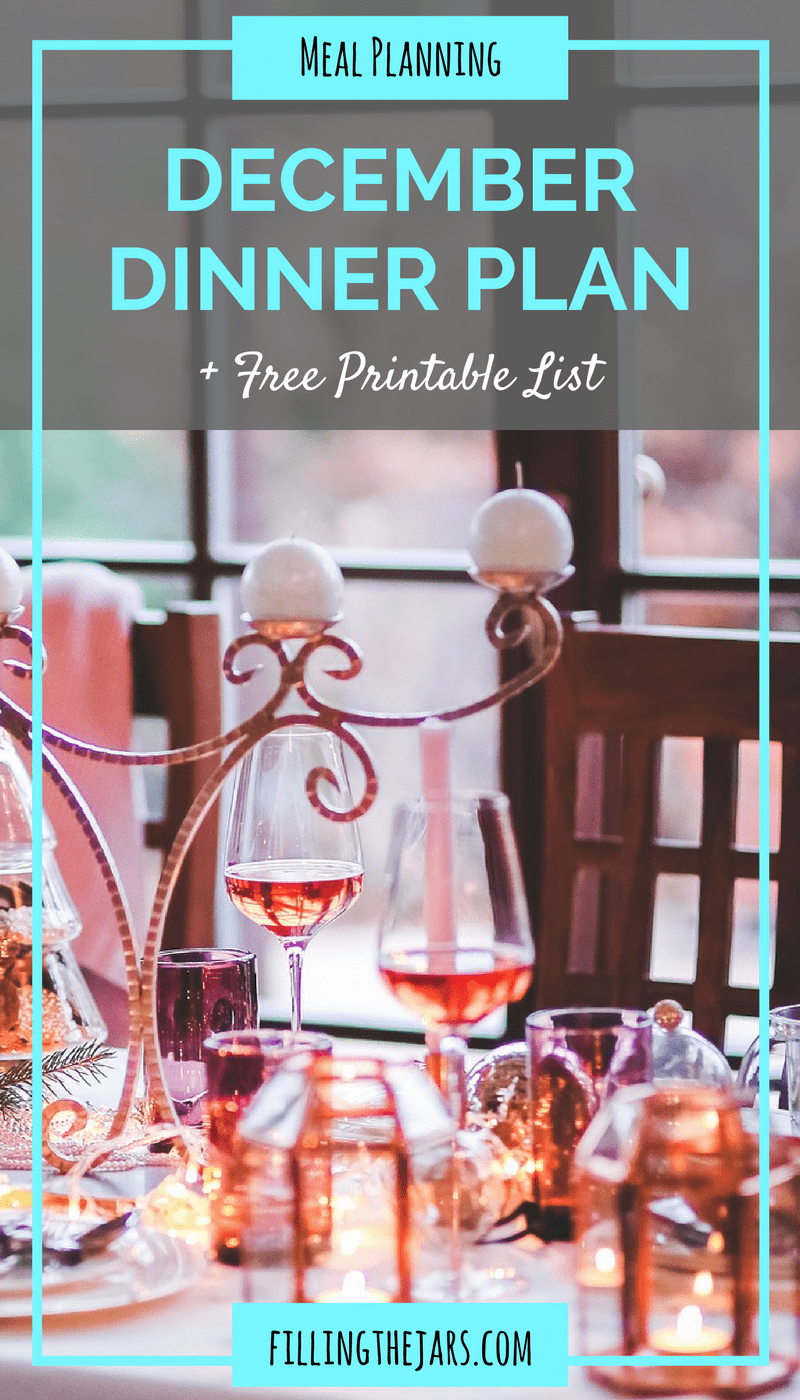 This post was updated July 13, 2022.