Does it seem like you're always at the grocery store? Do you find yourself ordering out because it's 5:00 and you can't think of anything to make for dinner? Would you like to save time, frustration, and money? Simple monthly meal planning could be exactly what you need.
Creating and using a monthly menu plan really is NOT hard to accomplish — even if you're not usually the 'planning' type or the whole idea seems overwhelming to your overthinking brain.
I hear so many people say, 'I could never come up with a month's worth of meals.' Trust me, you can! If you change your mindset a little bit and take it step by step, you'll probably find yourself loving monthly menu planning.
Eventually, you may even want to learn how to do monthly grocery shopping. But, first things first… let's talk about how to plan meals for a month — and how to make it work for YOUR family.
This post may contain affiliate links. If you choose to purchase through an affiliate link, I may receive a small commission at no additional cost to you. You can see my full disclaimer here.
The Simplicity of Monthly Meal Planning
If you find yourself overwhelmed by the thought of meal planning, you're not alone. I'll start off with my number one trick to avoid the overwhelm: Shift your brain just a bit and think of your monthly menu plan as a simple, ultra-helpful list of meals you COULD make.
Let's do a quick overview of planning meals for a month and why it works. Afterward, we'll go deeper into each step and discuss the specifics so you can do this with confidence.
Breaking Down the Process
Monthly meal planning does take a little bit of time. After all, you're figuring out meal plan ideas for about 30 days, instead of only a week or a day at a time.
I like to start with a big list of meal ideas — click here to have my free dinner idea list sent to your email inbox.
It's also important to be at least a little bit organized. Grab my Essential Meal Planning Printables to make the process smoother.
As you get used to the monthly planning process, it will get faster and feel easier.
Once you make your menu plan, you just need to make sure you have all of the ingredients on hand. At this point, you can probably create a shopping list for the entire month.
If you have basic ingredients and a good reserve of recipes, you can totally have a home-cooked almost every night AND stay out of the grocery stores.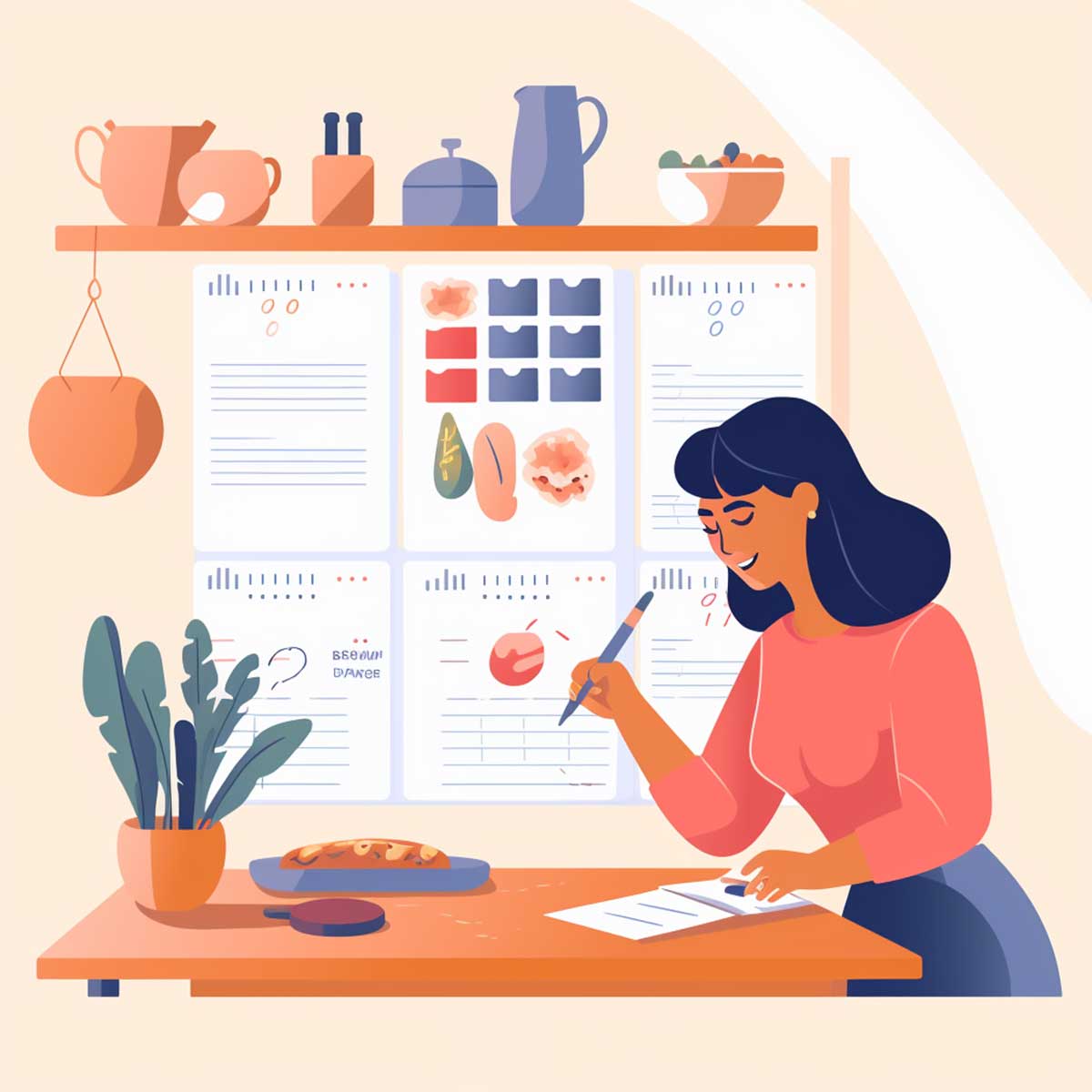 Why Meal Planning Works
Monthly meal planning can make your life simpler in several ways.
First, it saves time and brain energy. By planning your meals for the entire month, you don't have to spend time every. single. day. deciding what to eat — and then searching for recipes and ingredients.
A good, simple plan reduces decision fatigue and overthinking. This is actually my favorite reason to make a monthly meal plan!
Second, it can definitely save you money. After planning your meals, you can create a complete shopping list. This means you can first use your pantry supplies, and then buy in bulk and take advantage of sales and discounts.
You also avoid impulse buying — which happens nearly every time we visit the grocery store and can be a major drain on your wallet.
Third, monthly menu planning can help you eat healthier. When you plan your meals in advance, you can ensure that you are getting a balanced diet. You can also avoid unhealthy takeout and fast food options by being prepared.
Now, let's get down to the nitty-gritty of exactly how to plan a month of meals…
How to Start Your Simple Monthly Meal Planning
Creating a monthly meal plan is easier than you think! With a little bit of effort and some simple strategies, you can build a meal plan that works for you and your family.
I've used this process for years, and I'm sure it will work for you as well as allow you to make any tweaks to personalize it for your own needs.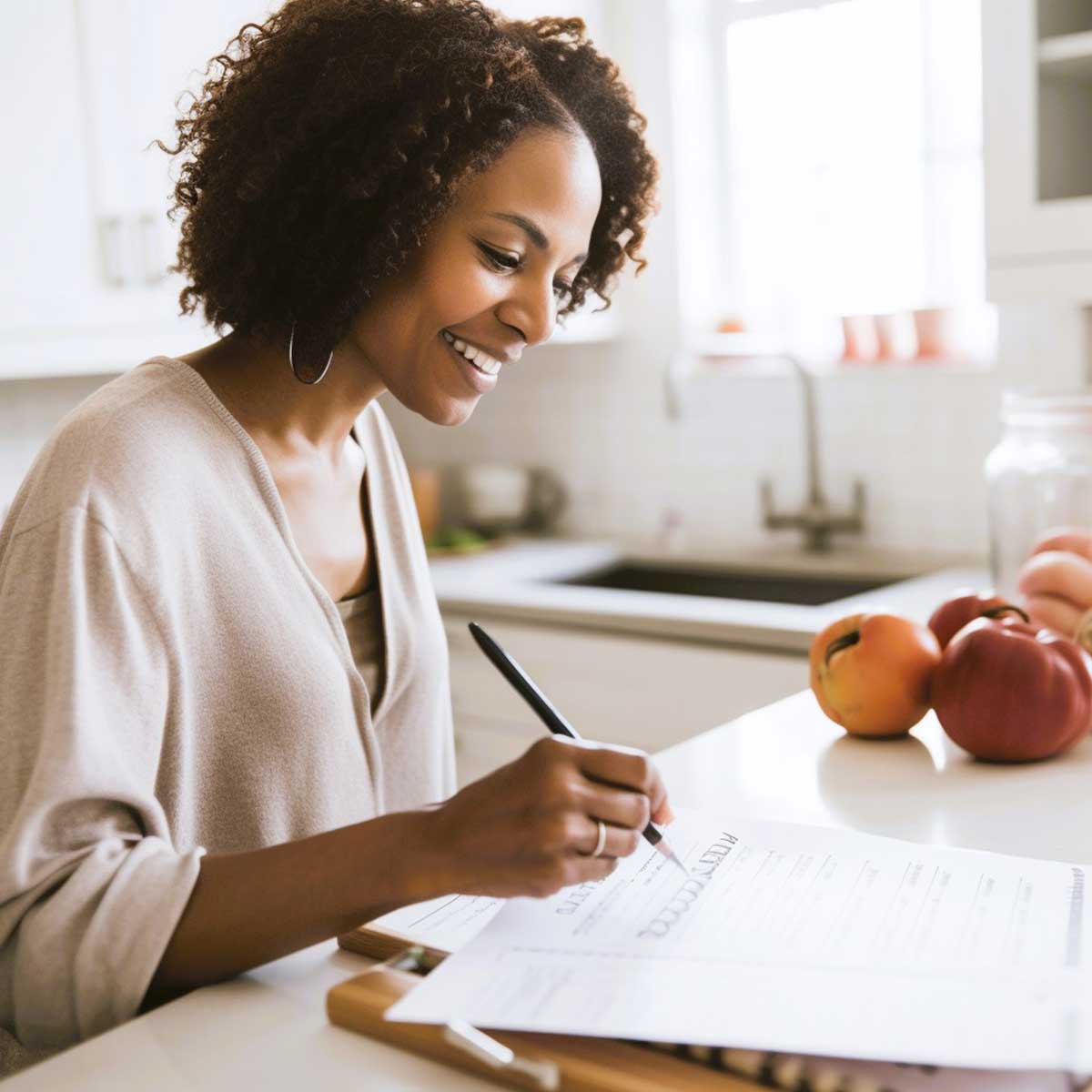 Planning the Dinner Menu
Print out the planning sheets you want to use from the Essential Meal Planning Printables collection.
Do a freezer and pantry inventory. Get rid of any old food while you're at it. You want to use what you have on hand first and think of your shopping trip as restocking.
If you'll be shopping within the next few days, have your favorite store ad handy. This way you won't plan a bunch of meals using ground beef that ends up costing $10/pound when you get to the store. Instead, plan meals around what basic items your family will eat that you can get for the best price.
Get a blank sheet of paper or create a list doc on your computer and number it from 1-30.
Write down the meals you like to make. This is especially important if you're doing the cooking.
Next, write down what meals your family likes. The goal is to have a fairly complete list of everyone's favorite, simple meals and recipes that you're all happy to eat at any time during the month.
Remember, it's okay to make the same dinner more than once during the month. Some months we have nachos or tacos every week. There's nothing wrong with duplicating the same weekly plan to fill the entire month.
Get out your activity calendar for the month.
It's not necessary to plan meals for certain days, leave yourself some wiggle room. But it's a good idea to count how many 'easy' or 'crockpot' or 'Instant Pot' meals you will need for the month. For example, if I am looking at planning for April, I might know that I'll need 8 crockpot or super-fast meals because I don't get home until at least 6:15 p.m. twice a week.
If you have any open spaces left on your list, fill in the remaining meals. Check your recipe files and cookbooks. Search Pinterest or your favorite cooking sites. Print out or save links to any new recipes you will need for the month. At the same time, you probably don't need to plan a 'real' meal for every night of the month. It's likely there will be times you go out to eat or have a collection of leftovers that need to be eaten — call it 'buffet night.'
Be realistic. If you don't usually cook complicated dinners, don't put them on your menu. I like to try a few new recipes most months, but the majority of my menu is usually old favorites.
Figure out your side dishes. Sometimes this is more difficult than planning the main dish. I have some standard go-to sides that are always a hit with the family, and I'm sure you do also. You could make a separate list of side dishes for when you run out of ideas. Don't forget to account for seasonal produce availability.
Planning Breakfasts, Lunches, And Snacks
Write down what your family eats for breakfasts, lunches, and snacks. Make a separate menu if you need to, but don't make it more complicated than it needs to be. You know what you buy for a week. Simply multiply that by four to have enough for a month.
I'm a fan of keeping most meals and snacks very simple, even repetitive at times. It just makes life easier, and I still get the nutrition my body needs.
Making It Work for You
Meal planning for a month can seem overwhelming, but with a few adjustments, it can become a manageable and even enjoyable part of your routine.
As I mentioned earlier in the post, the simplest way to do this is just to make a list of meals and have your recipes and ingredients on hand. At the beginning of each week, plug meals and side dishes into the appropriate days on your calendar.
Remember to use your more perishable produce at the beginning of the month. I usually have good luck keeping romaine lettuce and kale good for at least a couple of weeks if I prep it, dry it, and store it in a bag with paper towels. Other produce like carrots, cabbage, and hard-shell squash can easily last 3-4 weeks. Keep some frozen vegetables on hand for later in the month.
I mean, you CAN get really specific and plan out which day you'll have each meal weeks in advance. However, I've found it works better to leave some flexibility in meal planning for the month.
Should You Meal Plan On Paper or Use a Meal-Planning App?
That is completely up to you! I would recommend keeping it simple at first. Start out with a plain ol' piece of paper or some printables.
Then, you could move on to a simple list in your calendar app where you can move the meals around on the dates. However, this can get a little complicated if you're in a family and it's important for everyone to be aware of the meal plan.
That's why I prefer paper and make it part of my refrigerator door command center.
Eventually, you may want to use a paid meal-planning digital app that's specific to your style of planning and dietary needs. But for now, keep it low-stress and ease into the monthly planning process with basic tools.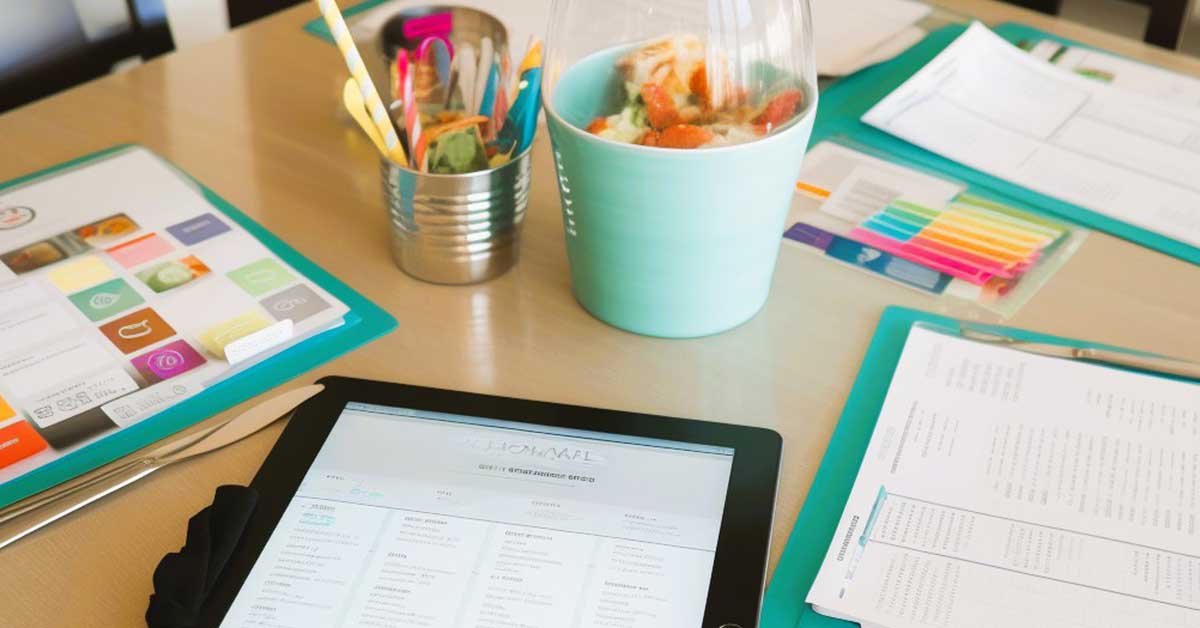 Adapting to Your Schedule
One of the challenges to meal planning is the tendency to overcomplicate things. Try these strategies:
Choose a consistent day of the month and time to plan: Set aside a specific time each month to plan your meal list. Then, do a 'finalization' plan every week. Whatever works best for you, keep it consistent so that it becomes a habit.
Keep it simple: Choose meals that are easy to prepare and don't require a lot of time in the kitchen. Consider using a slow cooker or Instant Pot to save time.
Be flexible: These meals are not set in stone just because you wrote it on a piece of paper. If you find yourself with a few days of leftovers in the fridge, then it's Easy Meal Night a.k.a. Leftover Night.
Prep in advance: Spend some time on the weekend prepping ingredients or even cooking entire meals. This will save you time during the week and make mealtime less stressful. I've got a quick food prep routine that takes about 45 minutes and makes meals during the week so much easier.
Planning for Leftovers
Leftovers are a meal planner's best friend. Not only can they save you time and money, but they also prevent food waste *when you actually use them.*
When planning your meals, you may intentionally try to make extra so that you have leftovers for lunch or dinner the next day. This can simplify your monthly menu plan even more.
To make the most of your leftovers, store them in food-safe containers (like these Anchor Hocking glass containers) and label them with the date (I love these dissolvable labels). You can also freeze leftovers for later use.
Handling Unexpected Changes
Even with the best meal plan, unexpected changes can happen. Maybe you have a last-minute meeting or your child gets sick. In these situations, it's important to have a backup plan.
Stock your pantry and freezer with quick and easy meal options like frozen vegetables and individually-frozen proteins (for quick thawing or using in easy Instant Pot recipes). You can also prep some meals ahead of time and freeze them for later.
And don't be afraid to make adjustments to your meal plan as needed. Flexibility is key to making meal planning work for you. Collect your list of meals, your recipes, your ingredients, and you'll be prepared even when plans change here and there.
More Resources for Meal Planning
Meals For November – A Hearty Menu of Cozy, Beefy Dinners
Essential Meal Planning Printables Collection
Simple And Delicious Dinner Ideas For The Month Of May
August Menu Plan – Cool Summer Meals And Grill Menu
Takeaways and Final Thoughts…
I've found menu planning for a month at a time to be a wonderful thing! Paired with strategic monthly grocery shopping, I always have food on hand and usually some ideas for what to do with it.
Here are a few key takeaways to keep in mind:
Keep it simple: Stick to meals that are easy to prepare and don't require a lot of ingredients. Don't be afraid to repeat meals throughout the month.
Get organized: Use meal planning printables to keep track of your meals and grocery list. This will save you time and reduce stress.
Be flexible: Don't stress if your plans change or you don't stick to your meal plan perfectly. Life happens, and it's important to be adaptable.
With a master list of meals and a more detailed list for a few days at a time, cooking meals can be something that's sort of done on autopilot, rather than a stressful mind-sucking chore every day.
Plus, spending less time at the grocery store every week means (probably) spending much less money each month!
With a little bit of effort and some trial and error, you can create a meal plan that works for you and your family. I hope this helps reduce some of the overthinking and overwhelm in your daily life.
Happy planning!
---
Did you enjoy this post? Know someone else who might like it? Please take a moment to share on Pinterest, Facebook, or your favorite social media… (Click the sharing buttons at the bottom of the post.) Thank you!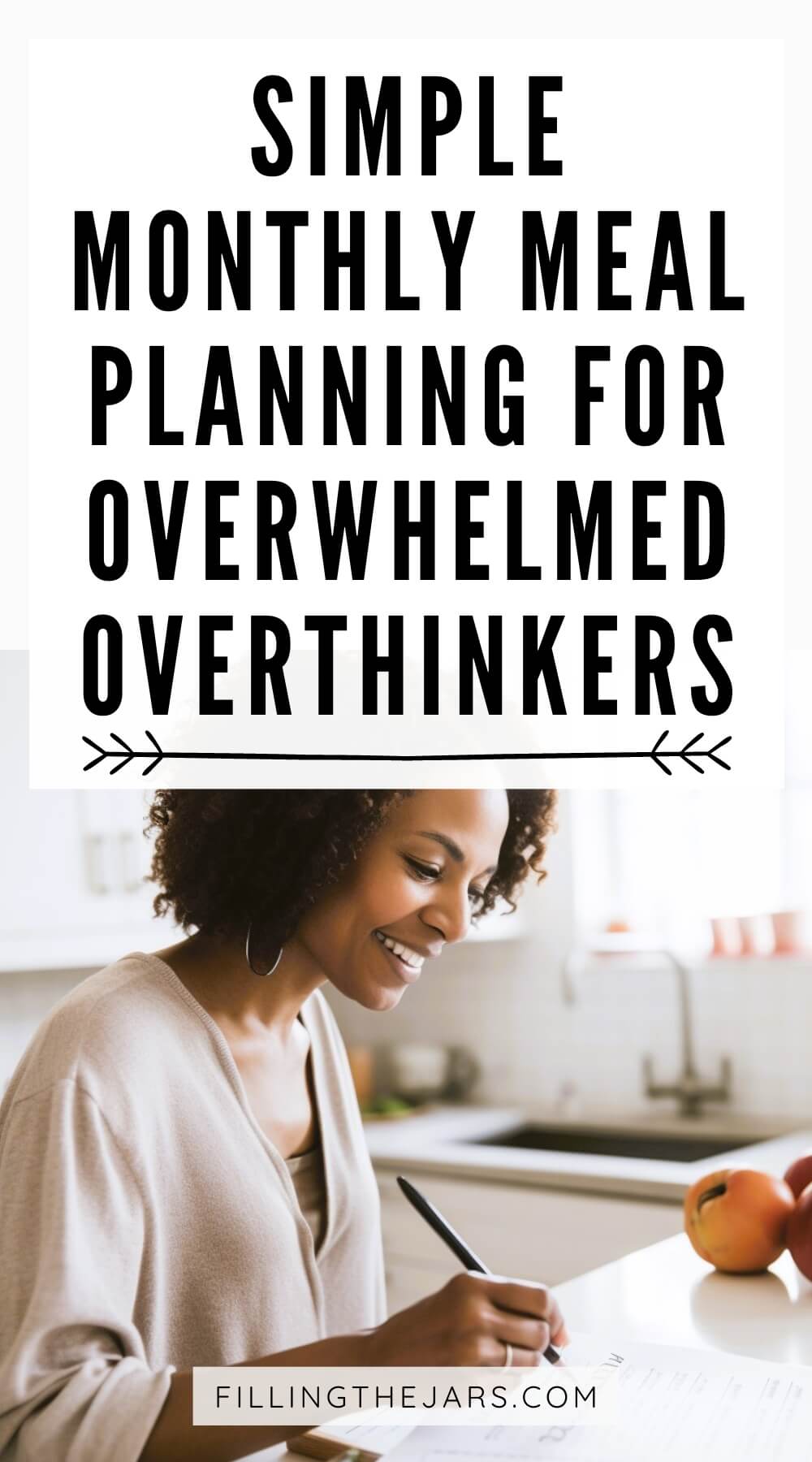 This post was originally published on May 20, 2016. Updated October 27, 2023.