When the hot weather hits, you need ideas for cool summer meals. This August menu plan is packed with grill-friendly dinner ideas and simple August recipes to keep you as cool as a cucumber.
Planning a monthly menu doesn't have to be difficult. This post will give you plenty of summer meal ideas for building your own monthly meal plan.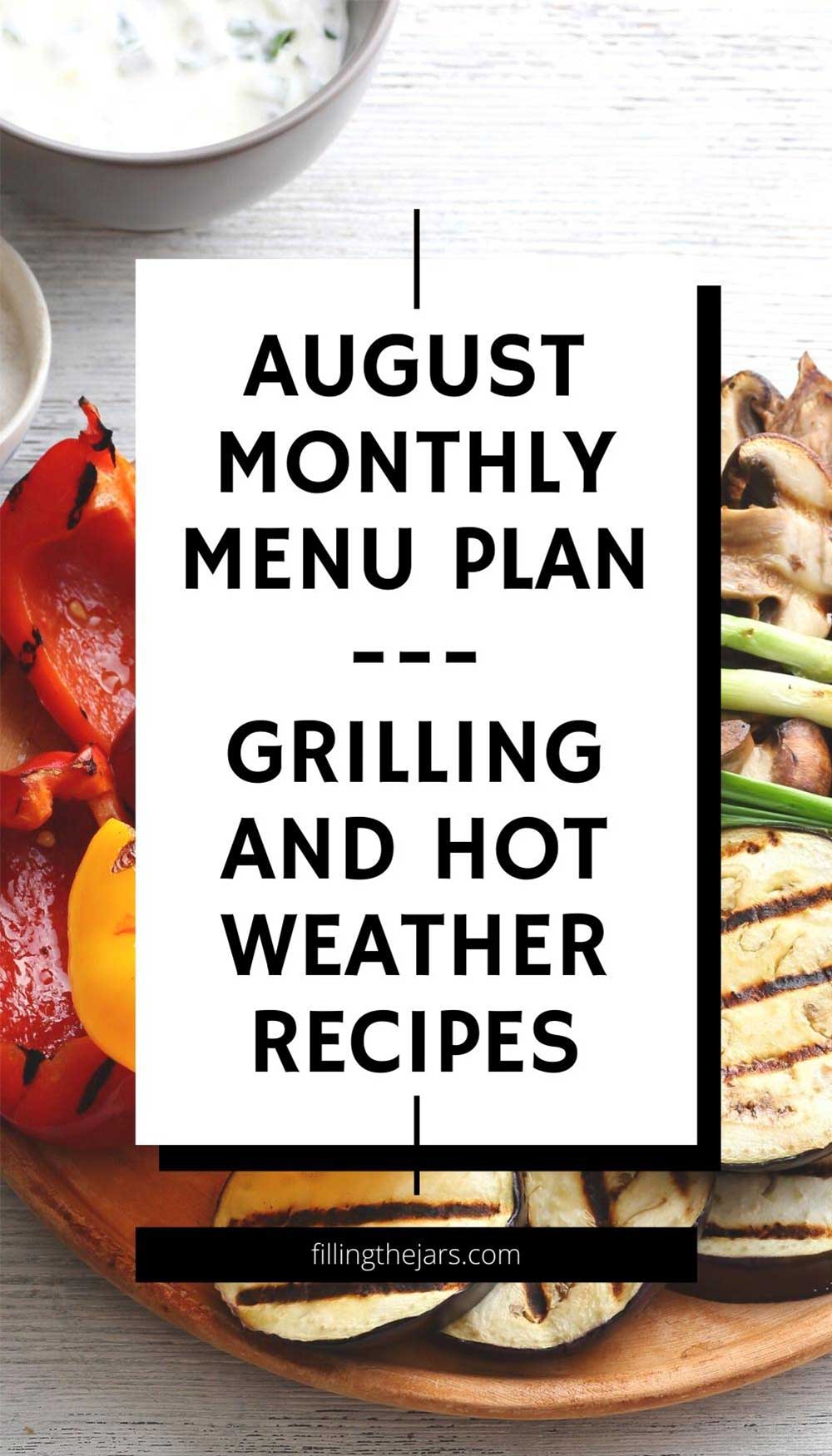 This post may contain affiliate links. If you choose to purchase through an affiliate link, I may receive a small commission at no additional cost to you. You can see my full disclaimer here.
Why Make a Monthly Menu Plan for August?
I don't know about where you live, but here in Michigan the summer has been HOT. Most mornings, my husband & I just ask each other, 'What do we want to grill tonight?'
We usually decide on plain grilled chicken, sometimes hamburgers — most often served with raw vegetables. Once in a while I'll turn on the a/c in the house and cook something with pasta or potatoes.
I'm going to be totally honest here and admit that I was not going to make a monthly dinner menu for August.
If you check out my June menu plan, it pretty much covers what we eat during the summer. That menu also served us well during July, so I figured we would go with it for another month.
Then I started to think maybe we could try something a little different with the chicken that we usually just lightly season and grill. So I turned to Pinterest and started searching for summery-type chicken meals.
I discovered some delicious-looking recipes that would make perfect light meals for summer, and I decided a new monthly meal plan for August was definitely a good idea. Let me tell you, my printer got a workout this month!
August Monthly Meal Plan
You'll notice I don't plan a dinner for every single night. I've learned to leave nights open for leftovers and restaurant dinners.
Most dinners do not have a side dish listed. This is because it's either an all-in-one meal, or my plan is to serve raw or grilled vegetables with the main course. August is usually our month to grill loads of zucchini and corn on the cob.
Keep your cool this summer. Check out this August monthly menu plan! #recipes #mealplan
Click To Tweet
The highlighted links you see in the menu will take you directly to the website for each recipe. I'm always pinning new recipes, so following my Pinterest board for main dish recipes is a great idea if you're looking for dinner inspiration.
1. Grilled BBQ chicken leg quarters
2. Grilled cheeseburgers
3. Grilled chicken burgers
4. Grilled Foil Packet Loaded Cheese Fries
5. Grilled BBQ B/S chicken thighs
6. Grilled Arnold Palmer Chicken
7. Grilled Fajita Chicken Kabobs
8. BBQ Ranch Grilled Chicken and Veggie Bowls
9. Grilled kabobs — We usually use Italian sausage, mushrooms, onion, peppers, and interweave with bacon.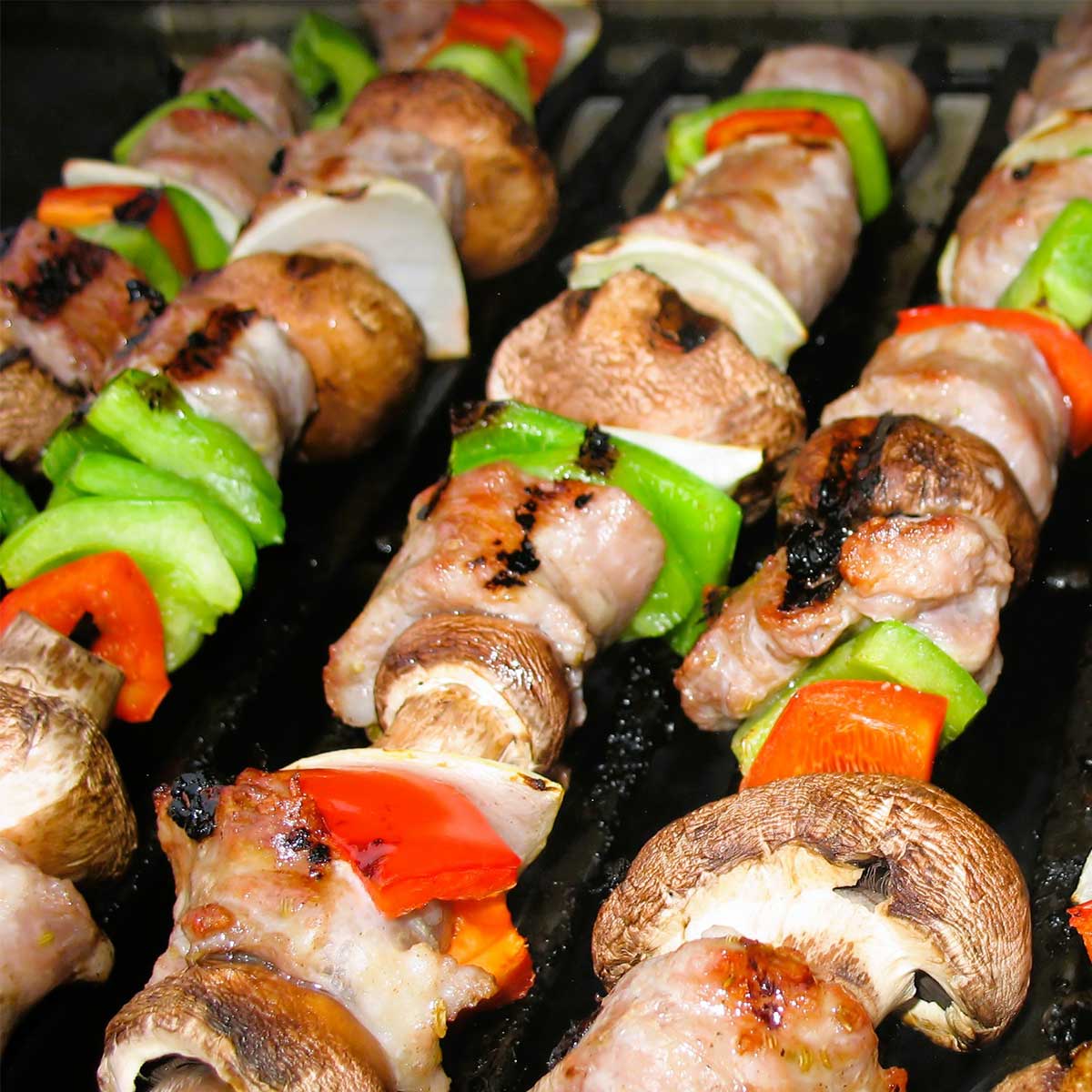 10. Grilled Bacon Wrapped Jalapeno Popper Stuffed Chicken
11. Grilled Easy Tin Foil Sausage and Veggies Dinner
12. Sausage, Potato, and Green Bean Foil Packets
13. All-Purpose Buffalo Chicken
16. Outdoor fish fry, homemade onion rings, sweet potato fries
19. Tostadas — Make these "refried" beans in the crockpot to use on them.
20. Nachos
21. Smothered boneless skinless chicken breasts
22. Fried cabbage w/sausage or ground beef
23. Easy Chicken Parmesan Bake — My new favorite easy dinner!
24. *crockpot meal* Red Beans & Rice
25. Deviled Chicken Thighs and glazed carrots
26. One Pot Spaghetti with Sausage Sauce
27. White Chicken Enchilada Pasta
Monthly Meal Plan Frequently Asked Questions
What is our monthly grocery budget?
When I first wrote this post in 2016, my monthly grocery spending would naturally land around $400, some months a little more or less. This amount fed 3 adult-size people very well.
Updating to account for 2022 prices and the fact that my husband now does quite a bit of the grocery shopping, we spend about twice that amount.
Doing one big monthly grocery shop at 1-2 major stores (like Aldi) and only popping into the local store once or twice for milk and fruit can save at least $75/month compared to shopping weekly.
During the summer when I originally wrote this post, my older son was home with us for a few months. We love that boy, but after he went back to college, my husband was happy to have leftovers again for his lunches. 😉
What do we eat besides dinner?
Breakfast – Honestly, we're not really breakfast people.
I'm a homemade iced coffee drinker during the summer — more often I just let coffee get cold and make it the lazy way rather than the Pioneer Woman's Perfect Iced Coffee way. (As long as it's sweet and creamy caffeine, it's all the same to me.)
Sometimes my husband makes eggs and bacon on the weekend, maybe once or twice a month. And sometimes I make a pot of steel-cut oats or rolled oats that provide breakfast for several days.
Lunch – Leftovers, pb&j, lunchmeat sandwiches, crackers & cheese, wraps. Sometimes I'll get all healthy-ish and make a salad.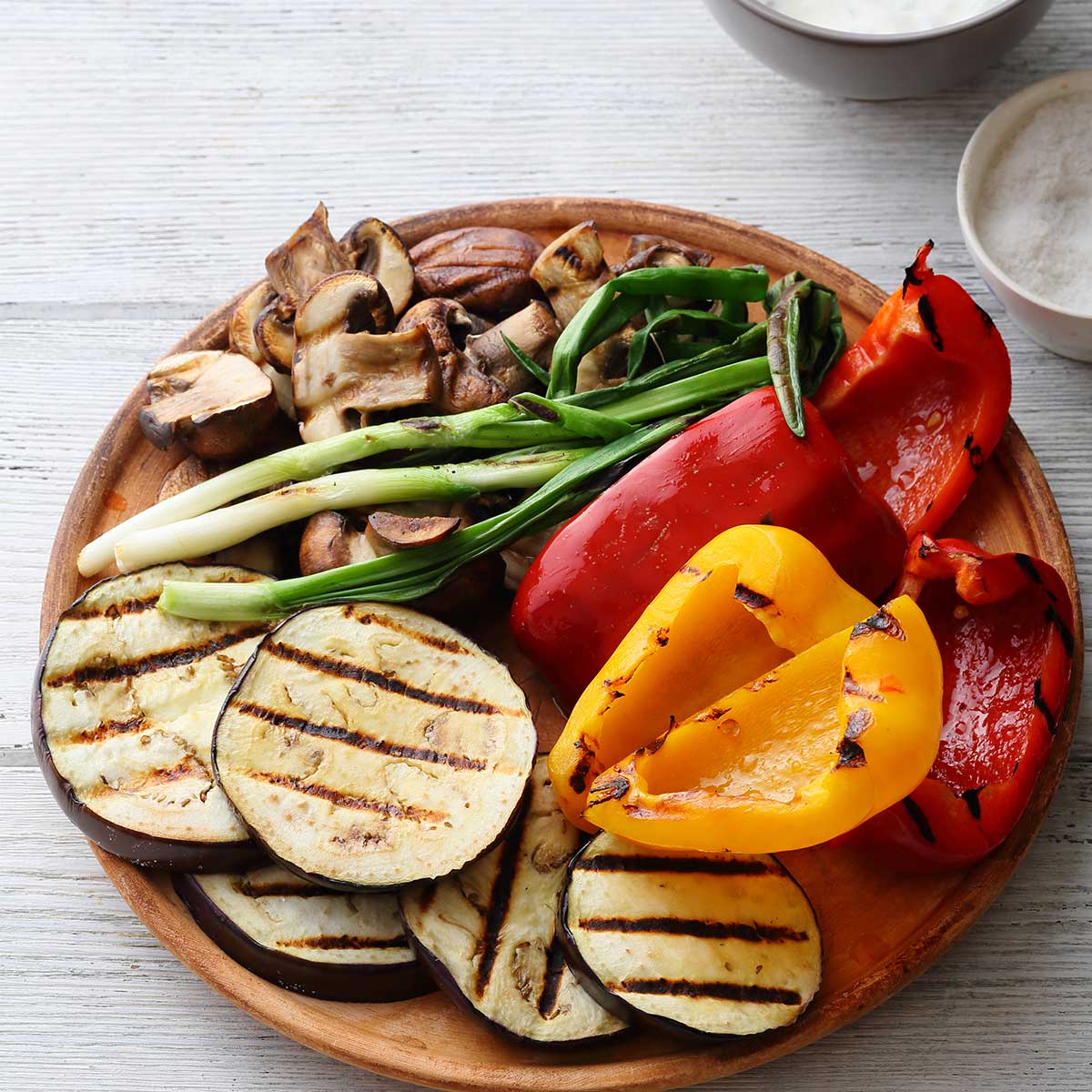 Snacks – Fruit, crackers, nuts, tortilla chips.
I usually don't make desserts. If we're craving something during the summer, we might go on a little ice cream buying binge. Or I'll make some chocolate pudding to use up milk. Anything to keep cool!
What do I use for planning meals?
I keep these monthly dinner ideas as a base. Then, when it's time to plan, I grab my Essential Meal Planning Printables to keep myself organized and make the process EASY.
Favorite Kitchen Items for Easy Summer Meals on the Grill
OXO Good Grips Grilling Tongs and Turner Set — My husband loves these for grilling. He says the tongs grip better than some other brands we have tried. I love that I can throw them in the dishwasher.
Used upside-down, these 13×18 plastic sheet pan lids are perfect for holding meat to thaw in the fridge and to hold seasoned meat for transporting to the grill for cooking. Place one of these aluminum half sheet pans underneath to provide stability — and you'll have a clean tray for bringing in the food after it's grilled.
Try these silicone basting brushes for spreading sauces while grilling. They're a little shorter than some of the fancy mop-style brushes, but my husband likes using them and I like knowing I can get them *really* clean in the dishwasher.
We keep things pretty simple when it comes to kabob skewers. These 17″ stainless kabob skewers are similar to the ones we use, but might be just a little nicer IF they're actually dishwasher-safe. We have to wash ours by hand, and it's not my favorite thing to do.
More Meal Planning and Meal Prep Inspiration
Quick Food Prep Routine for a Week of Easier Meals
September Dinner Ideas – Back to School Easy Meals List
What's your favorite summer meal? Leave a comment below!
---
Did you enjoy this post? Know someone else who might like it? Please take a moment to share on Pinterest, Facebook, or your favorite social media… (Click the sharing buttons at the bottom of the post.) Thank you!
This post was updated July 12, 2022.
Grab Your FREE Printable Dinner Idea Collection
Sign up here to receive your printable Monthly Dinner Idea Collection -- a list of dinner ideas for the ENTIRE YEAR with many clickable recipe links.

Choosing to join the Filling the Jars email list means you will receive regular emails with tips and recommendations to help you on your journey to Build Your Best Life.

Filling the Jars Privacy Policy