September is a busy month for families with children going back to school. With a packed schedule, it can be difficult to keep up with planning dinners every night. That's why I've put together some September dinner ideas to help make monthly meal planning a little easier.
Never tried once a month meal planning before? It's really not difficult, and I have a post that teaches you exactly how to plan a monthly menu that works for YOU.
Whether you're looking for quick and easy dinner ideas, or something a little more elaborate for slower weekend nights, there's sure to be something on this list that will fit the bill. So don't let the September rush get the best of you; plan ahead and make September dining a breeze.
This post may contain affiliate links. If you choose to purchase through an affiliate link, I may receive a small commission at no additional cost to you. You can see my full disclaimer here.
Okay, I cannot believe September is already upon us! Did it sneak up on you too?
With my younger son heading back to school and me back to working at my part-time job, there is no way I can go into September without a firm menu in place for the month.
There are many nights where deciding what to make for dinner feels like the last thing on my to-do list. I simply don't have time to think about meal planning every day, so I need to have a master dinner list for the month and it needs to be EASY.
Know what I mean?
So that's what I have for you this month — a simple September menu plan. Most of these dinners require little prep (I usually do a quick food prep routine on the weekend).
I plan a lot of easy meals, dump & forget crockpot recipes, and plenty of grilled foods since this hot summer just keeps on going.
September Dinner Ideas Monthly Meal Plan
As you will see, I have marked some of these dinners to be made more than once. I've also left open nights for leftovers and restaurant dinners.
Most dinners do not have a side dish listed. This is because it's either an all-in-one dish, or my plan is to serve raw or grilled vegetables with the main course.
1. Grilled BBQ chicken leg quarters (2 times) — This set of grilling tongs and turner is my husband's current favorite. He says the tongs have a better grip than some of the more expensive brands we've tried in the past.
2. Grilled cheeseburgers (2 times)
3. Grilled BBQ B/S chicken thighs
4. Grilled bratwurst
5. Lexington Grilled Chicken — We ended up making this twice in August, great recipe!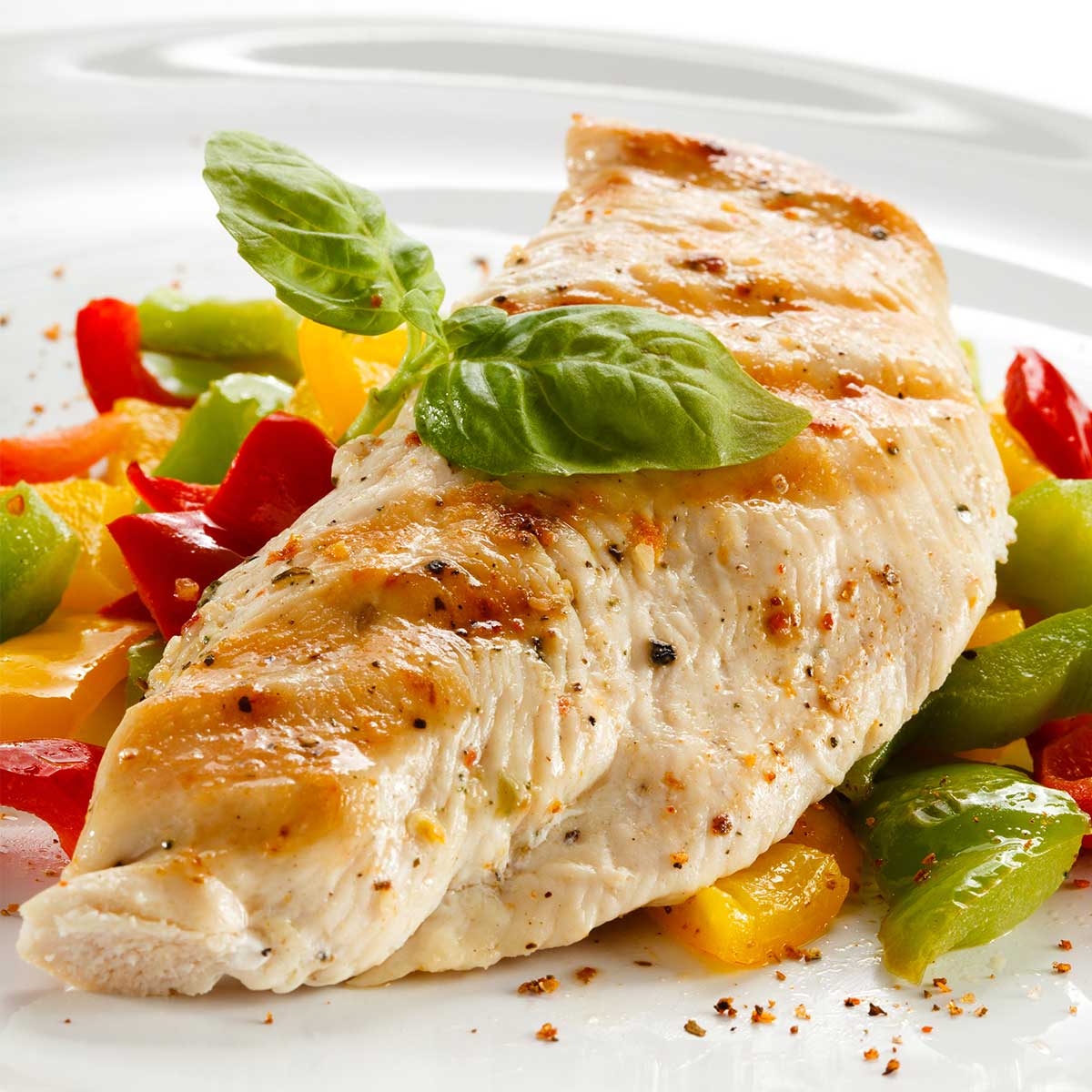 6. Outdoor fish fry (2 times), homemade onion rings, sweet potato fries — My husband loves this shaker for doing fish fries.
8. Cheeseburger Macaroni Casserole
9. One-pan roasted smoked sausage, chicken & potatoes
10. Smothered Baked Chicken Burritos — Be sure to use her Slow Cooker Shredded Chicken recipe and add these crockpot "refried" beans
11. Tostadas
12. Nachos
13. Smothered boneless skinless chicken breasts
14. Easy Chicken Parmesan Bake
15. One Pot Spaghetti with Sausage Sauce
16. *crockpot meal* General Tso's Chicken, fried rice
17. *crockpot meal* Paula's Smoked Boston Butt Roast
18. *crockpot meal* Slow Cooker Lasagna
19. *crockpot meal* Cowboy Casserole
20. *crockpot meal* Crockpot Sausage & Potatoes
21. *crockpot meal* 3 Ingredient Crock Pot Hawaiian Chicken
22. Chicken Cordon Bleu Burgers
24. Homemade Chicken and Dumplings
25. Creamy Tuscan Garlic Chicken
Click here to grab the printable meal list of monthly dinner ideas.
Frequently Asked Questions About a Monthly Meal Plan
How do I decide which dinner to make each night?
Just having this month of dinner ideas list eliminates so much decision fatigue. Depending on our schedules, I'll usually finalize a plan on the weekend. But I'm pretty flexible. As long as there are ingredients in the fridge, we can always shift things around.
I use these plastic sheet pan lids as trays in the fridge for thawing meat. It's a lot easier to actually cook dinners when you have the food thawed and ready to cook!
How do I make meal planning easy?
First, grab the printable monthly menu ideas.
Next, get the meal planning printables collection. These are the planning and shopping printables I use every month and every week to keep everything organized and EASY.
What does my family eat besides dinner?
Breakfast – Not much. Sometimes I will make a big pot of rolled oats or my husband will make eggs and bacon on the weekend, maybe once or twice a month.
Once in a great while, my son will eat a banana while he's waiting for the bus. Breakfast just isn't our thing.
Lunch – Leftovers, pb&j, lunchmeat sandwiches, crackers & cheese.
My younger son is a high school freshman this year, so I'm not sure what we will end up doing for his lunches. He thinks he still wants to take pb&j & crackers every day. You would think he'd want a change after 4 middle school years of making himself the same thing every.single.day. We'll see how that goes.
Snacks – Fruit, crackers, nuts, tortilla chips.
I usually do not make desserts. If we're REALLY craving something, I'll make rice krispie treats or some chocolate pudding to use up milk.
More Meal Planning Inspiration
How to Grocery Shop for a Month
October Menu Plan – A Month Of Cool Weather Dinners
Concluding Thoughts On Planning Dinners For September
By planning ahead and making use of quick and easy recipes, you can eliminate so much daily stress. Plus, you can enjoy home-cooked meals without spending hours in the kitchen.
So, get inspired by some of these September recipes and monthly meal planning tips and start planning your meals for the month ahead. You'll be glad you did when dinnertime comes around and you're not scrambling to figure out what to make.
You've got this!
Don't forget to follow my Pinterest board for main dish recipes and sign up below to have the printable monthly dinners idea list sent right to your inbox.
---
Did you enjoy this post? Know someone else who might like it? Please take a moment to share on Pinterest, Facebook, or your favorite social media… (Click the sharing buttons at the bottom of the post.) Thank you!
This post was updated July 16, 2022.