Welcome to June! Are you looking for a way to make your month of dinners easy and delicious? With this June dinner meal plan, you have plenty of dinner ideas for every night of this early summer month.
From bacon ranch chicken bake, to grilling ideas, to kale and chicken 'survival' salad, there's something for everyone.
These monthly meal ideas are fantastic if you grocery shop for a month, but you can definitely make them work if you prefer to shop more often… especially with the abundance of fresh produce available at this time of the year!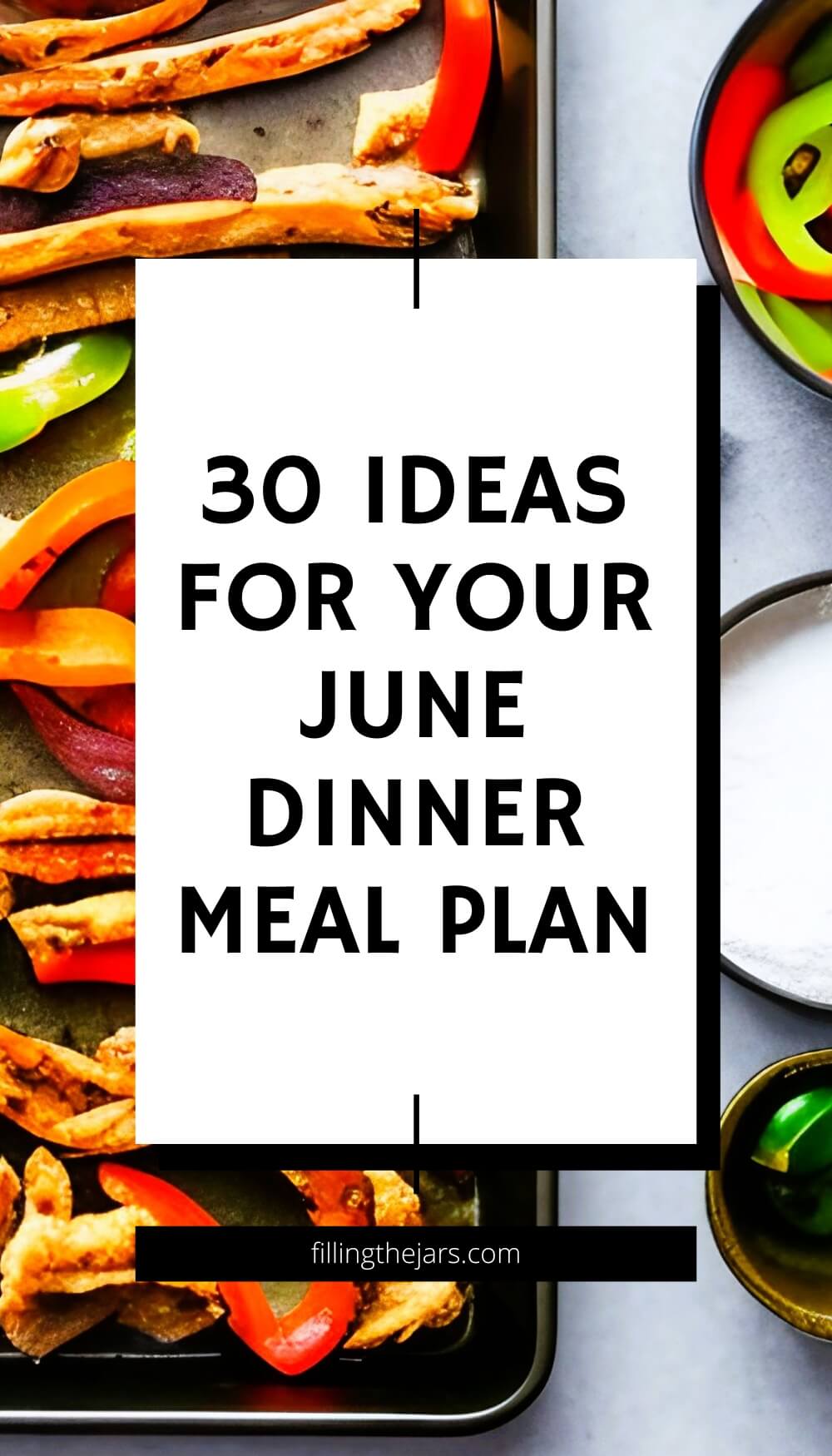 This post may contain affiliate links. If you choose to purchase through an affiliate link, I may receive a small commission at no additional cost to you. You can see my full disclaimer here.
The temperatures have been very warm in Michigan for the past couple of weeks, and it looks like June will be the same. Since we try to NOT use the air conditioning if possible, we do easier meals — we grill more, use the oven less.
Tips:
– Set up a roaster oven on the porch for baking and roasting.
– Use the crockpot, but place it in a closed-off room on hot days. (I use my laundry room, but I don't do laundry at the same time. 😉 )
Why Create A Monthly Dinner Menu for June?
Wondering why I plan an entire month's list of meals for dinner? It comes down to making life easier.
Between working and life in general, I don't have the time to think about meal planning. If I don't have this list of dinner ideas and actually have a plan, it's totally possible that making dinner won't happen. I also tend to get stressed out far more often if dinner plans are in doubt.
By sitting down once to do monthly menu planning, it makes everything work just a little more smoothly. For specific details, read this post on how to plan a monthly menu that works for you.
At the end of the day, my goal is always to keep things simple – which also applies to my monthly dinner menu ideas and most of the recipes I choose to use.
It doesn't hurt that making a monthly meal plan and shopping less frequently can also save money!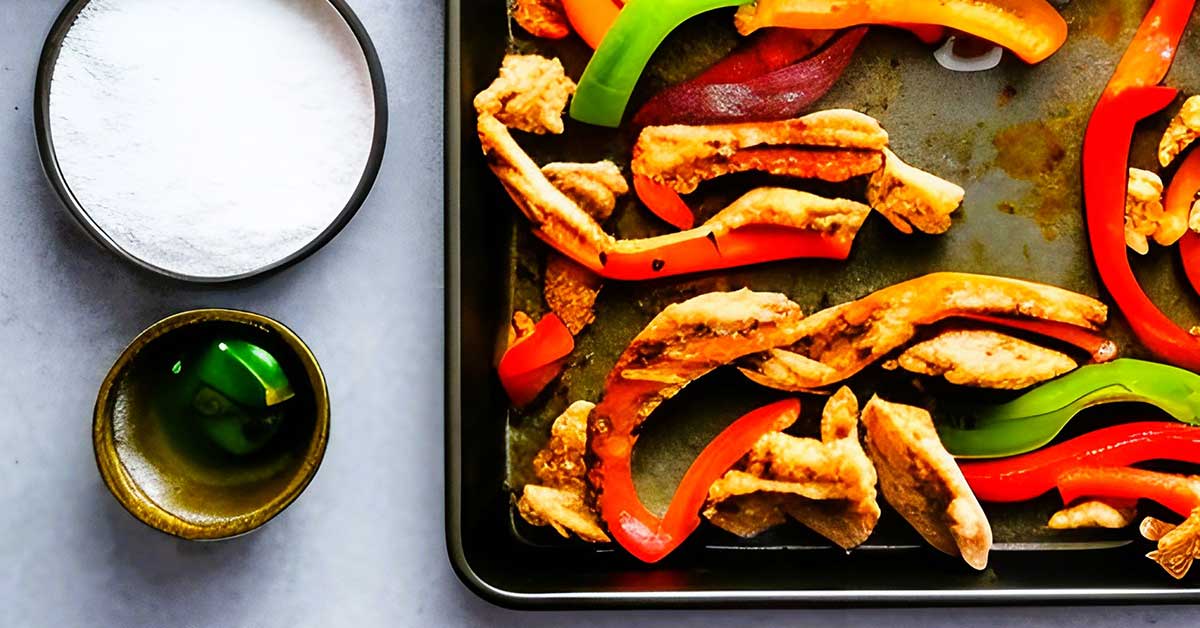 What do I use for planning meals?
When it's time to plan, I grab my Essential Meal Planning Printables to keep myself organized and make the process EASY.
I'm kind of old-school, so I like writing everything out. As we go through the month, I review my list of dinner ideas each week. Then I can plug recipes into the days where they make sense.
June Dinner Ideas Monthly Meal Plan
The highlighted links you see in the menu will take you directly to the website for each recipe.
If you like these dinner ideas for June, you'll want to visit my Pinterest board for main dish recipes. I'm always pinning new recipes, so following my board is a great idea if you're looking for dinner inspiration.
1. Grilled BBQ Chicken Legs and Thighs, raw vegetables
2. Grilled cheeseburgers, chips, raw vegetables
3. Grilled chicken, sausage, vegetable kabobs
4. Grilled B/S chicken thighs, roasted or grilled vegetables
5. Nachos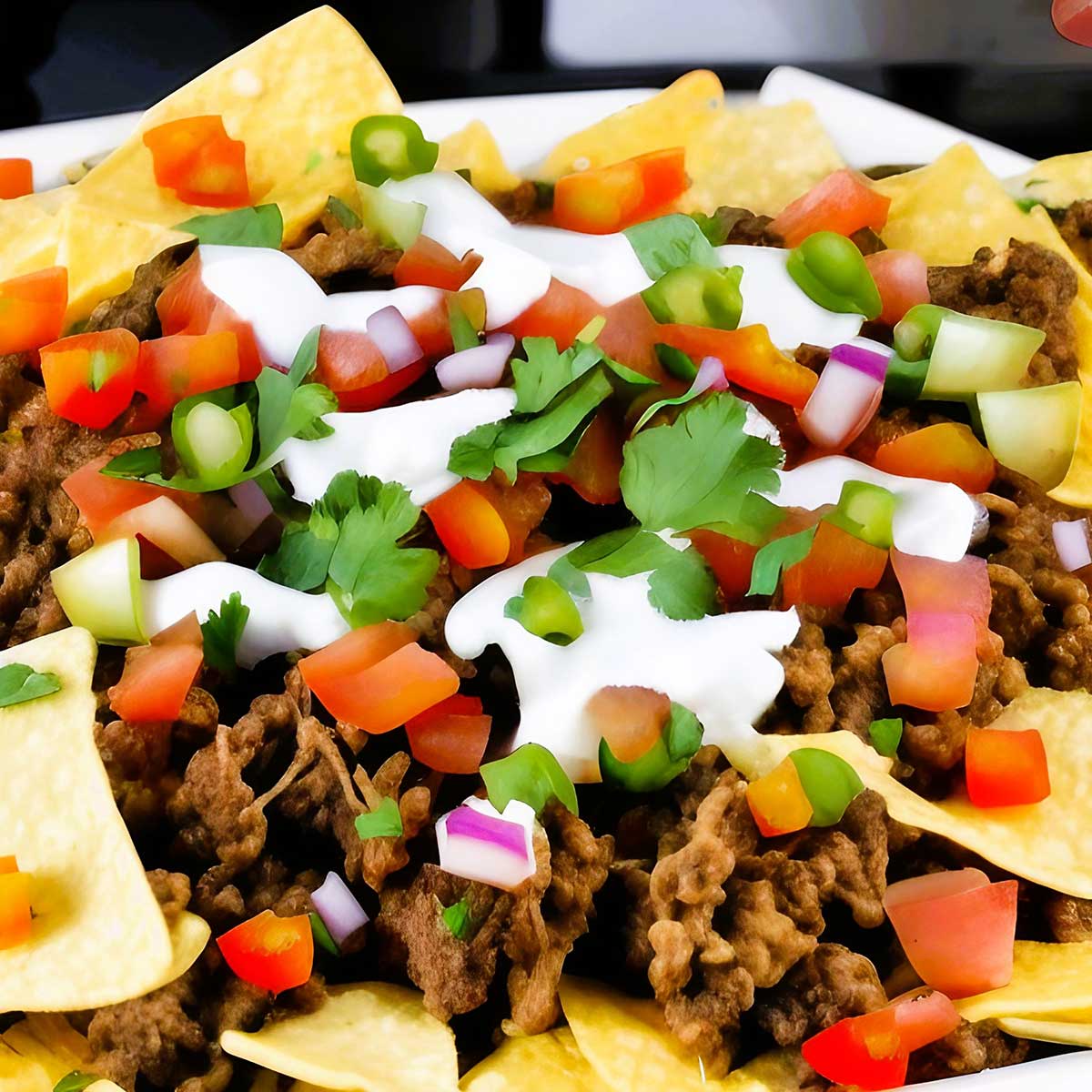 6. Brats, chips, raw or grilled vegetables
7. Fish fry, homemade onion rings
8. Cold tuna-macaroni salad, raw vegetables
10. Spaghetti & garlic bread
11. Easy Chicken Parmesan Bake (Might work in the crockpot w/pasta in the bottom?)
12. Copykat Chef Boyardee-style beefy mac & cheese, peas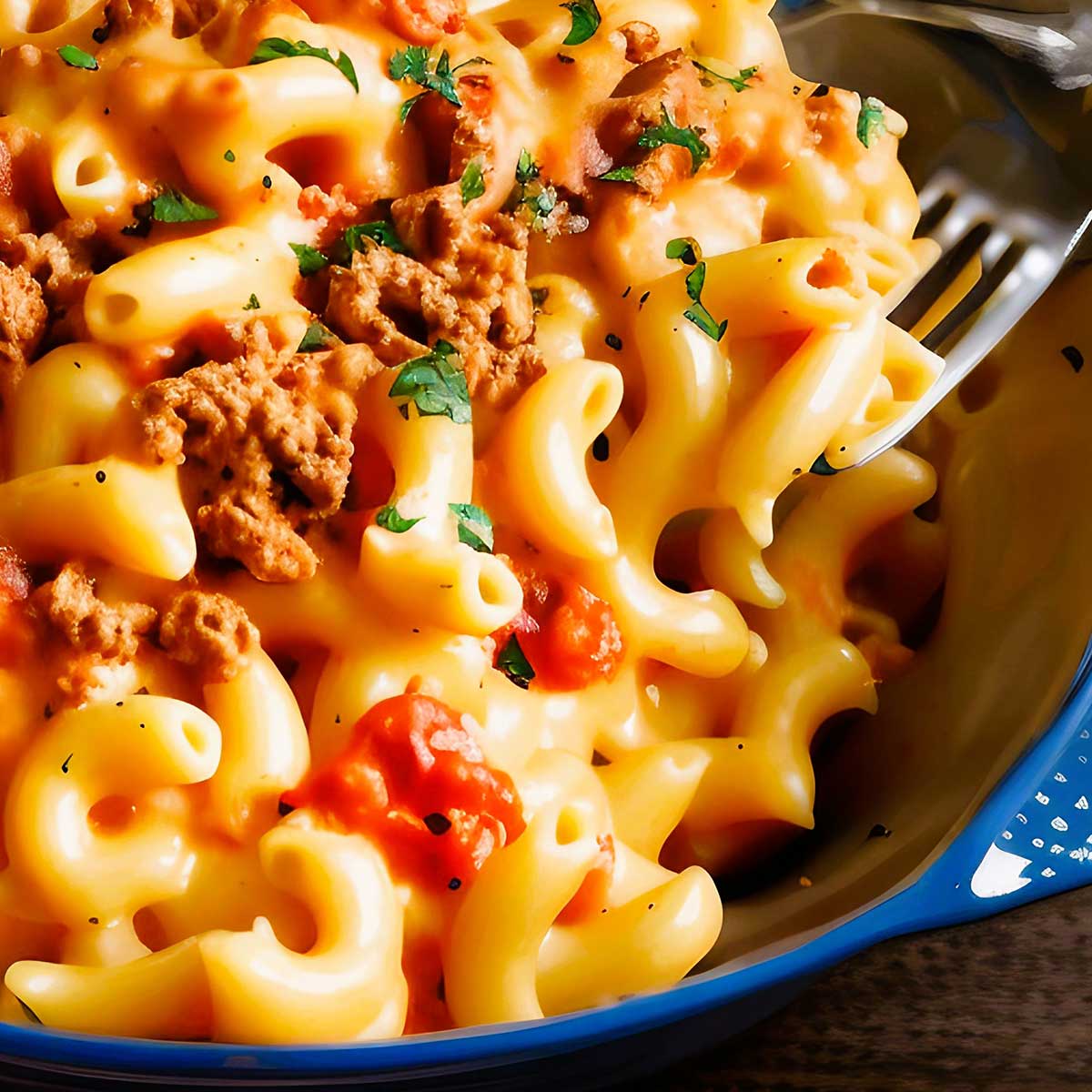 13. *crockpot meal* Red beans & rice
14. *crockpot meal* General Tso's Chicken, fried rice
15. Smothered Baked Chicken Burritos (my family would eat these every week; be sure to use her Shredded Chicken recipe and add these 'refried' beans)
16. Roasted smoked sausage, chicken & vegetables
17. Paula's Smoked Boston Butt Roast
18. One Pot Stuffed Pepper Skillet
19. 4-Ingredient Bacon Ranch Chicken Bake
20. Kielbasa, Pepper, Onion, and Potato Hash
21. Kale and chicken "survival" salad
22. Macaroni & cheese, raw vegetables
23. Grilled Mozzarella Cheese and Red Pepper Sandwiches, raw vegetables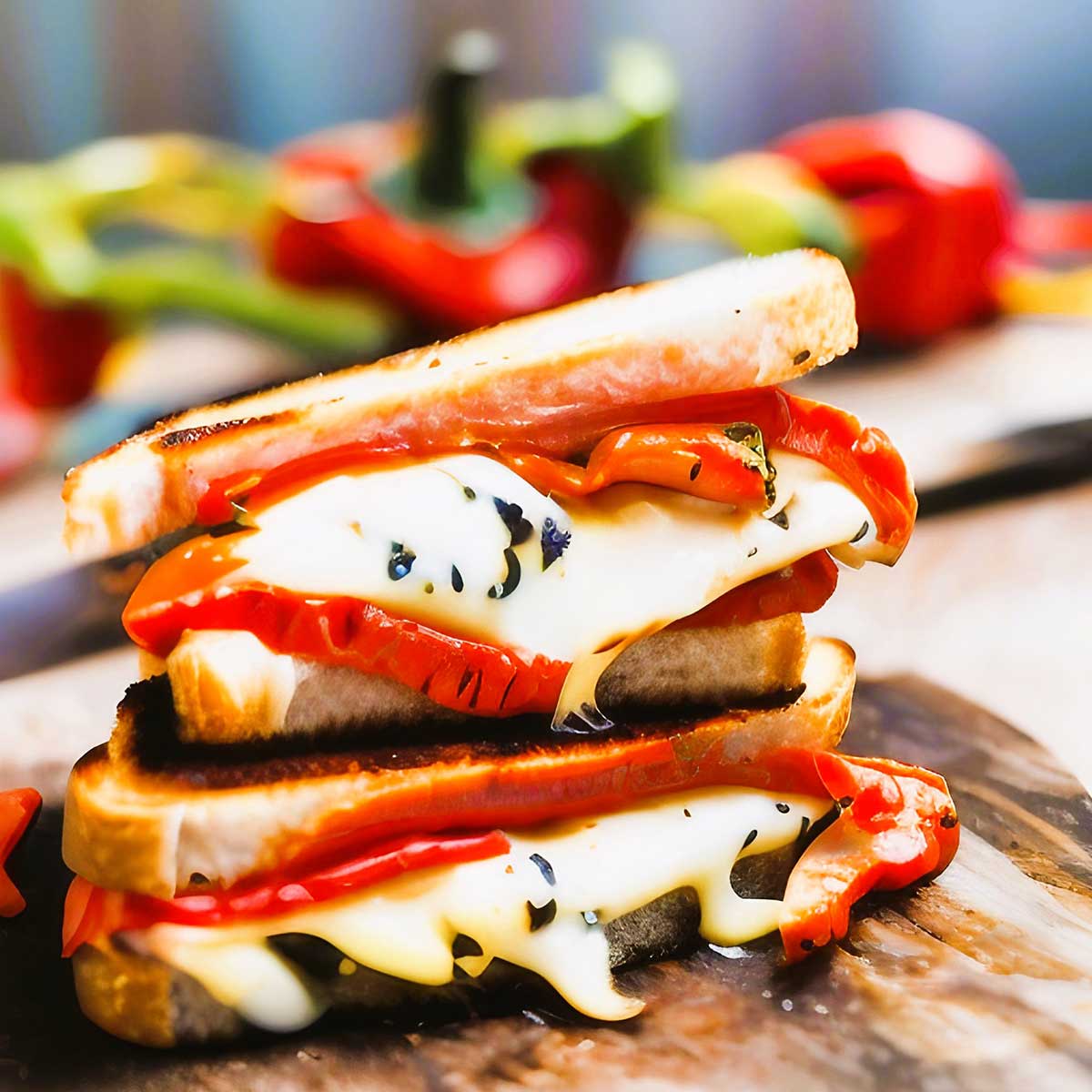 24. *crockpot meal* Crockpot Casserole Chicken Green Beans and Potatoes
25. Quick & Easy Garlic Shrimp and Penne Pasta
26. Grilled Tilapia in Foil (Fish Foil Packets)
27. *crockpot meal* Tender Slow Cooker Pork Tacos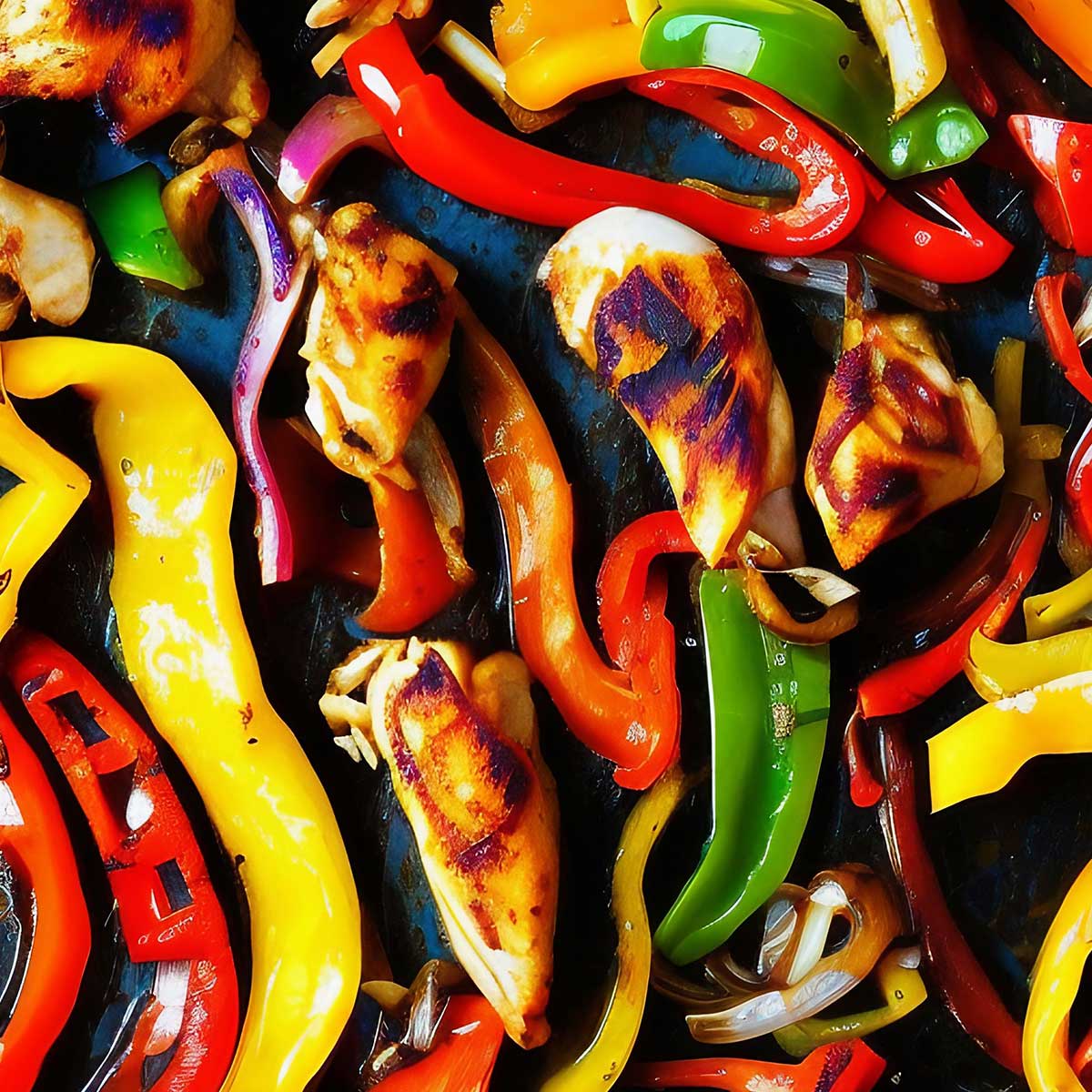 29. Clean out the fridge (call it a Leftover Buffet)
Want more dinner ideas? Sign up below to get my full year of monthly dinner ideas sent right to your inbox.
What Do We Eat Besides Dinner?
Breakfast – Not much. Sometimes eggs and bacon on the weekend, maybe once or twice a month.
Last month I made this AMAZING Biscuit Egg Casserole — it was delicious! The only thing I did differently was to cut the biscuits into pieces and scatter them across the bottom instead of pressing them flat in the dish.
Lunch – Leftovers, pb&j, lunchmeat sandwiches, crackers & cheese.
Snacks – Fruit, crackers, nuts, tortilla chips.
I usually don't make desserts, but I will plan two or three for vacation.
More Meal Planning and Prep
August Menu Plan – Cool Summer Meals And Grill Menu
Essential Meal Planning Printables
Quick Food Prep Routine for a Week of Easier Meals
Meals For November – A Hearty Menu of Cozy, Beefy Dinners
Concluding Thoughts…
Remember, meal planning — and your meals — should be simple! It's a fantastic way to save time, money, and reduce food waste. By using seasonal ingredients, you can create delicious meals that are cost-effective and flavorful.
With these June monthly dinner menu ideas and the recipes provided, I hope you're excited about creating a menu for the month of June.
You've got this!
Don't forget to grab the Essential Meal Planning printables to help! Click the image below…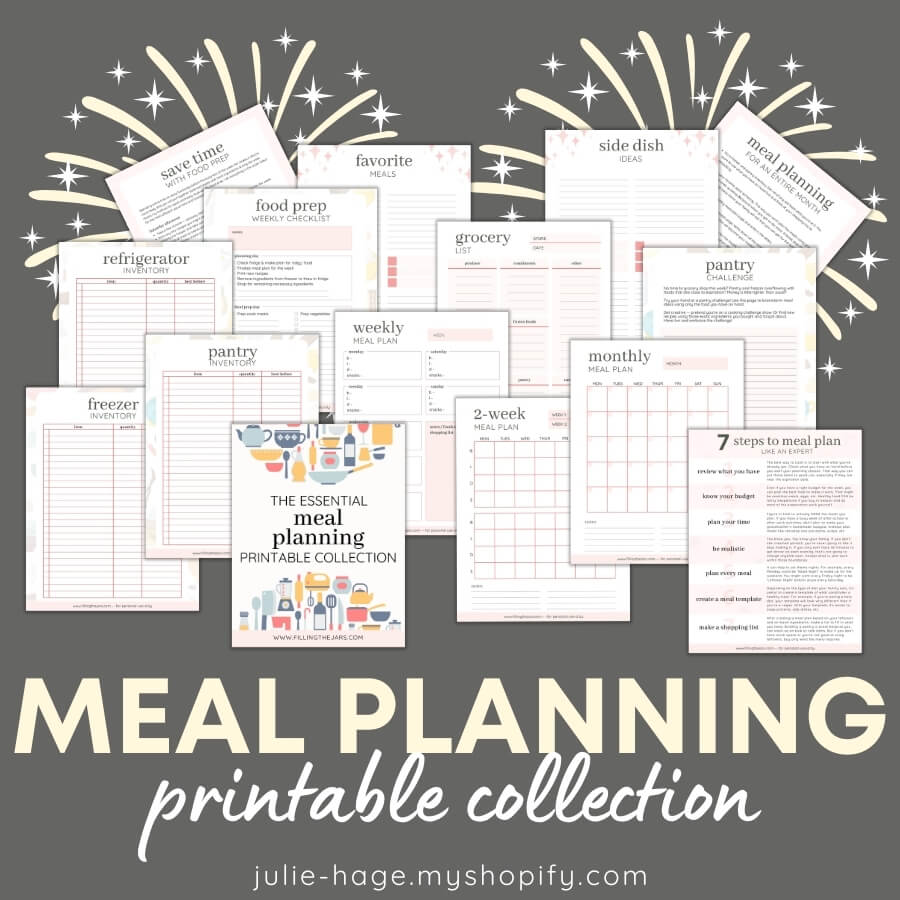 ---
Did you enjoy this post? Know someone else who might like it? Please take a moment to share on Pinterest, Facebook, or your favorite social media… (Click the sharing buttons at the bottom of the post.) Thank you!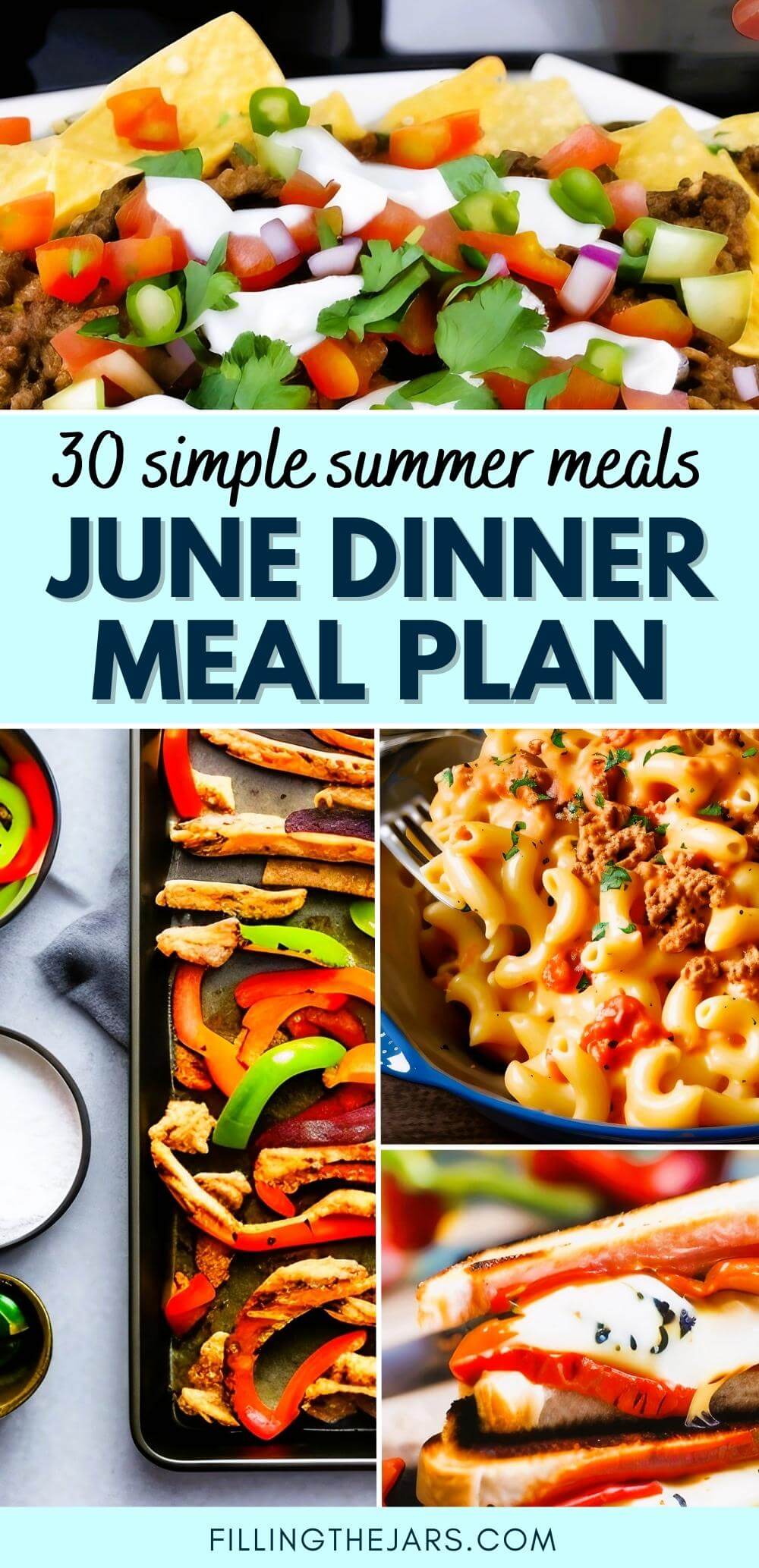 Grab Your FREE Printable Dinner Idea Collection
Sign up here to receive your printable Monthly Dinner Idea Collection -- a list of dinner ideas for the ENTIRE YEAR with many clickable recipe links.

Choosing to join the Filling the Jars email list means you will receive regular emails with tips and recommendations to help you on your journey to Build Your Best Life.

Filling the Jars Privacy Policy