IN THIS POST: I'll show you my easy refrigerator command center made with just a few Amazon picks — perfect for families who are tired of their messy refrigerator doors! This family command center is also a great idea for when you're working with home organization in small spaces.
Setting up a fridge command center doesn't have to be difficult. You don't have to be a DIY expert either. All it takes is some simple paper organizing tools and a couple of other items.
This post may contain affiliate links. If you choose to purchase through an affiliate link, I may receive a small commission at no additional cost to you. You can see my full disclaimer here.
Let's remake the front of your messy fridge! This is an overview of my actual kitchen command center, which has stayed pretty much the same for the past several years.
That's how I know it works.
So let's get to it! Here's how I ended up with a simple command center on my refrigerator, and how you can create your own command center…
Why I Chose a Non-Digital Command Center
Let's face it — not everyone wants to go all-digital. Despite the fact that my family has smartphones, we realized that we still need physical, visual reminders on a daily basis.
Sometimes we don't turn on our phones or computers.
Some family members aren't the most tech-savvy and flat-out refuse to use all the apps and calendars available.
Some (*cough*me*cough*) need to constantly see the big picture — #allthethings.
No time to read this post right now? CLICK HERE to Pin it for later.
The Evolution of the Refrigerator Command Center
But, wait… Isn't the fridge supposed to be full of the kids' artwork, school papers, random photos, chore charts, to do lists, and a million other bits and pieces of important papers all precariously held in place by a few overloaded magnets?
Sure… if you like picking up the avalanche every time someone accidentally sweeps everything off.
We lived that way for years. I got tired of maintaining all the paper clutter.
Then two things happened…
Our old fridge died.
And the new-to-us fridge we got had a small dent in one of the otherwise smooth and shiny black doors.
We had already decided this fridge was going to stay clutter-free. We all agreed not to make it messy, and the easiest way to do that was to not put anything on it.
But what to do about the dented front? It bothered me constantly (and a replacement door was ridiculously expensive).
Plus we were losing track of things, because even the previous cluttered fridge-front mess was sort of useful. I mean, it's a central location. Everyone looks at the refrigerator at least a couple of times a day, right? It's the perfect spot to keep everyone informed.
I went searching for a solution, and this is what I found…
How to Make a Command Center On Your Fridge
It was time to create a refrigerator command center, and Amazon had the perfect products.
The centerpiece of your new command center is incredibly simple: clear 8-1/2″ x 11″ magnetic pockets!!! (Yes, they really are fabulous enough to deserve three exclamation points.) These are flexible magnetic organizers, larger than the common 4×6 magnetic picture holders.
I stuck 4 pockets on the fridge, and I knew this was going to be exactly what we needed. It was like an instant, perfect command center.
Here's a photo of how I arrange the pockets on my refrigerator. (Apologies for my terrible photos.)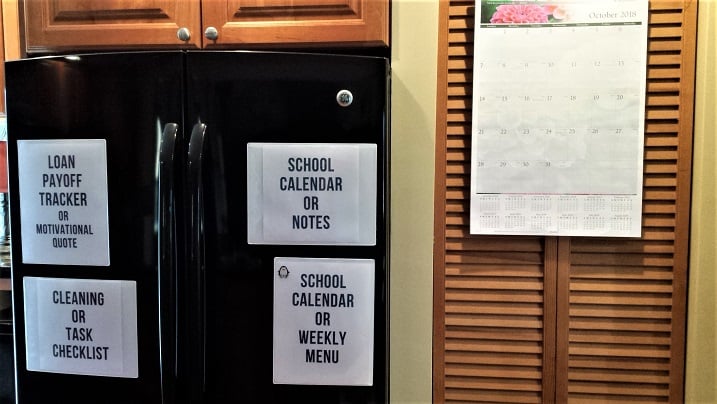 Although you could mix and match sizes, I think keeping the pockets all the same size is a good way to make everything look a little more streamlined.
You can display:
school schedules (tuck permission slips in here)
weekly meal planning (you could pop a sticky note on the front for a simple grocery list)
family calendar or an important information printout
cleaning schedule or chore chart
debt payoff or savings trackers
With these pockets, your papers are contained and won't ever cascade onto the floor again.
It's super-easy to check things off or make notes on the front of the pockets with wet-erase markers. Wet-erase are less smudgy than dry erase markers. Keep your markers in one of these magnetic cups for easy access. 😉 
Tip: Some people have mentioned difficulty inserting single papers into the pockets. I've always used a piece of heavy white cardstock or very thin cardboard to slide in with the paper and it works very well.
There's usually enough space to tuck a favorite photo or two inside the pockets if you want.
Monthly Calendar Options
In the photo, you'll notice there's a calendar off to the side, hanging on a hook. This is what works for us. We rarely open that little door, so having the calendar in that spot works out perfectly.
My husband and sons check it once or twice a day, which keeps everyone in the loop about upcoming events and appointments. Here is how we keep track of those things: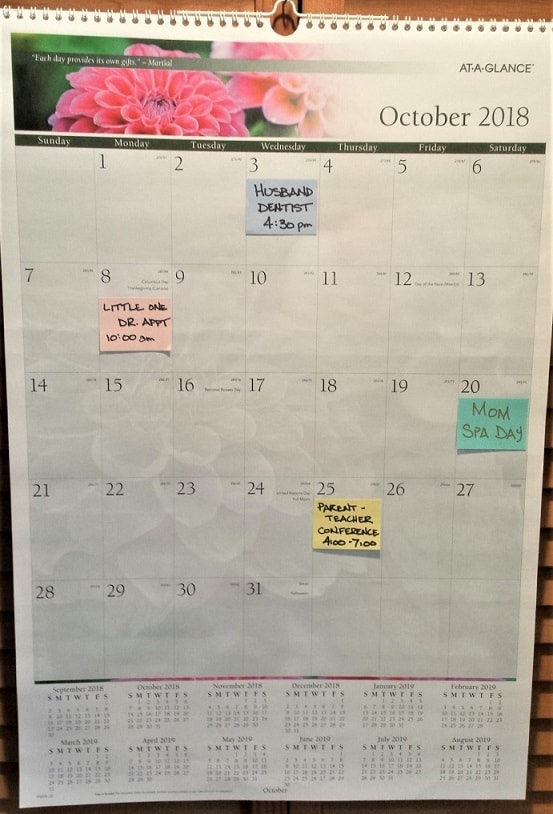 Why do we use sticky notes? Ummm… because sometimes people would write things directly on the calendar and press so hard that when we turned the page to the next month, that same event looked like it was happening again.
It got confusing, and it sort of drove me nuts. So I went all control-freaky and said nobody was allowed to write anything on the calendar except me. Yeah, that got old… not to mention it was a pretty ridiculous rule to impose on my family.
Anyway… this year I got this nice BIG calendar and the squares are the perfect size for small sticky notes. Now, all we have to do is write something on a note and stick it on the calendar. Everyone can add things, and it's great when appointment dates change… just move the sticky note or make a new one.
If you don't have an open wall space next to the fridge for a calendar, use one of the clear pockets on your refrigerator door. You can easily print out a simple set of calendar months for the entire year and store all 12 pages in the pocket.
Or, if you prefer your favorite pre-printed calendar, you could use command hooks or magnetic clips to hang a calendar on a fridge. This might work better on the side of the refrigerator where you won't brush against floppy page corners all the time.
What To Do With The Kids' Art?
I know… all of those paintings and drawings are so adorable! You need to display them somewhere, right?
Get some of these front-access frames and create a gallery wall. Then you can quickly switch the pieces out whenever you want.
Easy-peasy.
More Kitchen Command Center Ideas For Your Fridge
Love the idea of a command center on your refrigerator, but want a little more flexibility? Try some of these:
This weekly calendar dry erase magnetic white board comes with markers and some extra mini white boards for your miscellaneous lists.
Prefer to see an entire month at a time? Check out this magnetic dry erase monthly calendar with colorful borders.
There is also this paper tear-off monthly calendar with a magnetic back.
This magnetic menu board and shopping list is really cute. Plus, the manufacturer has several coordinating products that look great together.
This calendar combo set is available in beautiful patterns if you want something unique and coordinated. They also have an option to get the set with an adhesive back instead of magnetic — perfect if you have a non-magnetic refrigerator.
Tip: Measure your refrigerator doors. Check the sizes on any products you're considering purchasing to make sure they will fit.
---
Visit my Amazon store for additional refrigerator command center picks and many more home and life organizing products. I love that we can separate our picks into themed lists now… it's so much easier for you to browse!
There really are endless options to customize a home command center right on your fridge. I prefer the simple pockets and my own printables, but feel free to do whatever works with your own vision and organizing style.
---
Did you find this post helpful? Please take a moment to share on Pinterest or your favorite social media… thank you!