I hope this guide for November journaling provides a wealth of journal inspiration! These November journal ideas, themes, prompts, and practical tips are meant to help you make the most of your journaling practice this month. 
Let's get started on your November journal with these ideas, which make a valuable addition to my full collection of seasonal and motivational journal writing prompts.
Are you ready to transform your November into a month of creativity, self-reflection, and gratitude?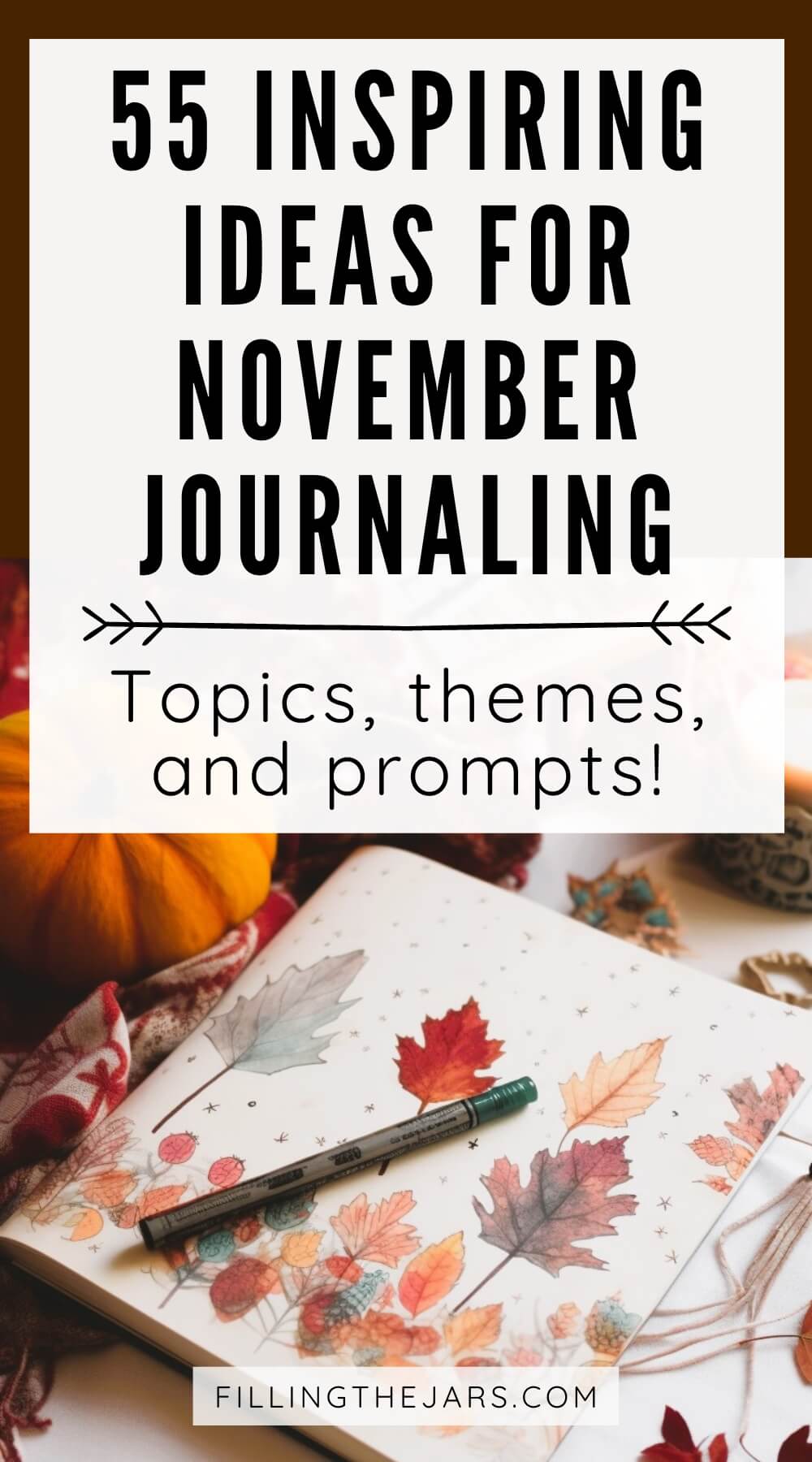 This post may contain affiliate links. If you choose to purchase through an affiliate link, I may receive a small commission at no additional cost to you. This post is not to be taken as professional medical or mental health advice. All statements are strictly my personal life observations. You can see my full disclaimer here.
The Captivating Variety of November Journal Ideas
As the year winds down, I always feel like November is an amazing month for journaling. Bursting with vibrant fall colors, crisp air, and anticipation, November offers a rich tapestry of experiences and emotions to explore on paper.
One great way to approach journaling in November is to focus on weekly themes. Try dedicating each week to a different topic, such as gratitude, family, or reflection. This can help you stay focused and motivated for several days at a time.
If you prefer more specific prompts, I've got plenty of those too! Consider writing about your favorite fall activities, your goals for the upcoming season, or your memories of past family gatherings.
And don't forget to take advantage of the changing weather and scenery! Jot down your observations of the changing leaves, your thoughts about moving into the shorter days of winter, or the cozy feeling of snuggling up with a warm drink on a chilly day.
Now, let's get to some of those November themes…
5 Weekly Journaling Themes for November
Here are a few ideas to get you started:
1. Thankfulness Week
Spend a week reflecting on the things you're grateful for. Each day, write about something different that you appreciate in your life. It could be a person, a place, a thing, or even an experience. Take time to really reflect on why you're thankful for each item on your list.
2. Cozy Comforts Week
As the air turns crisp and the leaves surrender their hold on the trees, our focus often turns inward. This week, delve into the elements that bring you a sense of warmth and coziness as the weather cools down.
Prompt suggestions for 'cozy comforts' week:
Sweater Weather: Describe your go-to cozy sweater or blanket. When do you usually bring it out, and how does it make you feel?
Warm Beverages: What's your preferred warm drink as the temperatures drop? Is it tea, hot chocolate, or perhaps a spiced latte?
Fireplaces and Heaters: Do you have a fireplace or a favorite heating element in your home? Write about the sensation of being near it.
Comfort Foods: Jot down your favorite fall and winter comfort foods. Do they hold any specific memories for you?
Indoor Activities: What indoor activities or hobbies make you feel warm and cozy? Is it reading, knitting, or maybe baking?
The Company You Keep: It's not always just physical elements, but can also be people who make us feel warm. Who are the people that bring comfort to your life?
The Sounds of Coziness: Some find comfort in the sound of rain tapping on the windows or the crackle of a fireplace. What sounds evoke a sense of warmth for you?
At the end of the week, take some time to reflect on what you've written. Are there recurring themes or items? How can you incorporate these cozy comforts into your daily life, especially as the year winds down and temperatures continue to drop?
3. Autumn Leaves Week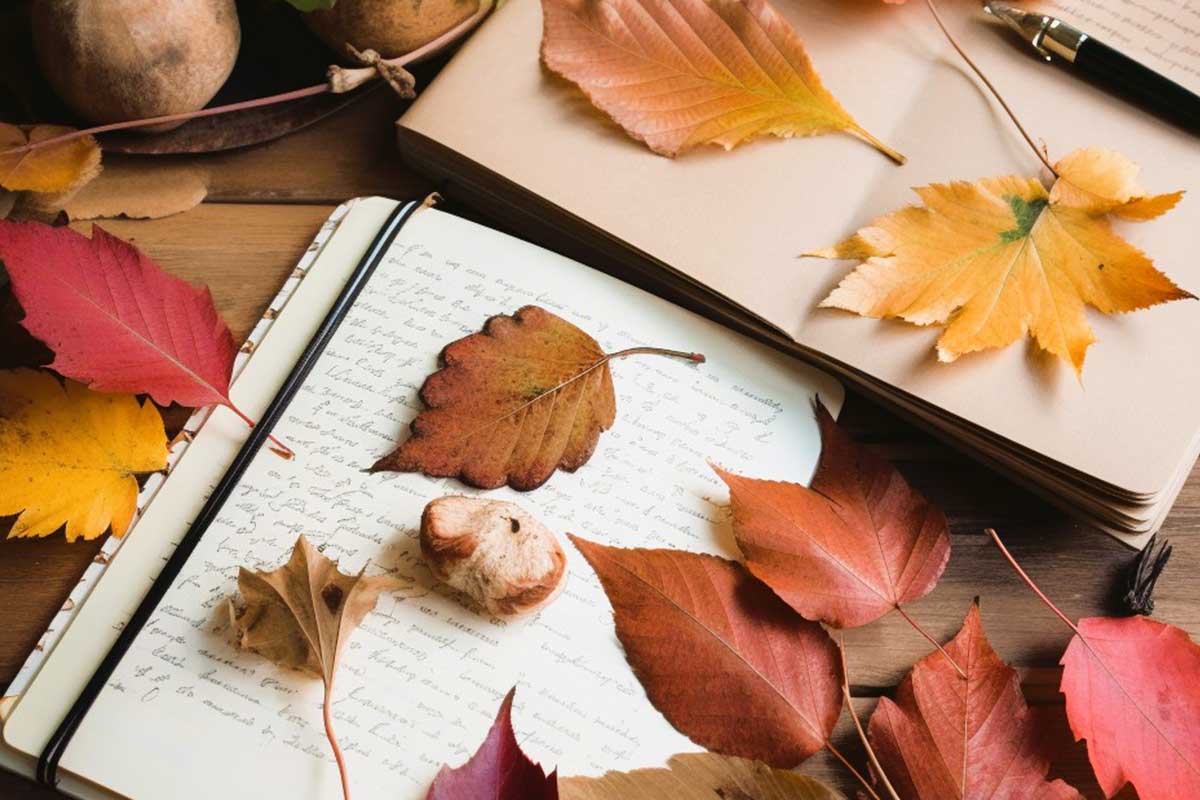 Take inspiration from the changing colors of the leaves and make this week all about nature. Write about your favorite outdoor activities, the beauty of the changing seasons, and the feelings that autumn evokes in you.
You could also collect some leaves and press them into your journal for a fun visual element.
4. Winter Prep Week
Winter is just around the corner, and it's more than just a change in weather — it's a shift in lifestyle, routines, and even mindset. This week's theme is all about thoughtful preparation for the upcoming winter in various aspects of your life.
Prompt suggestions for 'winter prep' week:
Winter Wardrobe: What does your winter wardrobe look like? What are your must-have items for staying warm and comfortable?
Home Heating: Describe your home's heating arrangements. Are there areas that need better insulation or drafts that need to be sealed?
Emergency Kit: Write about the essentials you should have in case of severe winter weather. Do you already have them stocked?
Winter Skincare: The cold air can be tough on your skin. What changes do you make to your skincare routine in preparation for winter?
Nutritional Needs: What dietary changes do you consider for winter? Do you focus more on certain nutrients or food groups?
Winter Recipes: Research and jot down winter-specific recipes that you'd like to try. They could be nutritious soups, hearty stews, or even festive drinks.
Exercise Routine: Physical activity can be challenging in the cold months. What's your plan for staying active during winter?
Mental Wellness: Winter can affect your mood. What are some wellness activities or routines you plan to keep your spirits up?
Wellness Calendar: Create a calendar outlining your planned wellness activities throughout the winter. It could include exercise days, self-care routines, or even scheduled downtime.
Budget Breakdown: List down the expenses that come with winter preparation and make a budget. This will help you prioritize.
Understanding that winter prep extends beyond the physical into the realm of emotional and mental well-being can make a world of difference in your winter experience.
5. Harvest Week
The month of November is associated with the abundance of the harvest season. Spend a week exploring the theme of abundance. Write about the things you've accomplished this year, the things you're proud of, and the things you're looking forward to 'harvesting' in the future.
You could also make a list of goals for the upcoming year. November is actually a great month to kickstart your goal planning for next year.
Ready for some quick prompts to get your brain moving?
35 Quick-Fire November Writing Prompts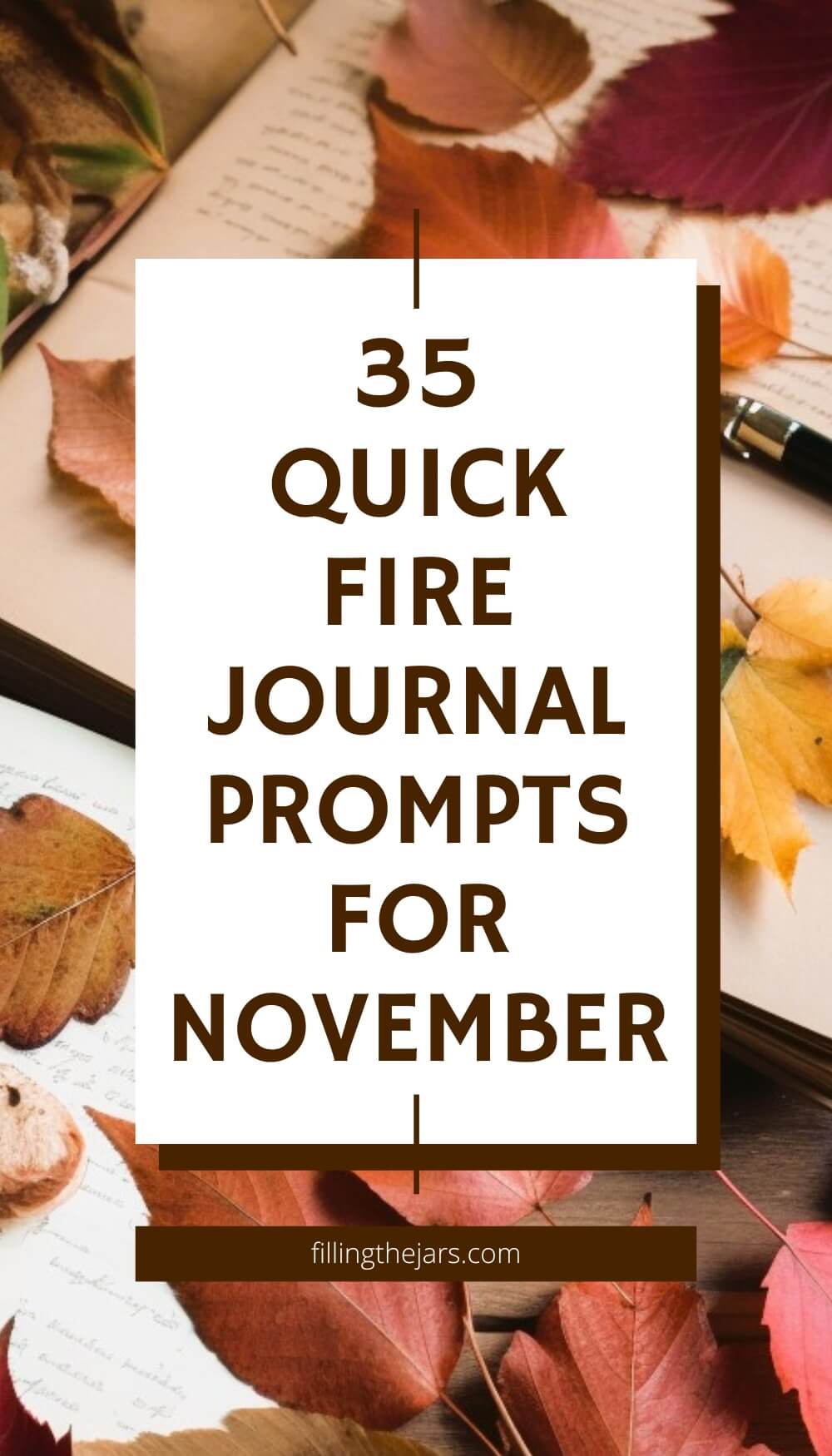 These quick-fire prompts work well as daily prompts to help spark your writing practice this November. I love that some of them can be used as list writing prompts or even serve a dual purpose as creative writing ideas.
1. First frost
2. Favorite fall recipe
3. A November to remember
4. The best book you read this month
5. An autumn haiku
6. An ode to your favorite fall sweater
7. Your go-to November playlist
8. Ideal November weekend
9. November sky colors
10. Must-read November book
11. Letter to 'November'
12. Favorite comfort food
13. November rain
14. Childhood November memory
15. Perfect November morning
16. November smells
17. Concept of 'harvest'
18. November movie list
19. Best hot beverage
20. Meaning of 'home'
21. Black Friday shopping list
22. November lighting
23. November sounds
24. Two leaves talking
25. No-shave November
26. A November dream
27. November landscape
28. Fictional November story
29. Favorite November outfit
30. Texture of November
31. Family November tradition
32. Shortening daylight
33. November sunset poem
34. Words for November
35. Perfect November evening
Love short prompts that get you writing quickly? I've got a full month of printable one-word November writing prompts that you should try!
5 Monthly Themes to Explore in Your November Journal
Consider trying out some monthly themes. These November journal topics can help keep your writing focused and cohesive. Plus, it gives you a jumping-off point to go really deep for your daily entries.
Here are some compelling themes that are particularly resonant for November:
Gratitude
November is often considered a month of thankfulness, largely because of the Thanksgiving holiday celebrated in the United States. But no matter where you are in the world, focusing on gratitude this month can positively impact your mindset.
Try dedicating a section of your journal to list the things you're grateful for. You might be surprised at how this simple act can uplift your spirits.
Need more gratitude journal ideas? Check out my 22 fantastic gratitude journal prompts.
Family and Traditions
Whether your feelings towards family are warm, complicated, or somewhere in between, your journal is a safe space to explore these emotions. Write about your favorite family traditions, memories, or unresolved issues you'd like to address.
What traditions does your family have during the month of November? Write about them! It could be anything from watching football on Thanksgiving to going for a hike on a certain trail. Reflect on why these traditions are important to you and your family.
Autumn and Seasonal Changes
The colors of the leaves, the crispness in the air, the shift from Daylight Saving to Standard Time, and longer nights — these are all markers of the autumn season. Use your journal to explore how you personally deal with change, and what these autumnal transformations signify for you.
You could write descriptive passages, doodle, or even paste in some fall leaves to bring the season into your journal. Write about the things you're letting go of or the things you're looking forward to in the coming months. Use this theme to explore the idea of change and growth.
Cozy November
If a 'Cozy Comforts' week-long theme wasn't enough, there's nothing wrong with expanding the theme out for all of November!
Comfort Food Recipes
November is the perfect time to indulge in comfort foods. Each day, write down a recipe for your favorite comfort food. It could be your grandma's famous mashed potatoes, a hearty stew, or a warm apple pie.
Bonus points if you actually make the recipe and enjoy it!
Now, what do you say we get even more creative?
6 Creative Journaling Ideas
Want to try some creative journaling to spice up your November writing? Here are a few ideas:
Favorite November Colors
Fall is known for its beautiful colors, so why not incorporate them into your journaling? Make a list of your favorite fall colors and create a page dedicated to each one. Use different shades and textures to really make your pages pop.
November Photos
Take your own scenic fall photos or capture special November moments. Use these photos as inspiration for your journaling. You can create collages, write about the images, or use the photos as backgrounds for your pages.
Hand Lettering Practice
If you're interested in improving your hand lettering skills, November is the perfect time to do so. Practice writing out your favorite November-themed quotes, phrases, or journal prompts using different fonts and styles.
November Short Story
Unleash your inner storyteller by crafting a short story set in the month of November. Base it on one of your journal entries or try something from my collection of November creative writing prompts.
Whether it's a tale about unexpected reunions, a romantic autumn escapade, or a suspense-filled November night, this exercise helps you explore your creative side while engaging with the mood and themes of the month.
Daily Affirmation November Calendar
Take a more artistic approach to journaling by designing a November calendar filled with daily affirmations. This serves as both a visual and mental reminder to stay positive and focused throughout the month. Each day, you'll have a new affirmation to inspire you, making each morning a fresh start.
Bullet Journaling or Digital Journaling
Shake up your regular journaling routine. Experiment with November bullet journaling to track your habits, goals, and daily activities in an organized manner. Alternatively, try digital journaling apps that offer a range of creative features like adding photos, audio clips, or even doodles. 
The aim is to discover new ways of journaling that keep you excited about the experience.
With these creative journaling ideas, you'll be able to fill your November pages with beautiful and inspiring content.
4 Nature Journaling Ideas for November
If you enjoy spending time in nature, November is a great month to start a nature journal. Here are some ideas to try:
Leaf Collection
Take a walk and collect different types of leaves. Press them in a book or use them to create leaf rubbings. You can also use the leaves to create a collage or artwork like drawings or watercolors.
Bird Watching Notes
November is a great time to observe birds as they migrate south for the winter. Keep a journal of the birds you see and their behaviors. You can also draw sketches or add personal photos of the birds to help you remember what they look like.
Nature Walk Observations
Take a nature walk and observe the changes that are happening in the environment. Look for signs of animals preparing for winter such as squirrels gathering nuts or birds building nests. You can also observe the changing colors of the leaves and take note of the smells and sounds of the season.
Fall Weather Patterns
Keep track of the weather patterns in November. Record the temperature, precipitation, and wind speeds. You can also note any unusual weather events such as storms or unseasonably warm days.
By keeping a nature journal, you can deepen your connection to the natural world and gain a greater appreciation for the beauty and rhythms of the season.
How to Make the Most of November Journaling
November presents a wonderful opportunity for journaling. As the year approaches its end, the month serves as a pivotal moment to reflect, plan, and express gratitude.
But how do you actually go about journaling during this transitional month? Here are some practical tips:
Choose the right medium FOR YOU
While some people prefer a traditional paper journal, others opt for digital platforms. The key is to choose a medium that you're comfortable with so that the act of journaling itself becomes second nature and something you love.
Consistency is key. Whether you decide to journal daily or less often, having a set schedule can make your journaling habit stick.
You don't have to write pages upon pages; even a few sentences capturing the essence of your day or thoughts can be impactful. You can begin with as little as 5 or 10 minutes.
Create a cozy environment
November weather often calls for indoorsy-ness. Create a cozy journaling nook with comfy pillows, warm lighting, scented candles, and perhaps even a cup of your favorite autumnal beverage.
If you're going for a physical journal, make sure you have all the pens, stickers, or other accessories you like to use. If digital is more your style, explore apps and platforms that offer templates, prompts, and customizable features.
By considering these logistical aspects, your November journaling can be an enriching experience, offering you not just a creative outlet but also valuable insights into your thoughts, emotions, and ability to practice self-care.
More Journaling and Writing Ideas and Resources
Best Journals for Writing: 6 Top Picks
20 Fabulous Fall Journal Prompts: Get Creative and Reflective
More Than 1064 Journal Writing Prompts
9 Best Creative Writing Journals: Take Your Thoughts to the Next Level
31 Unique December Creative Writing Prompts for Adults
Are You Ready To Begin November Journaling?
Whether you're exploring enriching themes like gratitude and nature or engaging with quick-fire prompts for daily inspiration, I hope your journal becomes a sanctuary for your thoughts and aspirations this November.
Journaling is more than a mere act of writing; it's a catalyst for personal transformation. It's a tool that empowers you to live consciously, make informed decisions, and pursue your dreams with vigor.
The best time to start is now… Happy journaling!
---
Did you enjoy this post? Know someone else who might like it? Please take a moment to share on Pinterest, Facebook, or your favorite social media… (Click the sharing buttons at the bottom of the post.) Thank you!