In this post, we'll discuss how to conserve mental energy with tips for streamlining your life so you can simplify your days and eliminate decision fatigue. These are my favorite almost-minimalist ideas to avoid mental drain, reduce option overload, and relieve stress every day! Note: This is a companion post to Stop Thinking and Start Doing: A Goal Setting Starter Plan for the Overwhelmed Overthinker.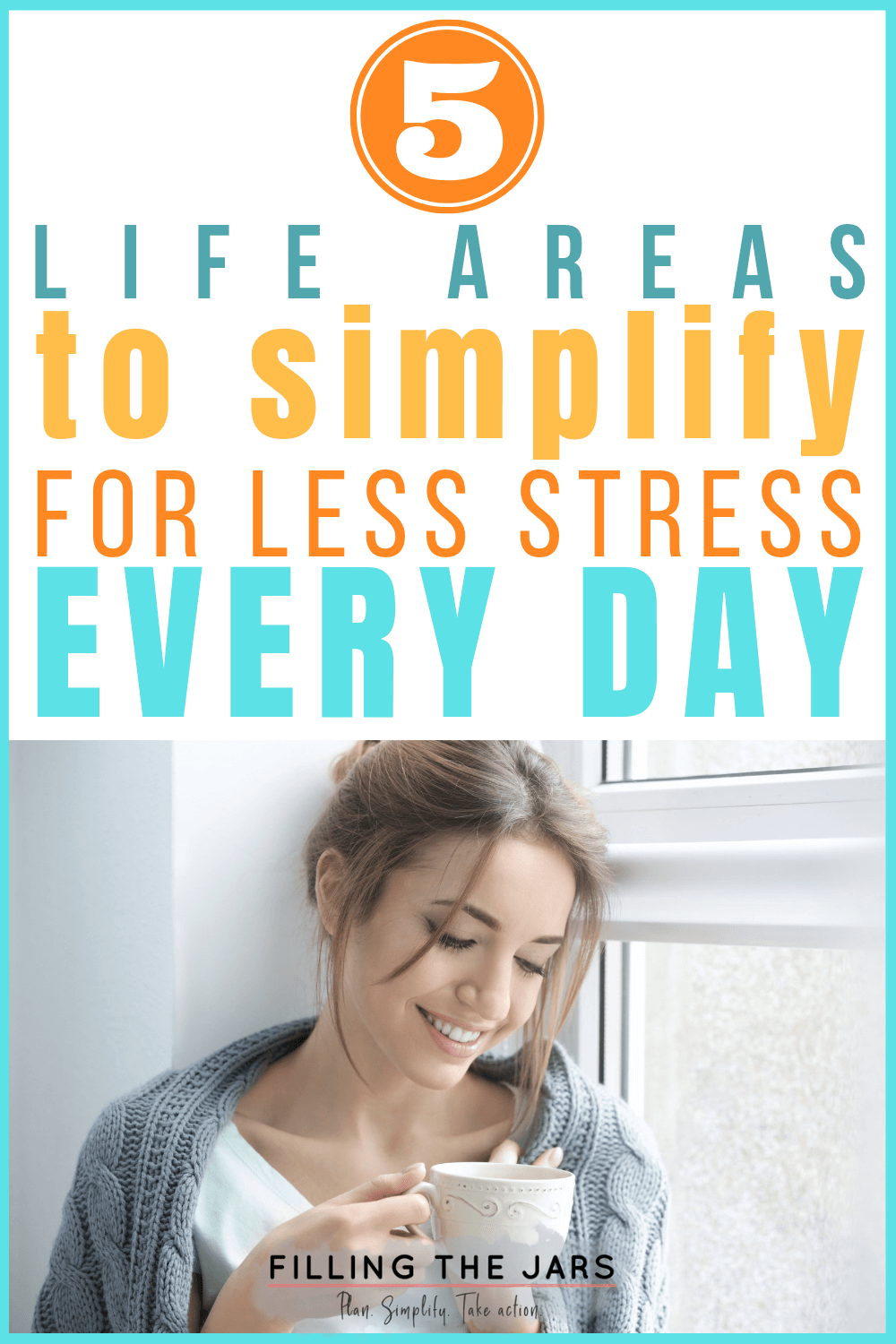 How does your day go? Are you constantly making decisions? What to wear, what to eat, what task to do next… It all adds up to exhaustion, and nobody wants to be tired all the time. Maybe you're good with planners & schedules, but at the same time you could relieve even more of your daily mental load by eliminating decision fatigue.
What is decision fatigue? It's the exhaustion that comes from having to make endless decisions every day about everything. This is a HUGE problem if you are an overthinker, easily paralyzed by options and decisions.
Overthinkers MUST structure days simply in order to avoid decision fatigue. Basing routines and planning on limited choices makes your day flow better. Imagine being not QUITE so mentally exhausted when evening rolls around, and actually being able to enjoy conversations and family time.
Make some concrete decisions about what everyday things you can simplify to the point of automation, and then DO IT.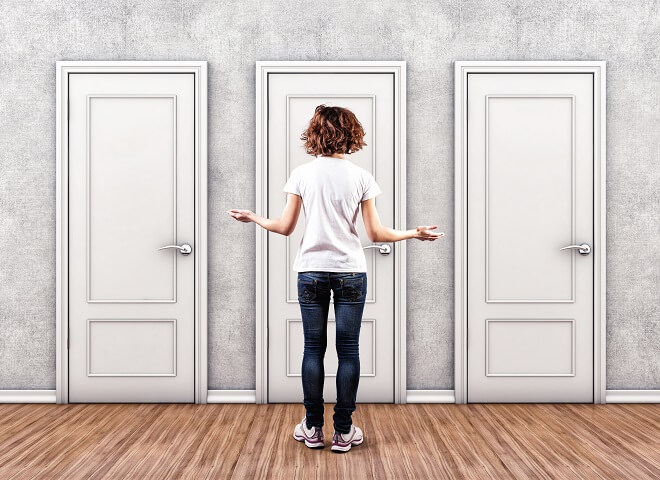 This post may contain affiliate links. If you choose to purchase through an affiliate link, I may receive a small commission at no additional cost to you. You can see my disclaimer here.
Life Areas of Decision Fatigue & How to Improve Them
1. Daily Routine
As much as possible, do the same things, in the same order, every single day. It's not boring. Rather, it's productive because these things become ingrained habits. We are able to finish everyday tasks faster because we're not expending brain energy. Plus, our minds are still fresh when it comes time to do the tasks that require full concentration.
Get up at the same time every day (yes, even weekends!) and have a set morning routine. Plan your day. In the evening, do a mini brain-dump and prioritize the most important thing to do the next day. Then you can go to bed and not spend hours trying to arrange everything in your mind, only to forget about the ACTUAL important thing when you wake up in the morning.
If you have children, a specific daily routine is reassuring and comforting. Children love routines, and they help you all get through the days with less stress so you can have more fun together.
2. Clothing
Wear the same thing every day. In other words, develop a personal "uniform" or signature style.
Productive people have a signature style or one core outfit with multiples of each piece. Some people only buy certain colors or wear exactly the same outfit every day. I once read an article about Jamie Lee Curtis that helped me realized I don't NEED a rainbow of clothing in my closet. Which is great, because trying to figure out which color looks good on me on any particular day is an exercise in frustration!
Determine your signature style – casual, professional, easy, polished, whatever works for you. Define it, and structure your wardrobe accordingly.
Don't forget to do a deep closet declutter. Get rid of everything that doesn't fit, doesn't easily coordinate with what you usually wear, or you just don't like wearing. Once you get down to the basics, you may even decide it's time to build an extremely simple capsule wardrobe.
For example, are you a jeans & t-shirt person? Buy yourself 4 pairs of the SAME favorite jeans (same size and color!) and 6-8 of the same favorite t-shirt. Mix up the shirt colors if you want, but not so much that it means you now have to do 3 different loads of laundry just to wash your shirts. The same with socks and underwear… multiples, exactly the same! Who wants to spend time matching socks?
If you're new to capsule wardrobes, need a little more variety, or if putting complete outfits together stresses you out because you never know what works, it may be time to look into a service such as the seasonal Style Challenges from Alison at Get Your Pretty On. I'm absolutely loving the look of this Spring 2019 Capsule Wardrobe!
One really great thing about these challenges is the itemized shopping list, which helps reduce the option overload that happens every time I try to do 'normal' clothes shopping.
If you're a fashionista and still want to avoid decision fatigue, at least plan your daily wardrobe for the week on Sunday. Assemble your outfits, including shoes and accessories, and have everything ready to go for the week.
If you have an iPhone or iPad, check out the Stylebook app. It's pretty spiffy and can help you plan and save complete outfits for your workweek, special events, travel, and more.
3. Food
Get into the habit of eating the same breakfast & lunch every day. Appreciate the simplicity.
Once a week, make big batches of simple things like oatmeal and soup. You will have breakfast & lunch for the week, and you won't have to spend forever standing in front of the fridge every day, wondering what you can throw together for yourself because it's time to eat and you're starving. It's already done!
Buy some freezer-safe containers (glass or plastic) to store your food in individual servings. Making freezer-friendly soups like chicken noodle or bean soup means you can make a HUGE pot of soup, portion it out, and have lunches for a couple of weeks!
For dinners, a simple meal plan is a lifesaver! This is why I love monthly meal planning and monthly grocery shopping. I get all of that done & out of the way at once. Then every week I use the same meal prep routine and we're good to go! Remember, there's nothing wrong with repeating a meal or even a week of meals a couple of times a month.
4. Shopping
Food
Develop a basic, personalized grocery list. Buy the same things from the same stores on every trip. For example, I have worked my monthly menu and shopping list down to the point where I can get about 90% of the list from Aldi. That means I only need to get the minimum from the black hole of decision-fatigue-inspiring superstore shopping.
If you live in a more metro area, you can try online grocery shopping through your local stores, which may offer pickup or delivery. Amazon is also offering a free trial of AmazonFresh. Click here to see if it's available in your area >> learn more about AmazonFresh.
Household Supplies
To really make your life easier, purchase most of your regular household supplies through Amazon. With their Subscribe and Save option, you can get regular delivery of the things you use all the time, at about the same price as the grocery store. Plus, once you're set up for delivery, you won't have to spend hours of your life in the store, trying to decide which brand/size/variety of whatever you need will work the best. (And heaven forbid the store is out of your usual item! Been there, done that — far too many times!)
You could also sign up for a free trial of Amazon's Prime Pantry, which offers exclusive sizes and varieties that may work better for you than the standard Amazon products. Click here >> learn more about Amazon Prime Pantry.
One caveat: Don't get sucked into the black hole of online comparison shopping at Amazon. Order what you need, in the size and type you need, and that's it. Develop a blind eye when it comes to the "You may also like" and "People also ordered" messages that pop up on Amazon. Just don't. even. go. there.
Clothing
Always purchase multiples of the items you like that fit your signature style. If you can quickly purchase what you need online, awesome! Otherwise, limit your shopping to stores where you KNOW you will find what you need.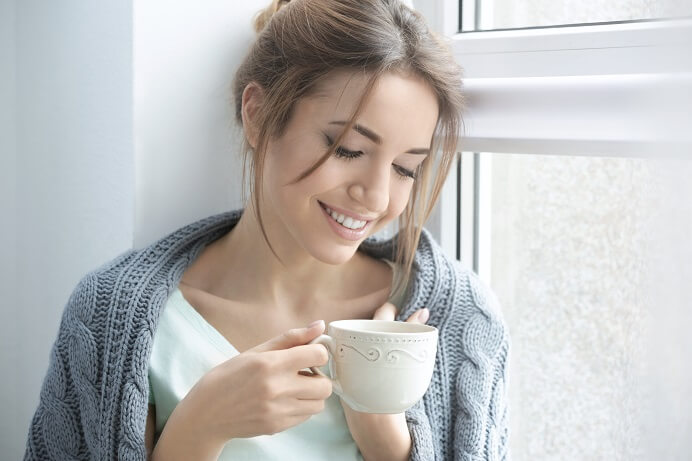 5. Gift-giving
Unless you're a master shopper, finding gifts can be overwhelming. And it seems like there is always a gift-giving occasion on the horizon.
Develop either a signature gift (same for every wedding, graduation, etc.) or be the person who always gives cash or gift cards. It's okay… I promise, it really is. Trust me, no bride-to-be is going to be angry with you for giving her a gift card to Bed, Bath and Beyond as a shower gift.
You should also make a list or spreadsheet for the usual gift occasions in your life. With this, you can track what's coming up for all of your friends and family members. Fewer surprises, more preparation with gifts and greeting cards purchased well ahead of time = much less stress for you.
---
Make decisions about what everyday things you can #simplify, and then DO IT.
Click To Tweet
Of course, you can never eliminate ALL of the decisions you need to make, but removing decision fatigue when it comes to the smaller things frees your mind to concentrate on the more important decisions and tasks.
Think about it: Would you rather spend your life energy deciding what to eat for lunch every day, or actually get things done so you can accomplish more life goals and have the mental energy to ENJOY those accomplishments?
For help on working toward ONE goal with focus and intent, read "The ONE FOCUS Method." This quick-read book will inspire and motivate you with practical advice to reduce the 'noise' in your life so you can concentrate on your highest priority goal for REAL progress.
Related Reading to Help Simplify Even More of Your Life
Creating the Perfect Evening Routine – Hustle & Groove
4 Fast + Simple Habits to Keep a Clean and Tidy Home – Filling the Jars
My Completely Honest Review of Online Grocery Shopping – Smart Mom Smart Ideas
62 Things to Declutter That You Won't Miss at All – Filling the Jars
5 Ways Overwhelmed Overthinkers Can Beat Procrastination – Filling the Jars
---
Did you enjoy this post? If so, please take a moment to share on Pinterest or your favorite social media… Thank you!
Get the 5-Step Checklist to Reach Your Goals
Reach your goals in 2020! Enter your information now to receive your "Stop Thinking & Start Doing" checklist.
Choosing to join the Filling the Jars email list means you will receive regular - usually weekly - email communication with news, tips, and special offers to help you on your journey to Build Your Best Life.

Filling the Jars Privacy Policy