Simple organizing solutions like binders can bring instant order to a messy life. A great binder is one of my favorite paper organizing tools and really… LIFE organizing tools. Let's talk about choosing the best 3 ring binder to organize the most important areas of your home and life.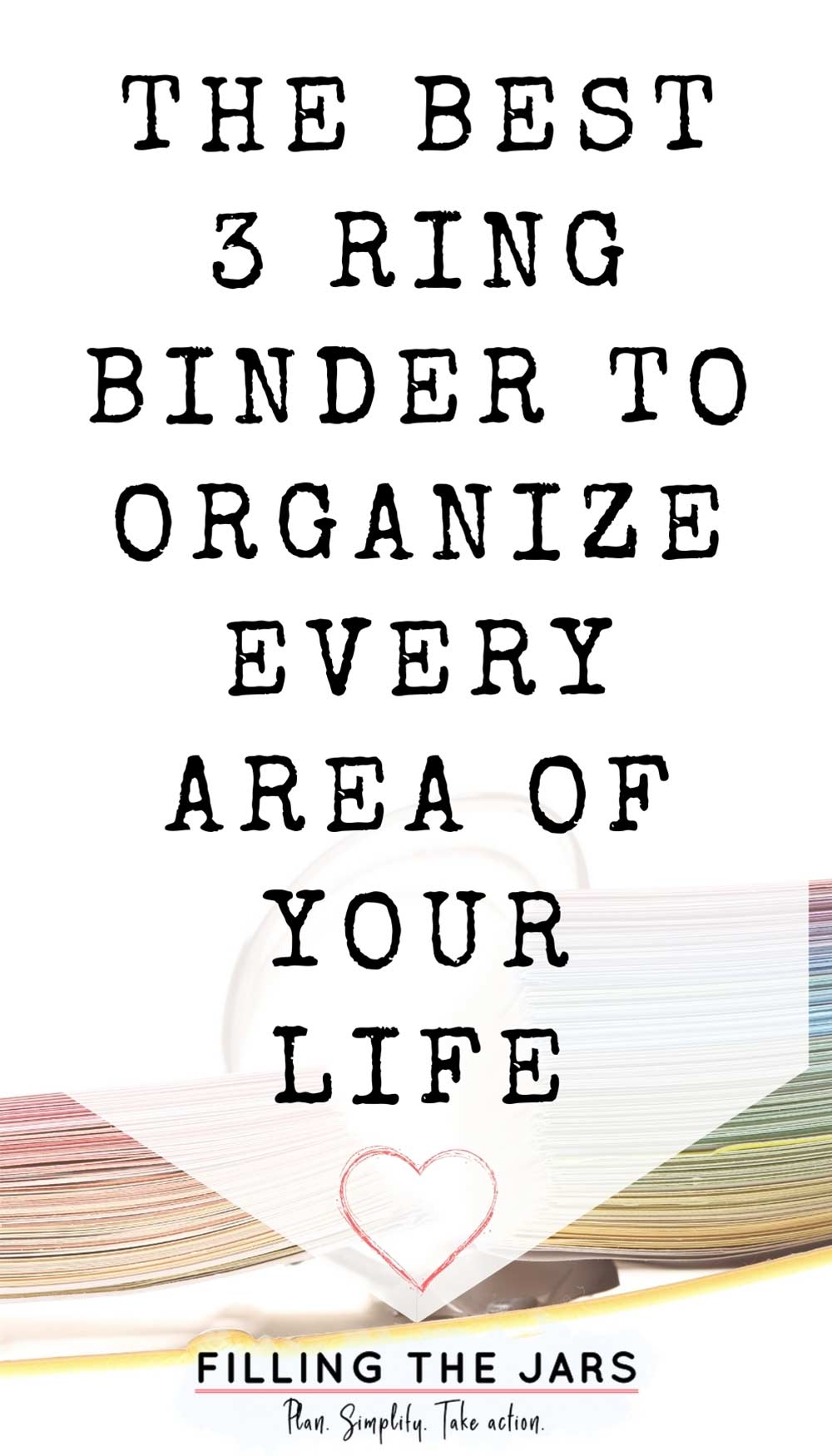 This post may contain affiliate links. If you choose to purchase through an affiliate link, I may receive a small commission at no additional cost to you. You can see my full disclaimer here.
Life can be pretty hectic at times. Finding little ways to keep things organized will make anyone's life a bit more manageable. 
Not gonna lie… I absolutely LOVE 3 ring binders! I have them in several sizes and use them all the time. When used properly, 3-ring binders can help prevent household paper clutter from getting out of hand and help keep your life organized.
I know, I know… the very mention of 3 ring binders might give you flashbacks to school when your English teacher taught you how to organize a binder for your class.
The good news is that those organization skills you learned in school with your binders can be applied to your recipes, important documents, daily schedules, to-do lists, and even your kids' school keepsakes.
The Best 3 Ring Binders for Getting Organized
Figuring out the best 3 ring binder to use for your needs is a perfect step to getting your life more organized.
Here are a few options for a variety of organizational needs:
Small Binder Planner
Do you love printing your own half-size planner pages? This Capote Vintage Mini Professional 3 Ring Binder is perfect for creating a DIY planner or journal binder.
Pro:
The compact size and beautiful brown faux leather make this an ideal little binder that you can easily slip in your purse or carry around with you.
Con:
Planner pages and journal pages have to be purchased or printed separately… but this allows you to customize the types of pages for your needs.
Don't forget to pick up a mini 3-hole punch and looseleaf filler paper. While you're at it, check out these mini binder dividers and mini binder pockets to complete your DIY small journal binder or planner.
Honorable mention:
Avery Mini Protect and Store View Binders with a fully enclosed pocket inside the front cover to hold extra items like pens, highlighters, receipts, etc.
Large Planner Binder
Looking for a large planner binder that you can leave sitting on your desktop? Want to carry your tablet and planner in one case?
Check out the Wundermax Portfolio Padfolio with Handle. This 3 ring zipper binder has a place where you can easily slip in something like the Bloom Daily Planning Pad or Weekly Planning System to keep your notes and to-do lists right at your fingertips.
For traveling or working away from home, you can organize projects and paperwork by adding a few Avery Write & Erase Big Tab Plastic Dividers with Slash Pockets.
With its versatility, this Wundermax could easily become your on-the-go life organizer binder.
Pros:
Customizable for paper pads, 3 ring binder pages, and holds up to a 13" tablet to keep your important things in one place.
The 3-ring binder is removable if you don't need it or want to use it separately.
Plus, it has a handle for easy carrying!
Cons:
Because this binder is large and has a lot of storage spaces, you might be tempted to overfill it, making it heavy to carry and possibly putting too much strain on the handle (which isn't designed for heavy-duty use).
Also, it would take up a big part of your desk if you leave it open all day.
Don't love vegan leather? Try the more rugged-style Case-it Executive Zippered Padfolio with Removable 3-Ring Binder and Letter Size Writing Pad. However, be aware that this binder does NOT have a pocket for a computer tablet.
Decorative 3 Ring Binders for Recipes
If you need a cute binder to organize all of your favorite hand-written recipe cards, the Jot & Mark Recipe Organizer 3 Ring Binder Set is a fun option.
It comes with the binder, page dividers with tabs, and plastic page protectors that are divided to fit two 4X6 inch recipe cards that are also included.
Pro
Additional cards and page protectors can be added as needed.
Con
Designed for 4X6 inch cards, which may require you to rewrite recipes you already have written down.
If you prefer the versatility of a recipe binder that can hold full-size pages, try this 3 Ring Full Page Recipe Binder 8.5×11 in. Kit. 
It comes with 50 page protectors, 16 section dividers, and 32 labels. Have a mix of full pages and cards? Grab a set of Samsill 25 Pack Clear 4×6 Recipe Card Protectors.
School Keepsake Binder
An alternative to creating a school memory box for your child is to use a keepsake binder. Denise Albright's 3 ring School Memory Book Keepsake Album is the perfect ready-made solution if you're not the scrapbook-y, creative type.
Every school year holds memories that are unforgettable and easy to capture with this binder. Every grade section includes template pages for photos and memories, plus a full-size pocket to hold keepsakes from the year.
The 3 ring style means you can add or remove pages whenever you want. It's as simple as using the included bookmark as a template for punching holes when you want to add your own new pages.
Pros:
This versatile binder set contains everything you need to capture those first and last day of school photos and memories throughout the year.
It even has those cute 'first day of' and 'last day of' cards for your child to hold in your pictures.
Con:
Although each grade level has a good-sized pocket, there is no closure to contain bulky items, so you probably won't want to use the pockets for more than papers and ribbons or awards.
Binder to Organize Important Documents
If you need to store your important documents in a beautiful and cohesive — yet easily accessible — way, consider the Samsill Vintage Hardback 3 Ring Binder. The sleek brown faux leather design looks classy and professional, but is still extremely functional.
Pro:
Interior pockets on the front and back cover allow for additional papers to be added to the binder.
Con:
Does not have a place for a label on the spine. If you have multiple binders, it will be challenging to identify the contents without opening each binder.
Note: This may not be the ideal storage solution for legal or historical documents. Those may best be stored in a safe deposit box, with a lawyer, or in a moisture- and climate-controlled environment. Check with a professional if you have questions about specific important document storage.
Best Heavy Duty 3 Ring Binder
Sometimes, you just need a customizable, heavy duty 3 ring binder that won't warp and bend under the weight of the papers you need to keep organized and access frequently.
The Avery Heavy Duty View 3 Ring Binder is a durable D-ring binder with an easy one-touch open and close mechanism.
I think of this as the king of binders. A few of these binders in various sizes can pretty much organize everything. They are ALWAYS my go-to binder for quality, versatility, and durability.
You could easily use this as a DIY planner binder with printable daily planner pages and anything else you want for creating your totally custom personal planner.
Pros:
Easy to add custom inserts to covers and spine.
The four inside pockets provide extra storage for odd-size or unpunched papers.
D-ring binders hold more papers than standard round-ring binders, and they usually keep the papers in nicer condition due to the ring design.
Con:
The larger-size binders can be bulky and require a lot of space for storage.
What size 3 ring binder should you get?
When it comes to organizing with binders, knowing which size binder to buy can make a big difference.
For each area you're organizing, you want a binder that will hold everything you need. At the same time, you don't want it to take up too much space or be so massive that you never actually want to USE it.
Here's a helpful guide for binder sizes:
1″ binders hold approximately 200-225 pages
1-1/2″ binders hold approximately 250-400 pages
2″ binders hold approximately 400-540 pages
3″ binders hold approximately 550-650 pages
You can get larger binders, but honestly they get very heavy. And if the rings fail, you could be left with a mess of papers that you might never get around to reorganizing again.
My favorite size for most applications is a 1-1/2″ or 2" binder. They are fairly easy to hold in one hand, yet hold plenty of pages.
Now you know how many pages binders hold, you can decide what size will work best for your needs and start getting organized.
More Organizing Resources and Information
How To Organize Papers Without a Filing Cabinet: 5 Simple Solutions That Work
How Long to Keep Tax Records and Other Documents – Consumer Reports
Storage Ideas For Clutter: 8 Dynamite Ways to Organize the 'Must-Keep' Stuff
How to Live Clutter Free: 12 Golden Rules for Clutter Control
Next Steps
Ready to start organizing? I would suggest beginning with choosing the best 3 ring binder for ONE area of your life.
Get used to it, see what you like or don't like about it, and then move on to the next binder and the next area.
You may end up using multiple binders for one area of organizing… and that's okay! Use what you need to make it work for you!
Before you know it, you'll be a pro at organizing with your favorite best 3 ring binders!
You've got this!