There's a saying that just because something is simple, doesn't mean it's easy. This CAN be true when it comes to learning how to live clutter free. But practicing these 'golden rules' will easily set you on the path to success.
Not quite at the 'maintenance' point of decluttering? I've got plenty of declutter tips to help you begin and complete your journey to a clutter-free home even if you're feeling overwhelmed.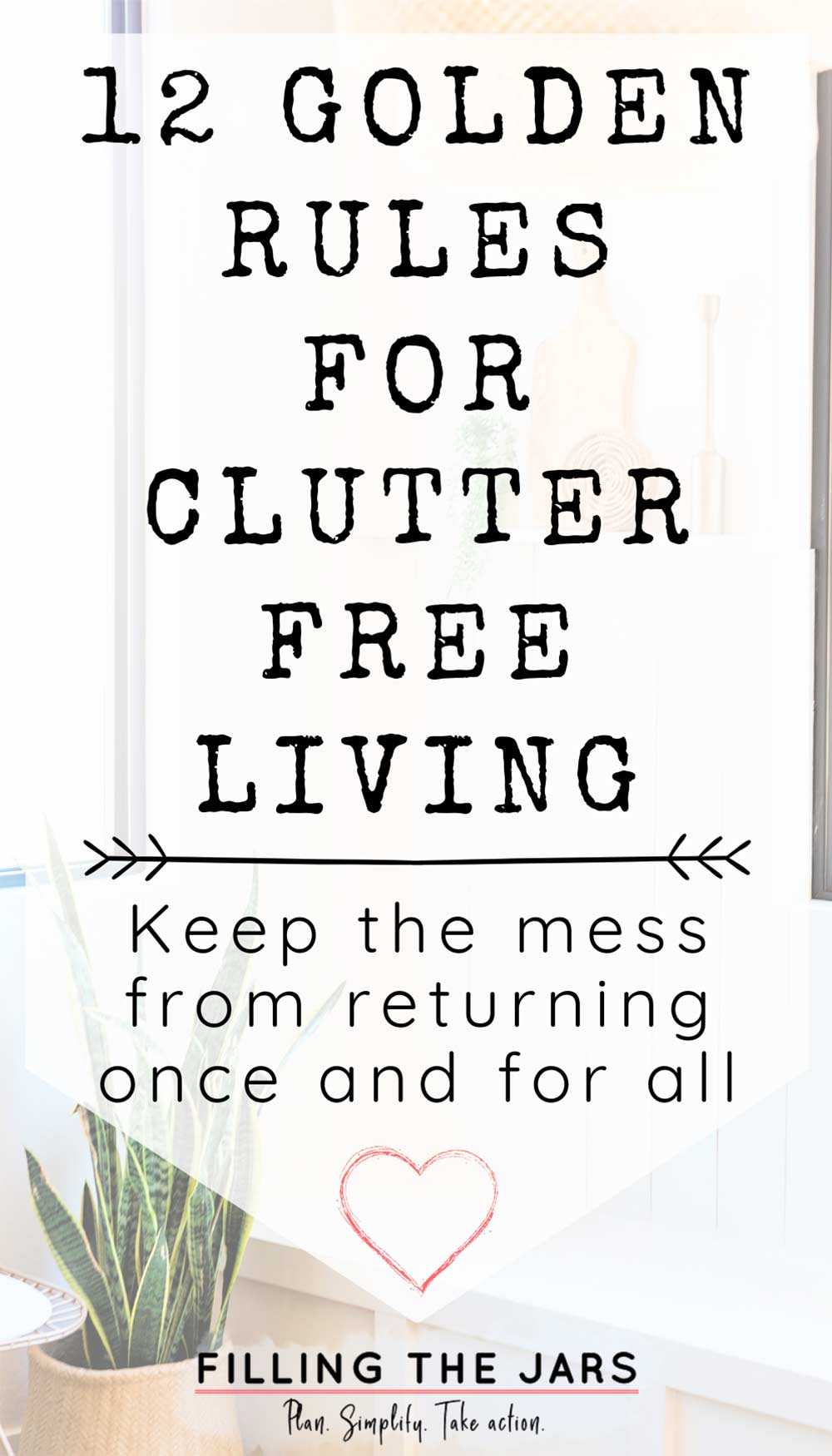 This post may contain affiliate links. If you choose to purchase through an affiliate link, I may receive a small commission at no additional cost to you. You can see my full disclaimer here.
After the initial hard work of decluttering, here's what happens all too often:
You gaze upon the beauty of your decluttered home and let out a satisfied sigh of relief. You've done it! After immense effort, those monumental piles of clutter are gone! No more paper piles, no more laundry piles, no more 'I'm not sure where to put this, so I'll set it here for now' piles.
'Thank goodness THAT's over,' you say. 'I'm so glad I'll never have to deal with clutter again!'
A few weeks later, you look around in dismay. Several piles of laundry sit on the couch, desperately waiting to be folded. (Your cat, perched atop the soft mountain, seems perfectly content with the situation.)
You realize you can't eat at the dining room table tonight because it's been overtaken by projects and several items that never quite made it into a storage spot.
And from where you stand, you can see at least three separate paper piles. You don't even know what's in them.
You turn away, unable to take it all in. You feel frustration and exhaustion. All that time spent clearing clutter… for what?
Honestly, I hope you've never felt bad after decluttering! But… the hard truth is that clutter doesn't stay away just because we do a REALLY good job decluttering. And if this has happened to you, don't feel bad. It's not exactly your fault!
Remaining clutter free is like losing weight or sticking to a budget. There are maintenance skills that need to be LEARNED and practiced…. You can't do it once and expect to remain at the same level forever. 
You need to make some things a daily habit, and expect that sometimes you'll have to do a spot of more intense re-training — or in this case, decluttering.
Here are my tips for how to be clutter free in your home.
How to Live Clutter Free
Clutter really is like a disease. Yes, for some it's a true mental disorder known as hoarding. However, in this post we're discussing 'regular' clutter that tends to appear when you've already fully decluttered. 
Once you've cleared the clutter, you KNOW how beautiful and peaceful your home is. So why do you feel so powerless to stop clutter returning… and can you REALLY prevent it?
Yes, you CAN… But it's going to take some work on your part. While the tips and routines are simple, they do take some practice.
That's one of the not-so-funny things about clutter — the actual prevention comes AFTER the cure…
Still, getting your anti-clutter habits in place are SO WORTH the initial effort! Before you know it, the work won't require as much… well… work — and clutter-free will become your home's natural state.
Imagine that.
Now let's talk about how to DO it. 🙂
Clutter Control Tips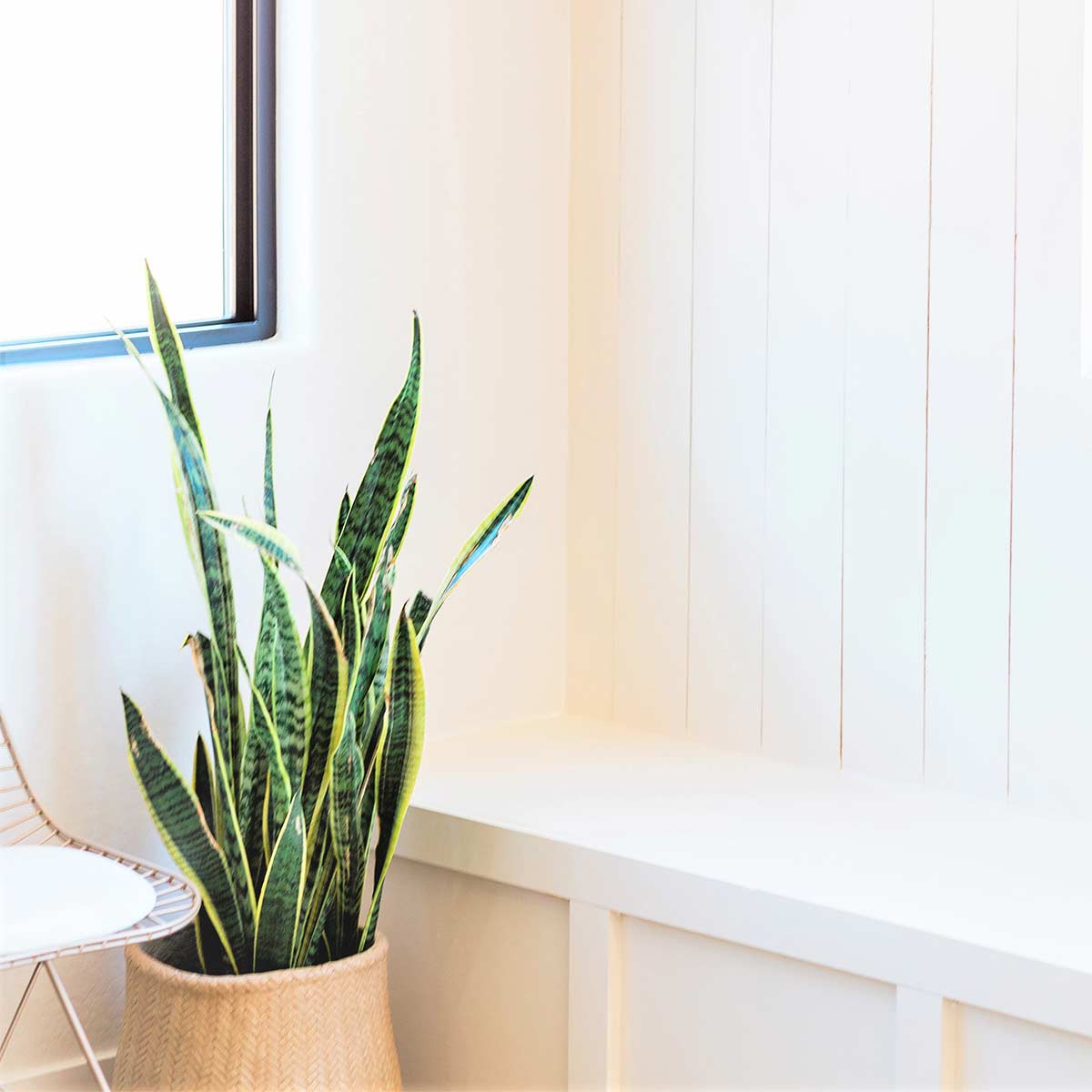 Some of these are 'rules' we all know but have never followed. Others are things that work for me so I included them.
Here's the thing… They're all really hard at first when you're naturally messy and don't have any practice at living clutter-free. But they get easier with practice!
Also, for complete honesty… Do I do all of these ALL the time? Nope. But I do enough of them that my house is 'tidy enough' to not be uber-embarrassing if someone were to stop by. Although, if I'm given 5 minutes' warning, it's a lot better! LOL
How do you stay on top of clutter?
1. Don't put ANYTHING down 'for now'
Always remember 'later' is never. Put it away! We all know this in theory, but now it's time to practice this until it's habit.
2. Stop being so 'nice'
You must no longer be the nice person who takes everyone's castoffs. This is more difficult than you think, especially if you've been doing it for years.
It doesn't matter if the item is really nice, it 'might come in handy later,' or you think they'll eventually be sorry that they discarded it and 'somebody should hold on to it.'
You don't need that stuff and you are NOT the Keeper of the Things.
3. Stop the bargain-hunting and recreational shopping
Let go of the idea of 'retail therapy' and the words 'just to look.' You KNOW you have a problem with clutter, and the best way to prevent a buildup is to not allow it to enter your home.
Instead of shopping, visit a museum, see a movie, take a sight-seeing drive or a day trip. Take pictures and videos instead of buying a bunch of cheap plastic souvenirs.
4. Set expectations for family members
It's time for every.single.person to take care of their own stuff. You're not doing them any favors by acting like a maid.
Also remember this clutter free way of life is probably new for everyone. There will be bumps along the way. Everyone in the family is learning new habits, so it's helpful to have a 'we're in this together' attitude along with extra patience for everyone — including yourself.
5. Use baskets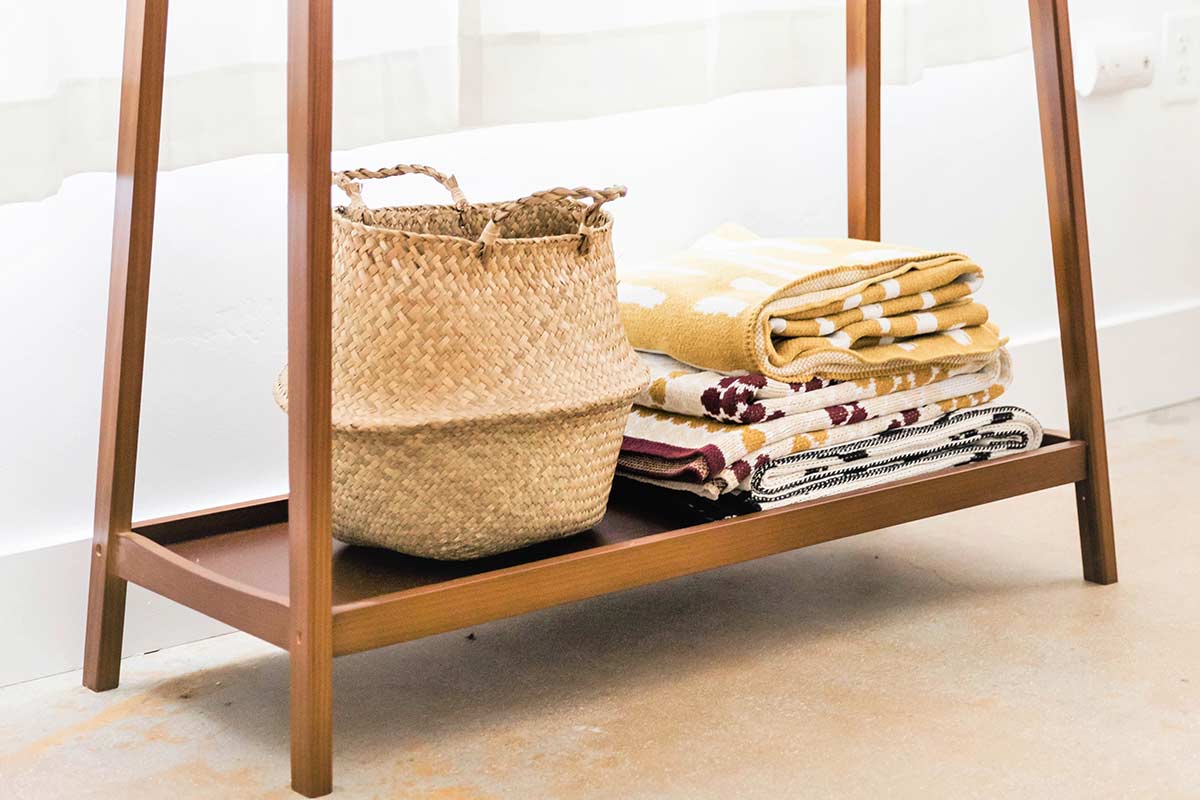 The caveat here is that you should have them ONLY for a few things. Baskets are effective to corral small objects, papers, etc. But too many can also become clutter.
If your kitchen counter is full of baskets that hold fruit, utensils, spices, recipes and other papers, condiments, K-cups, napkins, and a couple for 'miscellaneous' objects — you have too many baskets.
Anyone else love that Progressive insurance commercial about throw pillows on the couch — 'If you have no place to sit, you have too many.' Well, it's the same thing here, just with baskets. Remember that. 😉
6. Implement daily rituals
Start doing things that clutter may have previously prevented. Eat at the table every night, do a 10-minute tidy, etc. Find meaningful things that you WANT to do along with little things that will inspire you to keep any mess at bay.
Grab this 30-Day Tidy Home Habit Tracker to help you remember to do.the.things and also celebrate your progress as you turn these tasks into true habits.
7. Set up a donation station
This can be as simple as a bag or box in the entryway closet or next to the garage door. If you don't have room in your house, then keep a box in your vehicle.
Make it a habit to deliver weekly to a donation center — or even more often if you find family members tend to take things OUT of the donation box instead of putting things in. 
8. Practice gratitude
Regular expressions of gratitude foster an attitude of abundance. You don't need to bring more stuff into your home when you're beyond grateful for what you already have.
Not sure about journaling or if it can work for you? Try these gratitude journal prompts and see for yourself.
9. Invite guests over frequently
We all know that nothing motivates us to declutter and clean like the prospect of having guests in our home for a few hours.
Want to take this to the next level? Invite them to stay overnight or for a weekend. Trust me, you'll start keeping that guest room — and closet — free of clutter in no time!
10. FOLLOW the 'everything has a place' rule
Here's another rule we all know but usually ignore, and it goes along with creating proper storage for the things already in your home.
As you finished the decluttering process, you should have figured out where all those 'places' are for the possessions you want to keep. And that's exactly how it should be!
But what happens when there's a new doo-dad that's caught your eye? No place for it? It doesn't belong in your home.
So, you're not bringing new stuff in that doesn't have a specific place or purpose, AND you're continuing to make use of the proper storage you've already created. See… you can do this!
11. Start fresh every week
One of the beautiful-and-tidy-home bloggers I really admire, Abby Lawson, calls this a 'weekly reset' in her Impactful Habits, Organized Home course. 
If you're new to maintaining a clutter free home, I recommend you create a weekly 'decluttered' checklist of all the places you need to give some extra attention to every week. You could go room-by-room or hot spot by hot spot — whatever works for you.
Print your list and keep it in a plastic sheet protector so you can mark off each area as you complete it.
12. Keep one sacred space
This is the area that you NEVER allow to become cluttered… no matter what. When you're just beginning the maintenance phase of living without clutter, this may be the only space that you feel consistently successful with.
Over time, the habits you practice for this space can be expanded to control clutter in the rest of your home.
More Tips and Resources for a Clutter Free Home
Stop Being a Victim of Clutter [Mindset Transformation]
My personal Amazon product picks for organizing your home
30 Inspirational Decluttering Quotes You Need In Your Life
The Best Way to Organize Paper Files: 4 Tips for Organizing Files at Home
The Minimalist Home — Joshua Becker
8 Strategies To Use When Your Partner Refuses to Declutter
The BEST Improvement We've Made to our Home!
Final Words of Encouragement for Living Clutter Free
I don't want to say the real work is just beginning… because you HAVE just completed an amazing and monumental task by clearing the clutter from your home!
But now it's time to learn and practice the skills for how to LIVE clutter free. I absolutely believe you CAN succeed in keeping your home clear, calm, and comfortable.
You've got this!
Don't forget your 30-Day Tidy Home Tracker… sign up below to have it sent right to your inbox:
---
Did you enjoy this post? Know someone else who might like it? Please take a moment to share on Pinterest, Facebook, or your favorite social media… (Click the sharing buttons at the bottom of the post.) Thank you!