Did you know there are many different creative ways to journal? If you want to discover and develop a creative outlet, one of the best options is to experiment with several creative journaling ideas.
So, what are the different types of journaling you can choose from to nurture your creativity? Below, we'll talk about 10 of the easiest writing and non-writing ways to creatively journal.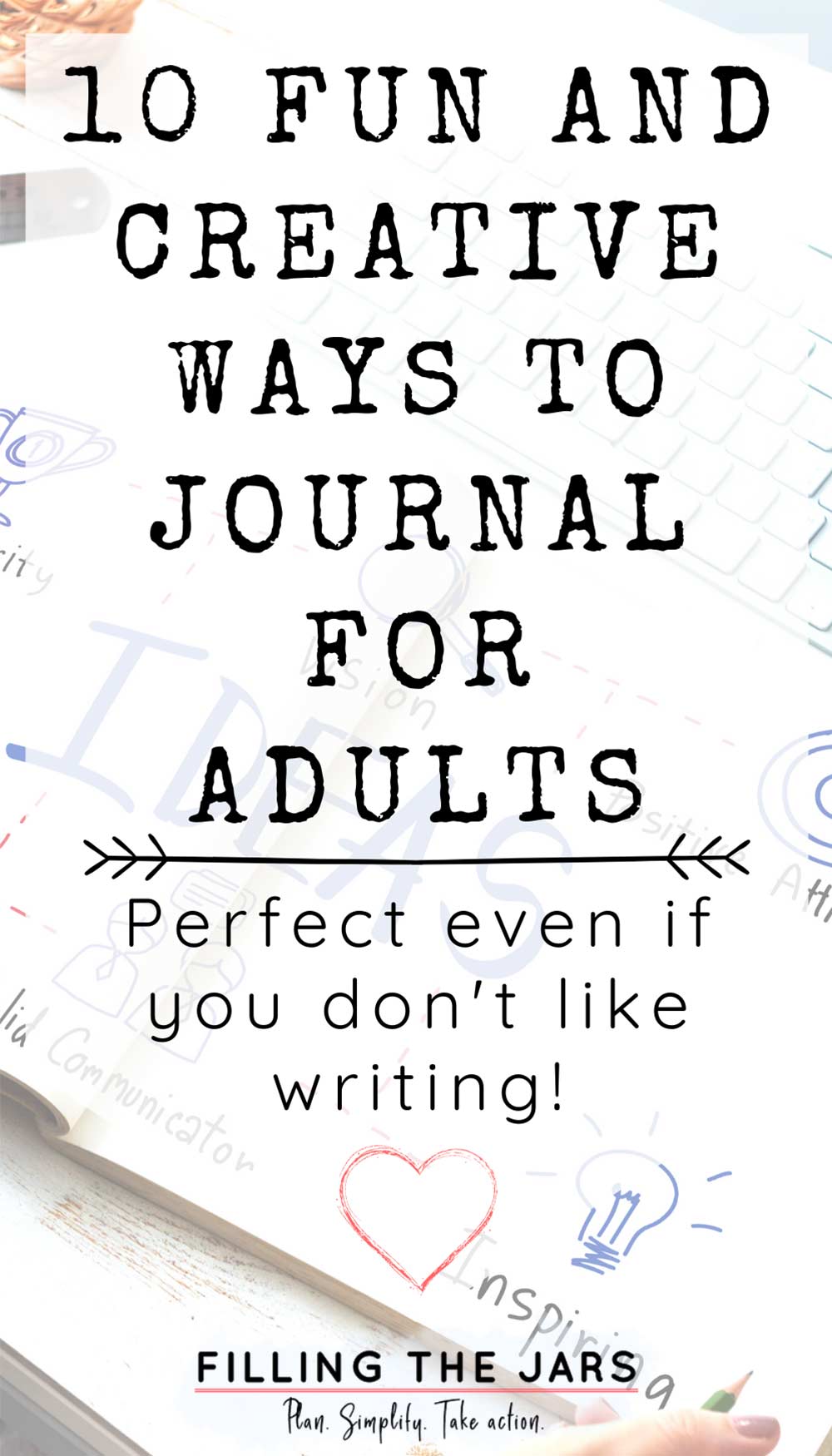 This post may contain affiliate links. If you choose to purchase through an affiliate link, I may receive a small commission at no additional cost to you. This post is not to be taken as professional medical or mental health advice. All statements are strictly my personal life observations. You can see my full disclaimer here.
Why We Need Creative Journaling Ideas
Many people have heard about the benefits of journaling, but the idea of writing all the mundane details of their daily lives seems incredibly boring. They may remember attempts at keeping a diary when they were younger, only to give up after writing the same things for a week straight.
You may be one of those people wondering 'How do I journal if I hate journaling?'
Well, even though journaling isn't really about capturing those yawn-worthy details of everyday life, I totally understand that some people are wired in a way that any hint of 'boring' is a roadblock.
Let's get that roadblock out of the way and get you journaling in a way that feeds your creativity!
Creative Ways to Journal
Overall, written journals are the most common type of journal, even when it comes to what we think of as creative journaling.
Even though we call these 'written' journal ideas, it should be noted that a written creative journal is different than a traditional journal. Although you're still writing, you're using the pages to record ideas, thoughts, and feelings to inspire your creativity.
5 Writing-based Creative Journal Ideas
Story journal
As a writer, one of my favorite ways to do creative journaling is to keep a story journal. This is basically a journal in which you write responses to a question or single word prompt every day.
The idea is, you roll the question or word around in your mind for a moment and then start writing. You may end up with a 6-word short story (it's a thing), 600-word flash fiction, or an entire page of rambling about an event in your childhood that later finds its way into one of your books. The answers themselves AND the act of writing can help spark creativity.
You can also use this journal to jot down random story scene, plot, or character ideas, even if it's not during your 'normal' journaling time.
Related: Feeling Stuck? Try These 14 Creative Things to Write In a Journal
Dream journal
This can feel really strange if you've never recorded your dreams before. Some of us may forget our dreams so quickly that it may seem like we don't actually have any.
But if you're interested in learning about how to use your dreams to inspire creative ideas, get into the habit of keeping a dream journal next to your bed. As soon as you wake up, write down any snippets of dreams you remember from the night before. You can even sketch pictures of things you may have seen in your dreams.
Don't try to interpret your dreams as you're writing. This exercise is simply recording, and then later you can go back and try to figure out what in the world those things really mean.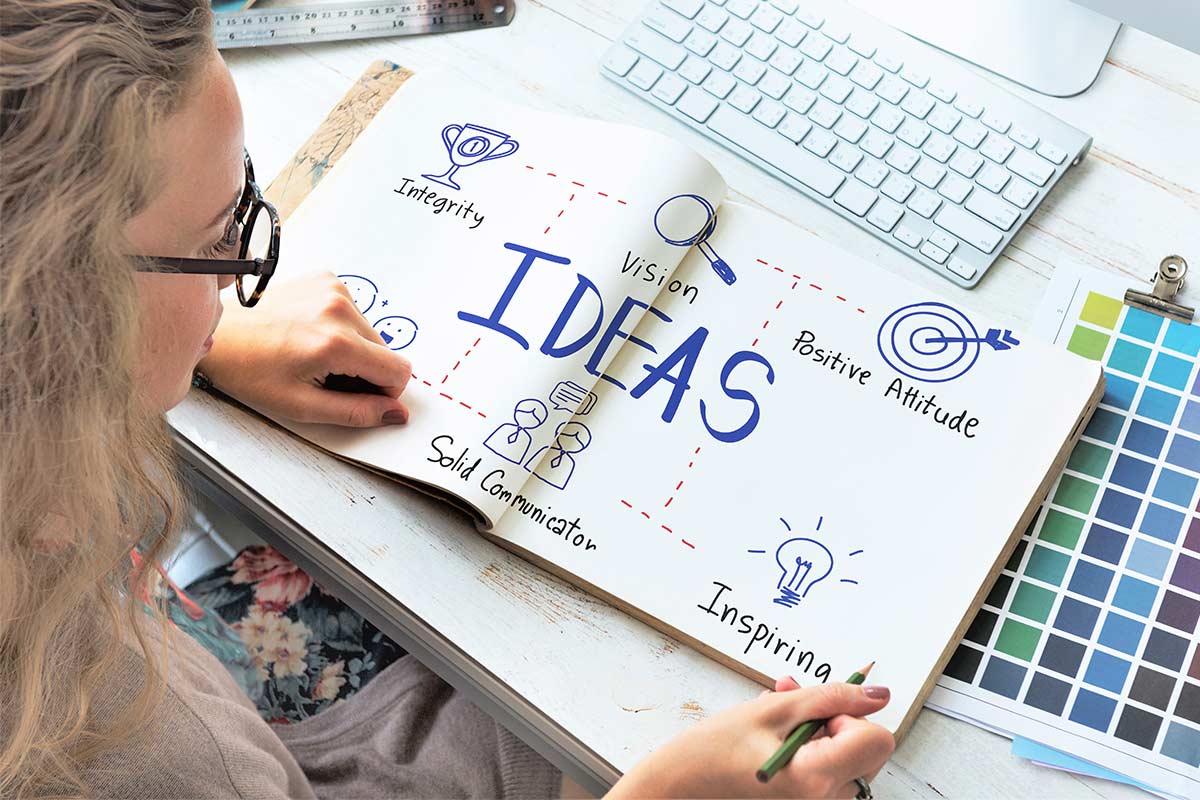 Mind map journal
Mind mapping is a fairly new journaling technique. It's a visual-style journal, which can work wonders for creative people. Mind mapping works by recording your ideas in a visual way.
For example, write down your main idea — or a thought or emotion — and draw a big circle around it. Then, think of other ideas which relate to it and write them in groupings on the page. You then connect your sub ideas to the main idea, creating a mind map.
It might sound a little weird if you've never tried it, but it can really help to see the visual when you're struggling with a creative problem or you want to come up with related ideas.
Lay everything out on the page and it starts to become fun. Feel free to use different colors and lettering as you expand on your ideas. You'll be surprised at how quickly you can fill a page. 😉
Book / music journal
These types of journals can be kept several different ways. If you're musically-inclined, you can always write your own songs or music compositions.
For the rest of us, we can use them as a way to examine passages from books and song lyrics. Write them out on the page — as straightforward or as fancy as you like — and then write about the ideas those words inspire.
You can also 'track' the books you read and your thoughts about them, which I cover a little more later in the post.
'You can't write if you don't read.'
— Steve Earle
Coloring journal
This is like a dual-purpose journal. You get the relaxation and enjoyment of coloring, and along with that you can write a journal page of whatever you're inspired by as you color.
If you've never tried a coloring journal before, this simple printable motivational coloring journal is just the thing to get you started.
5 Creativity Journal Ideas That Go Beyond Writing
Photo journal
This can be as simple or as detailed as you want to make it. For a simple way to spark your creativity without any writing at all, commit to taking at least one photo every day that captures the feeling or main event of the day.
To go a little deeper with the 'journaling' part, write about the photo. What was happening? Who was there? What was said? How did you feel? What did the object in your photo make you think of or remember.
The camera lens often makes us look at the world a little differently and more creatively.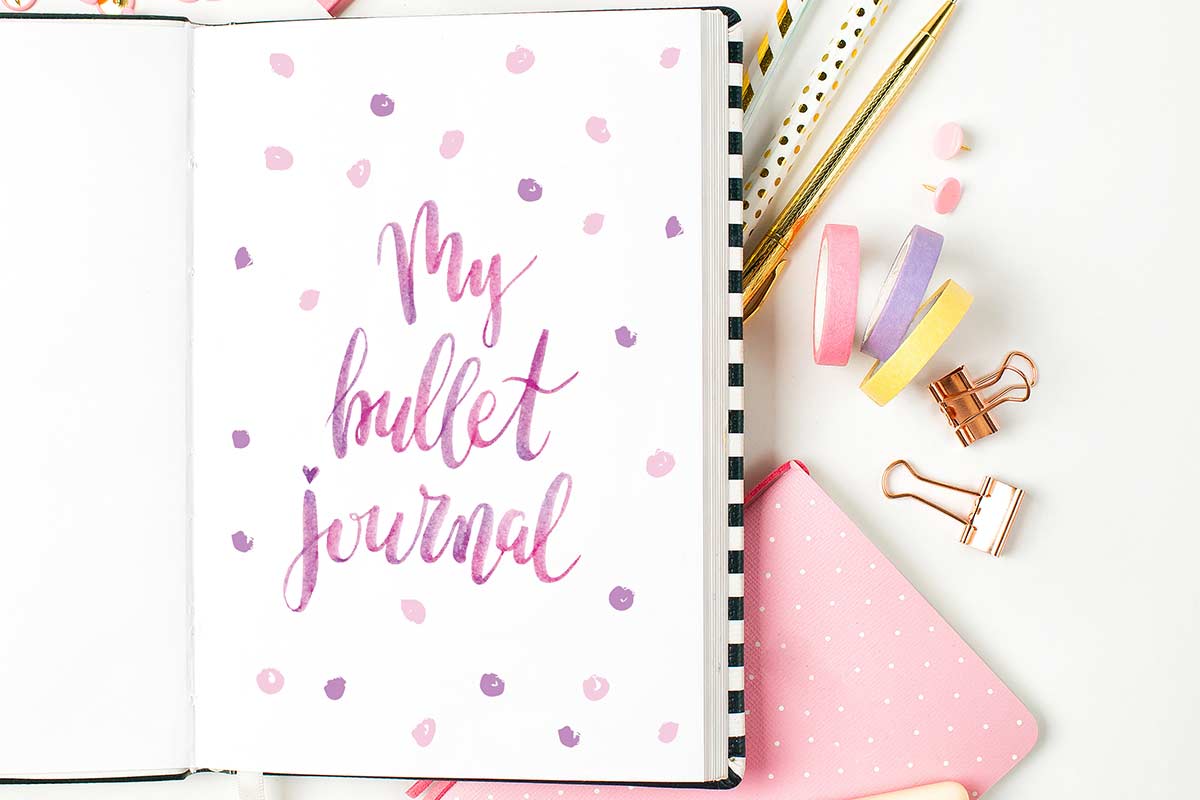 Bullet journal®
No creative journaling list would be complete without mentioning a bullet journal. While I'm sure the originator of this form of journaling, Ryder Carroll, never imagined just HOW creative his idea would become, it's definitely a style of creative journaling that anyone can do.
All you need is a notebook (dot grid is best) and you can journal about everything you can imagine all in one place. One of the really fun things about bullet journaling is making it as creative as you want.
Related: 15 Creative Bullet Journal Weekly Spread Ideas
Tracking journal
This is another creative journal idea that doesn't necessarily require any writing. You can create a journal to track just one thing like moods or exercise. Or you can have a bunch of different trackers in your journal for EVERYTHING in your life.
And while you could simply color in little squares or write in numbers to do your tracking, nothing says you have to stop there. You can always create a journal with pages for jotting down thoughts, ideas, and feeling about your progress.
You can also make your tracking pages creative… like drawing bookshelves with books to color in as you complete each one, symbols for your favorite exercises for your exercise tracker… really, anything you want!
Art journal
An art journal is perfect for artists, designers, and really anyone who wants to explore their artistic side. You can draw, paint, and create collages of cuttings from newspapers and magazines. Because it's so visual, this type of journal can really get the creative juices flowing.
Art journaling is very similar to scrapbooking, where you cut out images, quotes, and other elements you find inspiring and paste them onto a page in a pleasing layout. With art journaling, you can take things a step farther as you mix media and possibly even write journal entries to go along with your art.
Whenever you need a shot of inspiration, you can look over all of the things you've created in your art journal.
Related: How to Start an Art Journal Step by Step
Video journal
This one is perfect for people who really don't want to write anything at all! Video journaling is simply making a daily recording of what's going on in your life. You can also use it as a way to vocalize your thoughts and feelings even if nobody is around to talk about them with you.
Just start recording with your phone and you're suddenly video journaling!
Should you post your video journal online? That's completely up to you. Whatever you decide, don't be afraid to get in front of the camera and let your thoughts flow.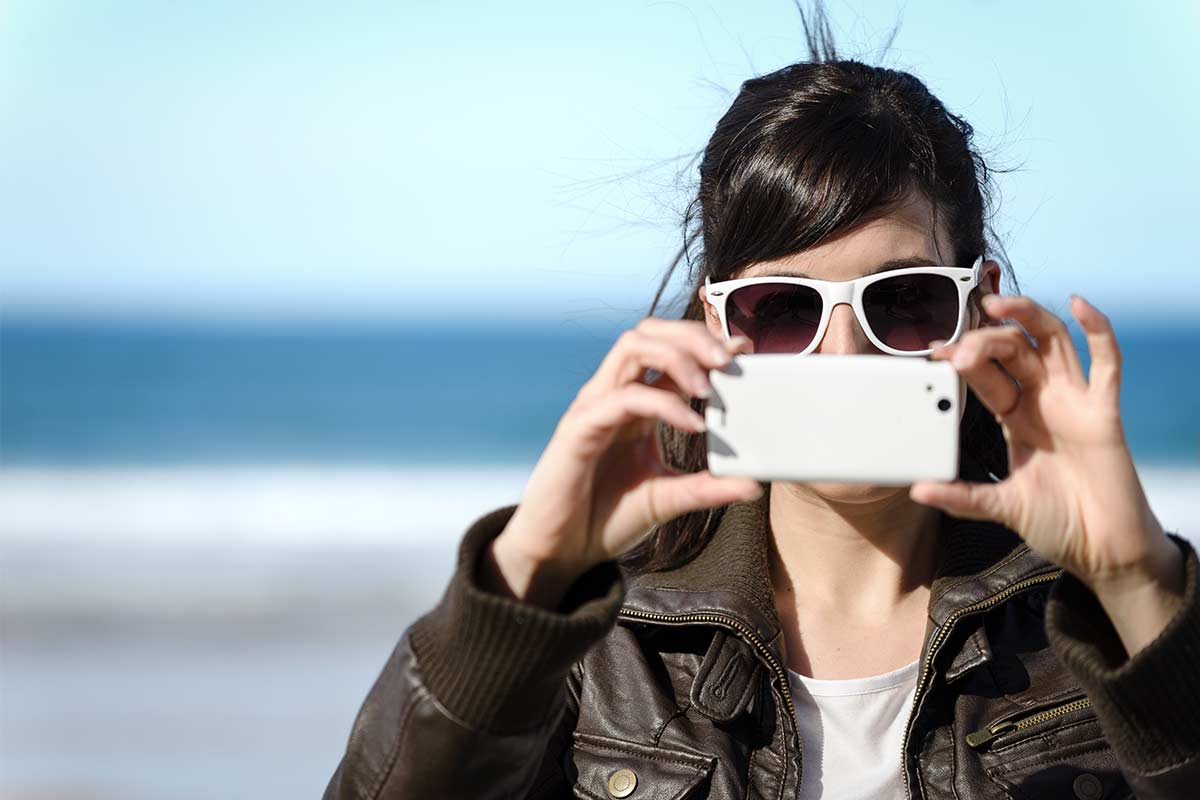 How Can I Make My Journal More Creative?
Maybe you really like 'regular' journaling, but you still wish you could add some creativity to it.
You can bring elements from ANY of these 10 creative ways to journal into your regular daily journal. Remember… there are no rules in journaling, so you are ALWAYS free to do whatever you want!
Add doodles, color, pretty tracking pages, pages of flash fiction. Paste in photographs or stickers. Use washi tape for splashes of pattern. Let your imagination run wild!
More Creativity and Journaling Resources
12 Outstanding Creative Outlets for Non-Creative Adults
Best Journals for Writing: 6 Top Picks
Want a fun journal that you don't have to create yourself? Try the incredibly popular 'Wreck This Journal.'
Gratitude Journal With Prompts: Building Positivity and Resilience
28 Confidence Journal Prompts to Improve Your Self-Esteem
Next Steps
Now it's up to you! With these choices of 10 creative ways to journal, which one will you try first? Think about the style you're most likely to benefit from and try that one first. If you try one and it's just not working for you… try something else!
The entire purpose of creative journaling is to clear all the crud out of your brain and allow the creativity to flow more easily as you Build Your Best Life.
You've got this!
---
Did you enjoy this post? Know someone else who might like it? Please take a moment to share on Pinterest, Facebook, or your favorite social media… (Click the sharing buttons at the bottom of the post.) Thank you!