Are you feeling overwhelmed by the clutter on your cell phone? You're not alone! Use these tips for decluttering your cell phone along with my top decluttering tips to make the job quick and easy so you can actually find what you need and improve productivity.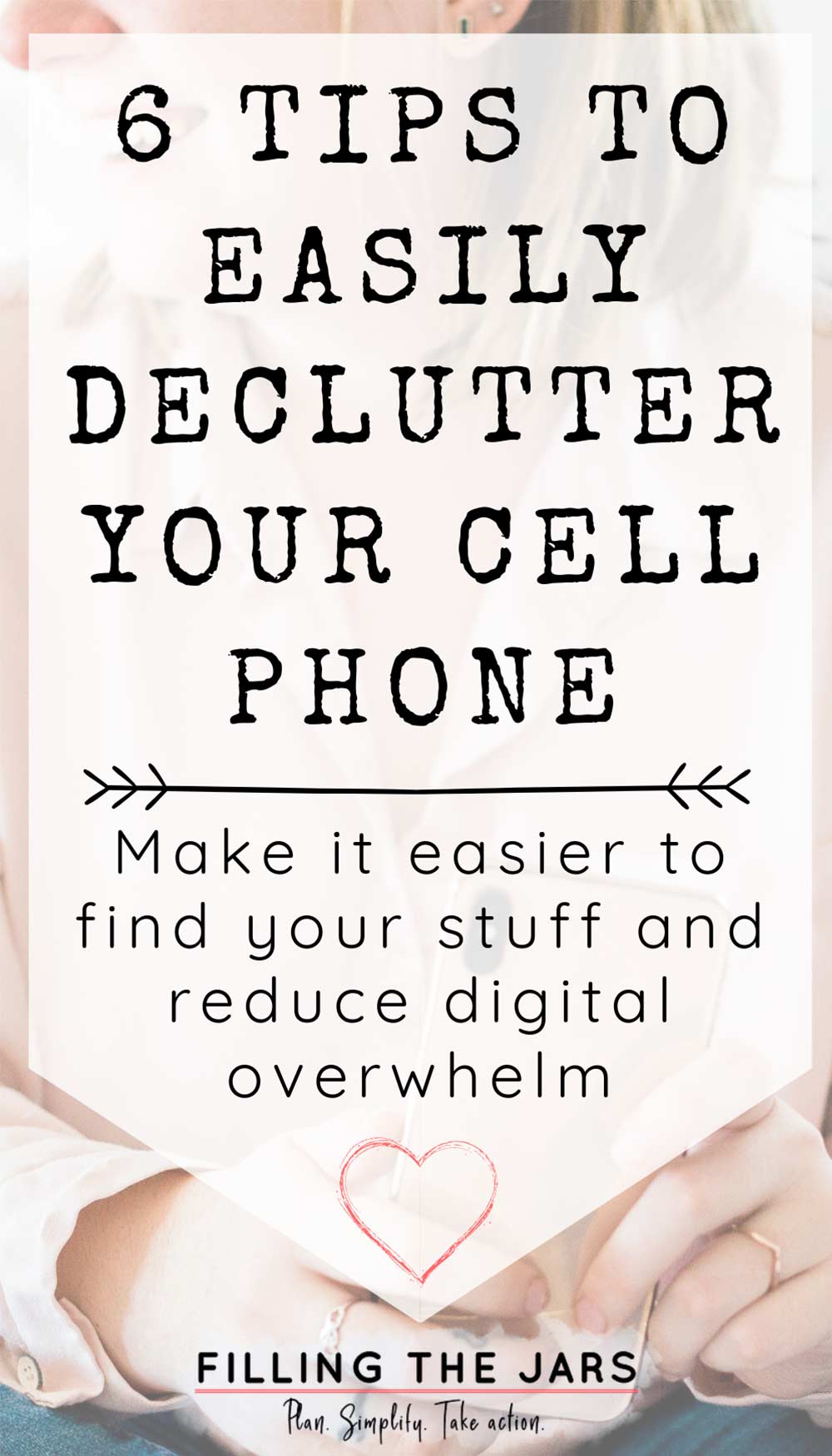 This post may contain affiliate links. If you choose to purchase through an affiliate link, I may receive a small commission at no additional cost to you. You can see my full disclaimer here.
The transformation of cell phones over the last decade or so has been nothing short of amazing. With the introduction of smartphones and apps that do nearly everything under the sun (and more!), your smartphone may contain even more of your life than your computer does.
And I bet your phone is a messy jumble of dozens (or hundreds) of apps. I'm willing to bet you even have apps that you don't remember anything about. You know, as in 'Where did that app come from?' 🤷
Clutter builds up in your phone in a similar way to how clutter builds up in your home: you bring things in without taking things out. And before you know it, you have so much that your phone becomes an absolute cluttered mess.
If you've never taken the time to clean out your phone, it's time to learn about the simple process of decluttering your cell phone. The best part: it doesn't even take very long to do!
6 Simple Tips for Decluttering Your Cell Phone
While your cell phone can be tremendously helpful…it can also be the gateway to distraction that prevents you from being productive.
From social media apps to news or productivity apps, if you find yourself constantly picking up your phone to check them, there can be negative effects on your time and peace of mind.
Decluttering your phone is about reducing the distractions that prevent you from getting things done. Let's dive right in so that you can feel more organized and even maximize your phone's benefits and productivity in just a few minutes.
Also Read: Why Unplugging From Technology Will Make Your Life Better
1. Delete Apps You Don't Need
Have you ever downloaded an app you didn't use for a long time (or ever)? Yep, me too!
I'll find myself going through my phone later and wondering 'what does that app do?' 
And, like you have probably also done occasionally, I've also downloaded apps that just didn't work well or weren't as helpful as I thought they would be.
All of those unwanted apps are taking up space on your phone, and I would also argue, in your mind.
Take some time to delete apps that don't work, you don't use, or have no idea what they do. This step alone will go a long way toward decluttering your phone, making it run faster and more smoothly, and helping you find what you need faster and easier.
Delete every app you don't use (you can always download it again later if you need it again down the road).
Not sure how to delete apps? The process is simple:
iPhone phones: Hold your finger down on the app icon you want to delete until it starts to dance around. A red circle with an X in it will appear in the corner of the app icon. Click the circle X to delete the app.
Android phones: Open Settings > Apps. Tap the app you want to uninstall, then select Uninstall.
2. Organize Your Remaining Apps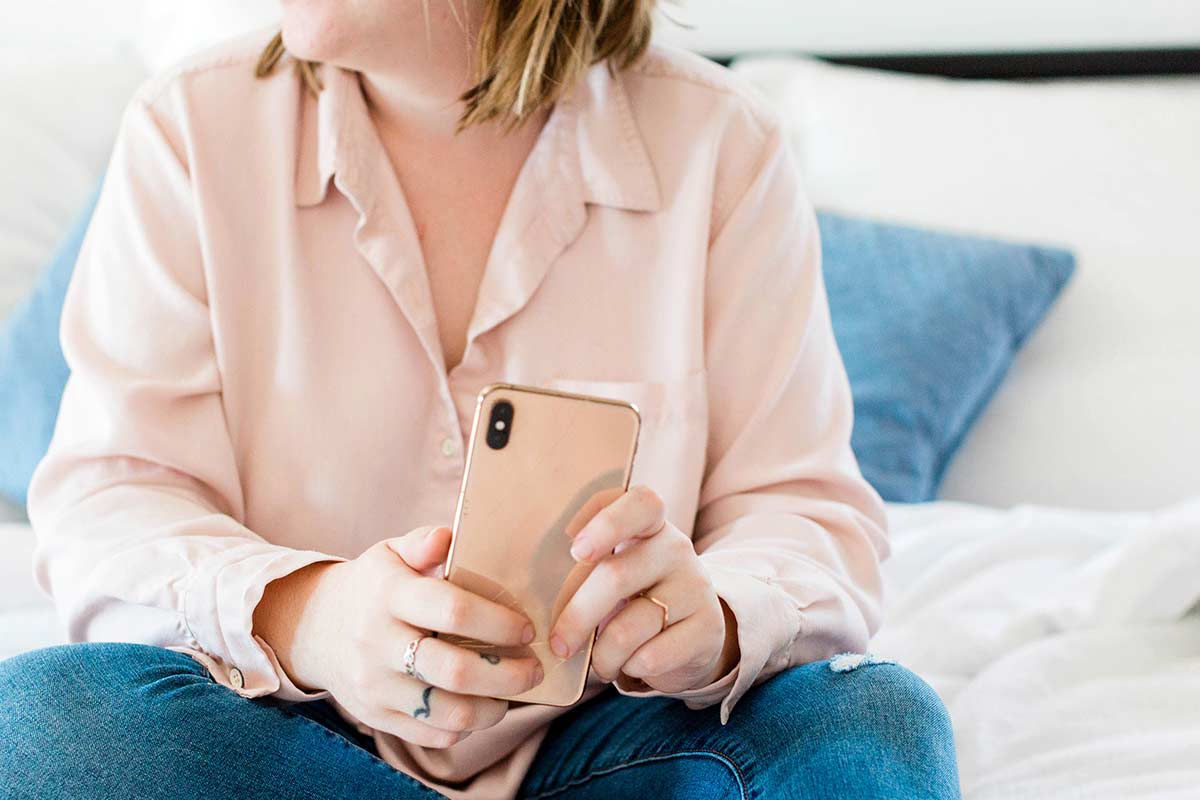 Once you clear out any and all apps you no longer need, it's time to organize the apps you still have.
A simple way to organize the apps you decide to keep is to create folders. Similar to files on a computer, this allows you to group your apps together so they're easier to find and don't clutter up your screen.
The best part about this method is that it's super versatile so you can organize apps any way that makes sense to you. Here are some ideas of ways to create folders:
Type of app – Set up folders according to how you would think of them and use them:

Shopping
Health and fitness
Restaurants/food
Social media
Games
Finance
Work-related
Home management
Entertainment
Music
And more

Based on how often they're used – Create folders for apps you use very frequently, apps you use less frequently, and apps you don't use often.
By color – This would be helpful for visual people who search for apps according to the icon appearance.
Emojis – Unfortunately this feature is only available on iPhone, but it's a fun way to organize folders of apps. For example, use a running person emoji to indicate fitness apps.
To move your apps into a folder, simply hold your finger on the app icon until it starts dancing around and drag it to the folder where you want it.
If you don't use folders, another way you can organize your apps is to keep them in alphabetical order to make finding what you want easier.
3. Eliminate Most Push Notifications
Push notifications are hugely distracting and (most of the time) useless! Do you really need push notifications clogging up your screen or making sounds and distracting you from work or other activities?
Think about what notifications are actually helpful or that you really need — maybe notifications about calls, texts from certain people, and calendar reminders — and turn off the rest. I even have email notifications turned off!
This also applies to visual notifications because those red circles act like a beacon to suck us into the apps!
At the very least, consider turning off push notifications from apps you use very frequently. Chances are, if you're using them several times a day, you probably don't need notifications popping up in the periods when you aren't using them.
Use these directions to turn off unnecessary notifications:
iPhone phones: go to Settings > Notifications. Select the app you want and select how to modify or turn off notification settings.
Android phones: Open Settings > Notifications and adjust the frequency of notifications or turn them off altogether.
4. Minimize the Number of Apps on your Homescreen
If you can, keep the number of apps on your homescreen (that first screen you see when you unlock your phone) to only 3-5 of your most used apps, preferably all in the dock area at the bottom of your screen.
You can keep other apps on secondary or tertiary screens where they are still easy to access but not where you'll constantly see them. If you don't see the app immediately when you pick up your phone, it's less likely you'll scroll to find it unless you actually need it.
I recommend this even more strongly if you like to set wallpaper images because the screen quickly gets too cluttered and chaotic.
For the homescreen, I recommend:
Phone app
Text messages
Email
Internet browser
Current weather
Other most-often used apps can be a little further 'back' on the secondary screen. All other less- frequently apps should be on a 'deeper' screen or left in the app drawer. You can always search for what you want using the search menu. It's often faster than scrolling and looking at every. single. app. until you find the one you need.
5. Ditch MP3 Music Files
MP3 files take up a LOT of space on your phone. There's an easier way to listen to all your favorite music without clogging up or cluttering up your phone.
You can now stream any music you want and you won't miss those clunky MP3s one bit! The cost ranges from free to just $15 a month depending on what you want, and there are several streaming options available now.
It will feel strange at first to not have your music files at your fingertips, but these streaming services offer may options for accessing songs.
Check out:
I will say that if you love music and are often without cell service, you may want to consider keeping your favorite music files handy. Nobody should have to go without music. 😉
6. Declutter Your Phone Photos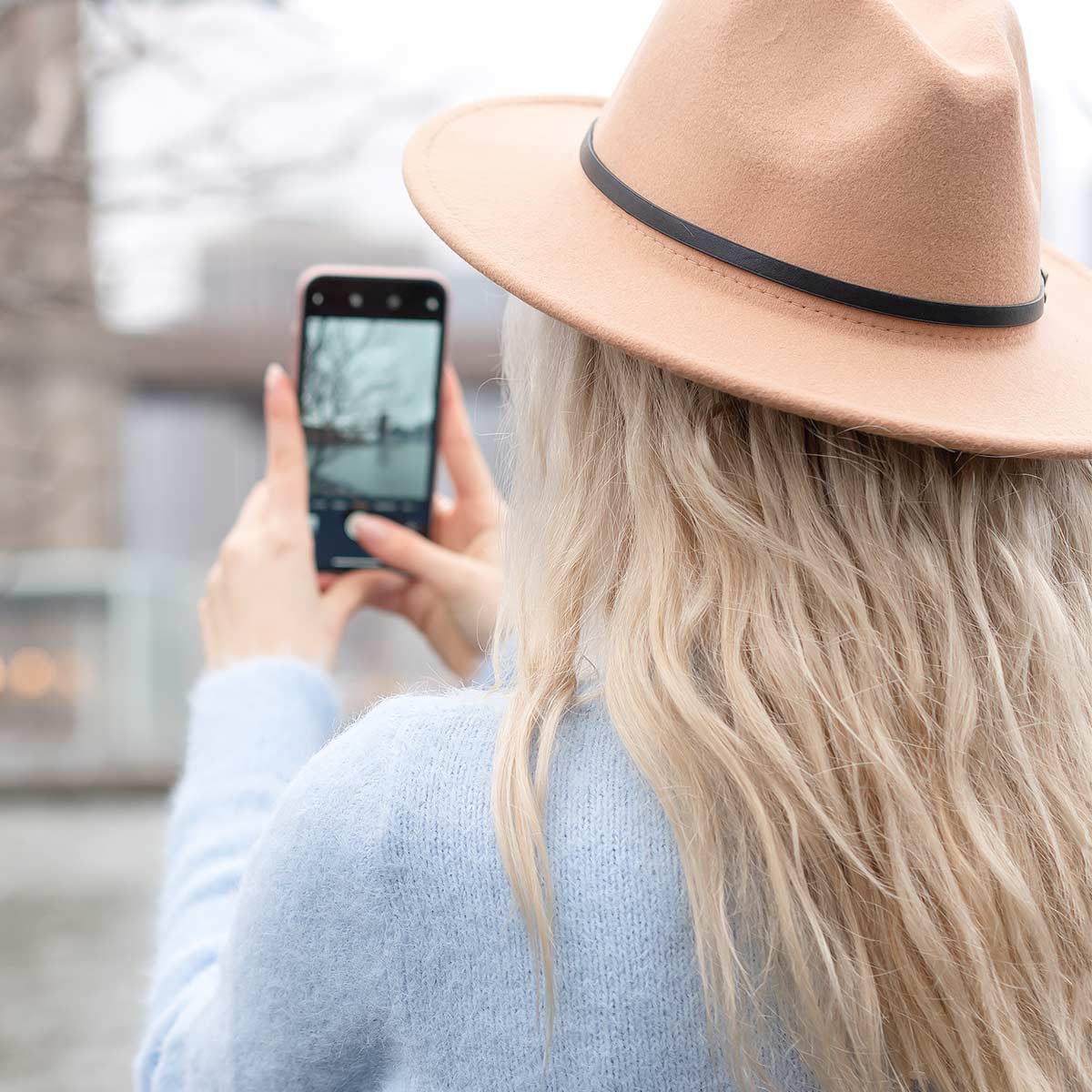 Photos are a huge source of cell phone clutter. The digital photo age has exponentially increased how many pictures we take — and store. Now every cell phone contains a ready-to-shoot camera, which means most of us have hundreds or thousands of images taking up space on our cell phones.
Many phones don't have a good way of organizing all those digital photos (usually in 'albums' according to the date the photo was taken) which quickly leads to massive phone clutter and not being able to find that shot of your rose garden when you want it.
Images and videos take up so much space that they can quickly use up your phone's storage capacity if you keep everything ON the phone.
At the same time, it feels nearly impossible to get rid of photos of our kids as we want to keep every single moment, including those pictures of weird faces.
At the very least, narrow down your photos by deleting duplicates or pictures of nothing and backup your photos on iCloud photos for iPhone users or Google photos for Android users. There are other photo backup options as well, including:
Dropbox
AirDrop (Apple users only)
PhotoSync
Google Drive
These photo storage solutions will store your precious photos safely in the cloud and are accessible from multiple devices to make finding and organizing your photos easy peasy.
As AI improves, photo storage apps like Google photos can 'learn' the faces and places in your images. Eventually your photos can almost organize themselves!
Also Read: 30 Inspirational Decluttering Quotes
Final Thoughts About Decluttering Your Cell Phone
Just as your home needs a good decluttering once in a while, so does your cell phone. Use these tips to clear out what you don't need or no longer use. You'll not only speed up your phone but also reduce the overwhelm all that clutter creates.
Go through this process 2-3 times a year. It only takes a few minutes to do — and given how much we all use our phones these days, it'll make a big difference in how you feel every single time you use your phone.
More Decluttering Inspiration