These mindset shifts WILL help you succeed at decluttering. Once you get past the mental roadblocks, it's SO MUCH EASIER to clear your cluttered house without overwhelm. Keep reading for the 4 suggestions that you can use TODAY.
Need even more help? Hop on over to read all of my declutter tips for REAL people.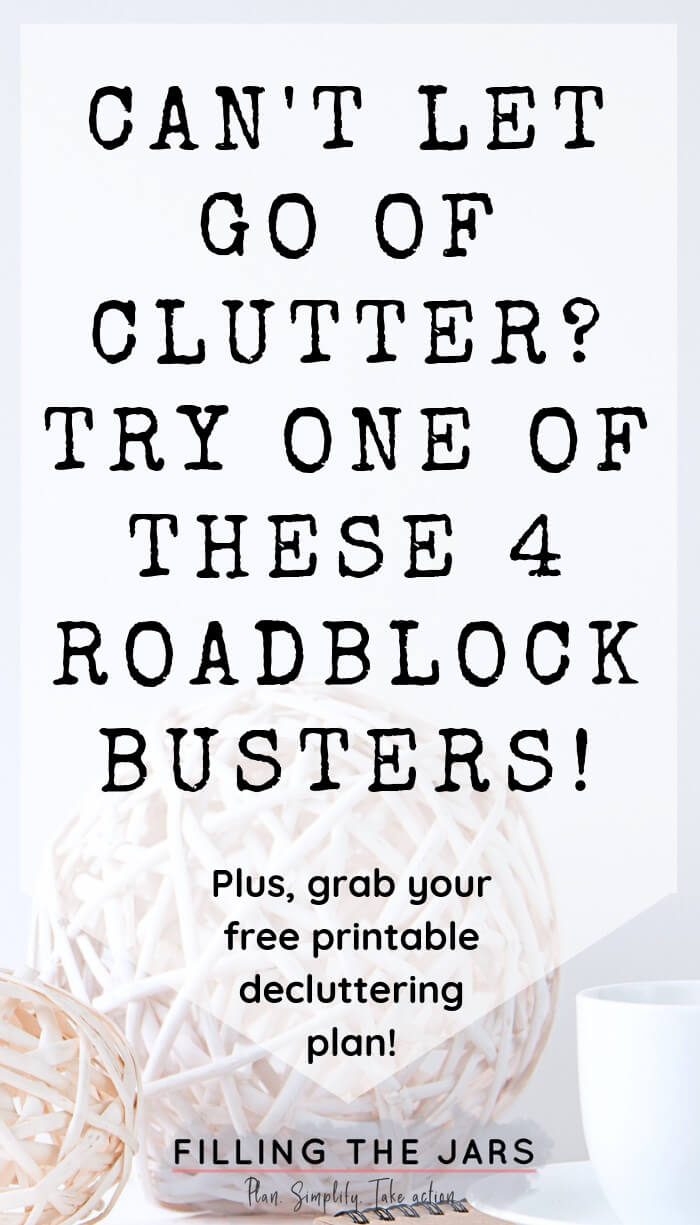 This post may contain affiliate links. If you choose to purchase through an affiliate link, I may receive a small commission at no additional cost to you. You can see my full disclaimer here.
Why We Struggle to Clear a Cluttered Home
"This time it's going to work," you whisper to yourself. "I'm going to clear this cluttered house, get it organized, and it's going to stay that way."
Full of excitement, you throw open the door to a closet… or a kitchen cabinet… or the "junk room." Your confident smile slips as you get a true picture of the sheer number of items you'll have to sort through, but you're still determined.
You have your boxes ready — labeled "keep," "trash," "recycle," "donate," and "sell." Because of course that's how everyone says you "should" declutter.
Then, you begin the task. With each object you pick up, memories surface.
You set one item aside because your great-aunt Irma gave it to you when you were seven.
Digging further, you realize you only used another item once — and it cost $80, so it should still be worth money.
Oh, and those clothes still have the tags on them — maybe you should try wearing them or selling them. You really should have a garage sale, or sell on ebay or facebook.
At the end of your session, you're left with a larger mess and a pile of items that you think will be worth some money if you can find the right buyer… and take good pictures… and post for sale in the right place… and…
You feel overwhelmed. Defeated, you back away from the area and quietly close the door, leaving your labeled boxes behind and vowing you will return one day to finish the job.
For the purposes of this blog post, we're going to assume you are no longer bringing clutter into your home. (You aren't, right?!)
Still, we're left with the issue of following through on those good intentions to clear your cluttered house once and for all. How can you do that when it seems like there is always a valid reason you shouldn't just toss everything?
Today I'm going to talk about some issues I've faced with decluttering my own home and how I finally got past the mental roadblocks. These recommendations come from my perspective as an overwhelmed overthinker who lives in a sparsely-populated area.
From this, please take what you can use and make it work for you! A clutter-free home is definitely worth the effort!
Follow through on your good intentions to clear your cluttered house once and for all. #organize #declutter
Click To Tweet
Sign up to have your free printable 5-page mini quick-start declutter plan sent right to your email box.
Excuses We Make to Keep Clutter
1. My Partner Isn't On Board
I get it — it's hard to take on a monumental project when it feels like you don't have support.
But the thing about your partner not really being on board? They don't have to be! The actions YOU take and the attitude YOU have will determine your success.
And I'll let you in on a little secret — those positive changes you're making won't go unnoticed. Positive action inspires positive response.
When I first began decluttering, my husband was so used to all the stuff around that he didn't see the point of letting it go.
I did a lot of filling boxes by myself. I would ask for his help to carry a heavy load to the truck or out for trash pickup, or to go with me to drop off the donations. But other than that, it was mostly me.
However, that's changed. Now when he sees me beginning another round of decluttering, he'll usually start getting rid of a few things without me even saying anything. (To be completely honest, you're never "done" decluttering, but it gets soooo much easier after the first round.)
You could always start by filling a couple of small boxes and just asking your partner to help you move them or drive with you to drop them off when you go grocery shopping or something like that.
Or, perhaps you could hire a neighbor or a trusted teenager to haul things away. Depending on your location, some charities will pick up donations at your home.
Related:
5 Reasons Why I DON'T Keep a Large Stockpile
How to Organize a Small Master Closet
2. It Has Sentimental Value
Sentimental objects are SO difficult to declutter.
Are you worried your great-aunt Irma is going to ask about that thing she gave you when you were a child and you're hanging on to it out of guilt? It's more likely she doesn't even remember it.
To give some perspective, how many gifts have you given that you feel the need to keep tabs on? Probably very few, if any.
One thing I do is keep a plastic memory box bin for each family member (including myself). Inside there are childhood keepsakes, special items, school records and projects, and things like that.
If I'm decluttering and run across something that brings back a FLOOD of uber-good memories, I'll put it in the bin. Every couple of years I go through the bins and decide a few things aren't really that big a deal any longer.
For more help in this area, check out my post about 5 keys to make decluttering sentimental items easier.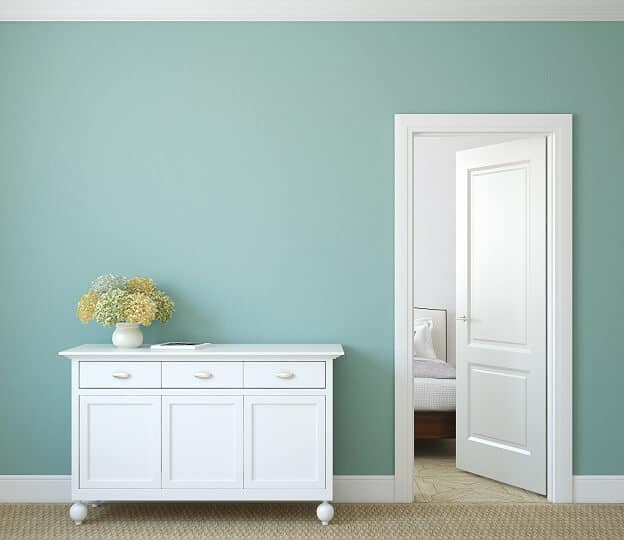 3. It's Too Good to Donate
I know this is hard — but PLEASE move past the idea that something is too good to donate and you should try to sell it instead. This is probably THE biggest roadblock to successfully clearing your cluttered house.
PLEASE move past the idea that something is too good to donate. #decluttering
Click To Tweet
I used to feel EXACTLY the same way, especially when I would mention needing to get an object out of our home and my husband would say, "That might be worth something," or, "We paid a lot of money for that."
When he would say that, it's like it validated my thoughts that we should hang onto it or try to sell it.
It took me YEARS to realize what that idea was doing to me and to my home. Because you know what happened? Nothing.
We kept all this "stuff" because it was "too good to donate" — but at the same time the work (or the thought of the work) of photographing, listing, selling, shipping, and the entire business of "getting what it was worth" was overwhelming me and stressing me out because I wasn't good at it, it took a LOT of time, and there was always more I "should" be doing. We live in a rural area and garage sales don't work well for us.

So… finally one day I thought, "What would happen if I got rid of this one thing and didn't try to sell it, but just let it go and didn't have to think about it again?"
When my husband saw it in a donation box, he said, "You're really going to DONATE that? It might be worth some money." I offered to let him try to sell it, but set a deadline of two weeks. He thought about it for a minute, and then agreed that donating would be okay.
You know what happened? I don't even remember WHAT that item was! I remember it happening, and the conversation, but whatever the item was and whatever it may have been worth have disappeared from my mind. And it didn't take that long, either.
What DO I remember? The happiness of a less-cluttered house! Once I got the hang of NOT attaching monetary value to donation items, it became SO MUCH EASIER to let them go as I made the decision to declutter and donate.

The thing is, you've already spent the money on that object. Chasing after trying to get something back out of it only makes your life more difficult, and negates the benefit of whatever money you may make on the sale.
Once you stop attaching monetary value to donation items, it becomes SO MUCH EASIER to let them go. #decluttering
Click To Tweet
That's not to say I give everything away without any thought whatsoever.
For items I think "really might be worth something," I'll do a quick internet check of ebay or craigslist.
Not long ago, my son decided to get rid of a couple of old video game things. My husband saw them in the donation box and said — you guessed it — "That character is really popular. Those might be worth something."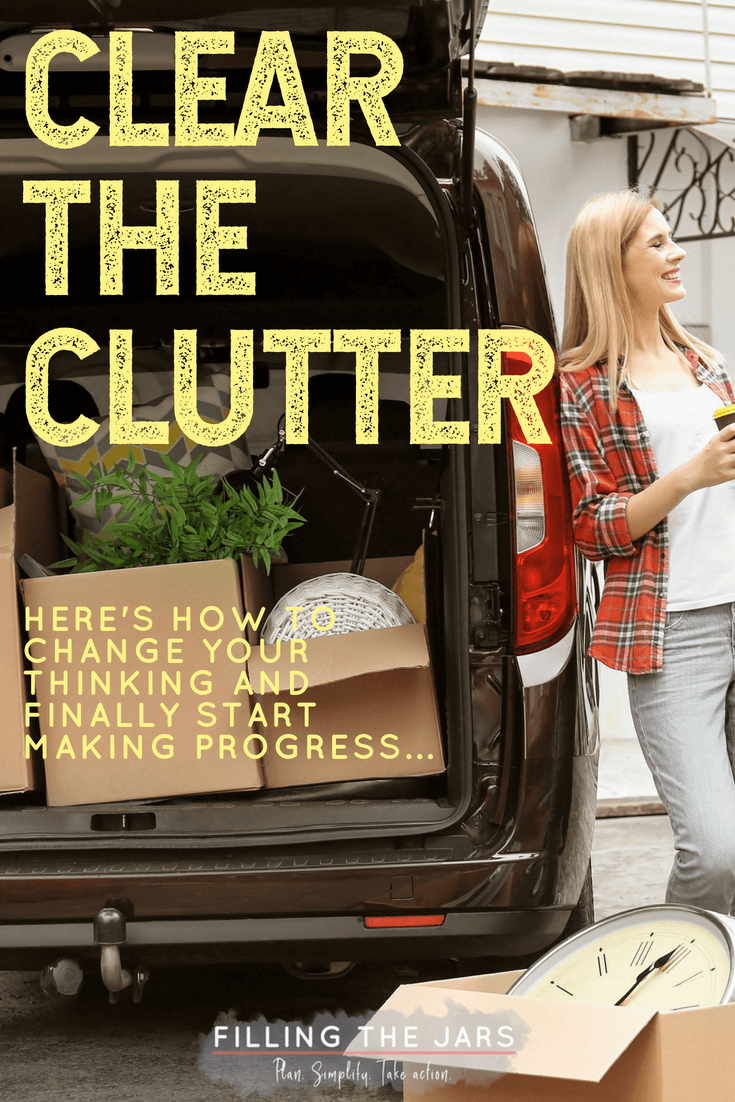 So I checked. Yes, I COULD get maybe $15 or so if I sold them both online.
But overall, it's just better to let them go. We spent the money long ago, our children got some use out of the items, and it's really okay.
I've donated items MUCH more valuable than $15 and am absolutely fine with it because eliminating the clutter from your mental, visual, and physical space is much more important than dollars.
Some charities will give you a receipt for tax purposes, but honestly I don't get them because when I'm in the midst of decluttering, there's no way I'm going to document every little thing and I would prefer to never think about those items again.
But if you wanted to donate something very valuable, it might be an option to use as a tax deduction. Check with your accountant or tax preparer.
4. I Might Need It Later
Will you be sorry later if you get rid of it?
I'll just say this… I am the type of person who used to keep EVERYTHING "just in case."
And out of all the trunkloads and truckloads of things that have been tossed or donated from this house over the past ten years or so, I have NEVER ONCE been sorry I let any of it go.
Questions to Ask When Decluttering
I know everyone has their own criteria for what to keep or toss, but here are mine:
Do I love this item enough to dust it regularly? (That's my big question. I HATE dusting, and my house gets dusty VERY quickly.)
Is this item related to a hobby I no longer wish to do? (If it is, then get rid of it! If you take up the hobby again someday, you can get new stuff.)
Does this item need repair? (Chances are if you didn't fix it right away when it broke, you never will. Toss it.)
If I had to move next week, would I want to pack this? (No? LET IT GO! You won't miss it.)
Could I borrow/rent/buy a new "whatever" if I ever absolutely needed this thing I've had forever and never used? (Usually you can. Detach the monetary value in your mind and let the item go.)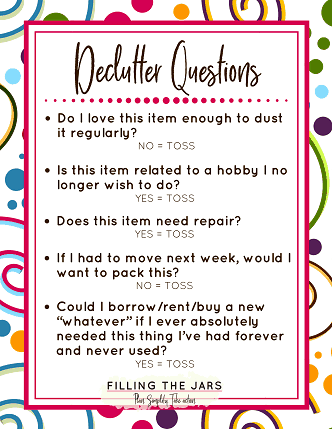 >> Pin these questions for later! <<
OR
>> Subscribe to get a printable copy <<
Conquer that Cluttered House
For today, do one of two things:

1. Declutter one area for either 10 items or 10 minutes. Whatever you decide to let go, physically remove it from your home. Over the next few days, see how you feel without those objects around you. (I'm betting you'll smile a lot.)

-or-

2. Do a FlyLady-style "27 fling boogie" (or whatever number you choose). Grab a trash bag — or even a plastic grocery bag — and go through your house as quickly as possible, tossing items — papers, empty containers, broken items, old food, WHATEVER. Don't think too hard, just toss.
Do you have to dive in and purge your entire cluttered house at once? No! Read this post about Slow Decluttering. You'll see, just a little bit every day makes a big difference.

JUST BEGIN. TODAY. NOW, IF POSSIBLE.
Don't forget to sign up below to have your free printable 5-page mini quick-start declutter plan sent right to your email box.
---
Like this post? Please take a moment to share on Pinterest or your favorite social media site. Thank you!