Have you ever considered creative writing as a way to step beyond daily journaling? Do you want to write more but find it hard to get started? Are you looking for new creative writing ideas and inspiration? This list of May creative writing prompts for adults is a great way to do just that!
This list will provide 31 different prompts and story starters, each with its own unique twist — perfect for adult writers. Whether you're a beginner or an experienced writer, these prompts will be a fun way to add some variety to your writing routine!
The best part about these May writing prompts is that they can be used for any type of writing, whether it's fiction, non-fiction, poetry, or even song lyrics. So get out your pen and paper (or laptop), and get ready to write!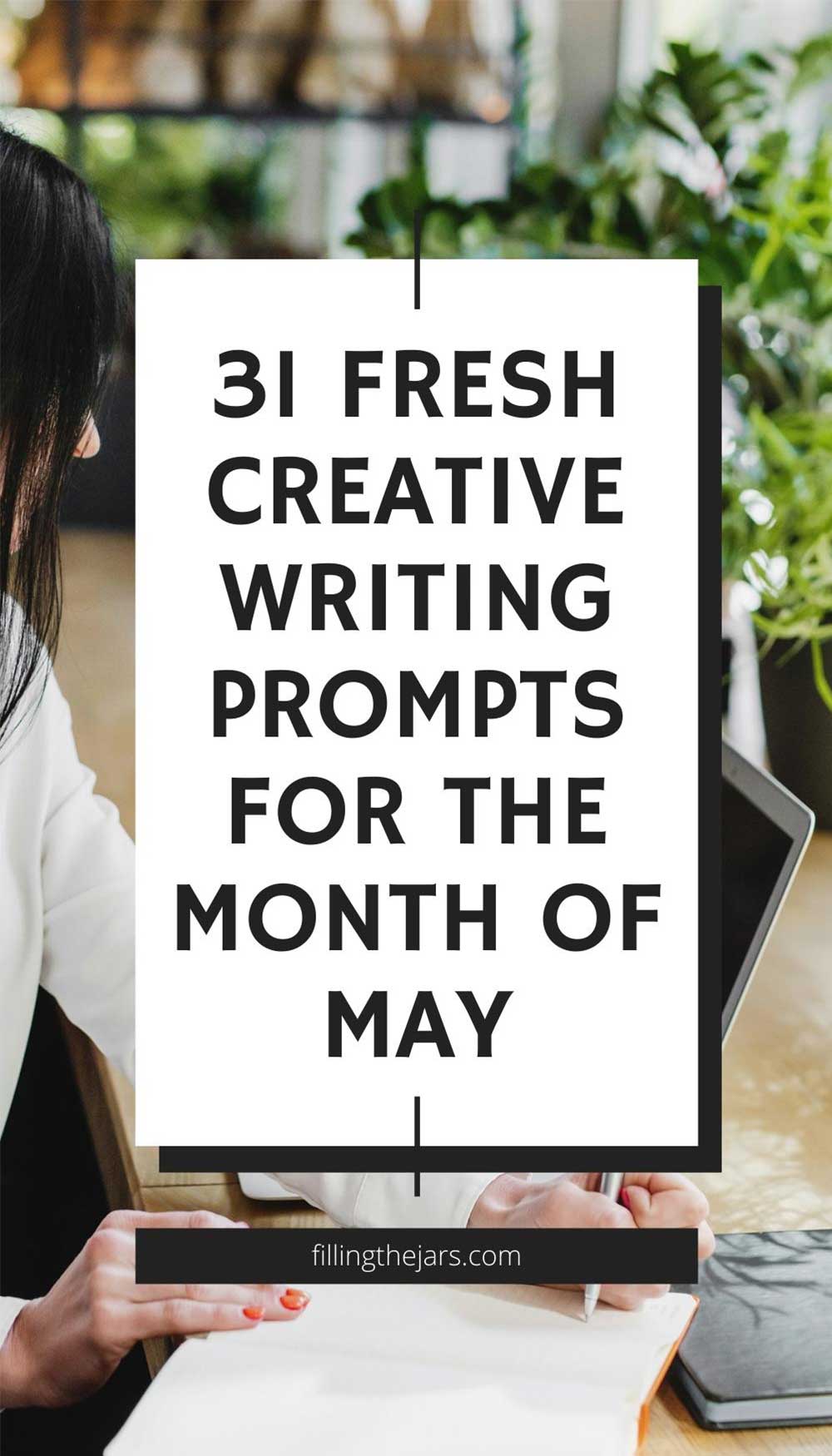 This post may contain affiliate links. If you choose to purchase through an affiliate link, I may receive a small commission at no additional cost to you. You can see my full disclaimer here.
Get Motivated With Daily Writing Prompts For May
The best way to expand your creative thinking skills and become a better writer is to write more… and with more variety. But sometimes it's hard to come up with ideas for what to write about.
If you're anything like me, you sometimes stare at a blank page (or screen) for a long time before the words start flowing.
That's where creative writing prompts come in. By giving yourself a specific prompt to write about, you can exercise your creative muscles and come up with new and interesting ideas that you might not have thought of otherwise.
Prompts don't have to relate directly to your current writing project, but you may be surprised when you write a random prompt response that ends up fitting your work in progress. It happens to me all the time!
There are many ways to use prompts, but one of the most effective is to set yourself a daily or weekly writing goal and then use prompts to help you reach that goal.
For example, say you're aiming to write 500 words per day on your current project, but it's hard to actually get started. You might choose a prompt and give yourself 10-15 minutes to write about it. Then you can smoothly switch gears to working on your 500-word daily goal.
Not only will this help you increase your output, but it will also force you to be more creative and come up with new ideas on a regular basis.
Whatever you do, don't overthink it. The goal is just to get some words on the page. And who knows? You might just end up taking your creativity in entirely new directions.
31 May Creative Writing Prompts And Story Starters For Adults
1. Old Friends — It was the first day of May, and the perfect day for a picnic. Your character packs a basket and heads for the park. They're spreading a blanket under a tree when they hear someone calling their name. It was an old friend whom they hadn't seen in years. They spend the afternoon catching up on old times. What events does this chance encounter spark?
2. We've Got A Situation — It was a hot, sticky day in Trenton and I was just getting out of the shower when my phone rang. It was my boss. 'I need you to come down to the station,' she said. 'We've got a situation.' I grabbed my gun and badge and headed out the door.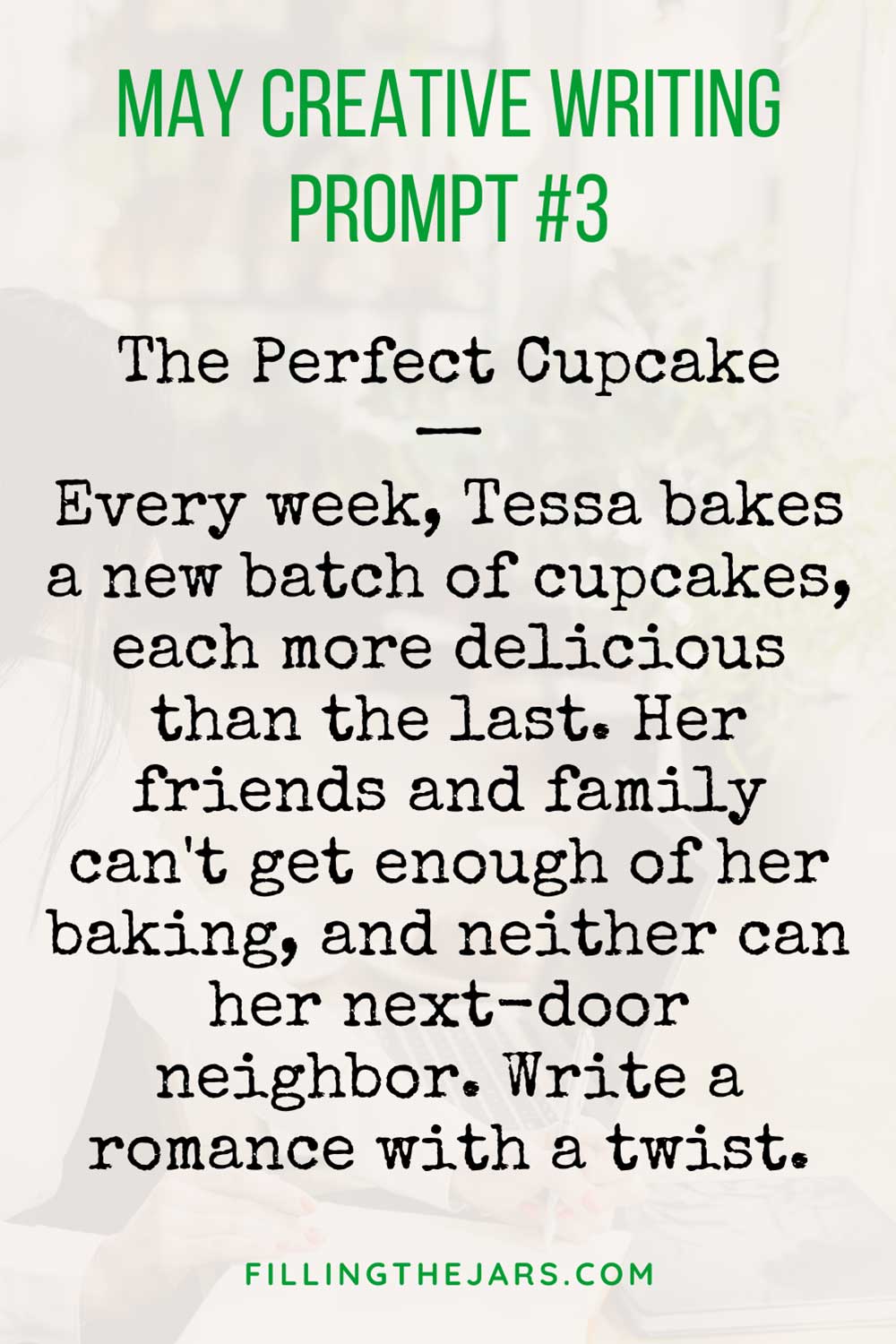 3. The Perfect Cupcake — Every week, Tessa bakes a new batch of cupcakes, each more delicious than the last. Her friends and family can't get enough of her baking, and neither can her next-door neighbor. Write a romance with a twist.
4. May The Fourth Be With You – Your character is going undercover at a classic space movie convention. Write about their adventures.
5. All The Days Of May — Write a story about a character with an overscheduled social calendar for May. On top of that, they have to finish writing a novel, do a virtual book tour for their latest release, and figure out how to explain to their editor why they missed their deadline…again. Your character knew it was going to be a long month, but they never could have guessed just how eventful it would be. From crashing weddings to foiling the plans of a murderer, they'll be lucky to make it through May alive.
6. The Rat Race — It was the early hours of the morning, and the city was just beginning to stir. The streets were lined with people hurrying to get to work, and the air was filled with the sound of honking horns and busy footsteps. In the midst of all this, one figure was moving in the opposite direction. Against the tide of humanity, they walked slowly, taking in the sights and sounds of the city around them. They didn't have anywhere to be, and no one to answer to. For the first time in a long time, they felt free.
7. Mint Julep — Every year on the first Saturday in May, your character looks forward to two things: attending the Kentucky Derby with her friends, and sipping on a refreshing mint julep. As she takes her first sip, she knows that this will be a Derby to remember, because she has set a plan in motion…
8. Like a Mother — May was always one of my favorite months. The weather was starting to warm up, the flowers were in bloom, and there was just something about the air that felt electric. But this year, something about May just feels off. Maybe it's the fact that most of my friends have kids now, and I'm feeling a little left out.
9. Lost Socks — Write a short story about Lost Sock Day. Will you write from the viewpoint of the people who have lost the socks? Or the socks? Are they really 'lost' at all?
10. The Keeper of the Memories — May is a month of memories for your character. It's the month her mother passed away, the month her first love broke her heart, and the month she got her dream job. But it's also the month she met the man who would change her life forever.
11. The Vanishing Village — Your protagonist is driving through the countryside when they come across a village that seems to be abandoned. They decide to stop and take a look, and soon realize that there's more to this place than meets the eye. What secrets does this village hold?
12. The Power of Positivity — Write a story, poem, or short paragraph describing the relationship between your character and someone they really look up to. Who is it and why do they admire this person so much? What makes them such an inspirational figure in your character's life?
13. The Missing Link — Your main character has an important job in a company — but they're not privy to information that everyone else is! Write about all the details they don't know and what happens when things go wrong.
14. The Chosen Ones — The world was in the grip of a pandemic. As people put their lives on pause, they find ways to make the best of a bad situation. For one group of friends, this meant getting together for a weekly movie night via Zoom. This week, as the opening credits rolled, the screen went blank and was replaced by a message that said the world was in danger and only the chosen few could save it. The friends looked at each other, wondering what to do. And with that, their adventure began.
15. The Blame Game — Your character has just been blamed for something they didn't do. Write a short story from their perspective.
16. Twilight Zone — The month of May is well known for being full of surprises, which I suppose is why I found myself alone and lost deep in the heart of a mysterious realm. As I continued to walk through this endless expanse of shadows, something began to emerge from the gloom. It was a woman – beautiful and ethereal, yet terrifying all at once. Her face bore an otherworldly glow, and she spoke to me, her voice ringing out with a haunting melody that sent goosebumps racing across my skin. 'Welcome to the twilight zone,' she said. Though I knew it would be foolish to linger in this place, there was something compelling about this stranger that drew me closer… And so my journey into the Twilight Zone began.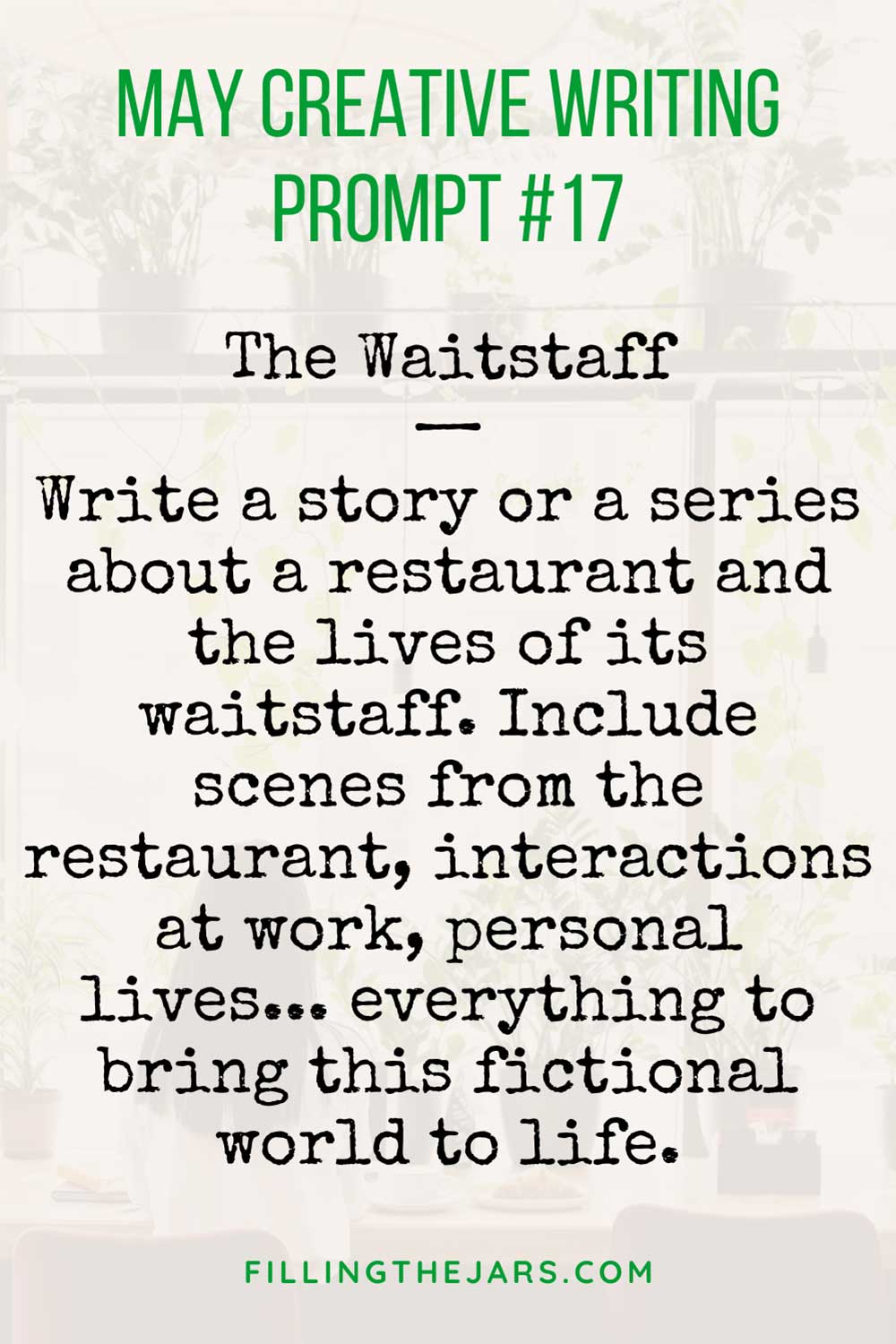 17. The Waitstaff — Write a story or a series about a restaurant and the lives of its waitstaff. Include scenes from the restaurant, interactions at work, personal lives… everything to bring this fictional world to life.
18. The Lost Art Of Letter Writing — In a world where technology reigns supreme, the art of letter writing has all but disappeared. But for one woman, writing letters by hand has become a matter of life and death. Her job is to write coded messages that could mean the survival of her people. With the enemy closing in, time is running out…
19. Covert Op — Your protagonist is recruited for a special mission of some sort. Why were they recruited? What do they have to do? How do they adjust to their new life?
20. May's Flowers — May had always been a bit of a klutz. So when she accidentally knocked over a vase on her first day of work at the local florist shop, she was sure she was going to get fired. But when she looked up, she saw that the owner was smiling at her.
21. The Club — After a long day of class, I headed home to my apartment and threw myself on the couch, eagerly anticipating a night reading my new book. Just as I was getting lost in the story, I heard a tapping at the window. 'Hey! Get your nose out of that book and come outside!' It was my best friend, all glammed up and ready for a night out. But there I was, in sweatpants with frizzy hair and smudged eyeliner. Sighing, I reluctantly followed her to meet her friends at the club…
22. The Importance of Reading — Write a story about someone who has never read and the effect that learning to read has on their life.
23. The Funeral — Write a short story about two people who meet for the first time at a funeral. Be sure to include some interesting twists.
24. The Notebook — Ever since they were young, your character has kept a notebook full of handwritten notes and sketches, carefully chronicling every thought and feeling that came to them about their future soulmate. Now, in the most unexpected way, your character meets someone who seems to be THE person from their notebook. What happens?
25. The Rescue — It was a typical day at the animal shelter – until a call came in about a cat stranded on a power line. With the fire department unavailable, it was up to your character to rescue the cat. But as they got closer, they realized that this was no ordinary cat.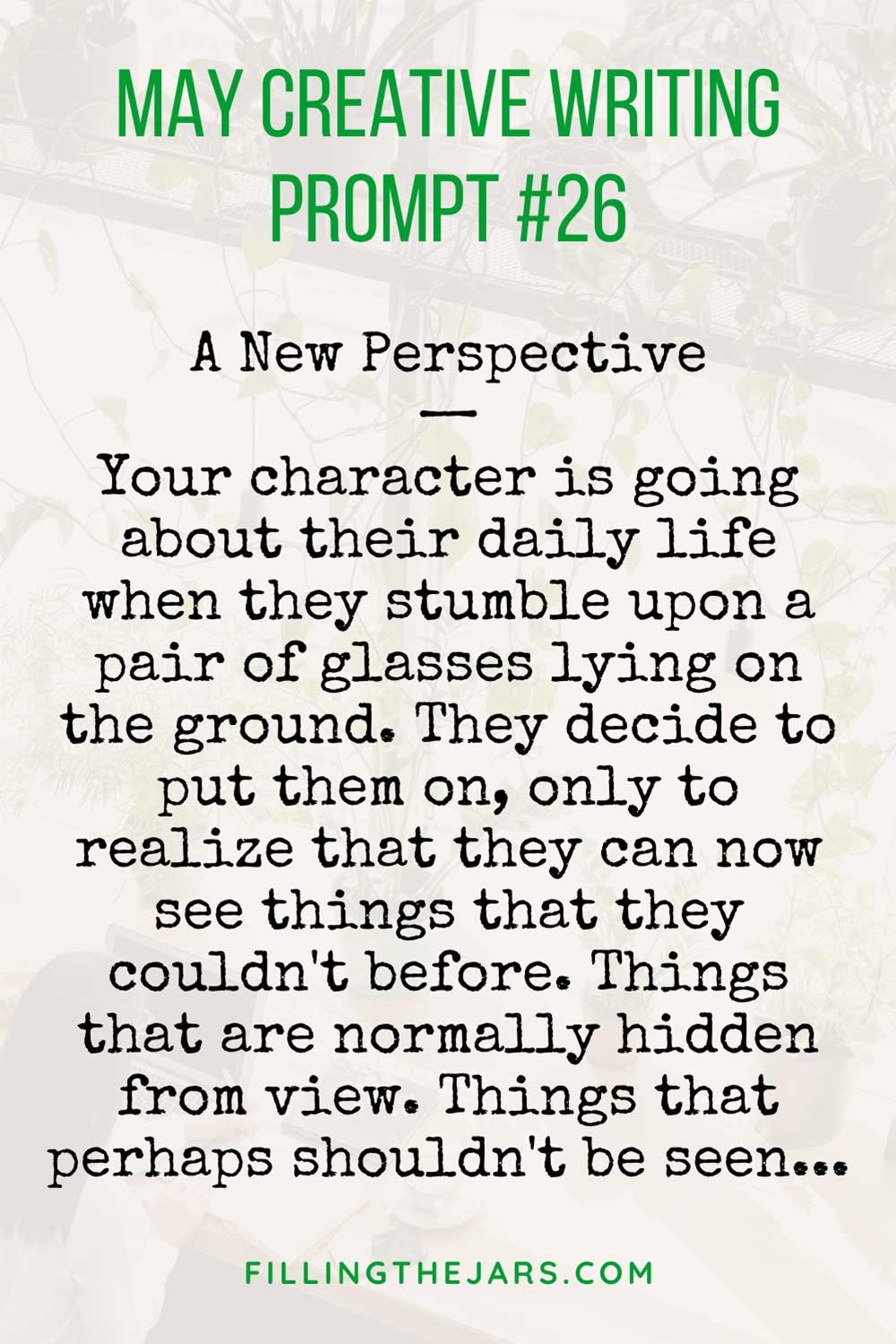 26. A New Perspective — Your character is going about their daily life when they stumble upon a pair of glasses lying on the ground. They decide to put them on, only to realize that they can now see things that they couldn't before. Things that are normally hidden from view. Things that perhaps shouldn't be seen…
27. The Power of Music — Your character has always loved music, but after a traumatic event, they find that music is the only thing that can help them cope. They start to play their favorite songs over and over, losing themselves in the music. But one day, they hear a new song that changes everything…
28. The Lighthouse — For as long as they can remember, your character has been fascinated by the lighthouse. They've always wanted to go inside, but it's always been off-limits. One day, they finally get their chance – but what they find inside is not what they expected…
29. A View From Below — When your character goes scuba diving with friends for the first time ever, they never expected it to change their life. As they explore the depths of the ocean, they find themselves being drawn deeper and deeper into a magical, underwater world.
30. The Car — Write a story that begins with the following sentence: 'The last thing I remember is falling asleep in my car.'
31. Treasure Hunt — Your protagonist is a treasure hunter who has been searching for years in hopes of finding one particular treasure – but when they finally discover its location, they must go through difficult obstacles to reach it. Will they be successful?
By the way, you CAN get these prompts as a free printable PDF. Click here to have the 2-page printable sent to your inbox.
How To Keep Your Writing Creative All Month Long
When it comes to writing and creativity, there are times when, no matter how hard you try, everything you write seems boring. If you're in need of a little inspiration, here are some tips to help keep your writing creative all month long.
One way to stay creative is to mix things up. If you usually write in the morning, try writing at night. Or if you typically write on your computer, try doing some freewriting with a pen and paper. And try writing in different locations. Sometimes all it takes is a change of scenery to jump-start your creativity.
Another way to keep your writing creative is to read as much as you can. Reading opens up new worlds and exposes you to new ideas, both of which can be a great source of inspiration for your own writing. So make sure to set aside some time each day for reading, and then see what happens when you sit down to your own work.
Finally, don't be afraid to experiment. Trying new things is how we learn and grow as writers. So go ahead and experiment with different genres, styles, and formats. If you've been working on a novel, try flash fiction or poetry. You never know what might spark a new idea or deliver a fresh perspective.
By following these tips, you'll be able to keep your writing fresh and engaging all month long. Whether you're working on a novel or simply need some inspiration for more creative thinking, these ideas will help.
Resources To Make Writing Easier And More Enjoyable
There are a few key items that can make writing every day a lot easier and more enjoyable.
First, a notebook that you love to write in is essential. It should be big enough to write in comfortably, but not so big that it's cumbersome to carry around. I like this refillable journal with 4 inserts so I can write about different things and keep them sort of organized.
Related: Best Journals for Writing: 6 Top Picks
Second, a good pen is also important. It should be comfortable to hold and write with, and it should have a smooth ink flow. My perfectionist side prefers to write with the erasable Frixion pens, but I'll admit that my other favorite — Pilot G2 pens — definitely write more smoothly.
Third, a comfortable chair is also a must. You'll be spending a lot of time sitting down when you're writing, so it's important to have a chair that supports your back and doesn't make your body ache.
Finally, if writing by hand isn't your thing, there's nothing wrong with using Google Docs.
I also LOVE the voice-to-text app otter.ai for getting my thoughts out, spinning scenes, or making character notes whenever they occur to me. Otter syncs across all of my devices and does a pretty decent job of transcribing.
So if you're looking to make writing easier and more enjoyable, be sure to try some of these resources.
More Creativity and Writing Inspiration
Creative Journaling Exercises, Prompts, and Ideas to Keep You Writing
9 Best Creative Writing Journals: Take Your Thoughts to the Next Level
12 Outstanding Creative Outlets for Non-Creative Adults
30 Offbeat April Creative Writing Prompts For Adults
Closing Thoughts On Creativity And Writing
When it comes to creativity, I believe that there are no limits. No matter who you are or what your background is, you have the ability to be creative.
Even better, I feel that creativity is something that can be developed with time and practice, making it even more accessible to anyone! So please, don't be afraid to explore your creative side and try new things.
It's never too late to start — I didn't publish my first blog post until I was 44 or my first book until I was 46 — so I know you can absolutely create something amazing! And remember: the key to success is having fun along the way.
So go ahead — indulge your curiosity, experiment with new techniques and genres, and push yourself to create something truly remarkable with these May creative writing prompts.
What are you waiting for? You've got this!
Don't forget to grab your free printable prompts! Sign up below to have the PDF sent right to your email inbox…
---
Did you enjoy this post? Know someone else who might like it? Please take a moment to share on Pinterest, Facebook, or your favorite social media… (Click the sharing buttons at the bottom of the post.) Thank you!