So maybe you want to do a minimalist bedroom declutter and would love to get rid of your bedroom dresser? Or you're in a small-space living situation and simply don't have the floor space for a dresser?
That's where this post comes in! When it comes to wardrobe management, you have plenty of options if you don't have a dresser. I'm going to share some of the best clothes storage ideas – no dresser required. 
You don't need a dresser to have a great clothes storage system. These dresser alternatives are perfect for a small bedroom or homes where space is limited.
I'm sure you'll be surprised at just how easy it is to store and access all of your clothing without a big, bulky dresser taking up too much real estate in your bedroom!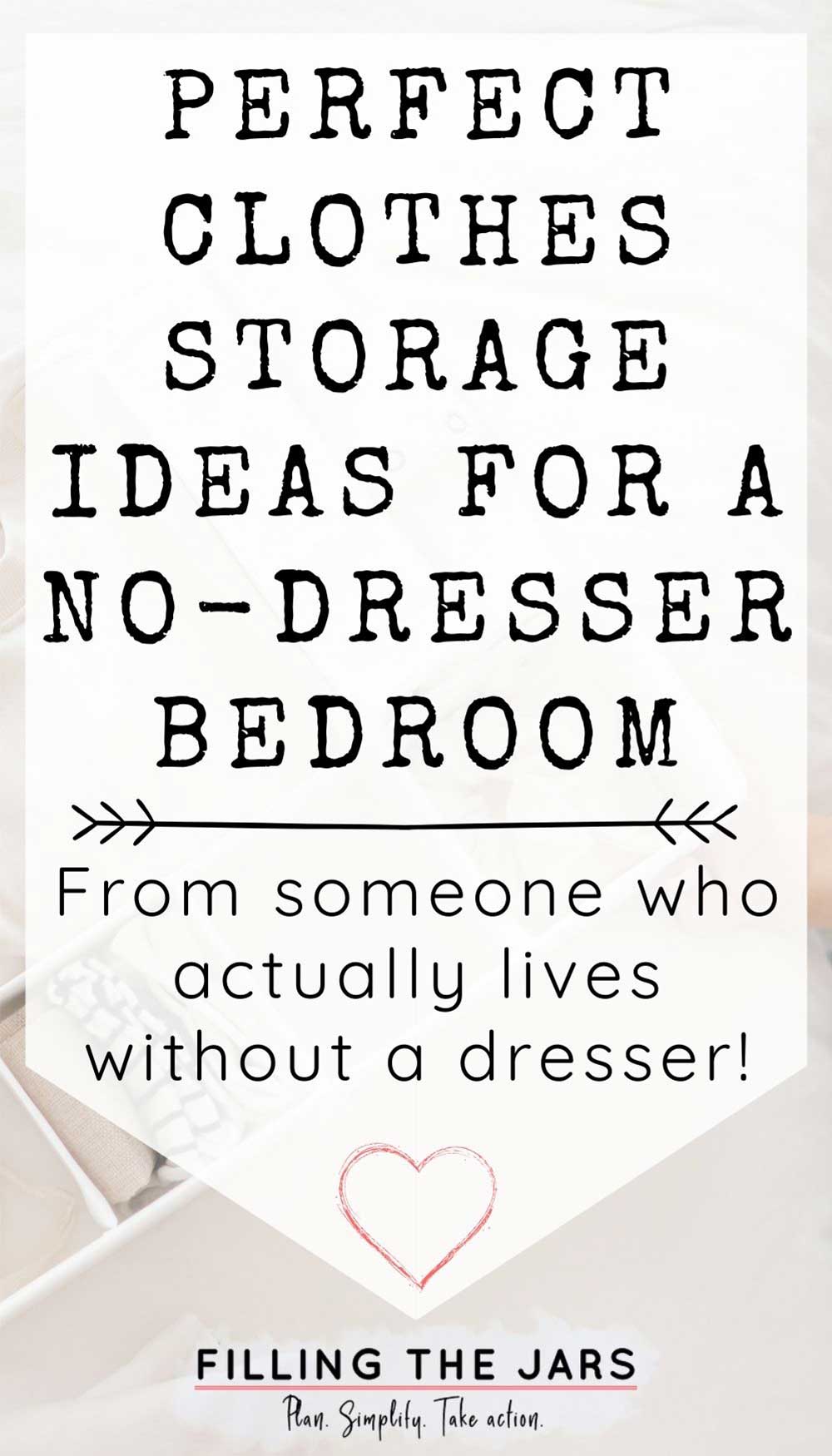 This post may contain affiliate links. If you choose to purchase through an affiliate link, I may receive a small commission at no additional cost to you. You can see my full disclaimer here.
No Dresser Clothes Storage Ideas
Straight-up truth: I haven't used, needed, or wanted a clothes dresser in over 25 years. So, be aware that you're getting advice from that viewpoint. 😉
The good thing is, I've learned a thing or two about how to organize clothes without a dresser, especially when dealing with small space organizing!
When I tell people I don't have a dresser, people get so confused. 'But… Where can I put my clothes if I don't have a dresser?'
One of the great things about living without a dresser is that it gives you the opportunity to be creative in how you store your clothes. The key is to make sure that your clothes are easily accessible and that they don't get 'lost' or overly wrinkled from being crammed into a small space.
Of course, first you're going to want to declutter your wardrobe. Then, with a little bit of planning, you can find no dresser clothes storage solutions that work for you and your home.
1. Closet
Even if your closet space is TINY, I will ALWAYS recommend storing as many of your clothes as possible in your closet. My closet is 42" wide and there's enough room for ALL of my clothes. 😉
If you can, outfit your closet with an adjustable storage system. Closet organizers like these use vertical space to almost instantly double or triple your usable available space.
In my closet, I have a DIY version using stackable 3-shelf cube units. I have two baskets and folded items on several of the shelves.
I like being able to see my clothes, but if you like everything tucked away, try these deep sorting bins to keep your pants and t-shirts neatly folded and organized.
You can also add more clothes hanging space to your closet with this simple no-tools adjustable hanging rod. FYI, hanging most of your clothes is a great solution to a no-dresser situation, and I've switched to using these slim hangers in my own closet.
If you have so many clothes that you need to store some for off-season – or you just don't want to see them all year long – try some collapsible storage cubes. You can keep them on the floor or an upper shelf in your closet.
My post about how to organize a small master closet will be helpful if you need more tiny-closet ideas.
2. Armoire
I love armoire-style pieces, which add vertical decor appeal and eliminate the problem of dresser-top clutter. I prefer this style of furniture over very tall dressers because it's simply more practical and easier to see everything.
For the most dresser-like storage, find an armoire with multiple shelves or cubbies — great for folded bulky sweaters.
The most beautiful option would be an antique or custom-built armoire with shelves for storage. You could hunt for one in antique shops, thrift stores, garage sales, on Etsy, or have one made just for you.
I especially love this rustic turquoise armoire. And this rustic white oak three drawer wardrobe is also nice, but I would probably request adjustable shelves in the upper portion instead of the hanging bar.
This versatile cube storage unit isn't as beautiful as a classic armoire, but it can be used as a wardrobe closet, storage shelf, and more. It's a good budget option to use in place of a dresser. The cube design provides plenty of space for cube bins, folded clothes, or shoes.
You can also use it for hanging storage. But if you're looking to use it instead of a dresser, you'll probably want to use the individual cube option. The steel frame and hard plastic connectors create a fairly stable structure.
3. Clothing rack
A portable clothes rack is NOT my favorite suggestion, since it can be bulky and look nearly as messy a dresser, but it works for some people.
One nice thing about a clothes rack on wheels is that it's easier to move than a dresser, which is great for when you need to clean. Also, it's perfect for planning your outfits for the entire week. Use these divider tags to keep yourself ultra-organized.
4. Under the bed
Under-bed storage is another option for no-dresser clothes storage. If you need to access these items frequently, only use bed storage containers if bending to pull the container out is easy for you.
Also, be sure to measure so you know you'll have room to access under-bed storage. You want to be able to open drawers fully, pull storage containers out completely, etc.
I recommend a rolling version with a clear zipper top for frequently-needed clothing storage. You could also try a wood rolling open storage drawer, which is probably best if you don't have to be concerned with dust or pet hair.
It's also possible to find pretty bed frames with built-in storage drawers, like this rustic-industrial queen size bed frame and headboard. Prefer softer decor? Check out this upholstered queen size frame.
As pretty as those look, be sure to account for the fact that you'll probably have a bedside table, which may block one of the drawers on each side. This 3-drawer queen size upholstered frame and headboard would be a more practical solution.
If you're handy and need a larger bed frame or something custom, you could definitely build your own. Start with the basic instructions for Ana White's classic storage bed.
How To Store Socks And Underwear Without A Dresser
I like to keep things really simple. I buy nearly all the same style of socks and toss them into a basket that fits on the cube shelf unit in my closet. Same with my underwear. Simple, simple, simple.
Not ready to go quite that basic? Try a hanging sock and undergarment organizer. It has mesh pockets on both sides which means you can actually see everything you have.
You can also try a hanger for multiple bras. I'll admit I haven't tried this one yet. I suspect it would work best if you have lightweight bras or sports bras. Mine tend to be quite heavy in the front, so I'm not sure how well they would hang. Probably a tiered skirt hanger with clips would work better.
This hanging shelf and bin unit would keep your items very organized, but it would also take up more than 12" of closet rod width. So… a good solution if you have a big closet, not so great if you need to maximize your rod space.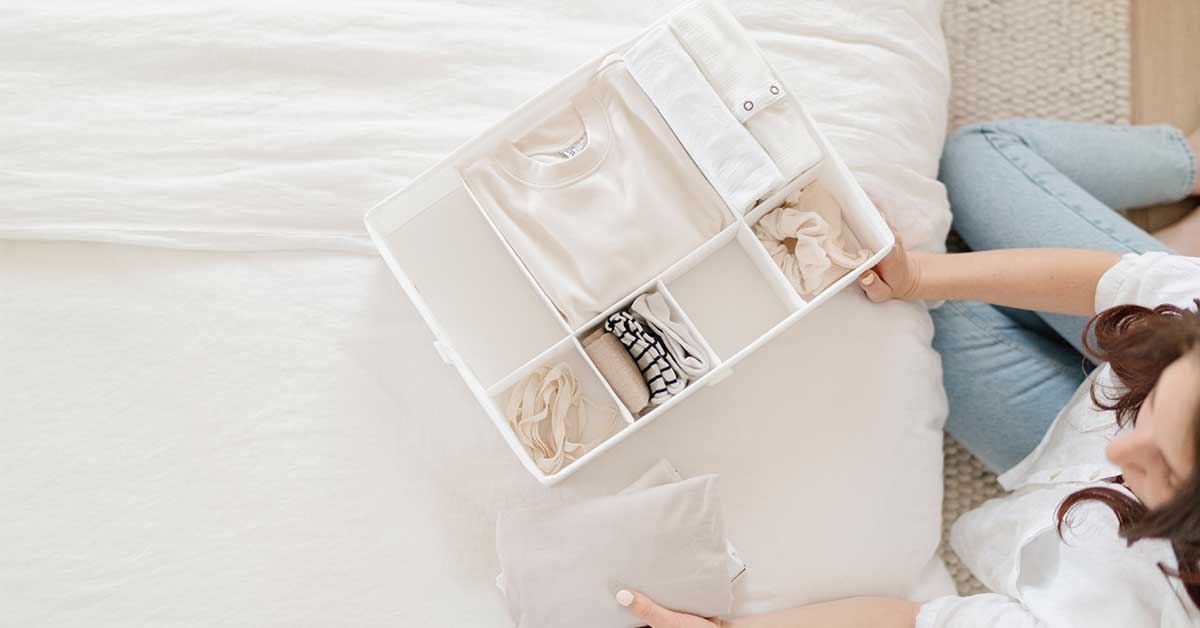 More Organizing and Decluttering Ideas
How to Declutter Your Bedroom in 10 Simple Steps
Storage Ideas For Clutter: 8 Dynamite Ways to Organize the 'Must-Keep' Stuff
Stop Making These 14 Excuses to Avoid Decluttering Clothes
15 Smart Corner Space Ideas For Every Room Of Your Home
How to Live Clutter Free: 12 Golden Rules for Clutter Control
Concluding Thoughts On Clothes Storage Without A Dresser
So there you have it… plenty of clever ideas for how to store clothes without a dresser.
I hope you found this information helpful and that you're now inspired to get creative with your storage solutions. Remember, even if you don't have much space, there are still plenty of different ways to keep your clothes organized and out of the way without a traditional dresser.
So get creative and enjoy your new organized and clutter-free life!
You've got this!
---
Did you enjoy this post? Know someone else who might like it? Please take a moment to share on Pinterest, Facebook, or your favorite social media… (Click the sharing buttons at the bottom of the post.) Thank you!