Maintaining an organized closet can feel like an impossible task. However, with some practical wardrobe management tips like the ones we'll cover in this post, you can simplify your wardrobe and make getting dressed every day a pretty stress-free experience.
Keeping a functional closet is just part of an organized home. For many people, the process begins with their wardrobe, but be sure to check out all of my declutter tips for the rest of your bedroom and house.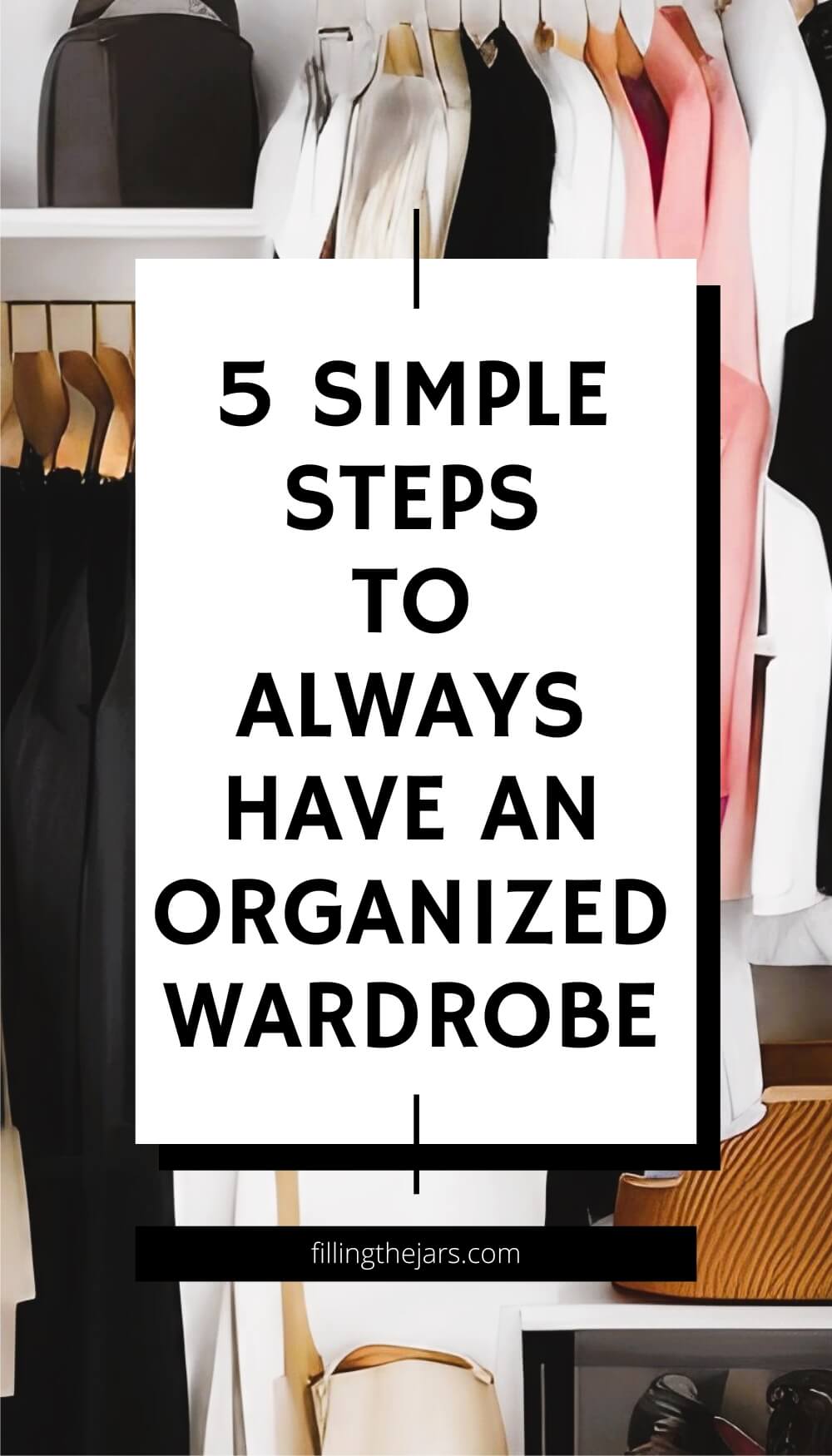 This post may contain affiliate links. If you choose to purchase through an affiliate link, I may receive a small commission at no additional cost to you. You can see my full disclaimer here.
Do you often find yourself staring at your messy closet, feeling overwhelmed and indecisive about what to wear? It's time to take control of your clothing and make wardrobe management a priority.
You really can do this when you set your mind to it!
Here are the 5 steps we'll cover for conquering closet chaos and managing your wardrobe…
Consider your personal style goals
Stop making excuses and declutter
Organize your clothing
Simplify your choices 
Maintain all.the.things — but make it easy!
Step 1: Make Decisions About Your Style Goals
It's time to make decisions about your style goals! This can be a fun and exciting process that will help you define your style and make wardrobe management easier.
Start by gathering inspiration from sources like Pinterest, Instagram, and fashion magazines. Create a mood board of images that you're drawn to, and identify common themes like colors, patterns, and styles. This will give you a clear idea of your aesthetic preferences and help you create a cohesive wardrobe.
Next, consider your lifestyle and what clothes will work for your daily activities. If you work in an office, you may need more professional attire. While if you're a stay-at-home parent, you may need more comfortable and practical clothing. Make sure your wardrobe reflects your lifestyle and allows you to feel comfortable and confident in any situation.
Another important aspect of defining your style goals is to set a budget. You may not need to spend a lot of money to create your stylish wardrobe — after all, you're going to start with what you already have. However, you'll want to have a plan for how much you're willing to spend.
Don't be afraid to consider new things and step out of your comfort zone. Your personal style should reflect your unique personality and make you feel confident and comfortable. Be open to new trends and styles, and don't be afraid to experiment with different looks.
Now, you're going to want to keep your style goals in mind for the next step…
Step 2: Decluttering Your Wardrobe
It can be challenging to let go of clothes that you've had for years. You might even be afraid to let any clothing go — here are 9 reasons you could fear decluttering clothes — but it's essential to only keep what you wear and love.
I'm going to be brutally honest here and tell you that it's time to stop making excuses to avoid decluttering clothes. This is especially important if you only wear a fraction of your clothing!
Start by getting rid of clothes that you haven't worn in over a year or that no longer fit you. Separating clothes into categories, such as workwear, casual wear, and formal wear, can help you decide what to keep and what to toss, donate, or sell. Check out my blog post on how to declutter your wardrobe for more tips on simplifying your clothing.
This will make it easier to see what you have and make decisions about what you actually need to buy and what to wear every.single.day.
Grab a free printable of my very clear process for Simple Closet Decluttering — Click here to have the free closet declutter checklist sent right to your inbox!
More posts to help declutter your closet:
Step 3: Organizing Your Clothes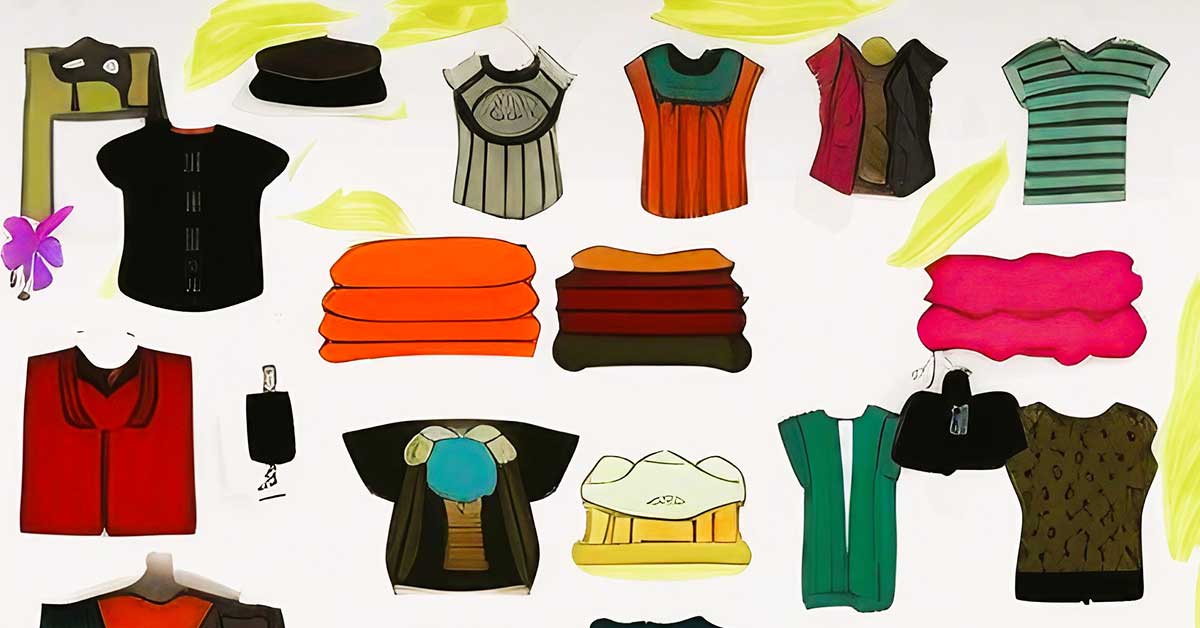 Once you've decluttered your wardrobe, it's time to organize your remaining clothes. Closet organizing is a critical part of wardrobe management.
You can make your life easier with these organizing tips:
Store your clothes by category (e.g., pants, shirts, dresses) or by color
Use closet organizers such as shelves, extra hanging rods, and storage bins
Keep your clothes visible and accessible
All of those things can get expensive. Check out these closet organization ideas on a budget for more inspiration.
Plus, we don't all have huge walk-in closets. I certainly don't! But even with a tiny closet, it's possible to keep your wardrobe organized. Here's how to organize a small master closet.
Okay, thinking back to that tip above about keeping your clothes visible? Well, that's the entire reason I decided to stop using a bedroom dresser many years ago. For real. I keep my wardrobe in the tiny closet. And it works! Here's How To Live Without A Dresser: Tips Learned Over 25 Years.
I like to hang as much of my clothing as possible — even t-shirts. It really helps my brain to be able to see what I have. These slim hangers help me fit more clothes in my hanging space. And even though I prefer the smooth hangers, I do also use the non-slip 'velvet' hanger version for my tops that tend to slide off the regular hangers.
I know that most people do have a bedroom dresser, but there are also times you just don't have room for one. For those cases, you'll want to check out clothes storage ideas for no-dresser bedrooms. Lots of practical stuff there!
Step 4: Simplify Your Wardrobe
Creating a capsule wardrobe is another helpful wardrobe management tip. A capsule wardrobe is a collection of clothes that can be mixed and matched to create a variety of outfits. By limiting your wardrobe to a few key pieces, you can save time and reduce decision fatigue.
Another way to keep things simple is to create your own personal 'uniform.' Basically, when you find a style of pants, shirt, dress — or whatever — buy multiples in either the same or mixable colors. This is what I like to do… mostly because I hate shopping. LOL.
For example, I have several pairs of black pants that are exactly the same, and a bunch of t-shirts that have the same cut but are long-sleeve and short-sleeve and different colors. It makes getting dressed every day SO easy! (Yes, I do have other clothes… but not very many because I don't need much else.)
Step 5: Maintain Your Clothes And Your Organization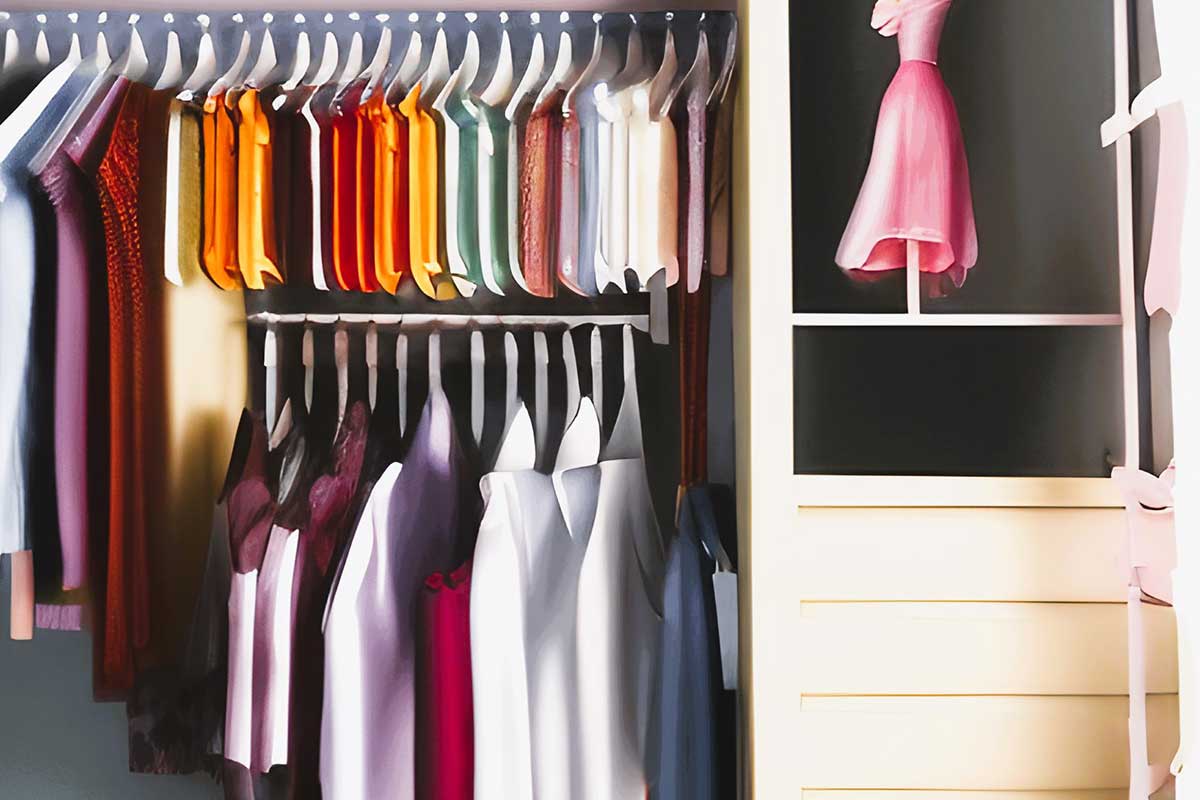 To keep your wardrobe organized and looking great, you'll need to maintain it. So here are a few tips to help you stay on top of it:
• Wash items as needed (and make sure to follow the care instructions!)
• Store your clean clothes where they belong! No more random piles in weird places.
• Mend any torn or damaged clothes
• If you must, store out-of-season items in clothing in something like these stackable storage bags or these for under your bed.
• Store any special occasion pieces properly (but first, consider whether or not you'll ACTUALLY wear them again)
• Donate clothes that you haven't worn in over a year or that no longer work for you – someone else will love them!
Following these steps can help make sure that your wardrobe is always in top shape!
More Inspiration For An Organized Life
Declutter Your Bedroom Like a Minimalist by Ditching These 4 Items
Storage Ideas For Clutter: 8 Dynamite Ways to Organize the 'Must-Keep' Stuff
How To Organize Papers Without a Filing Cabinet: 5 Simple Solutions That Work
How to Organize a Cluttered House in 4 Essential Steps
Next Steps…
Remember, your wardrobe should make your life easier, not harder. Try these tips and see how they can simplify your daily routine.
Managing your wardrobe doesn't have to be stressful, even if you're an overthinker. By decluttering, finding storage solutions, and organizing your closet, you can simplify your wardrobe and make getting dressed a hassle-free experience.
You've got this!
Don't forget to grab your free printable simple closet decluttering checklist!
---
Did you enjoy this post? Know someone else who might like it? Please take a moment to share on Pinterest, Facebook, or your favorite social media… (Click the sharing buttons at the bottom of the post.) Thank you!