It's official: fall is in the air. The leaves are almost changing color, the temperature will soon begin dropping, and pumpkin spice everything is back. It's the perfect time to start settling in with some September creative writing prompts to help you get into the fall spirit!
Creative writing can be a fun and relaxing way to spend your free time. As a step beyond journaling, it can also be a great way to explore your creativity and improve your writing skills. If you're someone who feels like they could use a boost of creativity in their life, why not give creative writing a try with these September-inspired prompts?
If you need some creative prompts and creative writing ideas to help you get started, you've come to the right place.
This post may contain affiliate links. If you choose to purchase through an affiliate link, I may receive a small commission at no additional cost to you. This post is not to be taken as professional medical or mental health advice. All statements are strictly my personal life observations. You can see my full disclaimer here.
September always feels like a fresh start, doesn't it? Even if your children are grown and flown, there's just something about the 'back to school' month that makes you want to buy notebooks and fill them up.
If you've never tried creative writing as an adult, this is the perfect time of year to begin! Get inspired by these writing prompts and just have fun.
Use them to dip your toe into the world of creative writing or help you achieve your September writing goals. Writing in response to prompts is a fantastic way to get your brain moving and creating first thing in the morning.
Fall is my favorite season, and I'm excited to ramp up my creativity level by writing some new stories. If you're looking for some inspiration, here are 30 unique creative writing prompts to help you write your way into fall. Enjoy!
30 September Creative Writing Prompts For Adults
1. First Day Jitters — It's the first day of school and your character is feeling nervous. Are their fears justified? How does the day go?
2. The Locker — Your character's locker won't open no matter what they do. They start to panic as the minutes tick by. What's inside and what happens next?
3. Vultures — Your character has always acted like a vulture, circling, waiting for others to fail so they can capitalize. What happens when the tables are turned?
4. Pet Rock — Write about someone who finds a pet rock and falls in love with it. But when they take it home, they realize that this rock is different from any other. What does it do?
5. Charitable Means — Your character volunteers for a charity event, and they're paired with someone they can't stand. How do they get through the event? Do they find a way to work together or do things go from bad to worse?
6. Master Procrastinator — Your character is the king/queen of procrastination. They put off everything until the last minute and they're always scrambling to finish things. Finally, they're faced with a task that they can't put off. What is it and how do they handle it?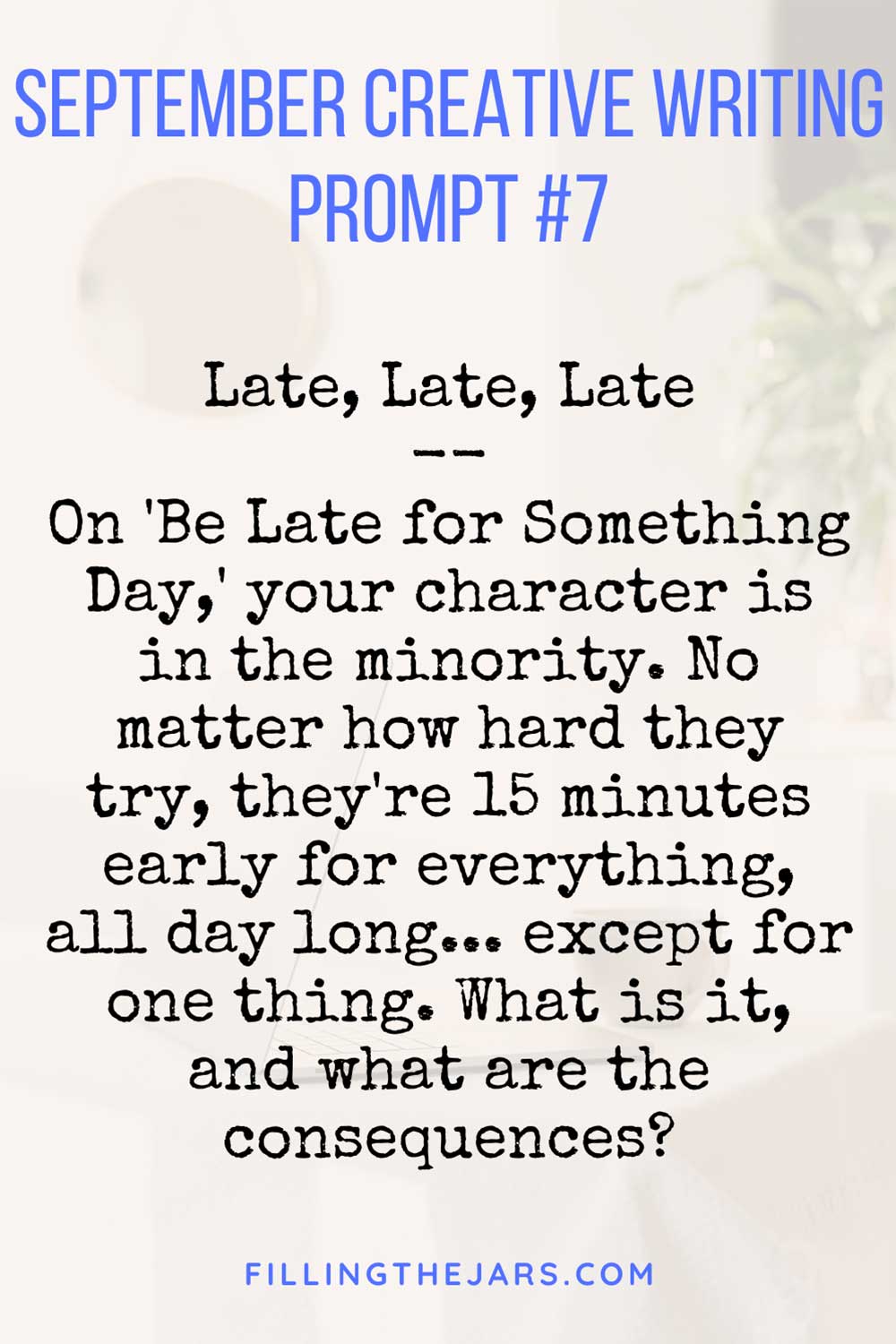 7. Late, Late, Late — On 'Be Late for Something Day,' your character is in the minority. No matter how hard they try, they're 15 minutes early for everything, all day long… except for one thing. What is it, and what are the consequences?
8. The New Book — Write about a voracious reader who loves nothing more than finding a new book to get lost in. But when they start their latest find, they realize that this book is different from any other they've read before. What makes it so special?
9. The Eyes Of A Stranger — The stranger looks at your character with pleading eyes, begging for help. What's the situation? What do they do?
10. In Search Of Studebaker — Your character is on a cross-country road trip and they're in search of the perfect Studebaker. Write about their adventures.
11. Shroomed — Your character ate a mushroom they found in the woods and now they're seeing things. Is it possible what they're seeing is actually reality?
12. Déjà Vu All Over Again — Your character keeps having déjà vu experiences. Plus, they keep seeing movement out of the corner of their eye and think they hear someone say their name. What's causing it?
13. Good Fortune — Your character works for America's oldest fortune cookie manufacturer… yet everything in their life seems to go wrong all the time. One day, they crack open a fortune cookie that changes everything.
14. Quiet, Please! — Write about a person who is trying to study for finals/work on a project/etc., but the people around them won't stop talking. How do they deal with the situation?
15. The Teacher's Pet — Your character is the teacher's pet and they love it. But when a new student arrives who seems even more loved by the teacher, your character starts to feel threatened. What will they do to stay on top?
16. Planes, Trains, And Guitars — Country music is your character's life. But when they're given the opportunity to tour with their favorite artist, they realize that the life of a country musician isn't what they thought it would be. What do they do?
17. Apple Of My Eye — Your character is at the apple orchard and they find the perfect apple. But when they take a bite, they realize that this apple is different from any other. Consider turning this prompt into a modern-day fairytale.
18. The One That Got Away — Write a story about someone who has always regretted not pursuing a relationship with their first crush. When they run into their crush again several years later, is it time to take a chance?
19. The Work Of Happiness — Your character's job is to make people happy. But when they meet someone who is immune to happiness, they realize that their job is harder than they thought it would be. How do they make this person happy?
20. Escape Artist — Write a story about a character who helps women escape bad marriages and start new lives.
21. Peace Out — Your character is trying to meditate/find inner peace, but it's not as easy as they thought it would be. What obstacles do they face? Do they finally succeed?
22. It's Just Business — Write about a fictional businesswoman who fell from grace. How does she rebuild her life and come back stronger than ever?
23. Doodle Day — Your character is a scientist who discovers a secret language/algorithm in the doodles people unconsciously draw when they're bored or thinking. How does this change the world?
24. Rabbit, Rabbit — It's the first day of the month and your character says 'rabbit, rabbit' for good luck. But when they start to have strange encounters with rabbits, they realize that something is up. What's going on?
25. DreamCon — It's a new convention where people dress up as their favorite character from their dreams. In this world of uniqueness, your character is shocked to see someone wearing a costume just like theirs.
26. Lumberjack Max — Your character is a lumberjack who is very good at their job. So good, in fact, that they are asked to join an elite group of superheroes. Write a comic book world-inspired story.
27. Fall Feels — Write about what the arrival of autumn means to your character. Do they celebrate the season? What challenges does fall bring? Write this in the form of flash fiction or make it part of an ongoing story.
28. Like A Good Neighbor — A new family moves into the neighborhood and starts throwing amazing parties. Describe how this changes the people in the neighborhood.
29. Extra-T — Your character is on a mountain hiking trip and they see an animal that they're positive doesn't exist on Earth. What could it be and is it alone? What happens next?
30. Lost In Translation — An ancient artifact is discovered with writing that no person or computer has been able to decipher after 140 years. One day, a child visits the museum and begins reading the text aloud…
Tips To Begin A Great Daily Writing Routine In September
How often should I write?
Write every day. Even more than journaling, developing the habit of creative writing every day serves so many purposes. It helps to lessen writer's block, increase writing speed and improve writing quality.
Schedule your daily writing time and make it YOUR time. Creativity can boost your well-being, so it's actually self-care and good for you!
Should I write something short or long during my writing session?
Don't overthink it! However, sometimes it will depend on the creative writing prompt.
If the prompt is something like 'Write about your character's favorite color,' you could probably get away with something short. If the prompt is more open-ended, like 'Write about a time when your character had to overcome adversity,' you'll probably need to write something longer in order to fully explore the topic.
Ultimately, the best way to figure out how long your piece should be is to simply start writing and see where the words take you. Don't worry about length at first, just focus on getting your ideas down on paper. Once you have a draft of your story, you can go back and revise it for length if you want to.
Should my prompt response be a poem, essay, story, etc.?
Any of the above. The truth is, there is no right or wrong answer. It's all about what works best for you.
If you feel more comfortable writing in a certain form, then go with that. If you're inspired by the prompt and want to experiment with a different form, then go for it.
The important thing is to just get started and see where the prompt takes you. Who knows, you may just surprise yourself.
Should I write fiction or nonfiction?
Well, these are 'creative' writing prompts, so I tend to think in terms of fiction, or at least creative nonfiction. Otherwise, you're basically journaling about yourself or writing a journalistic article about true events.
What kind of prompt would be best for me?
Try them all! I like to suggest using monthly prompt collections in the order they're written. It just makes things easy!
But if you really can't get into a certain prompt, skip it and use something else. This is your writing session, after all.
Even if you never become a 'productive' or paid writer, you can still reap the benefits of exploring your creativity on a daily basis.
Just like journaling, a creative writing habit gives you a way to safely vent your feelings. The great thing is that with creative writing, you may be able to turn those feelings into entire stories… so much fun!
More Writing Resources
You may not need all of these, but here are some ideas and inspiration that can make writing every day easier and more enjoyable.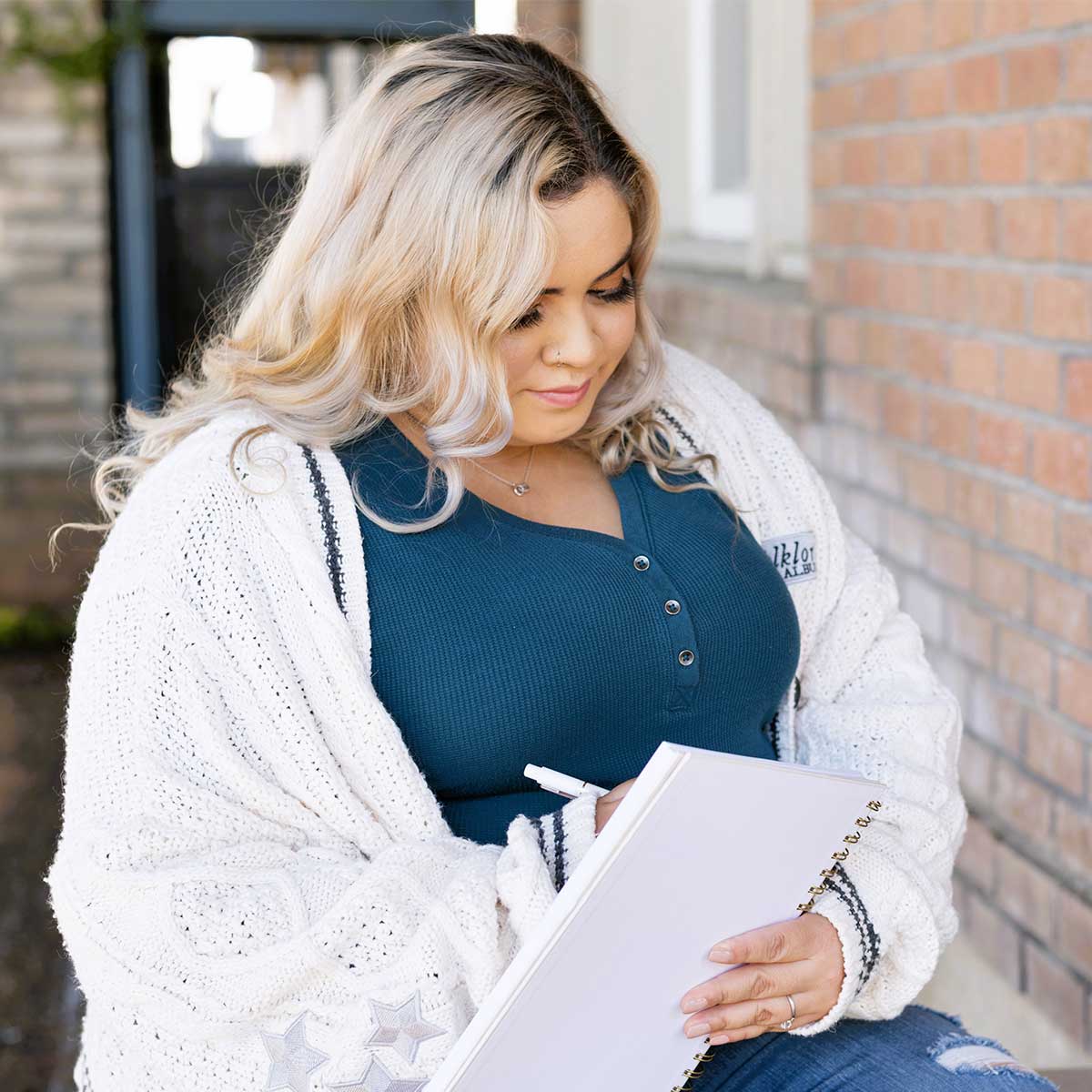 A notebook that you love to write in is essential. It should be big enough to write in comfortably, but not so big that it's cumbersome to carry around. I like this refillable journal with 4 inserts so I can write about different things and keep them sort of organized.
You may not use your note journal for all of your daily writing, but it's so nice to have when you want to jot down ideas for characters, scenes, or brilliant story ideas… you know those always come to you when you're not near your computer.
Related post: Best Journals for Writing: 6 Top Picks
A pen that you love writing with is also important. You want one that's comfortable to hold and use, and it should have a smooth ink flow. My perfectionist side prefers to write with erasable Frixion pens, but they're not always the best choice for journals that are left in hot cars, etc. (The ink disappears with heat.)
My other favorite – Pilot G2 pens – aren't erasable, but they definitely write more smoothly and have a bolder line. The ink can be a little smeary until it dries.
If writing by hand isn't your thing, there's nothing wrong with using Google Docs for your daily creative writing. When I'm really motivated and the words are flowing, this is my go-to because I can type much faster than I can write.
When the ideas are there, you have to capture them as quickly as possible!
This leads me to one of my favorite things: the voice-to-text app otter.ai — it's perfect for rambling through messy scene ideas or making character notes whenever they occur to me. Otter syncs across all of my devices (android, iPhone, and Windows PC) and does a pretty decent job of transcribing for copying into Google Docs or your favorite writing program.
You can gamify your writing prompts with this fun set of writing dice.
Ready to get serious about your book idea? You might have a storyline in your head, but there's a little more to the process. Grab this printable story planner workbook and start getting some of the details down in writing. Trust me, this kind of development and planning makes the process go much more smoothly!
So if you're looking to make writing easier and more enjoyable, be sure to try some of these resources.
And if you need more creative writing ideas, you'll want to check out these posts:
Creative Writing Questions: 25 Prompts to Unlock Your Imagination
28 February Creative Writing Prompts for Adults to Write Your Heart Out
October Writing Prompts: 31 Creative Prompts For Adults
Final Thoughts on Creative Writing in September
I hope these September creative writing prompts motivate you to begin or keep up a regular writing routine.
As you continue your journey as a writer, always remember to push yourself to try new things and step outside your comfort zone. Who knows what exciting discoveries await you?
Happy writing!
Here are even MORE prompts you can have delivered right to your email inbox…
---
Did you enjoy this post? Know someone else who might like it? Please take a moment to share on Pinterest, Facebook, or your favorite social media… (Click the sharing buttons at the bottom of the post.) Thank you!