If you're like most people, you probably have a lot of stuff in your house that needs to be organized. Clutter can quickly accumulate and make your home feel chaotic. But with some quick organizing tips and tricks, you can get your home organized in no time.
In this article, we'll look at quick and simple organizing ideas for every room in the house. From the kitchen to the bathroom, these tips will help you declutter and organize your home in a way that works for you. Whether you're short on time or just need a little inspiration, these tips and my declutter tips will help you get started on your journey to a more organized home.
Let's dive in and start organizing!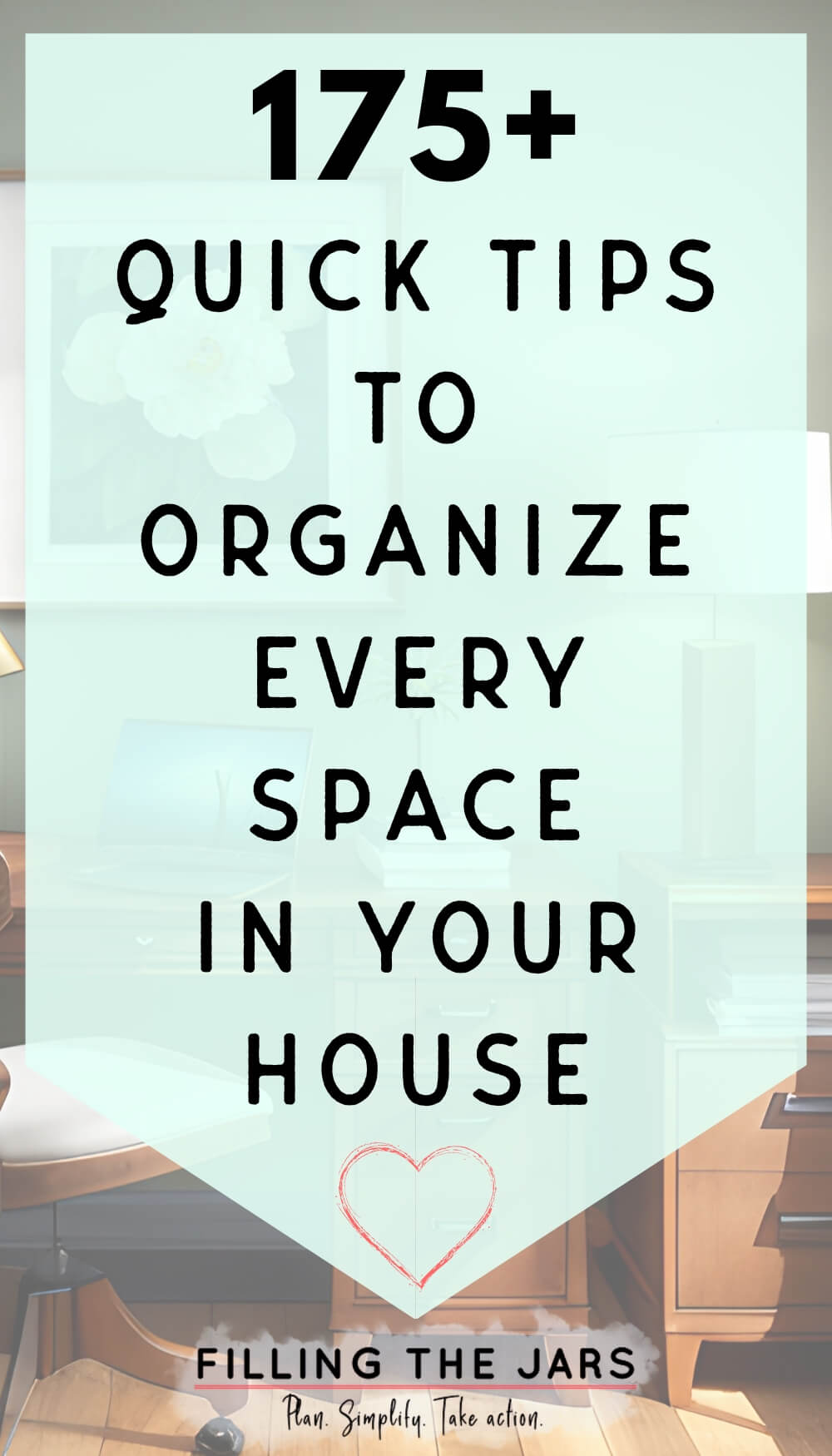 This post may contain affiliate links. If you choose to purchase through an affiliate link, I may receive a small commission at no additional cost to you. You can see my full disclaimer here.
The Basics of Organizing
Declutter
Before you start organizing any room, it's essential to declutter. That said, I usually recommend a slow declutter method — which doesn't exactly fit a post about quick organizing tips, does it?
When you need to get things in order quickly, here's how to declutter really fast.
Once you've got the bulk of the clutter out of the way, you can begin organizing. Always begin with a 'blank slate' whenever possible.
Maximize Storage
Maximizing storage can help you keep your space organized and clutter-free. Use storage solutions that fit your space and your needs, like these 8 storage ideas for clutter.
Always think about choosing furniture and other pieces for your home that have a dual purpose and can be used for storage.
Utilize Vertical Space
Utilizing vertical space is an excellent way to keep your home organized. Tall shelves are great, as are hooks and pegboards to hang items on the walls. Use over-the-door organizers to make use of often-neglected storage opportunities.
Room-Specific Quick Organizing Tips
Living Room
The living room is often the hub of the home, where family and friends gather to relax and socialize. Here are a few tips to help you keep this space organized:
Use a decorative ladder to hang throw blankets and keep them within reach.
Create a charging station for all your electronic devices by installing a power strip inside a decorative box.
Use a decorative trunk or storage ottoman to store throw pillows and blankets.
Keep a basket or bin near the door to corral items that need to be returned to other areas of the house.
Coffee Table and End Tables
Keep your coffee table and end tables organized with these quick tips:
Use trays or baskets to hold items like remotes, coasters, and candles.
Choose tables with drawers or hidden storage to keep things tidy-looking.
Limit the number of decorative items to avoid clutter.
Bookshelves
Shelves can easily become cluttered and disorganized. Here are some simple tips to keep them looking neat:
Organize books by color or size to create a cohesive look.
Use bookends to keep books upright and in place.
Store board games and puzzles in a cabinet with doors.
Create a display area for family photos by installing picture ledges on the wall.
Entertainment Center
With all the cords and electronics, entertainment centers can quickly become messy. Here's how to keep them organized:
Use cord organizers to keep cords neat and in place.
Use decorative boxes or baskets to keep DVDs, video games, and other media organized.
Kitchen
The kitchen can quickly become cluttered with appliances, utensils, and food. These tips will help you keep this space functional and tidy:
Create zones in your kitchen for different tasks, such as a prep zone and a cooking zone, to make meal prep and cooking more efficient.
Keep a step stool nearby to reach high cabinets and shelves.
Refrigerator
Keeping your refrigerator organized can help you save money and reduce food waste.
Once a week, remove all items from your refrigerator and check for expired or spoiled items.
Group similar items together such as dairy, meats, and vegetables. Designate a space for each group.
Use these sheet pan lids — upside-down — to hold meat or other items that may leak.
Use a lazy susan or turntable to store small items such as condiments.
Countertops
Clear off your countertops to create more space and make your kitchen look more organized. Only keep essential items such as a coffee maker or toaster on the countertop.
Keep a lazy susan or tray near the stove to hold cooking oils, salt, and pepper for easy access.
Use a wall-mounted paper towel holder to keep rolls within reach and off the counter.
Cabinets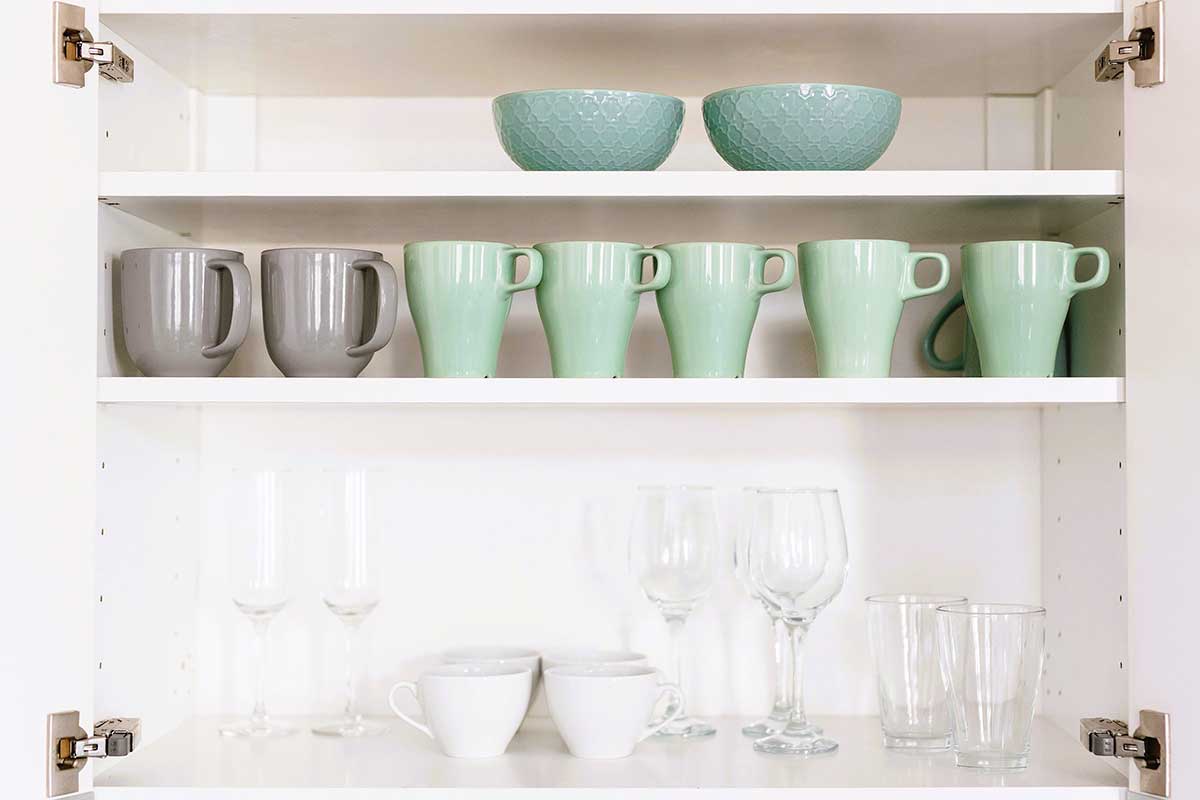 Organize your cabinets by grouping similar items together such as plates, cups, and bowls.
Adjust your upper cabinet shelves to allow for just the right amount of space for dishes or other items.
Use shelf risers to create more space and make it easier to see items in the back of the cabinet.
Install hooks inside an upper cabinet door to hang measuring cups and spoons.
Use a magazine holder to organize aluminum foil, plastic wrap, and parchment paper. Mount it on the inside of a lower cabinet door to save drawer space.
Install pull-out shelves in your lower cabinets.
Use a file sorter to store and organize baking sheets, cutting boards, and trays vertically.
Keep frequently used items within reach and less-used items in higher or lower cabinets.
Use a lazy susan and clear pie-shaped storage bins in upper corner cabinets to make items easier to access.
Use drawer dividers and in-drawer knife blocks to keep utensils and cutlery organized.
Use a tension rod under the sink to hang cleaning supplies and keep them off the floor.
Use a pull-out pantry organizer to maximize space and keep food items organized.
Pantry
Although it's not always quick, if you have the time, start fresh by doing a pantry declutter. No time? Start making use of these quick tips and eventually you'll get yourself organized:
Create zones for different categories of food, such as baking supplies, snacks, or canned goods.
Use a black sharpie to write the date on packages when you open them to make it easier to track freshness.
Set a reminder in your calendar app to check the dates on your pantry supplies at least once every 3 months, although monthly is better.
Donate unused — but unexpired — items regularly to keep the pantry clutter-free and organized.
Keep frequently used items at eye level and less-used items on higher or lower shelves.
Use clear, airtight containers to store dry goods such as cereal, pasta, and rice. Label the containers for easy identification.
Install extra shelves to maximize vertical storage.
Use a riser or tiered shelf to maximize space and create multiple levels for storage.
Use a lazy susan to store spices and other small items that can be hard to find.
Use a hanging shoe organizer to store snacks, small packets, and seasoning mixes.
Use binder clips to organize open bags of snacks or pasta by clipping the bag shut and hanging it from a hook or wire shelf.
Install a magnetic whiteboard or chalkboard to keep grocery lists, meal plans, and recipes handy.
Use a tray or bin to store and organize small appliances, like a blender or food processor.
Use a command hook to hang a lightweight apron or reusable grocery bags. Another option is s-hooks if you have wire shelving.
Use a wall-mounted plastic bag holder for your plastic grocery bags. (Too many bags? Here's how to declutter and organize all of your shopping bags.)
Bedroom
The bedroom is your personal sanctuary, and it's important to keep it clutter-free for a good night's sleep. Try these tips:
Make your bed every morning to start the day off with a sense of accomplishment and keep the room looking tidy.
Use bed risers to create extra storage space under the bed.
Use under-bed storage containers to keep off-season clothing and linens out of sight.
Nightstand
Your nightstand can quickly become a catch-all for clutter. To keep it organized, start by removing everything from the surface. Then, only put back the essentials, such as a lamp, clock, and a book or two.
Use a drawer organizer — INSIDE a drawer if possible — to keep items like lip balm, lotion, and other small items in their place.
Add a charging station to keep cords and chargers organized and out of sight.
Dresser
Use drawer dividers to keep socks, underwear, and other small items organized.
Use a jewelry tray or organizer to keep necklaces, bracelets, and earrings from getting tangled.
Consider decluttering your wardrobe enough that you don't need a dresser and can keep all of your clothing in your closet.
Closet
Organizing your closet can make a huge difference in the functionality of your bedroom. In addition to my wardrobe management tips and easy closet organization ideas on a budget, these tips for quick closet organizing may help:
Keep a donation box or bag in the closet to easily purge unwanted clothes and accessories.
Use matching slim hangers — you can get them in either smooth or velvet styles — to keep clothes hanging neatly and save space.
Organize clothes by type and color to make finding what you need easier.
Use shelf dividers to keep folded clothes and accessories organized and easy to find.
Use a belt rack or hanger to keep belts organized and easily accessible.
Use a tie rack or hanger to keep ties organized and prevent wrinkling.
Keep a lint roller in the closet to quickly remove lint, hair, and dust from clothing.
Use a scarf hanger to keep scarves organized and prevent them from getting tangled.
Keep a small step stool in the closet to easily access items on high shelves.
Use a vacuum storage bag to store out-of-season clothing and save space.
Use a shoe rack or hanging shoe organizer to keep shoes off the floor and easy to find.
Use a hanging jewelry organizer to keep necklaces, bracelets, and earrings tangle-free and visible.
Use a shelf riser to maximize vertical space and keep folded clothes visible.
Use a hanging sweater organizer to keep bulky sweaters folded and prevent stretching.
Keep a small sewing kit in the closet for quick fixes and touch-ups.
Keep a hamper or laundry basket in the closet to quickly and easily store dirty clothes.
Use a cap rack on the back of a closet door to store multiple baseball caps.
Consider switching to a capsule wardrobe for easier dressing and a more organized closet.
Bathroom
The bathroom is often one of the smallest rooms in the house, but it can still be organized with these tips:
Use a hanging organizer to store extra toilet paper, tissues, and other bathroom supplies.
Use a toilet paper holder with a built-in storage shelf to keep extra rolls of toilet paper easily accessible.
Vanity
When it comes to organizing your bathroom vanity, it's important to keep it simple.
Clear out any expired products and items you no longer use.
Keep your countertop as clear as possible for easy cleaning.
Use drawer dividers and organizers to keep hair tools, makeup, toiletries, and other small items organized.
Use a cabinet door organizer to hold hair products, etc.
Use a clear acrylic tray and containers to hold and organize small items like cotton swabs and makeup pads if they don't fit in your drawers.
Keep a small trash can nearby for quick disposal of tissues and other small items.
Shower and Tub
Install an extra towel rack or hooks to keep towels off the floor and within reach.
Use a shower caddy with adjustable shelves to keep all of your shower essentials in one place.
Hang an extra shower curtain rod next to the wall with hooks — or use moisture-proof command hooks — to easily hang loofahs, poofs, and other shower accessories.
Keep a squeegee in the shower to quickly wipe down the walls and prevent mold and mildew.
Use double-sided shower curtain hooks to make it easier to remove the shower curtain liner for laundering.
Linen Closet
The linen closet is often a catch-all for everything from towels to bedding to first aid supplies, making it one of the most cluttered and disorganized spaces in the house. Try these simple organizing tricks and storage solutions:
Keep bed sheets organized by folding them inside their corresponding pillowcases.
Store your extra pillows, blankets, and off-season bedding in vacuum-sealed bags to save space.
Add clear acrylic or stackable organizers to store items like travel-sized toiletries, first aid supplies, and extra personal care supplies.
Label each shelf of the closet so that you can quickly identify where everything belongs.
Use fabric bins or shelf dividers to separate and store different types of linens, such as sheets, towels, and tablecloths.
Keep linen spray and sachets in the closet to keep your linens smelling fresh.
Use a clear over-the-door shoe organizer to store toiletries and other small items.
Roll up beach towels and store them in a beach bag in the linen closet.
Laundry Room
The laundry room is where clothes are washed and dried, but it can also be a space to keep cleaning supplies and other household items. Try these quick tips to keep this space organized: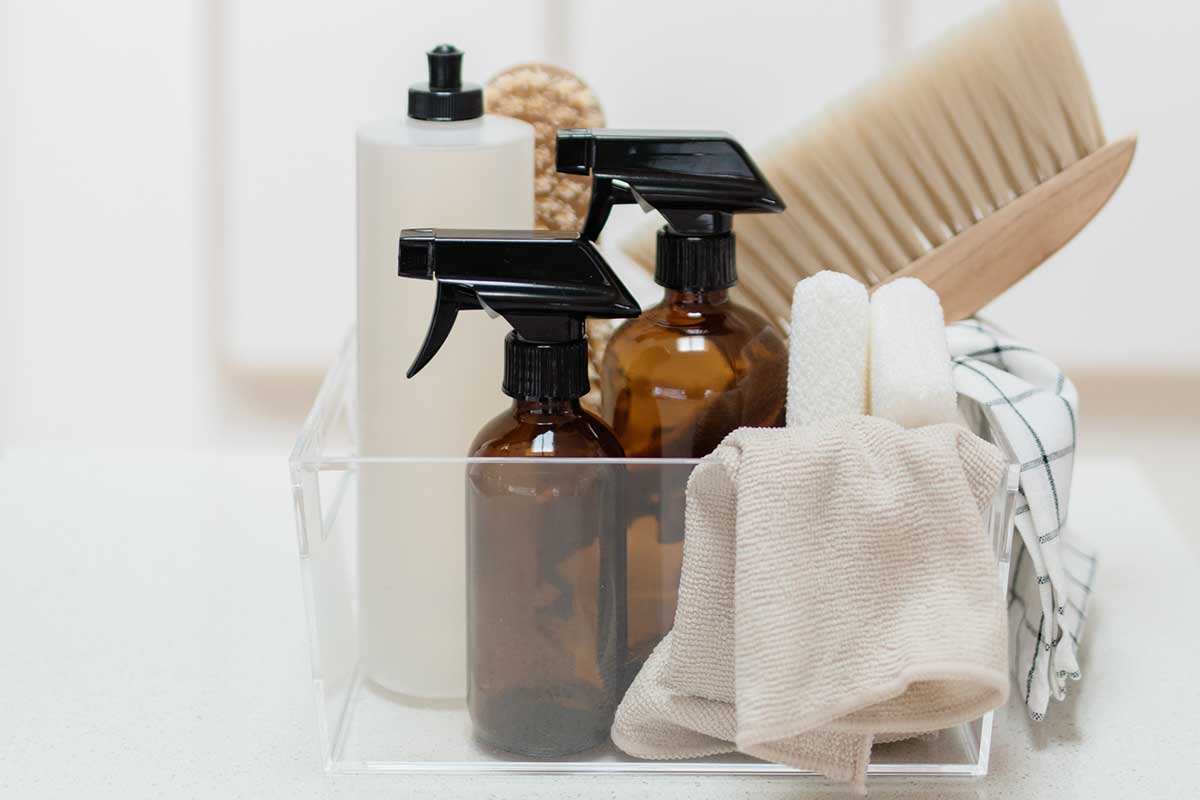 Install a folding table or countertop to make folding clothes easier and keep the room tidy.
Use laundry hampers or baskets to sort clothes by color, type, or family member.
Use hooks or shelves to keep cleaning supplies, ironing boards, and other items off the floor. This wall-mounted mop and broom holder looks great!
Install a narrow shelf right over the washer and dryer to hold detergent, fabric softener, etc.
Use a wall-mounted drying rack for air-drying delicate clothes.
Install a hanging rod to hold hangers and make it easy to hang clothes right out of the dryer — or try this combo laundry sorter and hanging rack.
Store frequently-used cleaning supplies in a caddy for quick access.
Use a small rolling cart or an over-the-door organizer for cleaning supplies such as detergents, fabric softeners, and stain removers.
Hang a mesh bag or basket on the wall to collect mismatched socks or small clothing items.
Install a hook or rack on the back of the door to hang hangers or store a laundry bag.
Keep a small basket or tray on top of the washer and dryer for loose change, pocket items, or lost-and-found items.
Keep a small trash can nearby for lint, dryer sheets, and other waste.
Guest Room
The guest room may not be used very often, but it's still important to keep it tidy and organized for when guests do come to stay. Try these tips:
Use under-bed storage containers to store extra blankets, pillows, and linens.
Use a luggage rack or bench so guests have a place to put their suitcases.
Keep some empty closet space or a freestanding hanging rack for guests to hang their belongings.
Use a nightstand or side table with drawers so guests have a place to store small items.
Provide an easily accessible power strip with USB ports for charging devices.
Hang a full-length mirror on the back of the door for guests to check their outfits.
Install floating shelves to display books and other reading materials.
If you have a multi-purpose guest room, consider a freestanding screen to conceal your workspace, storage area, etc.
Playroom
If you have kids, you know how quickly their toys can take over the house. A dedicated playroom can help contain the clutter. Try these tips:
Use storage bins or baskets to easily sort toys and keep them off the floor.
Install shelves or cubbies to display books and toys.
Use a play mat or rug to define the play area and make cleanup easier.
Use a toy chest or storage ottoman to quickly and easily store toys at the end of the day.
Use cube storage units with colored baskets to sort and store toys by category.
Create a designated area for art supplies, like a rolling cart or tabletop organizer.
Use a magnetic board to display artwork and special projects.
Use an over-the-door shoe organizer to store small toys, like action figures or dolls.
Create a dress-up corner with a hanging rack and hooks for costumes and accessories.
Create a designated area for building blocks and Legos with a large flat surface and a storage system for the pieces.
Create a 'lost and found' box or basket for items found around the room that actually belong somewhere else.
Do a '10-minute tidy' before dinner or bedtime every day.
Home Office
Whether you work from home or just need a space to pay bills and organize paperwork, it's important to know how to organize a messy office. These tips will get you started: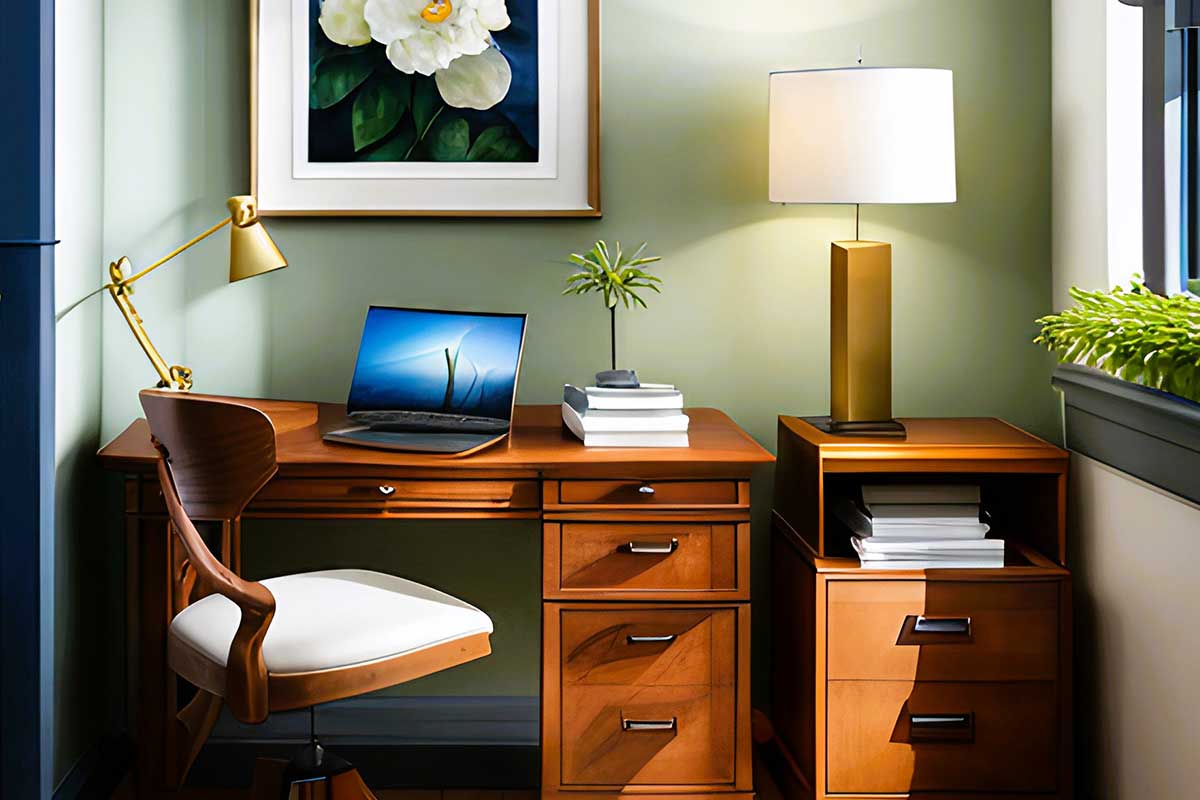 Desk and Work Area
Keeping your desk and work area organized can help you stay focused and productive.
Start by clearing everything off your desk and only putting back the essentials.
Use desk organizers to keep pens, pencils, and other small items in their place.
Keep a notebook and pen within reach to quickly jot down ideas, notes, and to-do lists. No more random pieces of paper scattered everywhere.
Use a standing file organizer to sort mail and important documents as they come in.
Use a bulletin board or whiteboard to keep track of to-do lists, appointments, and deadlines.
Keep a charging station or power strip near your desk to easily charge electronics.
Use a cable organizer to keep cords and wires from tangling.
If your desk has drawers, use drawer dividers and organizers to keep items separated and easy to find.
Filing System
Review and purge your files regularly to avoid buildup.
Use a filing cabinet or file box to keep important documents organized and easily accessible. For other ideas, check out how to organize papers without a filing cabinet.
Use a label maker to clearly label folders, drawers, and boxes for easy identification and organization.
Use a document scanner to reduce paper clutter and keep important documents organized digitally.
Go paperless for as many bills and statements as possible. Set aside 10 minutes every week to go online and change more account settings to paperless.
Keep important financial documents, such as tax returns and receipts, in a designated folder or file. Make a new one every year and just throw everything in there.
Dining Room
The dining room is often reserved for special occasions, but it's still nice to have an organized and functional room. Try these tips:
Use a buffet or sideboard — or a repurposed dresser — to store table linens, serving dishes, and other dining essentials.
Use a tray or caddy to hold frequently used items, such as salt and pepper shakers, napkin holders, and condiments.
Create a designated area for wine bottles and glasses, using a wine rack or wall-mounted stemware holder.
Use a lazy susan on the table for easy access to condiments, napkins, and other small items.
Use a rolling cart for extra storage or as a mobile bar.
Entryway
The entryway is the first thing guests see when they enter your home, so it's important to keep it organized and welcoming. (Click here to see how we transformed our entryway a few years ago.) Try these organizing tips: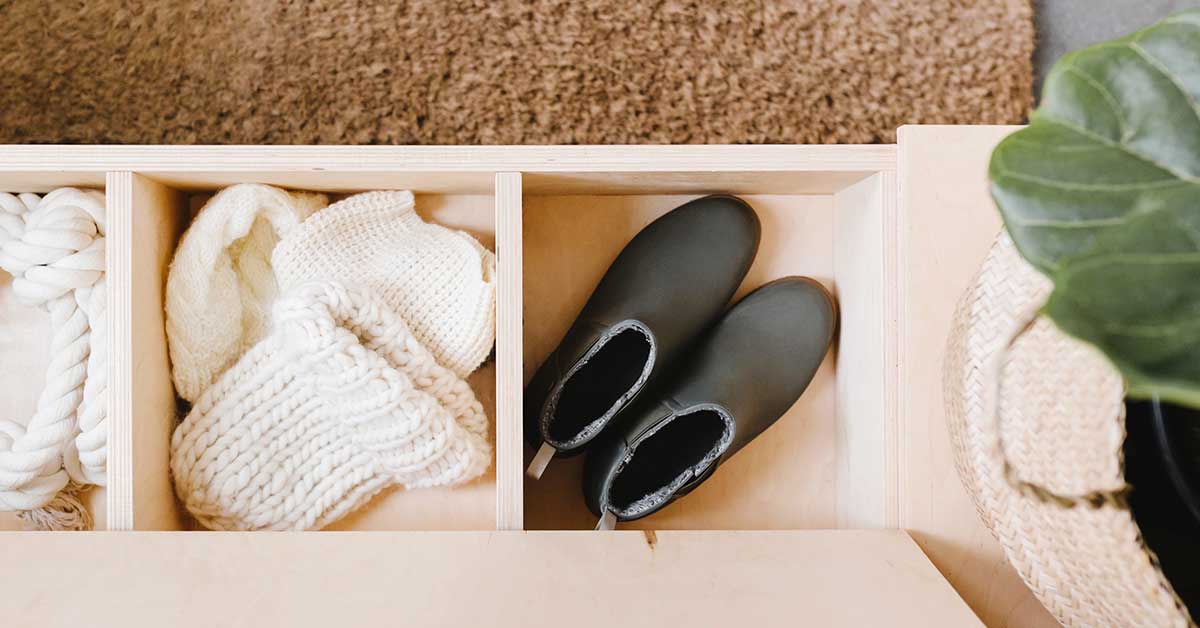 Use a small, narrow console table or shelf to hold keys, mail, a welcoming lamp, and other small items.
Install a sturdy coat rack or hooks to hang coats, umbrellas, bags, and scarves.
Use a tray or bowl for keys and other small items you need on your way out.
Use a bench or ottoman with storage underneath to store shoes.
Use baskets to store items like hats and gloves or pet supplies.
Create a charging station for electronic devices.
Use a floor mat to catch dirt and debris and protect flooring.
Hang a key rack near the door.
Install a wall-mounted mail organizer to keep mail from piling up on a flat surface.
Basement
The basement can be a catch-all for all kinds of items, but there's no reason it can't also be organized. Try these tips:
Use storage bins on sturdy racks to keep items off the floor and easy to find. Build your own racks or try these heavy-duty rolling shelves.
Set up a dehumidifier to prevent moisture and mold.
Install ceiling-mounted storage racks to keep large, bulky items off the floor.
Use a label maker to clearly label storage containers and shelves.
Use a folding table or workbench to create a workspace for DIY projects or hobbies.
Create a designated area for seasonal items, such as a shelving unit for seasonal decorations or a designated area for camping gear.
Attach wood or metal strips across the bottoms of floor joists to create overhead storage spaces for long items such as lumber or pipes.
Keep a shelving unit near the bottom of the stairs to store spare light bulbs, batteries, candles, and other supplies if you have no other place for them.
Garage
The garage can quickly become a dumping ground for all kinds of items. Use these tips to keep this space organized:
Use a rolling cart or tool chest to keep frequently used tools organized and easily accessible.
Install a workbench with drawers and storage underneath to keep tools organized and within reach.
Use a pegboard or tool board to keep tools and hardware organized and easily accessible.
Install shelves or cabinets to keep items off the floor.
Use clear bins or containers to store items so you can easily see what's inside.
Label drawers, bins, and cabinets to keep everything in its place.
Install a ceiling-mounted storage system to keep bulky items like kayaks off the floor and out of the way.
Keep a broom handy to quickly clean up sawdust or debris.
Use a bike rack or stand to keep bikes upright and organized.
Use a lockable cabinet or storage box to keep hazardous materials like cleaning supplies or chemicals out of reach of children and pets.
Use a wall-mounted hose reel to keep garden hoses organized and off the floor when storing indoors for the winter.
Hang a wall-mounted heavy-duty tool holder for long items like brooms, shovels, and rakes.
Place a bench and floor mat next to the house door where people can sit and remove dirty shoes before coming into the house.
More Help For An Organized Home
How to Organize a Cluttered House in 4 Essential Steps
The Best Way to Organize Paper Files: 4 Tips for Organizing Files at Home
17 Easy And Ultra Cheap Ways To Organize Your Home
9 Kitchen Command Center Ideas For Smart And Simple Organizing
Need more help for regular cleaning? My 27-page Essential Cleaning Planner has everything you need!
This cleaning planner was designed to take the stress out of cleaning. Create your personal scaled-down cleaning plan, or use the checklists as-is to stay on top of the exact cleaning and maintenance tasks that will keep your home clean and comfortable.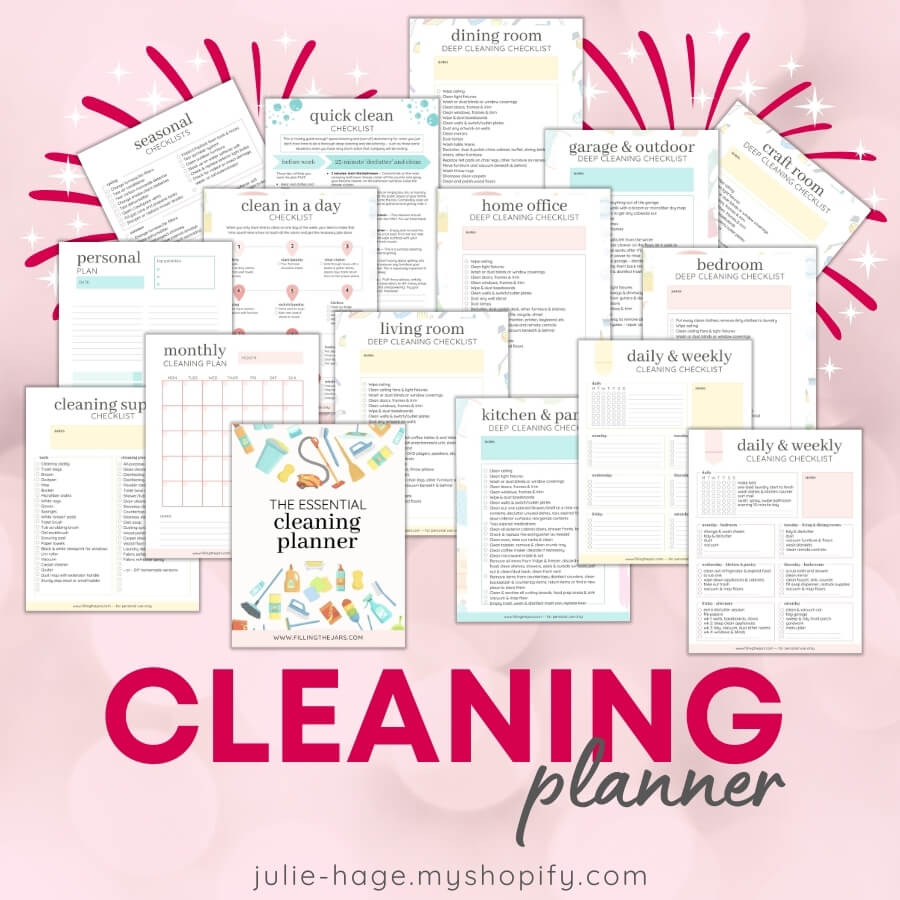 Maintenance Tips
Maintaining an organized home is just as important as knowing how to organize quickly. Here are a few quick tips to help you keep your home organized:
Set aside 10-15 minutes each day to tidy up. This can prevent clutter from building up and becoming overwhelming.
Use a calendar or planner to schedule regular cleaning and organizing sessions.
Make it a habit to put things back where they belong after using them.
Regularly declutter and donate items you no longer need or use.
Invest in storage solutions that work for you and your space.
By following these maintenance tips, you can keep your home organized and clean with minimal effort.
You've got this!
---
Did you enjoy this post? Know someone else who might like it? Please take a moment to share on Pinterest, Facebook, or your favorite social media… (Click the sharing buttons at the bottom of the post.) Thank you!