IN THIS POST: It's time to talk about the elephant in the room… because while I wholeheartedly believe in decluttering at your own pace, sometimes it's imperative to know how to declutter really fast. Here you'll find steps and tips for a successful speed declutter session, which you can use in addition to my favorite declutter tips.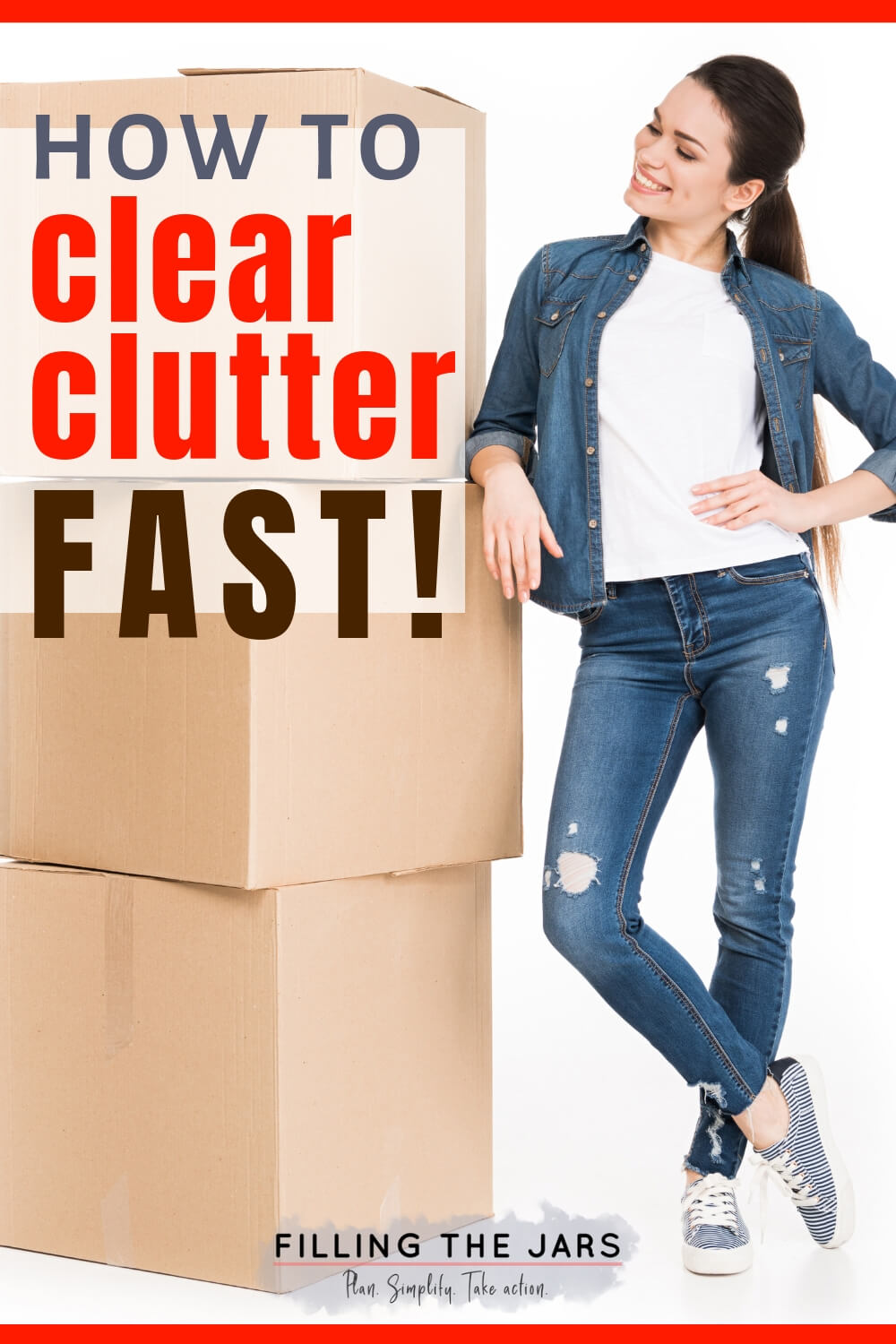 This post may contain affiliate links. If you choose to purchase through an affiliate link, I may receive a small commission at no additional cost to you. You can see my full disclaimer here.
Getting rid of clutter quickly doesn't have to be overwhelming. Preparing yourself and your space will help immensely and motivate you to do your best.
Let's talk about how to do that…
Why You Need to Know How To Declutter Really Fast
Picture this:
You just got word family is on their way into town for a visit. They remind you of your open offer to let them stay with you. Excited at the prospect of spending time with them, you get the details of their arrival and make plans for all the fun things you'll do together.
After you hang up, you start to make a note of the visit date in your planner. Your mind is spinning with everything to do in the next month.
Wait.
Are those dates right?
That's next WEEK.
You look around the house, panic rising. The place is an absolute disaster zone.
Hey, it happens. Life gets away from you, and then you're brought up short by the reality that the clutter has to go. Now.
What do you do?
Take a deep breath. It's time to do a fast declutter.
Tempting as it may be to just make a pile of stuff and light a fire in the yard, you need a solid decluttering strategy for these types of situations.
It's okay. You've got this!

Determine Your Focus for Special Decluttering Situations
Depending on your reason for needing to purge the clutter, you may need to adjust your focus for exactly what to do and when.
Moving house
If you're decluttering due to an upcoming move, your focus is to get rid of everything you don't want to pack up, move, and deal with later.
Something needs to change NOW
If this is happening because you're afraid your family will stage an intervention if you don't do something soon (or perhaps the intervention has already happened), then it's time for a full-blown 'I'm ready to make this major change' fresh start.
Don't evaluate items to sell. You're in donate or trash mode during a quick declutter. If it's nice enough, donate it. If you really think it's worth a lot of money, put it in a save bin. (Spoiler alert… it's rarely worth anything close to what you think.)
Declutter cabinets, drawers, closets first. Then you'll have places to store all the other stuff that's been collecting out in the open.
Having company or throwing a party
If you're decluttering because company is coming or you're having a party, your focus is 'main spaces.' You don't want to shuffle everything into a junk room or a garage, but it's okay to set a few items aside to make final decisions about in the future.
Remember, none of these situations requires a complete and deep declutter at the moment. You're concentrating on the 'big stuff,' the obvious things. It's not the time to make major decisions about very sentimental items.
This decluttering job is meant to be quick and dirty and 'good enough.' In these cases, good enough is just fine.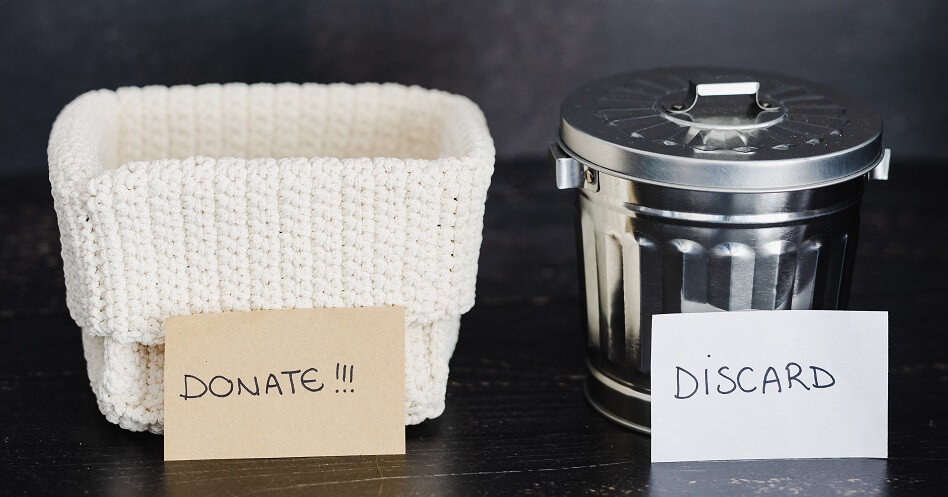 ---
12 Tips to Clear Clutter Fast
1. Understand that this will all seem worse before it gets better.
2. Set a reward worth working for! Maybe it's ENJOYING an upcoming visit with family or party at your house. Maybe it's redecorating. Maybe it's selling your house for a better price.
3. Set up a donation pickup time. You'll be more motivated to get as much ready to go as you possibly can.
4. For major 'this stuff needs to GO' decluttering, rent a dumpster. They are pretty expensive, so you'll want to have it for the shortest time possible and make the best use of it.
5. Purchase several matching storage bins and use them for the items you can't make a decision about immediately. (This is the ONLY time you'll ever hear me say this. 😉 )
6. Set up space for sorting. You'll need boxes or bins labeled donations, recycle (if it's available in your area), save, and relocate (for items that belong in another room).
I also like to have an empty bin for papers and loose photos. I don't know why, but they tend to collect in every room and you can't slow down to sort papers as you go. All the papers you find in each room will go into this bin to sort later.
You'll need a box of black heavy-duty trash bags. The 13-gallon size are easiest to handle, but go for the 33-gallon size if you have a more serious clutter situation.
7. Start with an easy room that doesn't contain a lot of sentimental objects.
8. Use a timer. This will remind you to stay on task instead of going down rabbit trails.
9. Work in layers, but work quickly. Set the timer for 10 minutes at a time. Starting at the room entrance, carry the trash bag and collect anything broken or that's just trash. Work around again with the 'donate' box. Then again with the 'relocate' box. Reset the timer as necessary.
10. Play music. It will help you move faster.
11. Schedule breaks and meals. Decluttering is physically and mentally exhausting. Stop every 30-60 minutes to drink water and get some fresh air. Have meals delivered or prepare your food ahead of time and eat nutritious leftovers.
Do NOT use breaks and meal times to look through the items that have already been decluttered. Take your breaks in a clutter-free zone.
12. Have cleaning supplies on hand. After you're finished decluttering each area, take 10 minutes to speed-clean the space. You'll be less likely to clutter it up again quickly.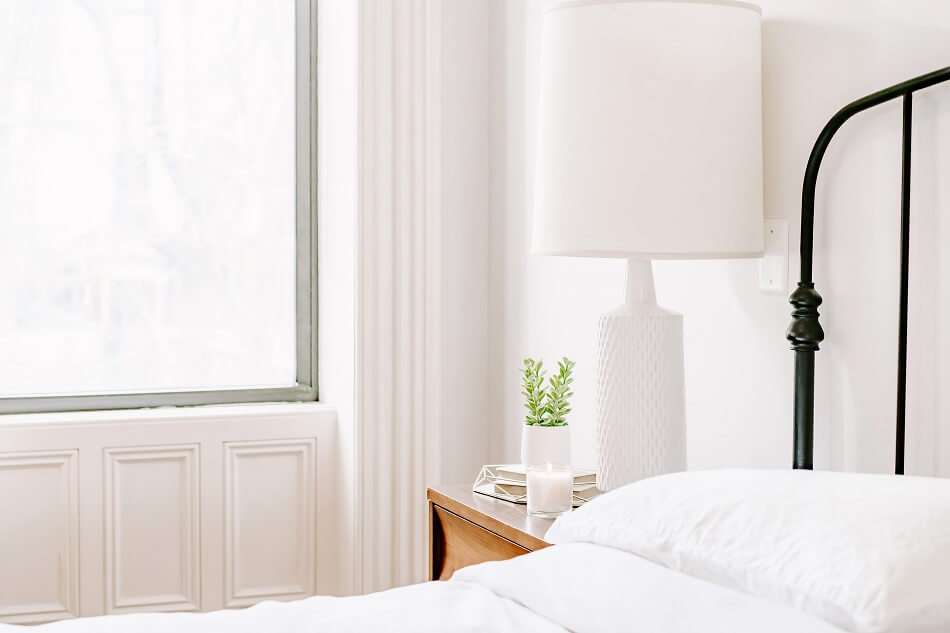 ---
Speed Up Decluttering with Pre-Made Decisions
Making hard and fast rules about your decluttering decisions will be a huge time-saver. In most cases, you'll know exactly what to do with your stuff and won't even have to think about it.
Having clear and simple rules means you'll preserve more mental energy to help you get through the entire task. You don't want to hit a decluttering wall due to indecision.
1. If it's broken, toss it. Always.
2. Once something goes into the trash bag or donation box, it stays there.
3. If you haven't used it in a full year, donate it. If you've only used it once in that time, think about whether or not you have something else that could do the job just as well. Or if the item could be easily replaced, donate it.
4. All trash and donations leave the house immediately at the end of each decluttering session.
5. Don't deal with anyone else's clutter. It's their responsibility. Shove it in a bin and let them take care of it.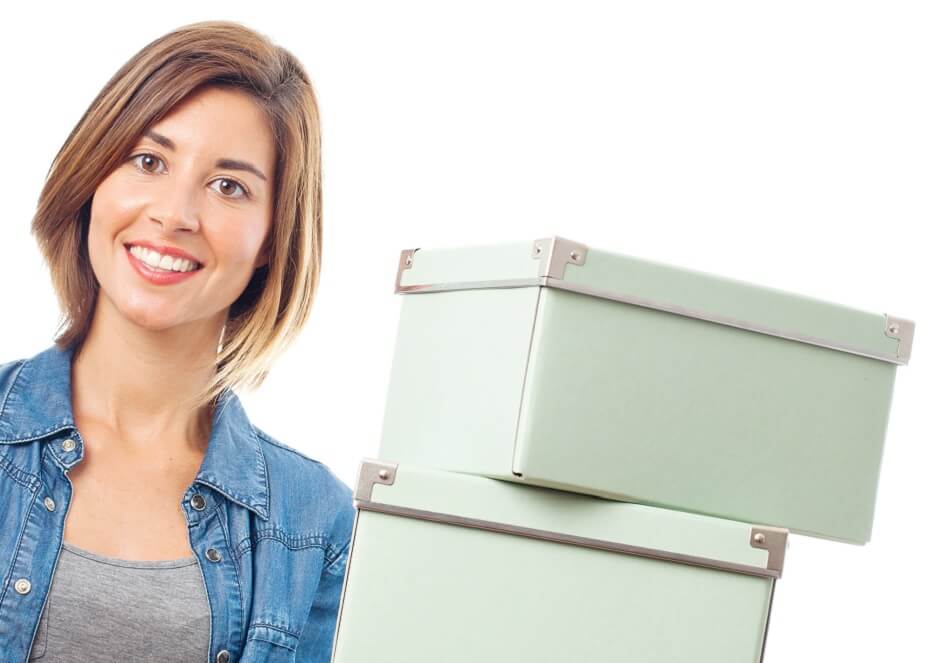 ---
'Should I Rent a Storage Unit for the Clutter?'
I know it's tempting. You could clear your home so quickly and not have to look at all of that stuff until you're ready.
But let's be honest. That kind of thinking isn't helpful. You'll spend hours shuffling clutter, take on a monthly payment, and still have the mental load of knowing that stuff exists.
The proliferation of storage facilities in the U.S. absolutely boggles the mind. So many people spend so much money to store things they will probably never use. It's just crazy.
So… NO. Never ever rent a storage facility or a storage pod. Those options are several steps beyond the already not-great temporary solution of covered storage bins to hide clutter in your home.
Just don't do it. You will waste hundreds or thousands of dollars every year just to keep stuff because you can't make decisions. Sure, it's out of sight, out of mind… for a while, until that bill comes due every month and guilt pricks your mind. Every single month.
Step up your decluttering skills. Practice making decisions. Get rid of the stuff.
Believe me, you will be much happier. Plus, you'll have more money to do fun activities!

More Decluttering Motivation
9 Awesome Ways Your Life Will Become Simpler When You Declutter — Filling the Jars
Stop Being a Victim of Clutter — Filling the Jars
How to Help Someone Who Hoards — Good Therapy
Where to Donate Your Stuff After Decluttering — Filling the Jars
5 Reasons Why Clutter Costs You Cash — Forbes

Must-Have Supplies to Declutter Fast and Easy
Storage bins — If you don't have enough extra bins (with lids!), check out these clear teal bins or these heavy-duty solid-color bins.
Trash bags — Always black. I prefer the flex variety in either 13-gallon or 33-gallon size.
Thick paper to label bins, etc.
Markers for labeling — These thick, chisel-tip markers will make your words easy to read.
Empty boxes — If you can't find what you need from stores or friends, these cardboard moving boxes would work for holding donation items.
Tape — Clear, wide tape on a dispenser always comes in handy when decluttering.
Tarps to define sorting areas — These might not be necessary if you're only doing a room or two, but for larger jobs they work really well.
Gloves because clutter can be unexpectedly messy.
For quick cleaning after the decluttering, I love this wood floor cleaner and multi-surface cleaner. I use these two products every day.
Quick-Start checklists and additional printables from Your Successful Decluttering Field Guide.
---
What's Next?
Once you learn how to declutter really fast, you can put your skills to use whenever necessary.
But remember, this type of decluttering will not completely solve the problem. While a super-fast declutter can be exhilarating, it also means you have a blank canvas that can easily become cluttered all too quickly.
Now… go declutter something! 🙂
You've got this!
---
Did you enjoy this post? Know someone else who might like it? Please take a moment to share on Pinterest, Facebook, or your favorite social media… (Click the sharing buttons at the bottom of the post.) Thank you!